Je t'aime : Kerry's love affair with France
PARIS, October 21, 2014 - On a sunny autumn day, the tall, grey-haired man drew curious looks as he strode through a central Paris park surrounded by a posse of sharp-suited security guards and harried-looking staff.
Stopping on the historic Pont des Arts bridge, he waved to bemused tourists passing below on one of the city's beloved tour boats, or bateaux-mouches.
Then John Kerry whipped out a camera to snap a few pictures of the scene across the Seine under glorious blue skies in the city he clearly loves.
He was crossing the Tuileries park last week on his way to see French Foreign Minister Laurent Fabius on his 14th visit to Paris in the 20 months since taking the helm of US diplomacy as secretary of state.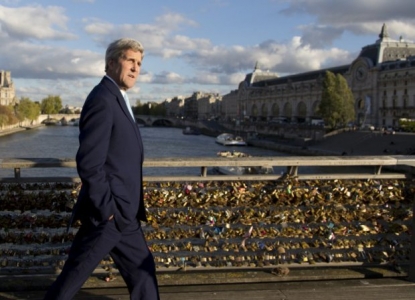 Kerry walks across the Seine in Paris on October 13, 2014 (AFP Photo / pool / Carolyn Kaster)
After flying in from long talks in Cairo in a stuffy, smoky hotel, Kerry had decided on a whim to forego his usual screeching motorcade to stretch his legs and walk the few blocks to the French foreign ministry.
The casual stroll is revealing of the man, who may be the champion-in-chief of American values abroad and who once ran to be US president, but who in his heart of hearts is constantly called back to Paris.
Kerry's French roots run deep.
His mother Rosemary Forbes was born in Paris in the 1920s and served as a nurse in the French capital during World War II.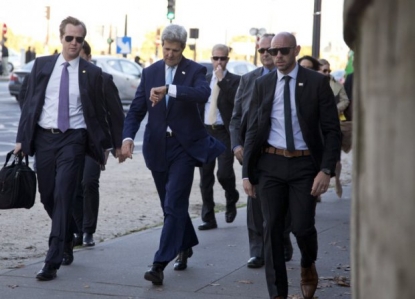 Kerry walks in downtown Paris with staff and security on October 13, 2014 (AFP Photo / Carolyn Kaster)
And in June, on the sidelines of the 70th anniversary of D-Day, he revelled in being able to revisit the family estate in Brittany built by his grandfather, James Forbes, and where he spent many childhood vacations.
Once sneered at in America for being a fluent French speaker during his failed 2004 bid for the White House, the top US diplomat has been liberated in his new job, frequently chatting in French, even once using it to try to calm a rowdy press conference in Tunisia.
His appointment was welcomed by nations, still smarting after being sniffingly dismissed by then US defense chief Donald Rumsfeld as "old Europe," as a sign that the US wanted to rekindle close ties.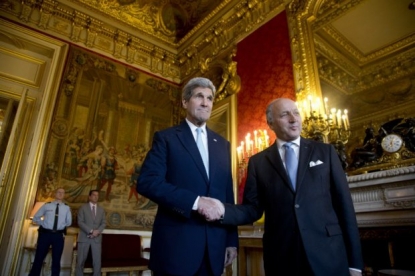 US Secretary of State John Kerry shakes hands with French Foreign Minister Laurent Fabius (R) as he arrives at the Quai d'Orsay in Paris on October 13, 2014 (AFP Photo / pool / Carolyn Kaster)
Paris was on the itinerary of Kerry's very first trip as secretary of state, along with London, Berlin and Rome.
But since then he has returned again and again to the French capital, seeing it as a convenient crossroads for closed-door meetings to hammer out diplomatic challenges.
On his latest trip he met with Russian Foreign Minister Sergei Lavrov to discuss the conflicts in Syria and Ukraine, and held talks with his Libyan counterpart about the turmoil in the north African nation.
To be fair some other European capitals have also felt the Kerry love -- he's visited London nine times and made several stops in Brussels and Geneva.
But on Tuesday he arrives on what will only be his third visit to Berlin, where he also spent part of his childhood, even though it is the heart of Europe's economic powerhouse.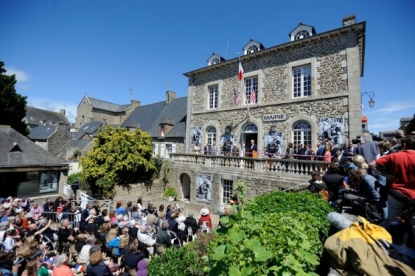 Kerry delivers a speech in Saint-Briac-sur-Mer, a Breton village linked to his family, on June 7, 2014 (AFP Photo / Jean-Sébastien Evrard)
Kerry makes no secret of the fact that he loves French cuisine. He usually manages to squeeze in a dinner in one of Paris's top discreet but pricey restaurants, heading out away from the glare of the cameras.
This time it was UAE counterpart Sheikh Abdullah bin Zayed al-Nahayan who joined him for what was described as "a working dinner."
They ended the evening dropping in for a night-cap at a posh Paris bar, which has become one of Kerry's favorite haunts while in town.
After his talks with Lavrov in the magnificent 19th century US ambassador's residence, Kerry said "a special thank you to my friend, Laurent Fabius."
He was grateful, he said, to Fabius "not only for hosting us but for the very important partnership that he is providing and France is providing at a very eventful and consequential time for both of our countries."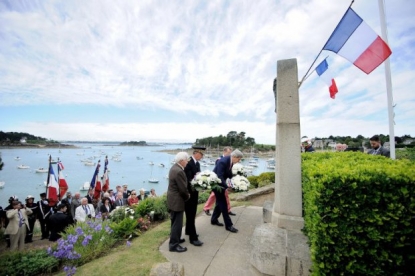 Kerry takes part in a ceremony on June 7, 2014 in Saint-Briac-sur-Mer, western France, in memory of the three US soldiers who died during liberation of the city on August 14, 1944 (AFP Photo / Jean-Sébastien Evrard)
But for the first time, there were signs of fatigue at the huge logistical and security operation that goes into hosting Kerry -- almost once a month at the moment.
When he and Fabius met at the foreign ministry, known as the Quai d'Orsay, they did not address the press together as usual.
And tempers wore thin as the ministry staff yet again had to deal with a mob of journalists, even physically shoving some of them out of the way.
France however bears the distinction of being America's oldest ally. Diplomatic relations were formally established in 1776 when Benjamin Franklin became the first US ambassador to Paris.
And Kerry's golden labrador puppy is named Ben, in honor of the founding father whose portrait hangs in a glittering State Department reception room.
So it's unlikely that the top US diplomat will prove fickle in his devotions any time soon, and Parisians and tourists alike may yet get many more glimpses of the tall francophile for whom Paris is almost a second home.
Jo Biddle is one of AFP's State Department correspondents.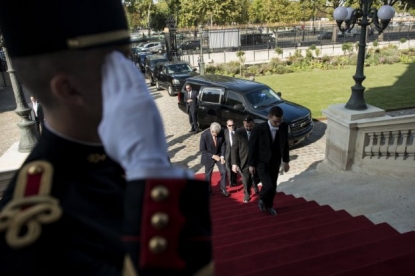 "Kerry arrives for a meeting at the Quai d'Orsay on September 15, 2014 (AFP Photo / Brendan Smialowski)