No frills at Victoria's Secret
(AFP Photo / Leon Neal)
LONDON, December 3, 2014 - As the time of Christmas stockings draws near, my gift came early with the Victoria's Secret 2014 show at Earls Court, London.
I knew from my colleague Gabriel Bouys – who covered the Victoria's Secret show in Los Angeles back in 2006 and 2007 – that this is a serious event on the photographer's calendar, not to be taken lightly however frilly the subject.
The allure of smiling supermodels in lingerie is known to work its magic on AFP's subscribers.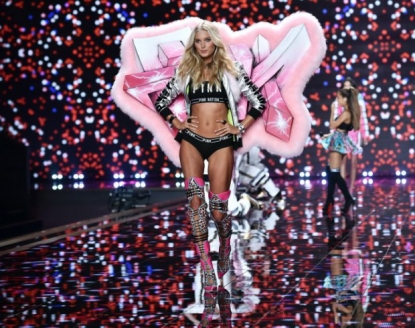 Swedish model Elsa Hosk at the 2014 Victoria's Secret Fashion Show (AFP Photo / Leon Neal)
The 200 images from last year's show generated more than 5,500 downloads by AFP's media clients -- half as much as the 1,500 photographs taken on Oscars night, or the entire two weeks of the French tennis open, Roland Garros.
"In a single evening, you get more downloads than for several months on a hard news story," Gabriel said "I don't know if that is a good or bad thing, but it's the reality of the job".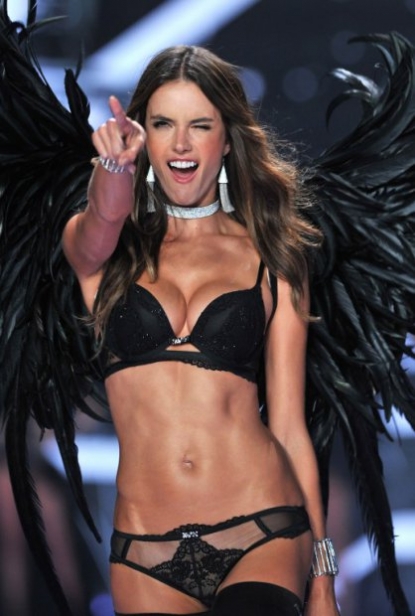 Brazilian model Alessandra Ambrosio at the Victoria's Secret Fashion Show in London (AFP Photo / Leon Neal)
With event day approaching, the solid stream of messages from up the chain of command left me in no doubt how important this was for global sales. There was no room for error.
For a photographer – however charming the subject – this is anything but a day spent lounging on leather sofas with Doutzen Kroes. It's a hectic race to collect passes, register for access, photograph hair and make-up backstage, shoot the first show and then rush to position to cover the VIP arrivals at the second. All while trying to transmit photographs back to my editors.
Having covered London and Milan fashion weeks before, I had a fair idea what to expect, but with no prior access it was a guessing game which lenses I'd need – so I arrived that morning looking like a walking camera store.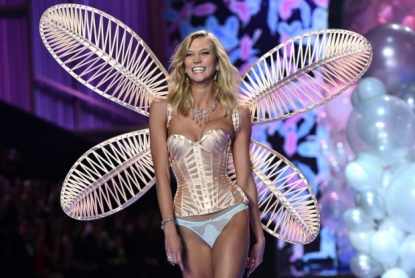 US model Karlie Kloss at the 2014 Victoria's Secret Fashion Show in London (AFP Photo / Leon Neal)
First, backstage to shoot hair and make-up. After passing sniffer dogs and many, many security checks, I was in -- among some of the most beautiful women in the world. Sadly, having been warned my allotted time slot would pass very quickly, I barely had a moment to enjoy the setting.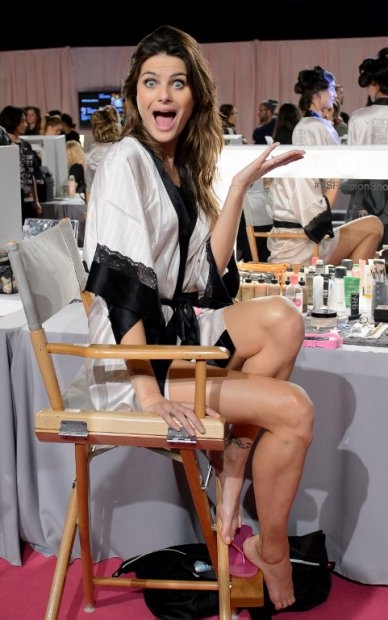 Brazilian model Isabeli Fontana backstage at the 2014 Victoria's Secret Fashion Show (AFP Photo / Leon Neal)
Make-up artists, hair stylists, PRs, assistants, media crews, security and special guests all cross paths and weave in between the mirrored stations where each model is tweaked to perfection. The noise and heat added to the chaotic experience as I rushed down aisles and between gaps to find as many pictures as I could as the clock ticked. Before I knew it, my time was up and I was escorted back outside, a slightly hotter and more flustered photographer than 10 minutes earlier.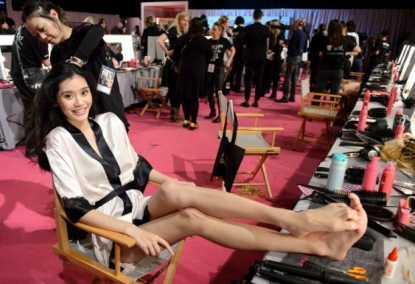 Chinese model Ming Xi backstage at the 2014 Victoria's Secret Fashion Show in London (AFP Photo / Leon Neal)
I quickly chose the images I liked and found a quiet corner to transmit them to the picture desk. No media facilities are provided so minutes after photographing supermodels, I was huddled on the floor, next to a bin, frantically working on my pictures.
Now, time for the catwalk show. An hour beforehand, the photographers started the security process all over again, and after being sniffed, prodded, scanned and studied, I was in my pre-assigned front row spot.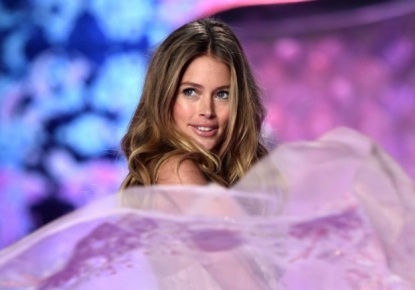 Dutch model Doutzen Kroes at the 2014 Victoria's Secret Fashion Show in London (AFP Photo / Leon Neal)
Fashion shows usually like to start with something pretty dramatic but as we'd had no chance to get a light reading, it was a test of experience to predict the camera settings so I wouldn't miss what could be an important opening image. Thankfully, I got it right and was up and shooting from the first moment.
Shows at London Fashion Week usually last a maximum of 10 minutes, and often feel like less as the photographer focuses on composing, catching moments, and spotting details on the runway.
The Victoria's Secret show lasted a full 45 minutes and was an onslaught of images. Every model and every outfit was worth shooting, and that's before you've added the bonus ingredients of performers such as Taylor Swift, Hozier, Ariana Grande and Ed Sheeran.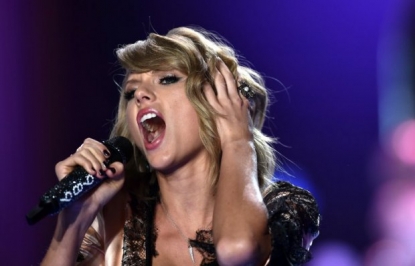 US singer Taylor Swift at the 2014 Victoria's Secret Fashion Show in London (AFP Photo / Leon Neal)
By the time the big finale arrived, we were all a bit shell-shocked. Leaving the venue, I couldn't even count how many images I'd shot and had no idea where to start choosing which to transmit.
It's quite a task to carve through hundreds of images, but even more for the unfortunate picture editor whose job is to identify this tall blonde smiling model from that tall blonde smiling model. While the women were incredible to see, the captioning is something I'm glad to have avoided!
With the files slowly transmitting from my camera, it was time to pass through security once more for the arrivals stage of the evening show.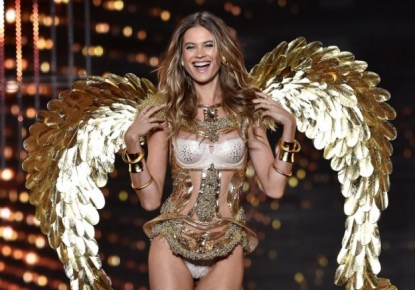 Namibian model Behati Prinsloo at the 2014 Victoria's Secret Fashion Show in London (AFP Photo / Leon Neal)
By this point, I was running on fumes having been on adrenaline for most of the day so was happy when the last of the special guests had passed the pink carpet and taken their seats, allowing me to transmit the last of my pictures and take in what I'd just witnessed.
Backing up my images at home, I found I had shot over 80 gigabytes through the day. As I went to sleep, I received a tweet from a friend asking "Are you actually getting paid to do that job tonight?" Should I tell him the truth – or let him pale with envy at the idea I spent the day chilling with Adriana, Doutzen and Karlie...
Leon Neal is an AFP photographer in London. Follow his blog here.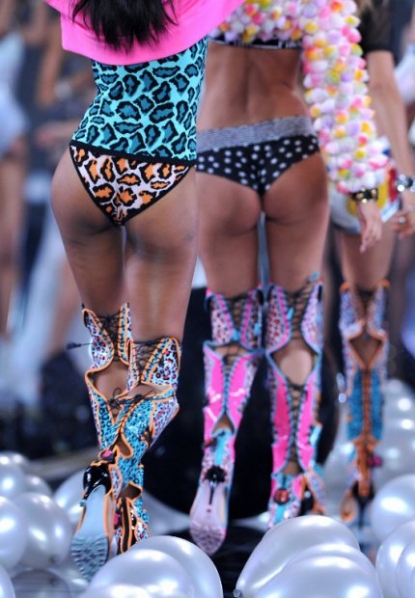 Models at the 2014 Victoria's Secret Fashion Show in London (AFP Photo / Leon Neal)