A Bhopal steam bath
BHOPAL, India, December 2, 2014 - This was my second trip to Bhopal, the City of Lakes, a moniker that is proudly displayed on the walls of the boat club on the Big Lake in the heart of the city.
My first was in 2009 when I covered the 25th anniversary of what is the world's worst industrial disaster. 
I came a few days ahead of the December 2 milestone as AFP was running a series of commemorative features. After visiting the Union Carbide factory site, and meeting with survivors and victims' relatives, I was wondering what else I could photograph.
That's when I heard about this clinic that treats gas victims with both allopathic medicine and Ayurveda, the ancient Indian healing system involving medicinal herbs, yoga and massage.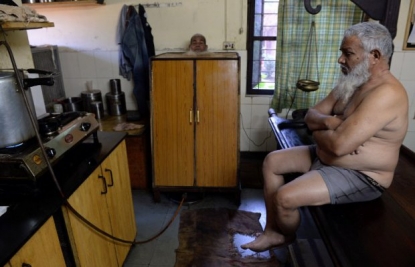 Bhopal disaster survivors Akbar Khan and Mushtaq Ahmed receive Ayurvedic treatment (AFP Photo / Indranil Mukherjee)
Hoping to get something different I trudged over to the Sambhavna Trust medical clinic. The clinic uses a five-step Ayurvedic practice known as Panchakarma, designed to cleanse mind and body. I watched the Panchakarma specialist massage medicated oil onto his patient's body and waited for him to start the steam therapy. Once the patient was sat inside the chamber, with his grey flowing beard and his eyes closed, it really made a powerful shot.
Seventy-year old Akbar Khan lives in Afzal colony in old Bhopal. He was sleeping at the time of the incident along with his wife, children and other extended family members. He now suffers from acute respiratory and cardiac trouble, severe muscle cramps and joint pains.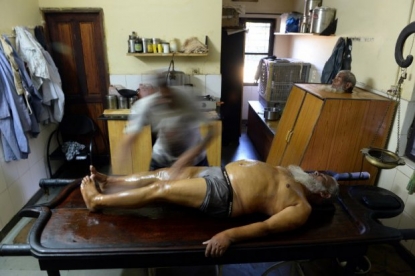 Bhopal gas disaster survivor Mushtaq Ahmed, 60, receives an oil rub as part of rehabilitation using traditional Ayurvedic methods (AFP Photo / Indranil Mukherjee)
The Sambhavna Trust clinic was set up specifically to cater for victims of the disaster, like Akbar Khan, but also treats walk-in patients. On an average busy day, it treats 500 to 800 patients. It has over 50,000 registered gas victims who come periodically for treatment and check-up.
The clinic uses Ayurveda to treat body aches, joint pains, paralysis and other muscular and bone abnormalities that require massage – a considerable number of patients in total. It also uses yoga breathing techniques to treat respiratory ailments.
The steam bath is used to make the sweat glands work faster so that the body releases its toxins – not unlike a Nordic sauna. It is used just after an oil massage and usually alongside other medicines. Patients stay in the bath for 8-10 minutes depending upon their capacity to endure the heat.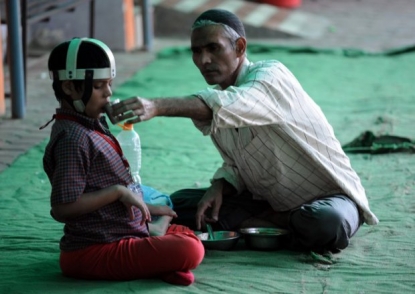 Caring for a second-generation victim of the Bhopal Gas disaster (AFP Photo / Indranil Mukherjee)
It's difficult to photograph a tragedy after so many years. You're trying to find an original angle and the best lighting to bring out the survivors' emotions. But at the same time, you have to be extremely sensitive to their feelings. After all, they're having to relive the trauma of an event in which they lost a part of their life.
Some 3,500 people were killed in the immediate aftermath of the Bhopal disaster, and up to 25,000 are estimated to have died in the long-run. Many of the survivors' stories are harrowing, but the camera helps in a way by creating a barrier, a sort of cloak that keeps your emotions in check as you go about your job.
People recount tales of horror, pain and helplessness. But there are also uplifting stories of bonding, about how the whole city came out to support those who were suffering. A doctor on duty that night told us how it still eats away at him that if only he had known an antidote to the toxic gas, so many lives could have been saved…
Indranil Mukherjee is an AFP photographer based in Mumbai
::video YouTube id='Ze_GOID8WQg' width='620'::