Learning to love the Games
RIO DE JANEIRO - Rio is the first Olympics I have covered as a journalist, but just as for most people on the planet, the Games were a big part of growing up.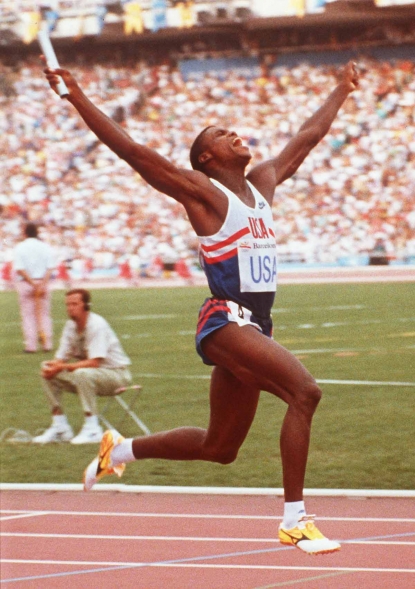 Carl Lewis crosses the finish line winning the 4x100m relay in Barcelona, August, 1992. (AFP / Ronald Kuntz)
I was wide-eyed at the exploits of the world's fastest and strongest. Schoolboys in the late 1970s and 80s UK idolized decathlete Daley Thompson. US sprinter Carl Lewis had us in awe. Little Nadia Comaneci, she of the perfect 10s, was pretty much all we knew about Romania, let alone gymnastics. We were in love.
Those memories shape you. We played at Olympics on school sports fields. With our knobbly knees and baggy shorts we'd go out in the English rain believing we ran like Sebastian Coe and Steve Ovett. Shot putter Geoff Capes was a byword for the strength we all wished we had.
And on a much deeper level the Olympics caught our imagination because they represented ideals of becoming the best, of the world coming together in peace, of sportsmanship trumping money.
In other words, the kinds of things that in 2016 – yet another year of doping scandals, war and terrorism -- sound like a bit of a fairy tale.
Or maybe not…
It certainly looked that way in early August when I waited alongside Cariocas -- the nickname for Rio residents -- to watch the Olympic torch relay arrive in the city.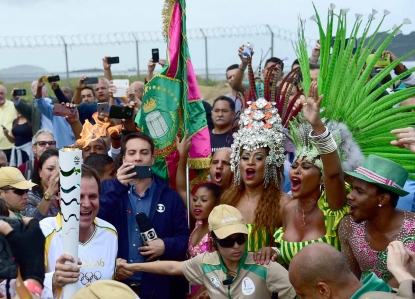 The mayor of Rio Eduardo Paes carries the Olympic torch after it arrived in Rio, Auguest 3, 2016. (AFP / Tasso Marcelo)
I have to admit I was already feeling pretty jaded.
The torch relay was not invented by the ancient Greeks, as Olympic authorities might like us to believe, but the Nazis in the 1936 Berlin Games. Now for three months this over-the-top affair had been snaking expensively around the vast country, regularly getting in trouble.
Runners had fallen over. Guards accompanying the runners had run each other over. Violent protesters clashed with violent police. A rare captive jaguar was brought to greet the torch, then shot dead on trying to escape. Numerous people tried throwing water over the supposedly sacred flame.
Nothing, though, could have prepared me for the grotesque cavalcade that finally lumbered down that Rio street.
The first thing appearing was not the torch. The first thing was a big Coca Cola truck on which attractive young women danced to loud music, distributing cans of soft drinks to the crowd. The second? Another Coke truck.
The third was a truck promoting Nissan cars. The fourth was a truck also featuring loud music and pretty young people dancing, this time for a Brazilian bank.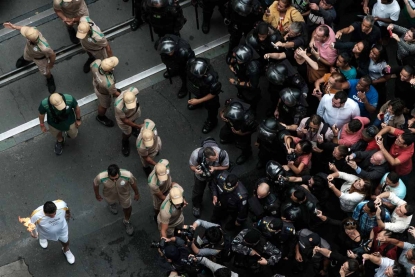 The Olympic torch makes its way through Rio, August 3, 2016. (AFP / Yasuyoshi Chiba)
Next came an army of cops in riot helmets, even scarier looking cops on motorcycles with automatic rifles at their sides, and scarier cops still in cars with automatic rifle barrels poking from open windows. Only then, nearly lost in the growing chaos of corporate sponsors, armed men, and Cariocas trying to get free Coke, came the torch.
No one extinguished the torch this time, but one man who'd scrawled a demand for interim president Michel Temer's resignation on his backside did pull down his pants.
And in the tumult of money, brute force, protest and fleeting excitement, I realized what I'd just seen:  Brazil's entire Olympic experience in miniature.
Things weren't meant to be this way.
When Rio won the hosting rights to the Games in 2009 the country was booming. President Luiz Inacio Lula da Silva was so popular and successful that there was giddy talk of Brazil catapulting into the ranks of powerful developed nations. The Olympics would be a coming out party.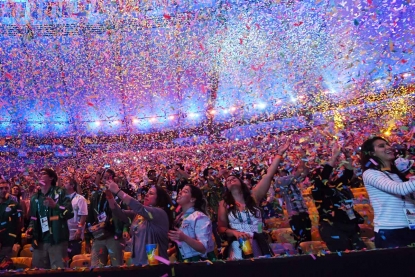 (AFP / Jewel Samad)
Since the Greek gods always punished hubris, maybe they're to blame for what happened next.
Commodity prices plummeted and Brazil's economic miracle imploded. Then a gargantuan corruption network was uncovered, staining Lula's reputation (and putting him in prosecutors' crosshairs).
Lula's chosen successor Dilma Rousseff shrank into a lonely, widely hated politician facing imminent impeachment. Her replacement, Temer, is hardly more popular.
The extraordinary result is that Lula and Rousseff refused to attend the opening ceremony, while Temer showed up but was loudly booed. And when the final stage of impeachment starts next week, the biggest emotion in this country of 204 million at the departure of Rousseff will be indifference.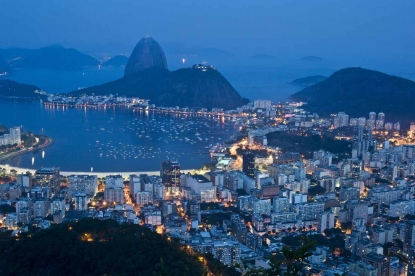 (AFP / Christophe Simon)
But the Olympics, like that torch relay, are unstoppable.
Never mind that Rio's state government ran out of money a few weeks before the Games, requiring a federal bailout. Never mind that public hospital and school staff and police spent months this year wondering whether they'd get paid.
The two week party for half a million tourists, 10,500 athletes and 25,000 or so media employees had to go on.
VIP limousines surrounded by motorcycle outriders roar night and day through the clogged streets of Copacabana and Barra. The rich and famous party at opulent national Olympic houses, often literally yards from abject poverty.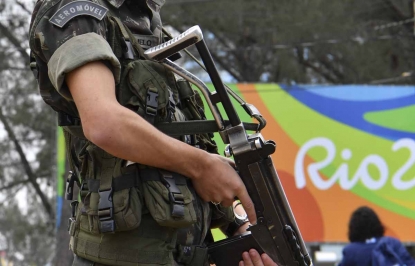 (AFP / Yuri Cortez)
Some visitors, like a Portuguese government minister who was mugged in Ipanema, have had impromptu tastes of the other Rio.
But tourists are being protected by 85,000 soldiers and police, so little bad is likely to happen –  as long as they don't stray a couple miles away into favelas where the only police around are locked in battles against drug gangsters.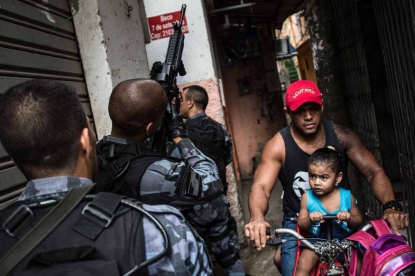 On patrol in a Rio favela, April, 2015. (AFP / Christophe Simon)
No wonder many Cariocas came into the Olympics wishing the Games would just go away.
During the opening ceremony in the Maracana, I sat a block from the stadium in a typical Rio neighborhood bar. They had the ceremony on TV, of course, but hadn't even bothered to turn up the volume.
Inside the Maracana, Brazil at its best was on display -- creative, beautiful, culturally strong.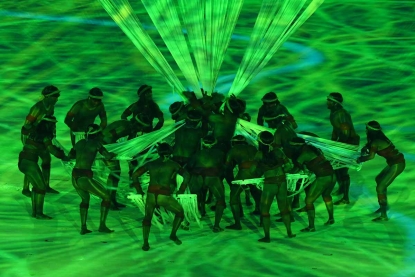 (AFP / Roberto Schmidt)
Outside, Cariocas had only their gritty worries about gun crime, lack of doctors and jobs for their children.
"I couldn't care at all about the ceremony," said office administrator Patricia Palma, 43, who was drinking a cold beer with friends. "It's always the same things they show and it's just a lot of money taken out of our pockets."
A few miles away in the seething favelas of Complexo do Alemao and Mare, the sense of alienation was even deeper.
"The Olympics are for the rich," said Marcos Enrique Nascimento, who drives a motorbike taxi. "No one comes here to ask us if anyone from the favela wants to see the Games."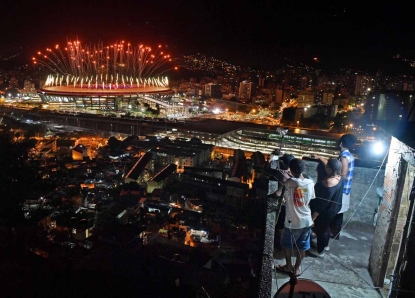 Watching the opening ceremony from the Mangueira favela. (AFP / Andrej Isakovic)
But sport has a strange power and once the preliminaries ended, once athletes began to run, jump, fight, sail and hit balls, the mood changed.
The day after the Maracana show, I visited a new pedestrian area (one of the mayor's beloved legacies) in the old port and found big, excited crowds. Brazilians, it seemed, were suddenly in love with the Games.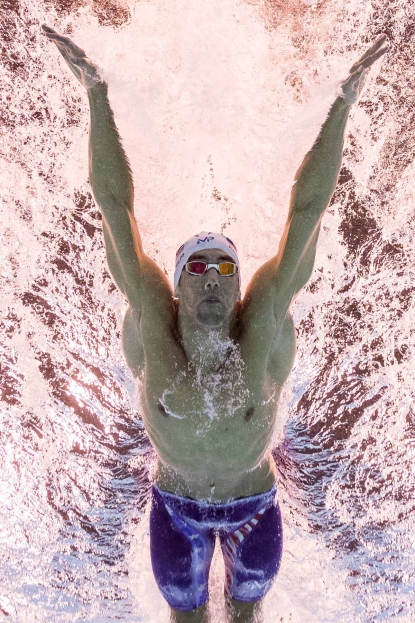 (AFP / Francois-xavier Marit)
The explanation several people gave me was disarmingly simple: sheer relief that the opening ceremony had gone well.
"A lot of people – definitely me – feared a disaster," said Fabiana Amaral, an architect. "Now we're proud."
Brazilians learned to love the Games. And so, reluctantly, did I.
Sure, sport's brilliant at distracting us. The perfection of Usain Bolt, Simone Biles or Michael Phelps is a great way to temporarily forget the world's imperfections. Watching these real life superheroes in tropical Brazil I could relive the excitement I'd felt all those years ago in murky England.
But there was more to this. As Brazilians embraced the Games, they brought infectious joy and energy to the stadiums. Even the Brazilians' extraordinary habit of loudly booing athletes – often for comically unpredictable reasons – has stirred more fascination than controversy.
And the champions paid them back.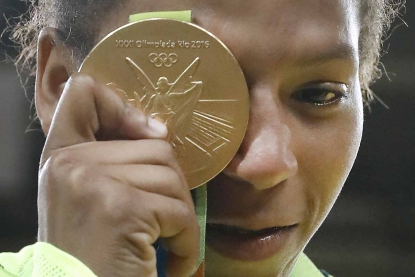 Brazil's Rafaela Silva. (AFP / Jack Guez)
There were few dry eyes when Rafaela Silva, the gold-medal winning Brazilian judoka, described how a kid from the dangerous favela City of God not only survived, but beat the odds -- and her racist detractors -- to become a winner. Coming out as gay soon afterwards underscored her fearlessness.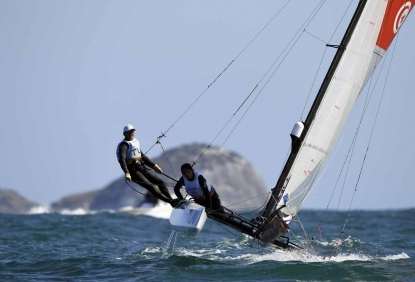 Tunisia's Riheb Hammami and Tunisia's Hedi Gharbi. (AFP / William West)
Then an even more amazing thing happened in this country of machos and football fanatics: the women's soccer team got a serious following , outdoing their lauded, but serially disappointing male counterparts.
And I discovered that you don't even need a winner to teach you about the Olympic spirit.
I met Tunisia's first ever Olympic catamaran sailors, Hedi Gharbi and Riheb Hammami. They were coming last in everything, but glowed with pride "just to be here and to be welcomed like this," as Gharbi put it.
Then there was USA's Abbey D'Agostino and New Zealand's Nikki Hamblin, who both fell in the 5,000-meter race. As Hamblin lay on the ground, dazed, D'Agostino leaned over and encouraged her to get up. "We have to finish this."
As the two began to run again, the American woman hobbled. And Hamblin in turn, encouraged her competitor. They may not have won the race, but got the gold in sportsmanship.
My personal favorite was a tiny incident, well out of the spotlight.
Majlinda Kelmendi had just beaten Italy's Odette Giuffrida in judo and it was a big story because the gold was Kosovo's first ever medal. What got me, though, came after.
Sobbing with emotion, Kelmendi was so overcome she looked like she could barely stand. The weight of relief, joy, expectations – it all crushed her.
And who came to hug Kelmendi? Who raised the Kosovan's arm in victory in front of the crowd?
The defeated Giuffrida.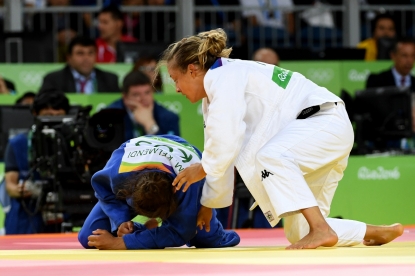 Italy's defeated Odette Giuffrida (r) helps Kosovo's Majlinda Kelmendi (l) get up after she was overcome with emotion at winning Kosovo's first-ever Olympic medal. (AFP / Toshifumi Kitamura)
Kosovo's Majlinda Kelmendi (l) and Italy's Odette Giuffrida embrace after their match. ((AFP / Toshifumi Kitamura))
Those childhood Olympic dreams didn't seem to be such a fairy tale after all.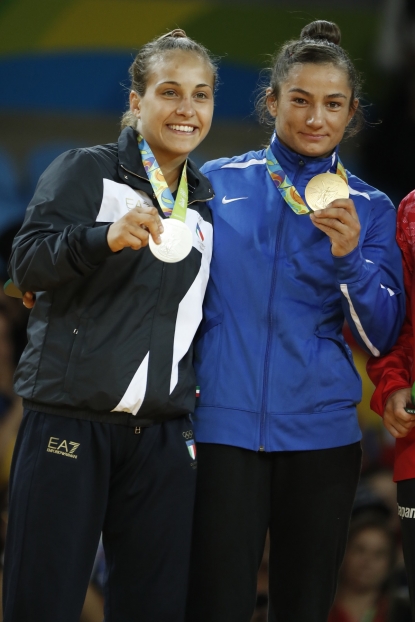 Italy's Odette Giuffrida (l) and Kosovo's Majlinda Kelmendi (r) with their medals. (AFP / Jack Guez)