Going for the gold... again
RIO DE JANEIRO -- You could call me the perpetual Olympian -- always trying to beat my previous performance. Except for me it's not chasing other athletes, it's capturing them all. On film.
My job is to find innovative ways for AFP to produce spectacular images at major events like the Olympics. Over the roughly 15 years that I've been at it, this has gone from putting a camera behind a football goalpost for the first time ever, to planning a network of robotic cameras to capture action from places that no photographer has gone before.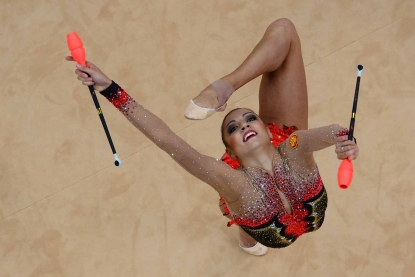 London Olympic Games, 2012. (AFP / Antonin Thuillier)
And we've got a few surprises for the Games in Rio.
The images that we can capture today at major sporting events like the Olympic Games are simply stunning, compared to ones we were taking just 20 years ago. Take swimming.
You used to see the action only from above the pool:
(AFP / Francois Xavier Marit)
Now you can see it from below: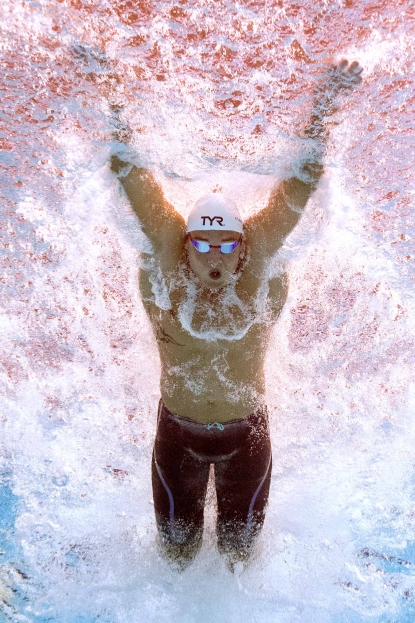 (AFP / Francois Xavier Marit)
Or football and hockey. You used to see goals as a spectator would -- from somewhere in the stadium or rink: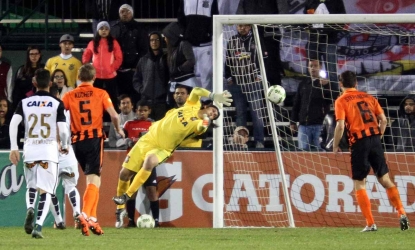 (AFP / Gregg Newton)
But now you can see the goal from a whole different angle: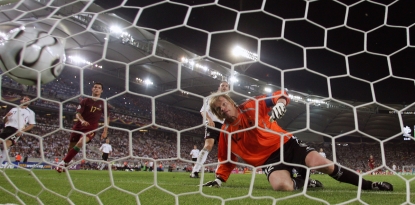 (AFP / Patrik Stollarz)
Making it all possible of course are advances in technology. In the olden days, we had a photographer and the cameras. Today we have robotic cameras that allow us to go where no photographer had gone before (or indeed can go).
Like at the bottom of the pool, to capture the action from below. Or hanging from a metal rod above the pool, to capture the action from above. In Rio, we'll have them suspended above places like boxing, judo, fencing and ping-pong, producing original and innovative images.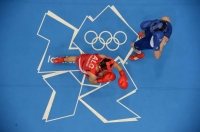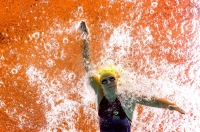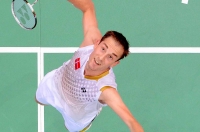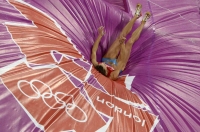 But technology is only part of the equation. As crucial to the mix are creativity, hard work and monstrous preparation.
AFP has been at the forefront of this revolution for years. We began in 2002 by installing remote cameras behind the goals at the football World Cup in Japan/South Korea. We were the first to do so.
Today it's simply mandatory to have a camera behind the goal.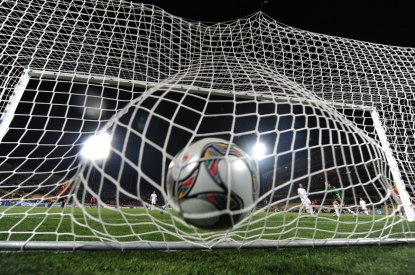 (AFP / Pierre-philippe Marcou)
Two years later, at the Athens Olympics we were the first to have an underwater camera inside the pool.
Reading these words in 2016, you've likely seen plenty of stunning underwater shots of swimmers and divers.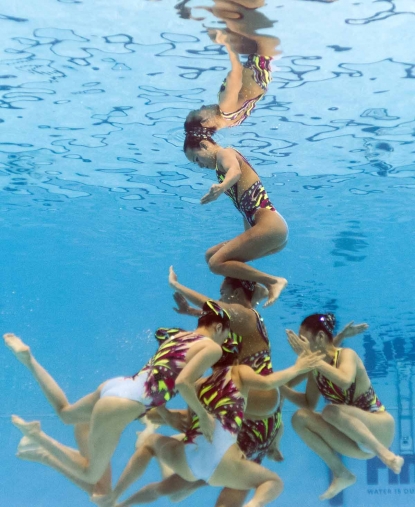 (AFP / Francois Xavier Marit)
But 12 years ago, it was something revolutionary. And, by today's standards, rudimentary.
Back then it was something called "remote boxes." Basically you put a camera inside a waterproof box at the bottom of the pool, with all the settings -- exposure, ISO, shutter speed -- fixed.
When the swimmer was above the box, the photographer operating the camera would press on the shutter release button to take some shots, about five per second. You couldn't actually see what you were shooting, or control any of the settings.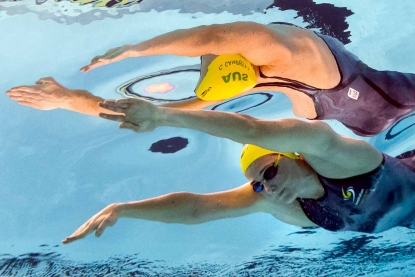 FINA World Championships, 2015. (AFP / Francois Xavier Marit)
Today that time seems like the Stone Ages. Today's robotic cameras allow us to follow the action, change the settings and capture some 12 shots per second.
But instead of a photographer holding a camera where the action is, you have a photographer sitting in front of a control panel rivaling that of an airplane, controlling a camera installed as far as hundreds of meters away. We could be sitting in a press section in a track and field stadium, controlling a robotic camera capturing the ping-pong action in a venue next door.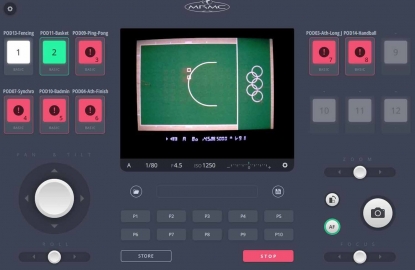 The Nikon MRMC control panel. (AFP/ Francois Xavier Marit)
We really dived into using robotic at the London Olympic Games in 2012. Before the games,  we tried to get permission to station photographers on the roof, but the organizers said that wouldn't be possible. And lots of venues didn't have access.  So the sole solution was to use robotic cameras.
Today we work mostly with Nikon and with Marc Roberts Motion Control -- THE lab that produces up to 90 percent robots for this type of stuff.
In Rio, robotic or remote control cameras will be used in covering practically all the disciplines, from track and field to handball. We're going to have around 20 robotic cameras, including three underwater ones in the pools, and around 30 remote control cameras.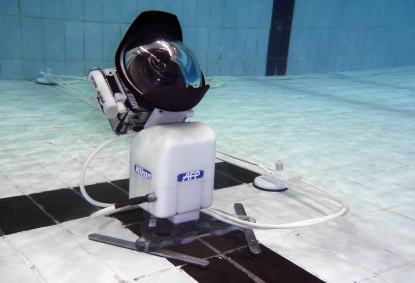 (AFP / Francois Xavier Marit)
Technology has given us the opportunity to see sports from a completely different vantage point and as a result to come up with simply stunning images.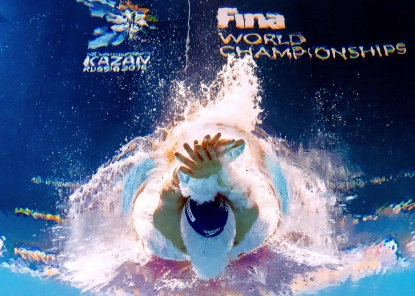 (AFP / Francois Xavier Marit)
And technology doesn't stop. We're working on doing different things for these Olympics, which I don't want to reveal just yet.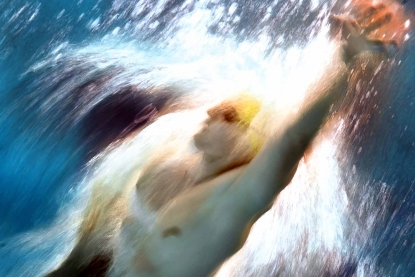 (AFP/ Francois Xavier Marit)
The robotic cameras today are easier to use and easier to train people on. In London, there were just two of us operating these things. But in Rio, we'll have three people in charge and it will be possible for a photographer who isn't shooting something in the morning to come and help us out and follow the action.
For years we were exclusive in this field. Until London, we were exclusive in the robotic underwater shots. Then the others caught up.
To be honest, it kills me to put so much effort into this and not be exclusive in it. But that's the reality that we live with, you can have a great idea and put it into action, but eventually the rest will catch up with you. So you always have to keep pushing, keep thinking, keep being more creative to do something different. It's like the sports we cover -- they keep evolving and getting better and so do we. So I always try to get something a bit different -- a special angle, something to make us stand out from the rest.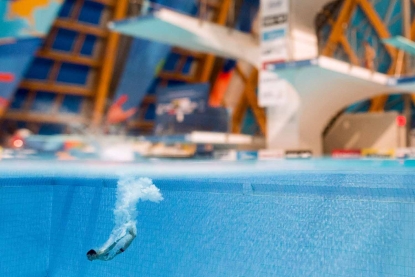 (AFP / Francois Xavier Marit)
Of course we don't just use this technology for sports. This year we placed a robotic camera above the red carpet at the Cannes Film Festival and Antonin Thuillier, the photographer piloting the camera, got some stunning images. The camera captured the stars just as they were to walk up the stairs, after having posed for the photos. It's a special moment, when they're alone, a bit more relaxed now that the main photo shoots were done and we got some truly special shots.
Covering something like the Olympic Games involves huge preparations. I left for Rio about three weeks before the start of the Games, to plan and install all of the equipment. Needless to say, months were spent on preparations before that.
The way it works is that all the major agencies have a meeting with the organizers weeks before the start of the Games and we present to them what we want and they tell us what's possible. There's one big meeting with everyone. And then we try and have separate meetings privately with the organizers, to ask them for some positions or vantage points that we don't want our competitors to know about, to do something creative. And you do the best with what you get.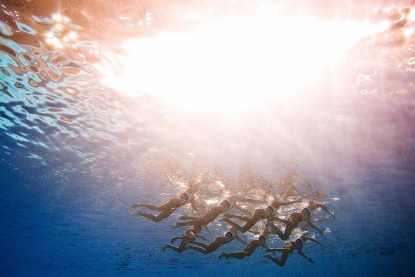 (AFP / Francois Xavier Marit)
Some people in our field are against robotics because they say the robots are replacing photographers, that you're taking the human, creative element out of photography. But that's not true at all.
These robotic cameras are simply an extension of the photographer. With today's technology, the photographer is operating the robot and is controlling all the settings that you normally would on a camera -- the exposure, the aperture, choosing an angle. And then of course there is timing, which is critical. Today's cameras shoot 12-14 frames per second, but as any professional photographer will tell you, it's all about timing, which comes only from experience.
You always need the photographer's professional eye for these things. Robotics is not a competitor to the photographer, it's just another tool, like a new lens or a camera. We're revolutionizing photography, but the basics haven't changed, even with these innovations -- it's calculation, anticipation, timing, catching the moment, the surprises.
This blog was written with Yana Dlugy in Paris.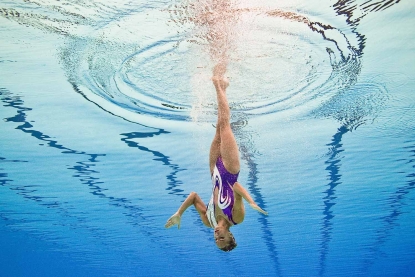 FINA World Championships, Shanghai, July, 2011. (AFP / Francois Xavier Marit)