' The lucky ones '
KOS (Greece), August 28, AFP - It's 4:00 am, stars fill the velvet night sky and the Aegean Sea is perfectly still. A few journalists gather at the beach in Greece's resort island Kos, waiting in silence on an unlikely frontline of Europe's worst migration crisis since World War II. 
Today, like every other day, scores of refugees and migrants fleeing war and misery will reach the shore on inflatable boats, dreaming of a better life in Europe. "Hush, we won't be able to hear the motor if we talk," says photographer Angelos Tzortzinis, who has been taking some incredibly powerful and humane pictures of the survivors for AFP.
Less than two hours later as the sun rises and paints the midsummer sky yellow, pink and blue, we spot a boat. AFP's video journalist Celine Clery and I rush over together. "Greece? Turkey? Where am I?" pants a man in his forties as he clambers out of the dinghy, tearing off his bright orange life vest. "You're in Greece," I reply. Overcome with emotion, he kneels down on the sand to pray, grateful that he has made it to Europe alive.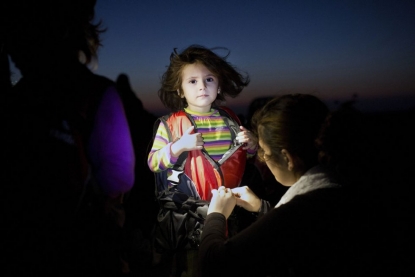 "A migrant child gets assistance to remove her life jacket after arriving in Kos on August 13, 2015 (AFP Photo / Angelos Tzortzinis)
A little while later, we spot another boat in the distance. This time, we run over sunbeds and wooden pathways laid out on the beach for tourists, Kos's more usual visitors. An elderly woman in a black swimming suit watches as we gather round a group of some 40 Syrians who have just landed on the island. They are soaked from head to toe, and they are thirsty and lost.
Among them is a Syrian man travelling with his 14-year-old son, who is ill and needs specialist care. Another is Umm Ahmad, a woman who has left all her children behind and hopes they can join her once she has a European residence permit.
&nbsp
There is a mixture of fear, excitement and sheer relief on their faces. They are elated to have made it this far, and that they will no longer suffer persecution and bombing. But they know that they still face a long journey before they reach Germany, Sweden or any other northern European country where they believe they will be welcomed in dignity.
They are among more than 340,000 people, most of them Syrians, who have crossed the European Union's borders this year alone, in an unprecedented spike in migration that the bloc is struggling to deal with.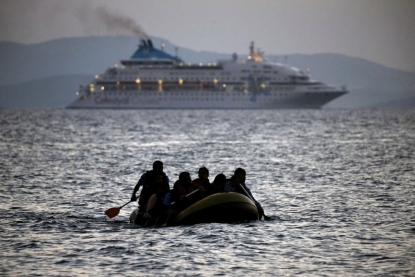 Migrants arrive on the shore of Kos on August 19, 2015 (AFP Photo / Angelos Tzortzinis)
Oday, a 24-year-old man, is desperate for a drink of water. "Never in a thousand years," he says when I ask him if he could have foreseen, just a few years ago, that he would one day have to make such a journey. "But people can't imagine what is happening in Syria. In Syria, you can die at any moment. We fled for our lives."
Syria from revolt to war and mass flight
I covered Syria for three years for AFP before moving to Paris a few months ago, and there have been innumerable, desperate calls since 2011 to stop the killing. Yet every day bombing, fighting and executions claim at least 100 lives, while some days the toll is far higher.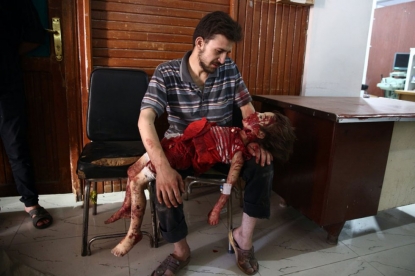 A man looks at the body of his daughter, who was killed during air raids by the Syrian government forces, on August 24, 2015 at a makeshift hospital in the rebel-held area of Douma, east of Damascus (AFP Photo / Abd Doumany)
AFP's Beirut and Damascus bureaus, a team of deeply compassionate and committed journalists, have seen how peaceful protesters across Syria were gunned down by government forces simply for calling for change. We covered the militarisation of the revolt and the descent into civil war. We also covered the Islamisation and fragmentation of the opposition, and the de facto partition of Syria. We covered massacre after massacre, working late into the night, shocked that such terrible violence is even possible in the 21st century.
We documented the testimonies of survivors of the August 21, 2013 chemical massacre that killed hundreds in rebel-held areas in the outskirts of Damascus. We wrote about the rise of the Islamic State group and its vicious abuses. We investigated the systematic torture of thousands of people arbitrarily detained in the regime's complex network of prisons, and the rebels' deadly shelling of civilian areas under government control.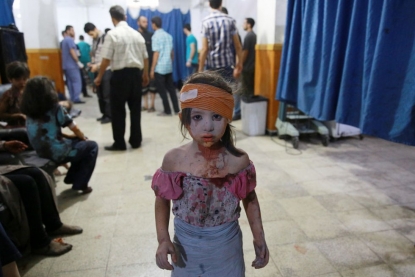 A wounded Syrian girl in a makeshift hospital in Douma, following shelling and air raids by Syrian government forces on August 22, 2015 (AFP Photo / Abd Doumany)
In just over four years, much of the country has been destroyed, yet the killing still hasn't stopped.
On August 16, while I was in Kos, news broke that more than 100 people, mostly civilians, were killed in regime air strikes on Douma, a town east of Damascus that has been under a suffocating army siege for more than two years. It is ruled by widely hated opposition warlords who kidnap critics and who have established a monopoly over the little food and medicine that does make it in.
On the beach front in Kos, where scores of tents lined the water until the Greek authorities started registering Syrians on a ferry, a group of young men played cards and shared stories.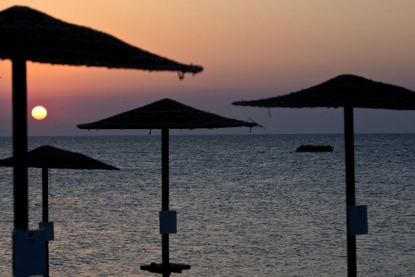 A dinghy carrying migrants crosses the Aegean sea between Turkey and Greece off the island of Kos on August 13, 2015 (AFP Photo / Angelos Tzortzinis)
Said, a 22-year-old onetime media activist who took part in the uprising in another town near Damascus, stares at photographs shared on social media showing dead bodies crammed side by side on the floor of Douma's field hospital. "This is what we're running from," says the computer science student.
The contrast between the scenes on the mobile phone and the peace of Kos feels grotesque. The water glimmers in the sunshine, tourists walk up and down the beach front in bright yellow and pink bikinis and shorts, and the kind-hearted among them hand out water, vegetables and bread. Facing a shocking dearth of government aid in debt-ridden Greece, some of the new arrivals can't afford their own tents and must sleep on cardboard on the streets. Others, including women and children, live in an abandoned carcass of a hotel, the Captain Elias, where there is practically no aid at all.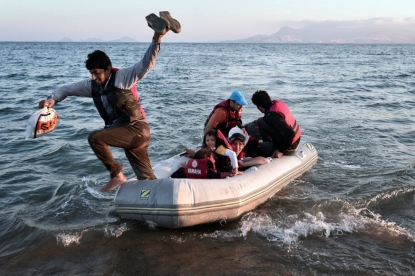 A migrant jumps off a small dinghy after arriving to the shores of the Greek island of Kos from Turkey on August 18, 2015 (AFP Photo / Louisa Gouliamaki)
Still, for many of those fleeing Syria, having nothing in Europe is better than staying home.
Umm Jude, a 39-year-old mother of two young girls, is shocked when I ask her whether she regrets fleeing.
"The day I left Idlib (in the northwest), I had cooked a lovely dinner for the family. Everything was laid out perfectly on the table," she says, smiling as she pictures the food she made. "Then suddenly, the windows cracked. I didn't understand what was happening at first, all I knew was the dinner was ruined. The table was covered in glass and dust. Everything was destroyed."
Migrant children sleep on the sidewalk near the port of Kos on August 15, 2015
(AFP Photo / Louisa Gouliamaki)
The Syrian air force had dropped a barrel bomb on the building next door, she said, triggering a tremendous aftershock. "My husband, my daughters and I left that same day. My husband didn't want to leave, but I begged him to give our daughters a chance to live a full life, and he finally accepted," Umm Jude said, as she watched her girls play in the outdoors for the first time in weeks, if not longer.
Also among the arrivals are many Syrian Kurds fleeing the flashpoint town of Kobane, which in June saw a massacre at the hands of Islamic State group militants of at least 164 civilians. Leila, a 35-year-old mother of four, had to borrow $10,000 to pay smugglers to lead them to Europe. Others, such as 26-year-old Mahmoud, fled a regime-held area of Aleppo in the north to avoid conscription into an underfed, overstretched army.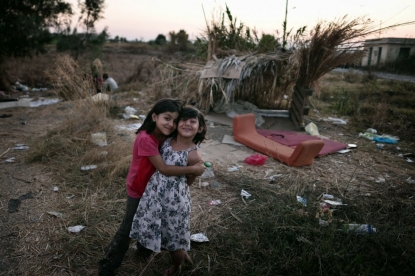 Migrant children pose in front of makeshift shelters in Kos on August 16, 2015
(AFP Photo / Louisa Gouliamaki)
And Tony and Alaa, whom I met on a 10-hour ferry trip from Kos to Athens, were fleeing rebel shelling of government-held neighbourhoods in central city Homs. "We may not know whether we will ever make it, but a human being can't live without hope. If I had nothing to hope for, I would just die, wouldn't you?" said Tony, who worked as a hairdresser in Homs.
Searching for life
With people fleeing all sides of the multi-front warzone that Syria is today, it isn't just about people escaping bombs, persecution and abject poverty. It is also about a search for life, and the Greek islands act as the turning point from panicked flight to a new beginning.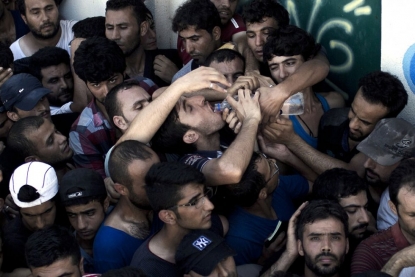 Migrants wait to complete a registration procedure by the police at a stadium on Kos on August 12, 2015 (AFP Photo / Angelos Tzortzinis)
But beginnings can be very tough, as Fares from Damascus knows well. I met Fares, who is in his mid-20s, as he strolled up and down the beachfront looking happier than many others in Kos — and that's because he had something to look forward to. "I didn't just escape because of the war. I am on my way to Sweden because I want to join my girlfriend, who lives there," he said as he checked his phone for any new messages from her. "We looked into reunification but that was very complicated. So I decided to make the journey by sea and then by land, just so we can be together."
Fares slept on the streets of Kos while he awaited registration by the Greek authorities. Then, in just two days, he managed to cross Macedonia and Serbia. But soon after he reached Hungary, he was detained. He sent me photographs via Whatsapp of the detention centre and refusing to give up against the odds, he wrote: "We're being held here for 36 hours… I still think I will make it to Sweden." Two days later he wrote again, telling me he was in Germany.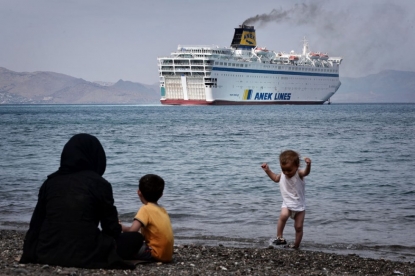 Syrians watch a ferry arriving at the port of Kos on August 14, 2015 (AFP Photo / Louisa Gouliamaki)
Another Syrian, 38-year-old Jalal, with whom I travelled from Kos to Athens, was stuck in the capital as he waited for a small loan to come through from a relative. Without the loan, his journey to Germany would become impossible, he feared. His friend Ghassan, a 25-year-old from Homs, was at the Macedonian border on August 21 when the government declared a state of emergency and troops fired tear gas to stop thousands of people from crossing over from Greece — hardly the welcome he expected.
There is simply no blueprint for Europe to cope with an influx of this size, but it might help to look back at similar exoduses in history such as those caused by the Spanish civil war, World War II and more recently the Balkan wars. More than 60 years have passed since the Universal Declaration of Human Rights was drafted, yet the basic right to life and dignity remains a pipe dream for too many people.
&nbsp
But my mission in Greece also gave me cause for hope. I met tourists who became accidental volunteers, and restaurant and cafe owners whose businesses have taken a nose dive, yet they maintained a deeply humane outlook on the crisis.
More than that, I felt marked by a sense of awe watching so many Syrians risking everything to follow a promise of life over the certainty of death and oppression, even as they must face an unknown future.
On the ferry from Kos to Athens, newly married Rana, 26, and Mohammad, 38, share cigarettes throughout the night. "Poor things, sleeping on the deck like that," said blond-haired, hazel-eyed Rana, who fled Damascus to join a man she had met online. "Don't say that," said her Palestinian-Syrian husband, who travelled to the Greek island of Rhodes from his home of eight years in Copenhagen to pick her up. "The ones we should feel sad for are the ones still in Syria. These are the lucky ones. They are the survivors."
Serene Assir is an AFP journalist currently based in Paris. Follow her on Twitter.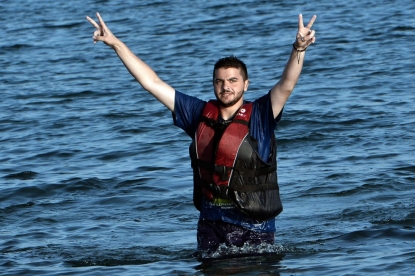 "A Syrian man flashes the V-sign after swimming to the shores of Kos from a half-sunk dinghy on August 17, 2015 (AFP Photo / Louisa Gouliamaki)