Indonesia je t'aime : a nervous farewell
A patient is treated with cigarette smoke in a Jakarta "health clinic" (AFP Photo / Romeo Gacad)
JAKARTA, October 15, 2014 - On a recent afternoon on the outskirts of Jakarta, I found myself inadvertently sharing chicken soup with a convicted militant -- a six-foot-tall burly man with a frighteningly deep voice. Somehow our conversation about jihad took a turn and the 50-year-old began telling me the secret to his youthful skin.
Was I really taking beauty tips from a militant with links to Al Qaeda? A man who funded training for militants to carry out gun attacks on the president? Of course I was. This is Indonesia, and stranger things have happened.
(AFP Photo / Chaideer Mahyuddin)
After almost seven years trying to find the words to tell the outside world what's happening in inside Indonesia, I still have these moments, where I need to pinch myself and remember I'm living in reality.
I've watched nurses at a "health clinic" exhale cigarette smoke down a naked patient's throat "to cure" her of emphysema. This clinic could perhaps only legally exist in big-tobacco Indonesia, where even a pregnant orangutan at a zoo and children as young as two are among addicts.
I've met women in Aceh, the only province to implement Islamic sharia law, forced to sit side-saddle on motorbikes because the city government decided straddling was "obscene" for women, who are "delicate creatures".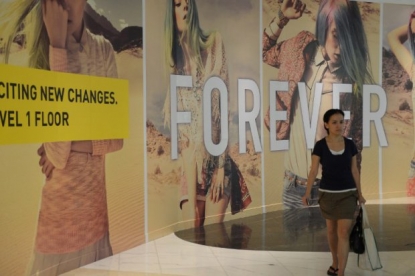 A woman walks past a backdrop advertising a future shop in a mall in Jakarta on November 6, 2013
 (AFP Photo / Adek Berry)
Jakarta couldn't be more different. Women with manicures, caked on make-up and long freshly curled hair strut through luxury malls in hot pants and stilettos.
It is this diversity and dynamism that has kept me here for so long. I came on a six-week internship and tried to leave three times, but the Indonesian story kept pulling me back.
A lot has happened in seven years -- Indonesians bought six million new cars to put on the country's congested roads, more than eight million hectares of forest, around the size of Austria, were cut down and 240 million votes were cast in two separate presidential elections.
Change, growth and hope.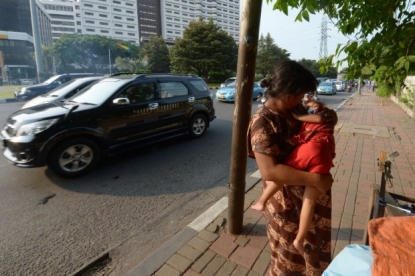 Indonesian homeless Rini cradles her daughter Ifah on a sidewalk in Jakarta on April 29, 2014 (AFP Photo / Adek Berry)
When I arrived in late 2007, Indonesians were optimistic – the economy was booming, the country's new brand of democracy was on track and people seemed happy with how things were moving ahead, almost 10 years after the three-decade Suharto dictatorship was toppled.
The pace of change in my time here seems almost implausible. In my first week in Jakarta, a cashier at my local convenience store forced me to accept a plastic bag for my goods, despite my protest, as a symbol of Indonesia's prosperity. Things have come a long way since then.
Millions have been thrust above the $1.25-a-day poverty line, the average income more than doubling to almost $3,600 a year, and richer Indonesians in big cities are enjoying apartment-living and lattes, which didn't exist when they were children.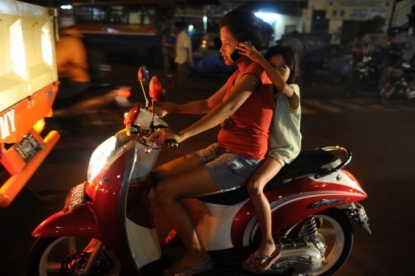 A woman speaks on a mobile phone during the evening rush hour in Jakarta on January 2012 (AFP Photo / Romeo Gacad)
Skyscrapers and malls have continued to sprout with pride in the capital, Jakarta, and the regions have become increasingly prosperous as powers and funding devolve to in the country's long decentralisation process.
When I arrived, Indonesians were excited about democracy. Their first directly elected president, Susilo Bambang Yudhoyono, had delivered, supporting a graft-busting commission that for the first time saw senior officials jailed for their business-as-usual grubby ways.
The story for most of my time here has been of change, growth and hope.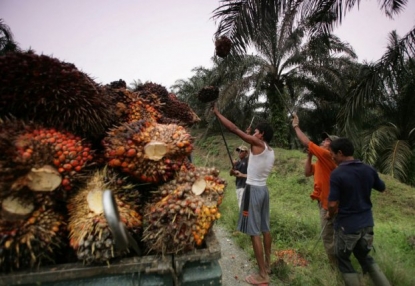 Workers harvest palm oil fruits cut down during a forest restoration program in Aceh Tamiang on September 29, 2014 
(AFP Photo / Chaideer Mahyuddin)
But it has been different in the past few months, and I leave Indonesia worried, no longer the optimist I once was.
Despite a win by man-of-the-people Joko Widodo in July's presidential poll over ex-general Prabowo Subianto, his opponents who echo Indonesia's authoritarian past have gained ground in the parliament and are maneuvering to see Widodo fail.
In the past month the Prabowo-led opposition, which has a majority of seats in parliament, has passed a law to scrap the direct election of local leaders, a major setback for democracy, and has installed figures with track records of incompetence and intransparency in key posts.
Indonesians are now nervous about their future.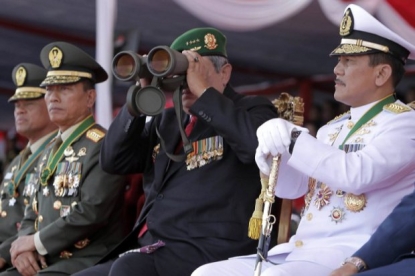 Outgoing Indonesian President Susilo Bambang Yudhoyono looks through binoculars a military parade during the celebration of the 69th anniversary of the Indonesian armed forces in Surabaya on October 7, 2014 (AFP Photo / Presidensy.info / Abror Rizki)
The people made it clear in July they wanted change, having become disillusioned with Yudhoyono's inaction after his re-election in 2009 and as corruption scandals hit his Democratic Party and cabinet. But their vote may not be enough to determine the nation's fate.
I have spoken to countless analysts about how the next five years in Indonesia will pan out, and the only thing I'm sure of is that nobody knows.
I have had the fortune of getting to know the Indonesian people, who are warm and good-humoured, but most impressively, resilient – where there are gaps in the system, they find ways to fill them.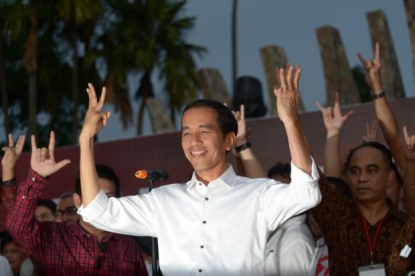 Indonesian President elect Joko Widodo greets supporters to celebrate his victory in Indonesia's election in Jakarta on July 23, 2014 (AFP Photo / Adek Berry)
While I leave with a sense of nervousness, I remind myself to have some hope – Indonesia has bounced back before. It was a student movement that brought down Suharto's powerful dictatorship because it wasn't what they wanted.
Indonesians, who love to speak in proverbs, often say "Ada kemauan, di situ ada jalan" – loosely, where there's a will, there's a way. The people have shown their will for change. I hope when I return someday that they've also found the way.
Angela Dewan worked in AFP's Jakarta bureau for the last three years of her stay in Indonesia.
Supporters of winning presidential candidate Joko Widodo rally in Jakarta (AFP Photo / Romeo Gacad)