Hostages for sale in Syria
PARIS, June 26, 2015 – Pierre Piccinin da Prata describes himself as a historian and political scientist, but his work is more like a war reporter's. The Belgian researcher has travelled to Syria more than a dozen times. On one occasion, he almost didn't make it home.
In 2013, he was betrayed by a faction of the rebel Free Syrian Army and handed over to a group of hostage-takers. "Even though I was out there in the field every couple of months, I didn't read the situation right," he says.
The FSA are portrayed in the West as Syria's moderate rebels, opposed to both President Bashar al-Assad and the Islamic State group. Yet some of the group's members are now known to have sold hostages to the jihadists, enticed by the high price offered for a captive Westerner.
Once held up as a beacon of hope in the face of Islamic extremists, these days the FSA is perceived more and more as a ragtag band of disparate rebel groups with varying agendas. The murky ties between some of its factions and radical groups in Syria can be fatal for foreigners. Journalists, researchers, aid workers who like Pierre Piccinin thought they could rely on the FSA for protection, and instead were handed over to jihadists.
Piccinin was taken hostage during his eighth trip inside Syria, along with the fighters of the FSA, in April 2013. He was travelling along with a journalist for the Italian daily La Stampa, Domenico Quirico. On the road to the western city of Al-Qusayr, their car broke down.
Transferred to a different car in the convoy, they lost sight of the commander in charge of their protection, but this did not set off any alarm bells.
"I didn't think anything of it, I had a blind trust in the FSA," says Piccinin.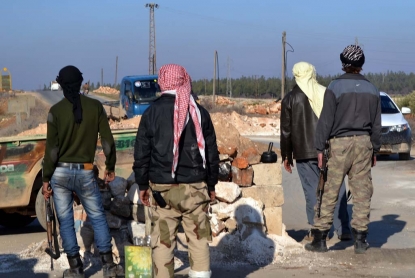 Rebel fighters man a checkpoint close to Jabal al-Zawiyaa in Syria's Idlib province in January, 2014 (AFP Photo / Mohamad Jadaan)
Arriving at their destination, the two men found themselves with an unfamiliar brigade. Piccinin called his high-level contact to find out what was going on. He was reassuring over the phone: "They are FSA, you can stay with them."
The following day, the two Europeans decided to try to leave the city. The fighters were smirking as they waved them off.
At the town exit, they found the road blocked. "Instead of reversing, our driver cut the engine. Four or five guys descended on the car firing Kalashnikov rifles into the air, repeating 'Police Bashar, Police Bashar," Piccinin said.
The two men were dragged towards a pick-up truck and the Belgian spotted their driver – who was supposed to protect them – helping the armed men move their bags from vehicle to vehicle.
"Looking back, I thought, 'It's obvious, we were taken for a ride.' But at the time I thought we had been captured by the Syrian regime."
Each faction rules a neighbourhood
As the pair would soon find out, they were being held by the Abu Omar brigades. "A band of losers, criminals acting under cover of Islamism," is how Piccinin describes them.
He and Quirico were sold on to the Farouq brigades. They were freed 151 days later as a result of negotiations with the Italian secret services.
"The Free Syrian Army is a brand, a label. It never really existed," says Wassim Nasr, a journalist with France 24 and an expert on jihadist movements. There are more than 1,500 armed groups active in Syria, with no real hierarchy between them and names that can change from one month to the next.
"Each faction rules its neighbourhood," Nasr explains. "The FSA is just a name that is supposed to tell them apart from the jihadists."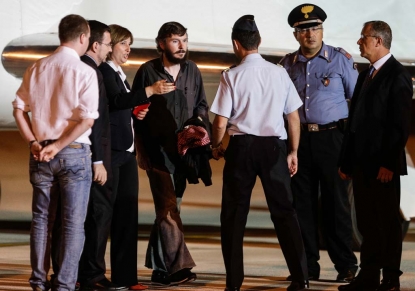 Belgian national Pierre Piccinin (centre) arriving at Rome airport after his release in Syria, on September 9, 2013 (AFP Photo / Andreas Solaro)
Theo Padnos had a similar experience in 2012. "I thought the FSA was a real army, that I could embed with them as they went into battle," says the US reporter who spent almost two years in the hands of the Al-Nusra Front, Al-Qaida's Syrian affiliate.
Padnos had set off from Antakya in Turkey with three Syrians who told him they were delivering supplies to the FSA. They were to take him to Idlib in the northwest, but Padnos was taken hostage right after crossing the Syrian border.
"They knew their target. They had it all planned," he said. His three Syrian escorts turned out to belong to a faction called Al-Tanzeem Al-Qaeda. The American tried several times to escape. But fighters with the FSA, who he turned to for help, delivered him back to his captors.
For Romain Caillet, an expert on Islamism at the French Institute for the Middle East, it's little surprise. "The dungeons of the Islamic State and Al-Nusra are full of people who should, in theory, have been under the protection of the FSA," he said.
"The FSA has no structure, no unified command or coherent strategy." The boundaries are blurred between different rebel groups, and the FSA is "infiltrated from all sides by the regime and by the jihadists."
Caillet believes many kidnappings could be avoided if those travelling to Syria were better informed about the so-called moderate rebellion. "I will tell you what no one wants to hear: the rebels as we imagine them do not exist."
Sell their mothers for a packet of Marlboros
As the Syrian conflict grows ever more complex, the market value of a Western hostage can often prove irresistible. To illustrate the point, Caillet quotes a French jihadist met on one of his field trips, who gave this assessment of the FSA fighters: "They would sell their own mothers for a packet of Marlboro. So just imagine when it comes to a Westerner."
The Italian aid workers Greta Ramelli and Vanessa Marzullo, held by Al-Nusra for more than four months until their release in January 2015, are also believed to have been handed over by Syrian rebels.
"They were invited in by a local branch of the FSA and sold on to Al-Nusra," explains Caillet. The young Italians, both supporters of the FSA, were hoping to work on the provision of healthcare and water for the Syrian population. They went missing three days after arriving in Aleppo.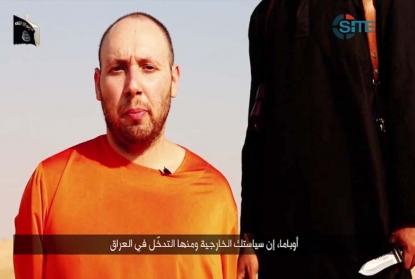 The US journalist Steven Sotloff, who was beheaded by the Islamic State group in September 2014 (AFP Photo / Site Intelligence Group)
In April 2015, Pierre Piccinin da Prata returned to Syria. This time with Kurdish fighters on the frontline against IS jihadists. He says he felt safer under the protection of the Kurdish People's Protection Units (YPG).
"I know that if we find ourselves faced with IS fighters, the Kurds will not lay down their weapons – unlike the FSA. Because they would have no chance of making it out alive."
Spotted on the Turkish-Syrian border
A week after the Islamic State group released a video purporting to show the decapitation of the US reporter Steven Sotloff, in September 2014, a spokesman for his family gave an account of his kidnapping in an interview with CNN.
Barak Barfi said a moderate rebel group had sold information to IS about Sotloff's location, as he was passing the Turkish border into Syria.
"Somebody at the border crossing made a phone call to ISIS, and they set up a fake checkpoint with many people," he said. Barfi suggested the information was sold for between 25,000 and 50,000 dollars.
A number of journalists have been seized after being spotted at the Turkish border, among them Padnos, and the French reporters Didier Francois and Edouard Elias.
In Sotloff's case, an investigation published on the Daily Beast suggested the identity of the fixer who took him into Syria may have been compromised beforehand by an inexperienced Western photographer, exposing him to even greater risk. He was kidnapped along with his fixer in Aleppo on August 4, 2013.
Hostage-takings in Syria since 2012
"Sometimes tragedy can stem from a simple human error," said Nasr.
For a group like IS a Western hostage is more than just a source of cash, explains David Thomson, an RFI journalist and author of a book on French jihadists.
"They also have symbolic and media value," he explained. Especially the Americans. "Despite the fact anglophone countries are not in the habit of paying ransoms, the number of their nationals being kidnapped has not dropped so far."
And it is unlikely to drop in the near future in Syria, where kidnapping Westerners has become a full-fledged business.
This article is part of a series on European hostages produced by journalism students at the Institut Francais de Presse in partnership with AFP. Click here to view the full series.