The fate of Europe's hostages since 2000
PARIS, June 26, 2015 - Some 400 European nationals have been taken hostage on foreign soil since 2000 - with more than one in ten dying in detention, according to a data-mining study of AFP news archives covering the period.
The study, carried out jointly by AFP and a team of 10 journalism students from the Institut Français de Presse, analysed the contents of more than 40,000 AFP dispatches published between January 1, 2000 and March 31, 2015.
Most of the European hostages covered by the news database were kidnapped for ransom or to press specific demands such as a prisoner swap.
In more than 80 percent of reported cases, the hostages were eventually freed. Close to one in two (47 percent) were deliberately released after payment of a ransom, as the result of negotiations or for medical reasons. At least 43 people were freed as a result of outside intervention, while twelve managed to escape.
Thirteen percent died during their ordeal. At least 36 hostages were murdered while eight others perished during a rescue operation. The fate of 12 hostages remained unknown, including five thought still to be in the hands of their captors.
A global map of hostage-takings since 2000
Of the 410 hostages from the 30 countries covered (the European Union plus Switzerland and Norway), the study recorded 110 French nationals, 65 Britons, 49 Italians and 44 Germans.
Victim profile
Among the most populous nations in Europe, the four countries all also have large overseas populations. France alone counts between 1.2 and 1.5 million expatriates, according to the foreign ministry.
All also have a strong economic or military presence in countries deemed to have a high kidnapping risk. In the case of France, 35 people were held hostage in Somalia (including the 22 crew of the Ponant luxury yacht in 2008). Ten were in Iraq and eight in Niger.
The wide variation between nationalities seems to reflect the perceived "value" of certain hostages to kidnappers, as well as underreporting of cases from certain regions – particularly compared to the systematic coverage of cases in France, where AFP has its global headquarters.
Sixty-three percent of the hostages were known to be men and 21 percent women. The gender of the remaining hostages was unknown.
Seventy-one percent of the Europeans taken hostage abroad were in the country for work. Among them, aid workers emerge as the most at-risk professional category (representing 20 percent of cases), followed by journalists (19 percent), and maritime workers (11 percent). They were followed by workers from the oil, engineering and construction sectors. 
Nineteen percent of all hostages were travelling as tourists. In 16 percent of cases, the hostage's profession was unknown.
The military was only marginally affected by kidnappings, the study suggests, with only two recorded cases over the period – although it is likely that additional cases went unreported by the military.
Hostage-takings in Syria since 2012
Europeans were taken hostage in 36 different countries over the period. More than 38 percent of cases took place in sub-Saharan Africa and 33 percent in the Middle East.
Hostage numbers in a given country were found to correlate closely with periods of conflict or political instability. There were 45 Europeans taken hostage in Nigeria, 51 in Iraq and 51 in Somalia over the period – accounting for 13 percent of the total for each of these countries.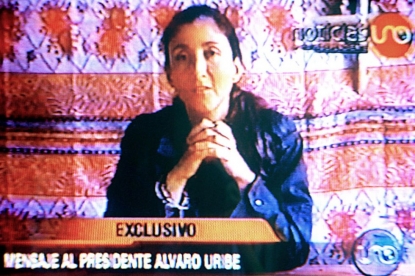 TV grab of the Colombian former presidential candidate Ingrid Betancourt, aired on August 30, 2003 in Bogota. Betancourt was kidnapped by Colombia's FARC rebels in February 23, 2002 (AFP Photo)
Better Iraq than Colombia?
Syria emerges as one of the highest-risk countries, with 31 Europeans taken hostage there since 2012 alone.
On average, the hostages spent 230 days in captivity, but the figure conceals wide variations. For 22 percent of captives, the ordeal lasted less than 72 hours.
Duration was found to vary considerably from one country to the next, and depending on the kidnappers. In Iraq, instance, half of all hostage-takings ended within 31 days. It was in Colombia that hostages were detained the longest – two years on average for the 13 cases recorded, which included the French-Colombian Ingrid Betancourt, held by FARC guerrillas from 2002 to 2008.
Long-term hostage situations in Latin America
The archive data also highlights some remarkable cases, such as that of Stephen Farrell, a British-Irish journalist who was unfortunate enough to be taken hostage three times.
While reporting in Iraq for the Times in 2004, he was seized by Sunni insurgents during the Battle of Fallujah, and freed eight hours later. Five years later, he was captured again while reporting in northern Afghanistan for the New York Times. He was freed four days later in a military raid. And in Libya, he was seized again in March 2011 and held for four days by Libyan regime forces along with three colleagues.
Stand-out cases
Another stand-out case is that of Marc Goncalves, a Portuguese-American dual national who was on board an aircraft overflying Colombia as part of an anti-drug operation. The plane came under missile attack and was forced to land – at which point it was besieged by FARC guerillas who kidnapped Goncalves along with two Americans on board. The three were released five years later in July 2008, thanks to the military operation that freed Ingrid Betancourt.
Methodology
AFP conducted this investigative project in partnership with 10 students from the journalism school of the Institut Francais de Presse and the start-up firm Journalism++ which specialises in data-driven storytelling.
For nine months the students helped to digest and analyse the tens of thousands of newswire articles about Europeans who had been held hostage since 2000.
The goal was to build a database of Europeans taken hostage in a foreign country in or outside of Europe by a non-sovereign organisation, however long their spell in captivity. To do so we selected every AFP story for the period that contained the words "hostage", "otage" in French or "kidnapping."
This article is part of a series on European hostages produced by journalism students at the Institut Francais de Presse in partnership with AFP. Click here to view the full series. You can view the full database here: