Getting the shots at Wimbledon
WIMBLEDON -- It's week two at Wimbledon and instead of shooting the action on the courts, I'm at home listening online as Roger Federer fights back in the third set against Marin Cilic in the men's quarterfinal match. Because of an avalanche of both news and sporting events this year, AFP's network of photographers in Europe has been stretched thin. With the Olympic Games looming in August, we're trying not to wreck ourselves completely, so instead of shooting the entire 13 days of the world's premier tennis tournament this year, I shot only one week, choosing to swap the second for Formula 1 racing at Silverstone.
Knowing I only had one week of tennis, I approached the tournament differently. I made a conscious decision to stay away from the show courts as much as I could. It's a double-­edge sword working on Centre Court. On the one hand you have the world's best players, with images of Roger Federer, Novak Djokovic and Andy Murray along with the Williams sisters filling much of the newspapers' back pages. On the other hand, you're limited where you can sit and hence many of the pictures look the same.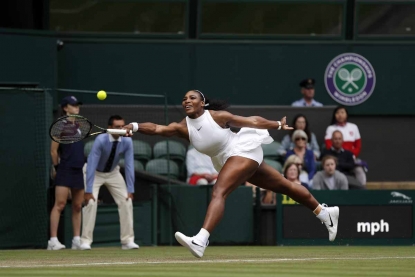 (AFP/ Adrian Dennis)
(AFP / Adrian Dennis)
Of course I couldn't avoid the main courts entirely. Eventually it was my turn and I covered 3 matches, or nearly 8 hours. And I forgot a cushion!
On Centre Court I sink into my seat in the photographers 'trench,' my head virtually at grass level, and sort out my equipment. I typically use 2 Canon EOS 1D­X camera bodies for tennis, and this year was kindly loaned a newer version the D­X MKII from my friends at Canon UK. So two cameras and four lenses in my armoury for the day. I do most of my work on a 70­-200mm and a 300mm lens which I hand hold for manoeuvrability. I keep a wide-­angle zoom 24-­70mm lens in my "snazzy" Wimbledon photo vest and a 400mm 2.8 and monopod between my feet.
I wonder sometimes what the first rows of spectators think when a game begins. The player throws the ball to serve; camera shutters go off. Each time the player hits a shot, more clicks. Twenty-plus cameras fire, nearly in sync, with every forehand and backhand shot. It seems like we're shooting a lot of pictures, but getting one with the ball on the strings of the racquet is actually quite tricky. Despite modern cameras shooting 12 frames per second, it really is all about the photographer's timing and the very first frame of the sequence. Glyn Kirk, AFP's expert tennis photographer and a veteran of 24 Wimbledon tournaments, refers to these as "the old fried egg" picture.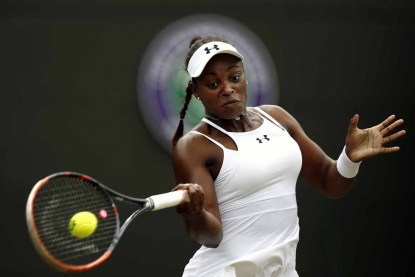 (AFP / Adrian Dennis)
Once you get your timing right, you then have to factor in whether the photograph is "clean". Hopefully there's no object merging into the frame. The line judge's legs or the edge of the seats provide an unwelcome distraction.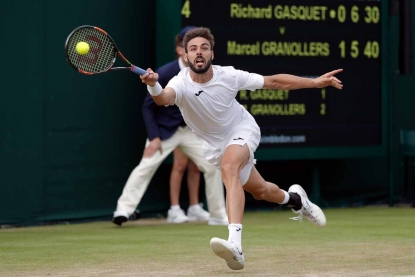 (AFP / Adrian Dennis)
On Centre or Court 1 there are a few sweet spots where a player occasionally moves to where the background is "clean" or dark.
Now, if you're lucky enough to be on court when the sun is shining in the early evening you can have some beautiful light to play with. Using different exposures, coupled with those clean backgrounds, you can come up with lovely pictures.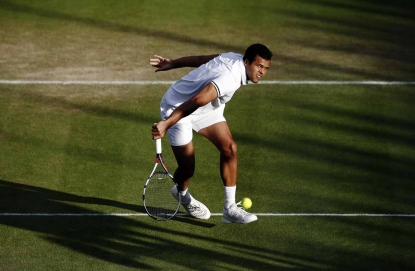 (AFP / Adrian Dennis)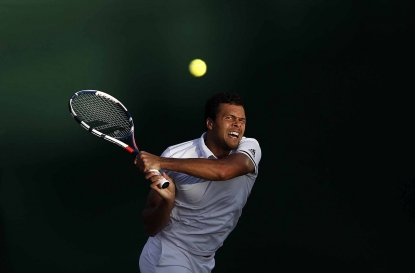 (AFP / Adrian Dennis)
Photographers get excited when all these factors come together. The opposite applies when it's dull and cloudy or there's play when the roof is covering Centre court. The light is flat and "boring", and you're working at high ISO's. But we're still there shooting.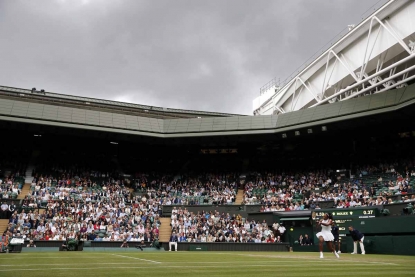 (AFP / Adrian Dennis)
During the first week of Wimbledon this year, the English weather didn't disappoint -- rain stopped play nearly every day of the first week, keeping the court attendants on their toes. They manage to dismantle the court and cover the playing surface in a matter of minutes.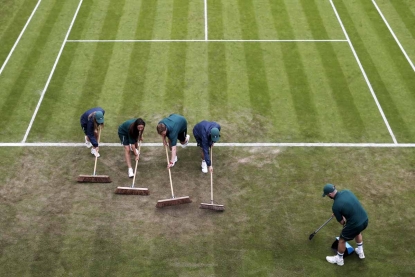 (AFP / Adrian Dennis)
This year the rain caused considerable disruption, even leading to play during the mid-Sunday of the tournament, only the fourth time this has happened in Wimbledon's 130­-year history.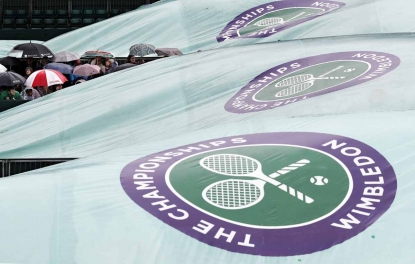 (AFP / Adrian Dennis)
And the rain was arguably a factor in the demise of 2015 Champion Novak Djokovic, who lost his 3rd round match to 28th seed American Sam Querrey, in perhaps one of the greatest shocks in Wimbledon history!
Djokovic was two sets down when the match was suspended overnight because of the rain. With the possibility that the Serb, who has been unbeatable for the past year, might be taken down, we decided to double up on our coverage. Glyn shot the game from the pit while I took a position in the "exit box," a small dark room at the corner of the court. This spot isn't typically good for action, but I wanted to be there, thinking that if the reigning champion was beaten, shots of him from this different perspective might provide dividends.
Several rain delays and hours later Sam Querrey won the match 7:­6, 6:­1, 3:­6, 7:­6 ending Djokovic's chance of a calendar Grand Slam. Being one of only three photographers in the darkened court-side room training our lenses on Novak as he walked past and off the court I had high hopes of seeing my pictures in the newspapers the next day.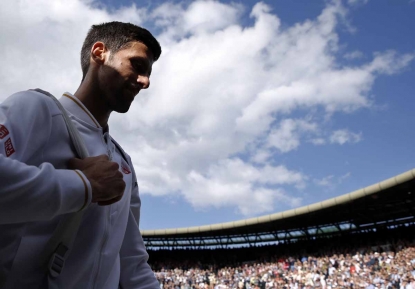 (AFP / Adrian Dennis)
Unfortunately most of the media went with a picture of Querrey celebrating and some used a photo of Djoko walking across the court shot from high above. Hey ho, you can't win them all!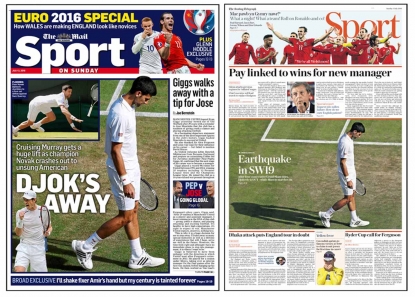 When shooting matches, I employ a game repertoire, usually starting with my long lenses. Tight shots of players' faces as they throw the ball to serve. Or simple "bat and ball" pictures hopefully with a fried egg or two! Once we get towards the end of a set, I "go loose" and shoot on a 70-­200mm lens to include the player's feet, hopefully to catch them if and when they dive or stretch for a crucial shot.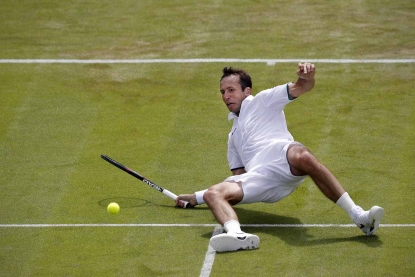 (AFP / Adrian Dennis)
In between games I'll review the pictures on the back of my camera, choosing and transmitting the pictures directly from the camera to an editor working in the media centre. Within a few minutes of making the photograph, the editor will have cropped and captioned the picture and sent it  to our clients. Depending on who's playing and how good the picture is, the editor has to decide whether to send it to a country or region, or all our clients worldwide. On a typical day, we send around 300 pictures from Wimbledon.
At some point in my repertoire I'll shoot a few wide-­angle pictures with potential to crop into a letterbox shape. I feel it adds variety to our production. All the while trying to get the timing right when the ball hits the racquet. Then between games when I'm not editing and sending, I'll glance over to the Royal Box and photograph the celebrities.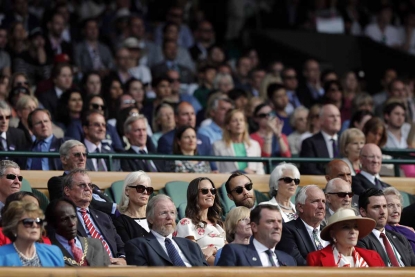 Pippa and James Middleton in the royal box. (AFP / Adrian Dennis)
Once a game has finished and a victorious Serena has done her traditional twirl, I've barely enough time for a sandwich and a wee before the next game kicks/bats/serves off. Then my routine begins once again. As the hours pass, it can be difficult to stay focused. As we look through our camera viewfinders, photographers hold whispered conversations "How's the new car?" "Can't believe we voted out!" "I like your new trainers!" It's our version of talk around the office water cooler. It's just that Andy Murray is smashing a backhand a few yards away while the crowd is whooping and hollering.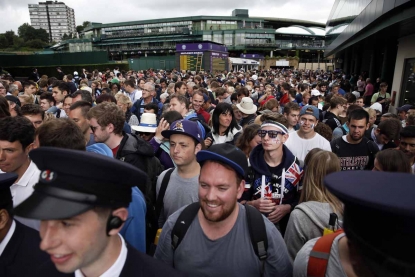 (AFP / Adrian Dennis)
Sometimes the game isn't particularly exciting, which is often the case when you're photographing tennis royalty Roger Federer, because he's usually so clinical about the court. Very rarely does he react, in fact, it takes perseverance to get a frame of him hitting the ball with his eyes open! Often, I'll try and find time to lark about with the shutter speeds. Exploring the unconventional and shooting tennis on a 1/15th second exposure and panning the lens from side to side as the Swiss genius moves about the court. Occasionally it works and makes a different picture.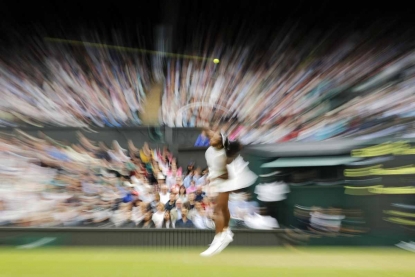 (AFP / Adrian Dennis)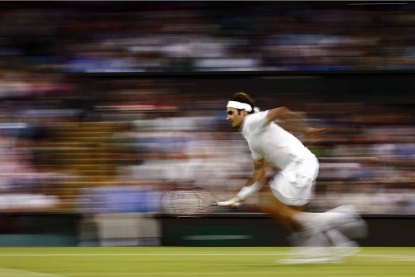 (AFP / Adrian Dennis)
So, eight hours pass and my work is done. I peel myself off the bench; massage my derriere and head back to our underground office.
People always ask: "How many pictures do you take?" This year, I actually noted how many I shot on a typical day. Including two hours on the outside courts in the morning and 3 games on centre court, I shot 2,170 frames, out of which 124 were sent to clients by the editors. Over the course of the opening week at Wimbledon I shot 8,691 frames, 686 of which were sent out by the editors.  Unthinkable in the days of using film!
But I digress. I was saying how much I enjoyed covering the outside courts and the lesser-­known players. The problem is you have so much more ground and players to cover that you sometimes only stay for a couple of games. As soon as you have a decent frame of each player you move to another court. All the while trying to find different angles and hence pictures I hadn't seen and shot before in years gone by. Having a "fresh" picture is all the more important nowadays, when we are competing with up to 200 other photographers shooting the same thing.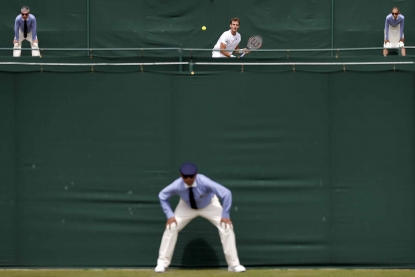 (AFP / Adrian Dennis)
This year I occasionally needed to be in three different places at the same time. You're hoping the game you're covering ends quickly and the one you're missing drags on. Knowledge of the tunnel network that runs beneath the courts help avoids the crowds ambling from one court to another. It's pretty frustrating when you're in a rush to get to a game while people dilly and dally along.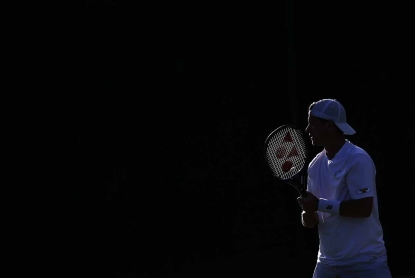 (AFP / Adrian Dennis)
So, it's been quite a pleasure taking my "normal" days off. Guess what, I've been listening intently on the radio and watching a bit of tennis and football on the telly -- an unusual experience for sports photographers!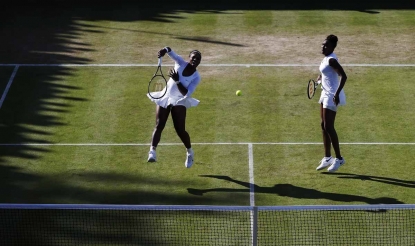 (AFP / Adrian Dennis)
I've generally been pleased with my work at Wimbledon this year. I've shot a few different pictures that I hadn't regurgitated from previous years, written a blog and feel refreshed and ready to go photograph broom-broomy things at Silverstone.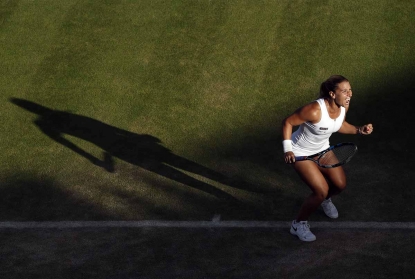 (AFP / Adrian Dennis)