From Gaza to Sweden: covering deadly attacks
Trollhattan, Sweden, November 25, 2015 -- I knew I was in a different world when my daughter didn't even cross my mind as I rushed to cover a deadly attack on a school.
I am from the Gaza Strip, where I worked for AFP for several years and have been on unpaid leave in Sweden since May, to help my daughter recover from the last war. I was keen to work as a journalist outside Gaza and had asked the AFP Stockholm bureau chief to keep me in mind for any work. When he messaged asking if I would be interested in covering an attack on a school in the southwestern town of Trollhattan, I immediately said yes.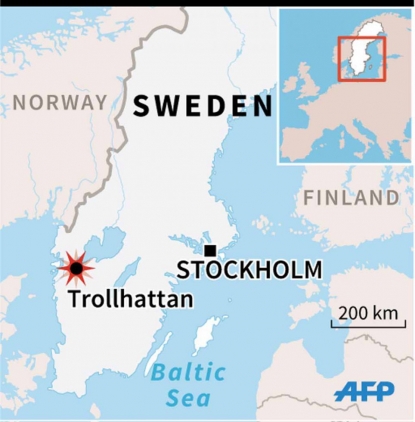 (AFP Graphics)
I didn't even know there had been an attack. I just asked him to send me the address and hopped into a taxi for the hour and a half ride to Trollhattan. I was so excited that I forgot to call my husband to tell him that I was going and only dialed his number from the cab.
"An attack on a school in Sweden? Did you call Yara's school?" he asked, talking about my 8-year-old daughter.
I froze in shock. I didn't even think about my daughter or her brother as I rushed to go cover the attack.
What a difference from Gaza.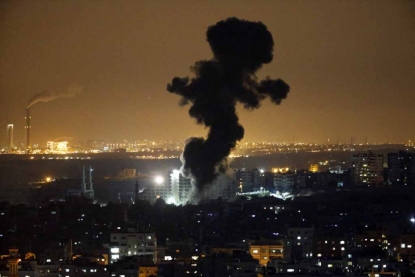 Smoke rises over Gaza after an Israeli strike. July, 2014. (AFP / Thomas Coex)
In Gaza, a thin strip of land saturated by violence for years, my children were my first worry when I headed off to cover attacks and wars.
It was common and expected to hear an air raid or an attack in Gaza at any time of day and night. When I got calls from the office to go cover one, I would often drop my kids off at my mother's and head out. Gaza is small and you never knew if an attack would strike your house. How often did I feel selfish and guilty for leaving them in dangerous situations.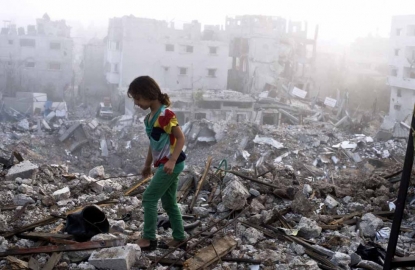 A child walks through the rubble her home in Gaza. August, 2014. (AFP / Roberto Schmidt)
Once my daughter broke my heart. It was during the last war. There was heavy shelling and I had to go to the office. She hugged me tightly as I headed out.
"Don't go Mommy. If you go out, you will get killed and we will only meet in heaven."
But I couldn't work from home that day, as there was no electricity and I was saving the USB battery for the night.
To be honest, I think I also wanted to go out, to escape, so that I didn't have to see the fear in her eyes when an explosion struck. And they struck every minute it seems. I felt so helpless. Going to work was an escape.
"The Israelis are not targeting journalists," I told her. "I have a press sign on my car, so I'll be ok, don't worry. I'll be safe," I said heading out the door.
She wasn't fooled.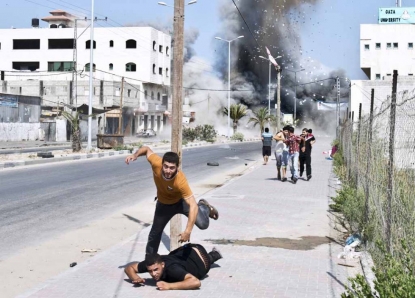 Palestinians scramble after an air strike on a house in Gaza. August, 2014. (AFP / Roberto Schmidt)
The last war was particularly hard on me, both as a journalist and as a human being. The bureau's office assistant was killed in the war, I had to leave my house and move into my sister's, my husband was out of Gaza.
My daughter had serious trauma from that war. She couldn't be alone at all, she was too scared. She couldn't even go to the bathroom by herself.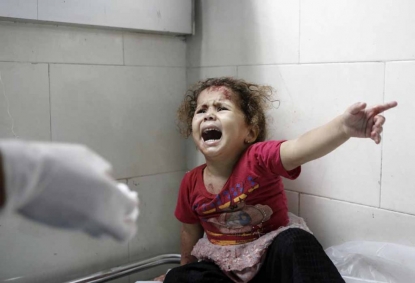 A child cries inside a Gaza hospital. July, 2014. (AFP / Mohammed Abed)
An opportunity to come to Sweden came up and my husband and I decided to take it. Even here, it was difficult. She was too scared to go to school, she was afraid it would be shelled. I had to go back to Gaza in the beginning and my husband had to stay with her in the classroom for three months. If she heard a helicopter here, she began to panic.
We came here to escape the violence and the tension of the Gaza Strip, but it was hard to leave. Palestinians tend to be very family oriented and aside from my husband and my kids, my family was staying behind in Gaza. I would no longer be able to drop the kids off at my mother's. Or count on the neighbors to keep an eye on them as they played outside. Or have my kids enjoy large, noisy family gatherings, playing with their myriad of cousins.
So my kids were my main reason for moving to Sweden and here I was, dashing off to cover an attack on a school and my kids didn't even cross my mind.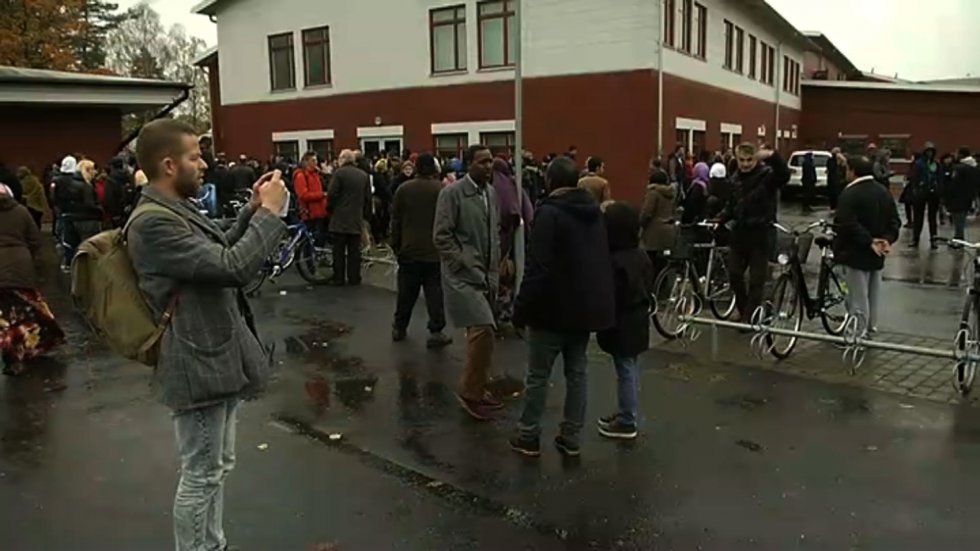 Click here to watch on a mobile device.
I guess violence is such a permanent part of life in Gaza, and Gaza is so small, that you're always worried that it could strike your loved ones. But Sweden is so calm and safe that you just don't expect it to touch you.
The assault in Trollhattan, which has a large immigrant community, saw a teenage student and a 20-year-old teaching assistant killed in a racist attack in which a killer, dressed in black, wearing a Darth Vader-like mask, a German World War II Nazi-era helmet and armed with a sword, went from classroom to classroom in search of those with "dark complexions."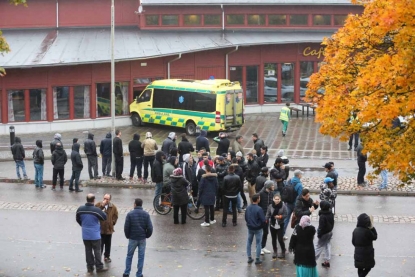 The school after the attack. (AFP / TT News Agency / Bjorn Larsson Rosvall)
When I arrived at the school, I found more differences from my past experiences with deadly violence. There were dozens of people gathered outside, standing behind the fenced off perimeter. Many of them spoke Arabic, so much so that I felt at home. There were policemen and everyone seemed to be shocked.
To me, it was like a scene out of an American movie. In Gaza, you rarely see uniformed policemen at scenes of attacks and the people who gather around don't stand to the side. They crowd right in, trying to pick up dead bodies and help the injured.
When I started interviewing witnesses, they were all shocked, sad and scared.
That was another striking difference – the violence doesn't have the same impact here than in does in Gaza.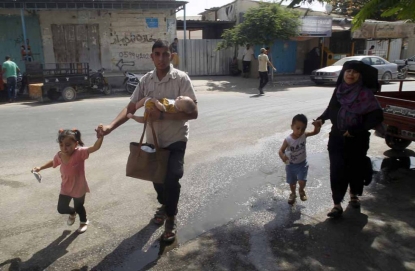 Families flee their homes in southern Gaza following Israeli air strikes in the area. August, 2014. (AFP / Said Khatib)
People in Gaza are of course sad when they lose their relatives or friends.
But they are rarely scared or shocked. It was very common for me to interview someone who had just lost a child and he would say. "I'm proud, he is a martyr, I'm ready to sacrifice all my sons for Palestine and God."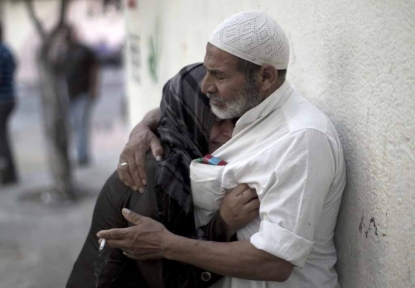 A couple comforts each other after losing relatives in an Israeli air strike. (AFP / Mahmud Hams)
In Trollhattan, I found no such sentiments.  Amal Ahmad, a 37-year-old mother of a student at the school stood outside the building holding a sign that read "Varfor" (Why).
"I'm scared and I worry for my kids," she said. "I don't want any harm to come to them."
"I'm originally from Iraq. We left our country for security here in Sweden, we don't want violence."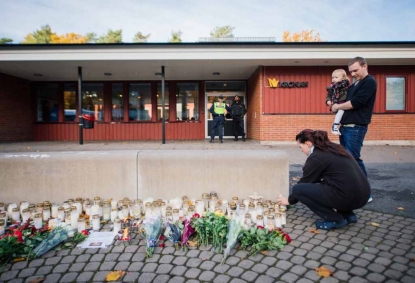 A woman lights a candle outside the school after the attack. (AFP / Jonathan Nackstrand)
I think the main thing that I came away with from my experience in covering the Swedish attack is that violence is horrible everywhere, but its impact varies, depending on where it occurs.
In violence-sodden Gaza, it evokes anger and frustration and often defiance. In peaceful Sweden, I found fear, shock and sadness.
Mai Yaghi was an AFP correspondent based in Gaza and is currently in Sweden on leave. This blog was written with Yana Dlugy (@yanadlugy) in Paris.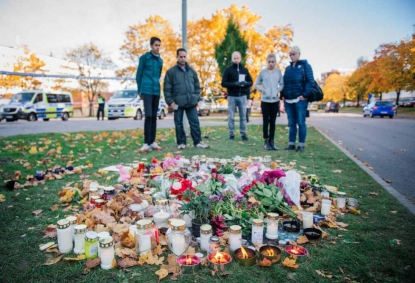 Candles and flowers outside the attacked school. (AFP / Jonathan Nackstrand)