A vote and a smile
Yangon, Myanmar, November 27, 2015 -- The smiling faces and the surprising willingness to talk -- that's how I'll remember the recent election in Myanmar, the historic vote that saw Aung San Suu Kyi's party win a landslide, ending more than 50 years of military rule.
I have covered elections in my home country before, and people smiling as they leave polling stations was not a feature in any of them.
But on November 8, the voters grinned in their hundreds after casting their ballots.
A woman smiles as she casts her ballot in the November 8 poll. (AFP / Nicolas Asfouri)
The lines outside the polling stations formed as early as 5:00 am, with women and men of all ages, many of them having come with family members or friends, queuing on the streets. They seemed determined, and almost anxious, as if they were afraid that at the last minute they would be prevented from voting.
And once slipping their ballots in the box, most happily shared with reporters their choice – "Amay Suu" ("Mama Suu") as Suu Kyi is known affectionately in her homeland.
Even if some were reticent to talk to the media that descended on the country for the poll, I was struck by just how many said openly how they voted. Nearly everyone with whom I spoke cast ballots for Suu Kyi's National League for Democracy (NLD), which in the end received two-thirds of seats, winning control of both houses of parliament and the ability to choose the next president.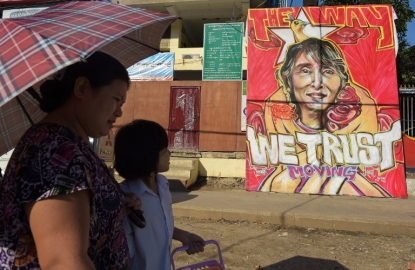 Graffiti depicts Suu Kyi outside the headquarters of her party in Yangon. (AFP / Nicolas Asfouri)
Even during the by-elections of 2012, which saw Suu Kyi enter parliament, no-one dared to reveal his political affiliation outside the voting booth.
And what a difference with the last general election in 2010, when the country was still under full military rule.
Back then, local reporters couldn't go to polling stations to cover the election and talk with the voters. The authorities organised convoys to take the media around, so I spent the poll working surrounded by government minders.
So much has changed in the five years since.
On November 8, a huge media scrum representing news organisations from around the world crowded around "The Lady" as she cast her ballot in a small school in the centre of Yangon. The world's cameras recorded every move of the woman who today still incarnates the democratic aspirations of a country that has lived for years under military rule.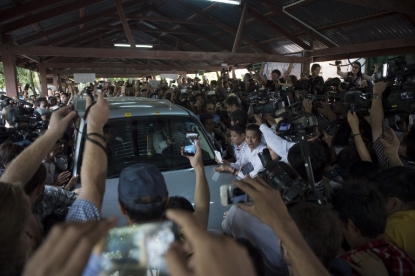 Media mob Suu Kyi's car at a polling station during the November 8 poll. (AFP / Nicolas Asfouri)
Suu Kyi elicits immense respect both within and outside her country for her non-violent resistance to the junta and the sacrifices she made for her ideals, leaving her two young sons behind in Britain to return to Myanmar in 1989. Every time I see her free I think about the day she was finally released from house arrest under which she had spent nearly 15 of the 20 years since returning to the country to lead its democracy movement.
In September 2010, as the junta readied to hold elections considered a farce by the international community, I realised that Suu Kyi's house arrest was due to end shortly after the poll.
I contacted some of my sources, two of whom confirmed that she was going to be released and that I could announce her upcoming release at the end of the month.
On November 13, 2010, at the hour given to me by a source, I put myself in position near her house. I don't approach too closely at first, as I don't want to be arrested before I can cover her release.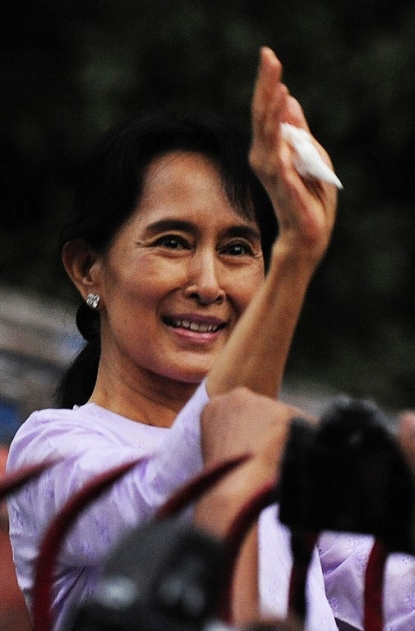 Aung San Suu Kyi waves to supporters after her release from house arrest in 2010. (AFP / stringer)
I have two telephones, one in each hand. On one line is my source, who will give me the step by step of what's happening inside the house; on the other line is my bureau chief, who will send the alerts on the wire. I dare not hang up and in the end spend about two hours on the phone. By 4:00 pm, I'm in front of the barricades leading up to her house.
Shortly after 5:00 pm she is free. All of the sudden, the barricades around the house are lifted and the gathered crowd of her supporters, drunk with happiness, runs toward the house. Caught up in the tide, I run as well -- I have to be in the front to see her and hear what she says.
When she finally appears, it's dusk but I record a short video nonetheless. The images turn out to be dark and I am shaking, but I still manage to get the first images of her behind the fence surrounding her house.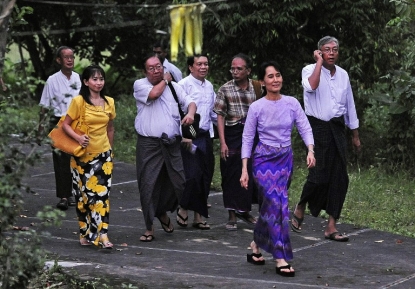 Suu Kyi walks to address her supporters outside the gates of her house after her release from house arrest in 2010. (AFP / stringer)
Smiling and laughing, she salutes the crowd and raises herself above the fence. She catches a bouquet of flowers that one of her supporters gives her.
"I'm glad that you are welcoming me and supporting me. I want to say that there will be a time to come out. Do not stay silent when that time comes," she said. "We must work together in unison."
Suu Kyi takes flowers from supporters after her release from house arrest in 2010. (AFP / Soe Than Win)
Five years pass, to the day, between that moment and the announcement of her party's crushing victory in the November 8th poll. She has travelled a long way in those five years, but despite her victory, still has a long way to go before parliament elects a president -- a post for which she is ineligible under the current constitution, which prohibits someone who married a foreign national or has children with foreign passports from holding the post. Suu Kyi's late husband was British, as are her two sons.
Suu Kyi has said that she has a "plan" to rule despite these barriers. The whole country will be watching the woman who incarnates such hope inside her homeland.
"We hope for the best but are ready for the worst," the Burmese often say. The upcoming months look to be as exciting to cover as the election that made the voters smile.
Hla Hla Htay is an AFP correspondent based in Yangon.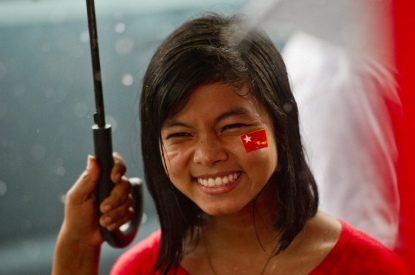 A supporter of Suu Kyi's party smiles as she watches the first official results of the November election announced on a giant screen outside party headquarters the day after the poll. (AFP / Ye Aung Thu)