Of football and friendship in Saudi Arabia
RIYADH, December 1, 2014 -Outside King Fahd International Stadium the young Saudi Arabian police officer asked if I had my ticket to that evening's Gulf Cup football final.
A routine check ? No, an invitation to Saudi hospitality.
I had arrived about four hours before the match to be sure of getting in, and to allow plenty of time to shoot some footage of the fans before Saudi Arabia and Qatar played for the regional championship.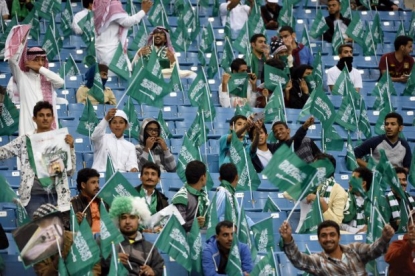 Fans of the Saudi national team cheer before the final of the Gulf Cup of Nations (AFP PHOTO/ Fayez Nureldine)
Only the most eager of supporters had arrived, and even the vendors were just setting up their flags, caps and scarves in the kingdom's green and white colours.
As the only Westerner about, I must have been pretty noticeable to the policeman and his colleagues when I first approached, asking where I could get a ticket.
They pointed around the corner, and after a few more inquiries I found the ticket booth. Then I wandered around for a while near Gate 6, soaking up the early evening atmosphere as the sun set behind palm trees.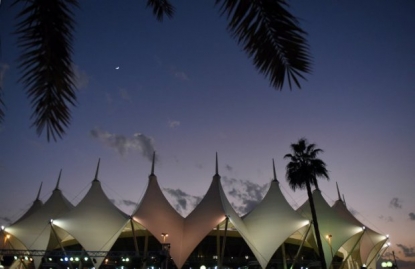 The King Fahd stadium in Riyadh before the final of the Gulf Cup of Nations between Saudi Arabia and Qatar (AFP PHOTO/ Fayez Nureldine)
When I neared their white sedan, one of the policemen asked about my ticket -- a friendly gesture, just to make sure I had, after all, been able to find one.
Then he invited me for coffee with him and his colleagues beside their unmarked car.
From the back seat he pulled out a silver pot and poured some of the steaming liquid into a paper cup. The policemen drank also. Saudi coffee is a yellowish colour, spiced and unsweetened. It was good.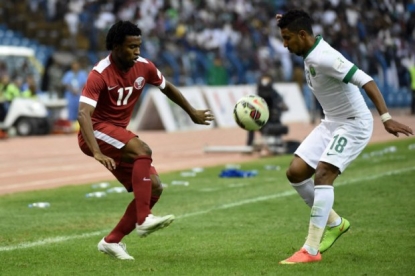 Saudi Arabia's Salem al-Dosari (R) defends against Qatar's Ismail Mohamad (L) during the final of the 22nd Gulf Cup (AFP PHOTO/ Fayez Nureldine)
In my limited Arabic and their few words of English we chatted and joked. They all looked young to me. One wore large sunglasses. Another had a pistol on his hip.
The one who invited me was all smiles, and had a gentle demeanour. He asked about my job. For some reason, his colleagues kidded that he was Egyptian. 
Another, whose unshaven looks made him appear slightly older, pointed to his name written in Arabic on the front of his uniform.
They shouted greetings to a bearded officer walking past, after a parade of other brown-uniformed men marched into the stadium.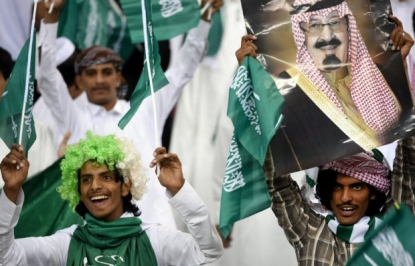 Saudi fans carry a portrait of King Abdullah bin Abdul Aziz al-Saud before the final of the 22nd Gulf Cup (AFP PHOTO/ Fayez Nureldine)
Out came the coffee pot again, and this time they poured even more than the last.
Music came unobtrusively from inside their car.
They asked to take a photo of me, their new friend from Canada.
When they finished their coffee, they bid a cheerful goodbye and went off to work, leaving me marvelling at how a football match had again brought me face to face with Saudis.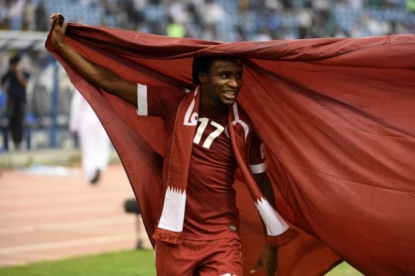 Qatar's Ismail Mohamad celebrates after defeating Saudi Arabia 2-1 in the Gulf Cup final (AFP PHOTO/ Fayez Nureldine)
In reality, that was the main reason I had come to this match, a championship little known outside the Gulf. For me, less than three months in the kingdom, this wasn't really about football.
I had learned early in November that the stadium is a chance to see Saudi life up close, in a conservative society that is hard for Westerners to penetrate.
On that occasion, I had come to cover the AFC Champions League final between Saudi Arabia's Al Hilal and Australia's Western Sydney Wanderers.
I arrived with a big plastic press pass hanging from my neck but that was no assurance of getting in. Desperate Saudi fans were blocking the gate still hoping to enter a stadium already full with almost 70,000 Hilal supporters.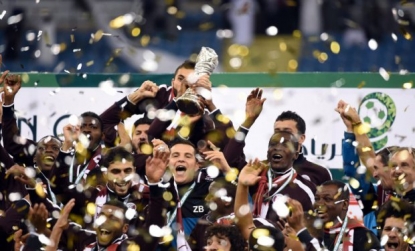 Qatar players celebrate after defeating Saudi Arabia 2-1 in the final of the Gulf Cup (AFP PHOTO/ Fayez Nureldine)
I was wondering how to penetrate this human wall when a man in a white thobe and red and white checkered shemagh headdress, the kind of clothes most Saudi men wear, took my arm. He began to lead me through the throng.
On the other side of the barrier the man walked with me, and I assumed that he, too, was off to find his seat for the match.
But then he smiled, and turned back towards the crowded gate.
His good deed left me dumbfounded at such kindness, found at a football match.
Ian Timberlake is AFP's Bureau Chief in Riyadh
A decorated car during celebrations in Doha after Qatar's Gulf Cup triumph (AFP PHOTO/ STR)