Raising the cost of lies, across two continents
LONDON, November 25, 2014 - Driving into Buenos Aires from the airport, along back-roads far from the glamorous boulevards, the graffiti daubed everywhere along my route betrayed a deep lack of trust both in politicians to tell the truth -- and in traditional media to report it.
I was in the city to take part in LatAm Chequea, the first-ever gathering of journalists from across Latin America to talk about one of the most powerful new trends emerging in the field: investigative fact-checking.
Looking at the angry graffiti scrawled on shop fronts and city walls, it was plain to see why fact-checking has taken off in Argentina and the wider region -- as a way to weed false claims from public debate, and rebuild trust with elected leaders and the media.
This new form of journalism – not simply reporting accurately what people say but investigating, and reporting on, the accuracy of what they say – has been around for a while, but is said by most to have developed as a major force in the United States in 2004 with the creation of the website Factcheck.org, followed a few years later by Politifact.com.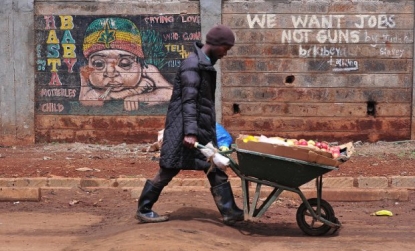 A graffiti in the Kibera slum in Nairobi in November 2014 (AFP Photo / Simon Maina)
In 2009 it spread to Latin America when a small group of friends in Argentina – none of them journalists by training – banded together to found the continent's first fact-checking website Chequeado.com. 
"Our goal," one of the founders, Julio Aranovich, told me over a late-night dinner during the conference, "was to improve public debate in our country by raising the political cost of telling lies. We don't say we will stop them telling lies. But we will -- and do -- make it harder. We raise the cost of the lie and the value of telling the truth".
So what sort of claims do the Chequeado.com team investigate? Are they the same as, or different from, those explored by the Africa Check project -- founded in 2012 by the AFP Foundation together with the University of Witwatersrand in Johannesburg.
I asked Olivia Sohr, who has been with Chequeado since it was launched five years ago.
A prison riot in Santiago del Estero, Argentina, in November 2007. In May 2014, Chequeado.com rated as "misleading" a claim by Argentine Senate Majority Leader Miguel Angel Pichetto that foreigners accounted for a fifth of the jailed population in the country (AFP Photo / Diario El Liberal / José Gómez)
Claims about crime are one, she said. In a debate on crime in May, for example, Argentine Senate Majority Leader Miguel Angel Pichetto claimed that foreigners accounted for a fifth of the jailed population. Remarks in any country that link foreigners and crime can, of course, be exploited to inflame social tensions so it is always important to know if they are true. Chequeado investigated and found that, taking account only of the population of federal prisons, in which foreigners are overrepresented, Pichetto was not far off the mark. But across the prison population as a whole, foreigners represent just 6% of the total. It therefore gave the claim a rating of "ENGAÑOSO" – or "MISLEADING".
Claims about crime are also a frequent topic of debate in South Africa, I explained, as our Africa Check project shows.
Another area we have in common is investigation of questionable claims made by the heads of major companies.
In August this year, Mariano Recalde, the head of the famously opaque state-run airline Aerolineas Argentinas, claimed that the company, long accused of being cagey about its financial dealings, had put all its financial records on its website.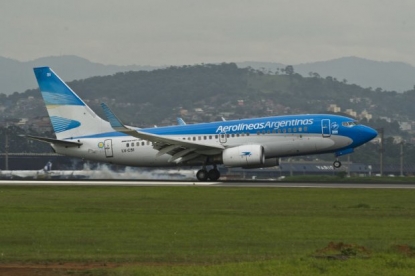 An Aerolineas Argentinas airliner lands at Sao Paulo International Airport, on November 2013. Chequeado.com has declared "exagerated" a claim by the state-run airline thait it had put all its financial records on its website (AFP Photo / Nelson Almeida)
Chequeado.com investigated and found that records were there, though hard to find, and had not been properly audited. It declared the claim "EXAGERADO" or "EXAGGERATED". 
And then of course, there are politicians' claims by about their record in government – something of a staple for fact-checking sites everywhere. 
A few years ago, Olivia told me, President Cristina Fernández de Kirchner was talking of her government's work on social housing. "We are the government," she declared "that built the most houses in the history of Argentina". Really? Well, no. Chequeado investigated and, based on the government's own official data found the claim to be "FALSO" or "FALSE".
And in this, they were not alone. The Africa Check team also recently rated a claim made by South Africa's president, Jacob Zuma about his government's social housing record to be false.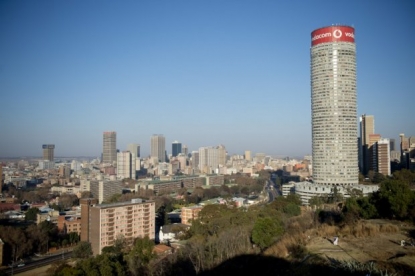 General view of downtown Johannesburg in June 2013. The Africa Check team recently rated a claim made by South Africa's president Jacob Zuma about his government's social housing record to be false (AFP Photo / Odd Andersen)
Unfortunately, said Olivia, in the case of Argentina there was a government backlash against Chequeado which has made their work much harder.
"The publication of this information and the repercussion it had in national media brought a restriction in the information the government provides, making it harder to determine," she told me. 
But the fact-checking continues -- and not just in Argentina or South Africa. Today, half a dozen or more fact-checking operations exist in Latin America and fact-checking is taking off elsewhere in Africa too. 
Attending the Argentina conference were the in-house fact-checking operations of major traditional media such as O'Globo from Brazil and El Mercurio from Chile, while others were independent web-based organisations such as La Silla Vacia from Colombia and UyCheck.com, a fact-checking website set up recently in Uruguay. 
And while the Africa Check project remains the only independent fact-checking website in Africa to date, it is far from alone there in taking false claims to task.
A few days after arriving back from Argentina, I headed last week to Nairobi, Kenya, to take part in the prize-giving for the African Fact-Checking Awards, launched this year by the Foundation and Africa Check to encourage fact-checking in African media.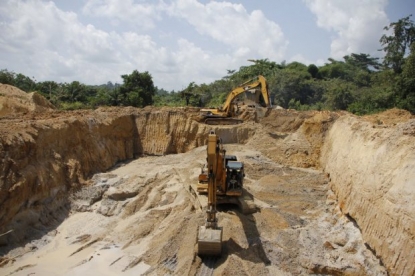 A small-scale gold mining site near Dunkwa-on-Offin, Ghana, in June 2013 (AFP Photo / Chris Stein)
On Friday, we named Edem Srem and Gifty Andoh Appiah of Ghana as winners for a powerful video that exposed misleading claims by the Ghanaian government to have eradicated the damaging practice of alluvial gold mining in the country. 
With entries in from 10 countries – Ethiopia, Ghana, Kenya, Madagascar, Nigeria, South Africa, Tunisia, Uganda, Zambia and Zimbabwe – and runners up from Kenya and Zambia, it is clear fact-checking is a growing force in Africa too. 
A study by American academics shown to the conference in Buenos Aires revealed that traditional media in the United States that carry fact-checking reports are seen as more reliable than those that still shun this growing trend.
One discussion that particularly drew me in involved fact-checking journalists from Argentina, Italy, the United States and our own Africa Check project. It concerned the way we work and how we had all, in different ways, come to similar conclusions about best practices for fact-checking. 
While in Buenos Aires I found myself gawping at the beauty of the jacaranda trees that spread along its broad boulevards -- in full bloom this month with lilac-shaded blossom covering the branches and scattering the pavements.
I was also reminded of jacaranda-lined streets thousands of miles away, in Johannesburg. 
Jacarandas can be found quite widely in Africa these days. But they were imported, I was told last week, to South Africa in the 1880s from Argentina and have since spread across the continent.
Like working to weed out lies from the media, the delicate blossom is one more thing the continents now have in common.
Peter Cunliffe-Jones is the AFP Foundation's deputy director and the founder and director of Africa's first fact-checking website, Africacheck.org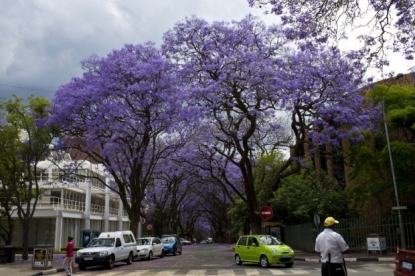 Jacaranda trees blossom in a street of Johannesburg in November 2013 (AFP Photo / Alexander Joe)