A flash of xenophobic rage
JOHANNESBURG, April 17, 2015 – Outbreaks of xenophobic violence are a recurring problem in South Africa, and particularly in Johannesburg, which is home to large communities of foreigners from other parts of Africa. On April 15, a rumour starts spreading on social media, warning that foreign-owned stores in the city centre are about to be attacked by looters. We set off right away, a team of three including myself, a text and a video reporter.
We head down to Jeppe Street, the headquarters of the association of Ethiopians in South Africa. All around us, the atmosphere is tense. Local storekeepers have pulled down their metal shutters. They tell us they're afraid, that they don't feel anyone is there to protect them.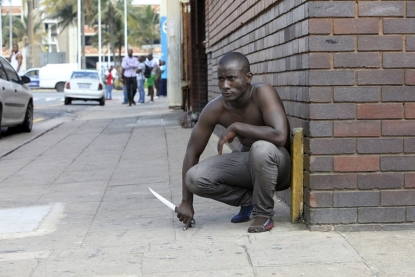 A foreign national holds a knife during a wave of xenophobic clashes in Durban on April 14, 2015 (AFP Photo)
Almost all the recent flare-ups started with the looting of foreign stores. That is what happened in Durban, in the country's east, where xenophobic attacks left six people dead in recent days, including an Ethiopian burned alive as his store was torched.
I don't know what sparked the rumour in Johannesburg. Maybe some stores really were attacked? But we find out later that a major police raid targeting counterfeit goods was staged in the neighbourhood that day. It is also possible that someone saw the police deployment and wrongly assumed they were there following a looting spree.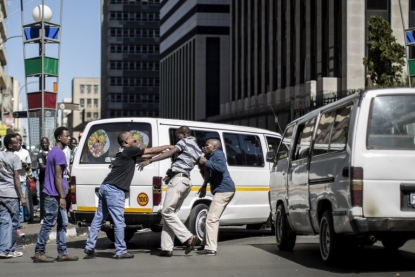 A South African taxi driver is pushed around by immigrants after making xenophobic remarks during a traffic incident in Johannesburg on April 15, 2015 (AFP Photo / Marco Longari)
The foreign community is on edge after the violence in Durban. "Warning" messages, rumours and videos on social media are enough to start a panic. We position ourselves at a crossroads where several hundred people are gathered, ready to face off with potential aggressors.
The spark is a banal traffic incident. One of the foreigners is nudged by a minibus whose driver – a South African – foolishly chooses to hurl a xenophobic insult at the man, something along the lines of: "Go back home where you belong." The crowd sets upon him, dragging him from his vehicle and kicking him.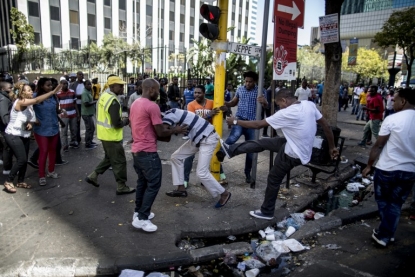 A South African taxi driver is beaten by immigrants after making xenophobic remarks during a traffic incident
 in central Johannesburg on April 15, 2015 (AFP Photo / Marco Longari)
Other South African taxi drivers intervene, and the whole thing degenerates into a street brawl with kicks, punches and stones flying.
(Video: tensions in Johannesburg and Durban after xenophobic violence)
At one point, one of the drivers runs over to a foreigner who has fallen to the ground and hurls two paving stones at his head with all his might. Thankfully the victim was hit with the side of the stone. He was stunned but able to get up again and seemed to have escaped serious injury.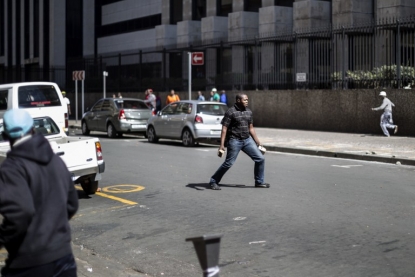 A taxi driver holds paving stones in his hands during clashes with foreign nationals in Johannesburg on April 15, 2015 
(AFP Photo / Marco Longari)
The surge in xenophobia in South Africa comes days after the Zulu king, Goodwill Zwelithini, traditional leader of the biggest ethnic group in KwaZulu-Natal, urged immigrants to "pack their bags and leave".
But in this Johannesburg district, it is foreigners who keep business ticking over, and the local South Africans we speak to are united in denouncing the wave of hatred targeting their neighbours.
Marco Longari is an AFP photojournalist based in Johannesburg.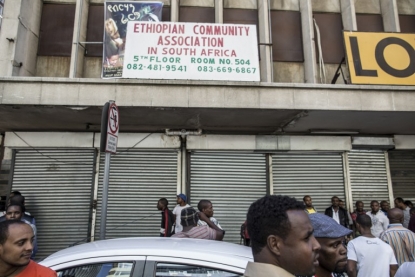 Foreigners stand in front of closed foreign-owned stores in Johannesburg on April 15, 2015 (AFP Photo / Marco Longari)