Elevator news
New York City -- Normally working in a press "pool" of a US president-elect is an exciting assignment -- the man is putting together a new team that will shape the direction of the powerful country for the next four years.
But Donald Trump is no ordinary president-elect. As a candidate, he ran a particularly anti-media campaign, often mocking and criticizing reporters and news organizations, and the antagonism has extended beyond election day.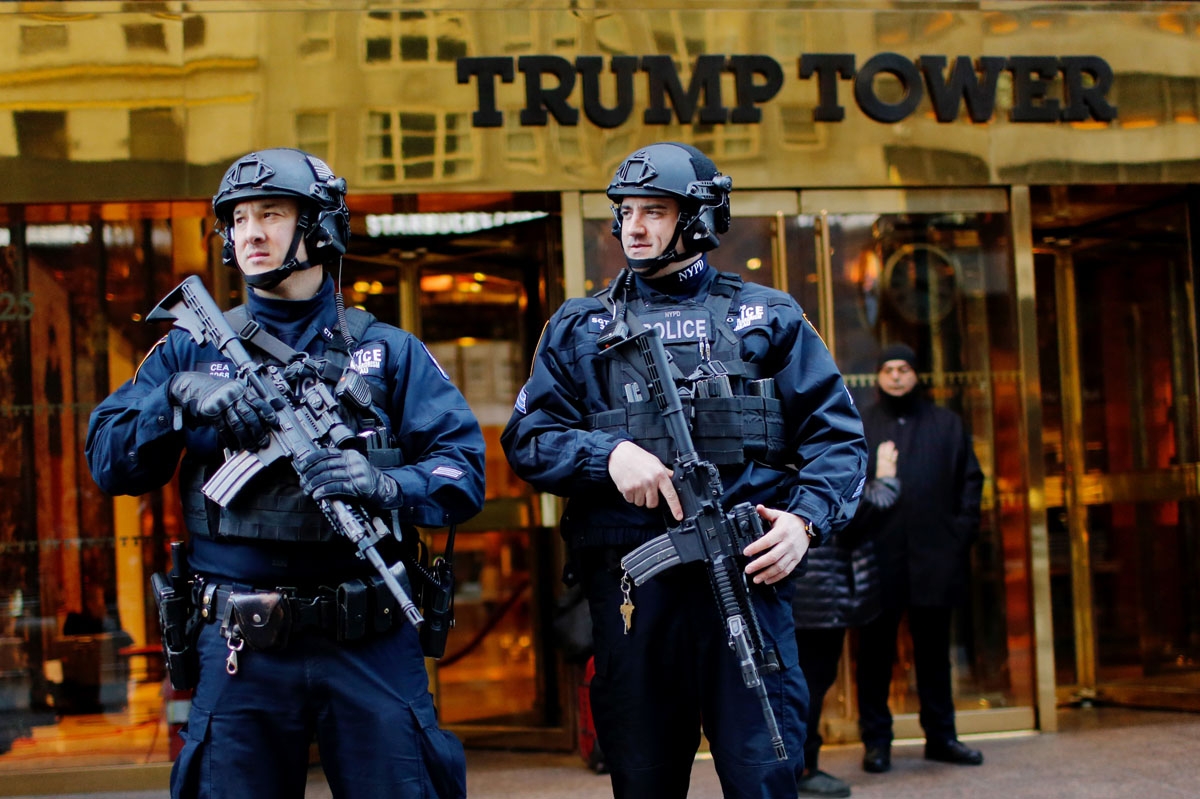 Police in front of Trump Tower. (AFP / Eduardo Munoz Alvarez)
As standard protocol a president-elects get a "protective" pool, the same as the president. The purpose is to have reporters with the man at all times, both to record what he is doing (think George W. Bush as he learned of the September 11 attacks) and to be there in case something happens to him (think Ronald Reagan assassination attempt). The pool chronicles the presidency, both big events (meetings with world leaders) and small (what he does to relax). The journalists making up the pool are the eyes and ears of their colleagues, passing on the information that they gather. News organizations like AFP take turns working in the pool.
So far, Trump's press pool has been mostly in name only. I did my stint a few days after Trump ditched the reporters assigned to chronicle his every move to go out to dinner with his family at a steakhouse. My predecessors have spent their days in the lobby of the Trump Tower on New York City's Fifth Avenue, watching the elevator doors open and close. Hardly any aides had briefed them, be it on or off the record, never mind the president-elect himself.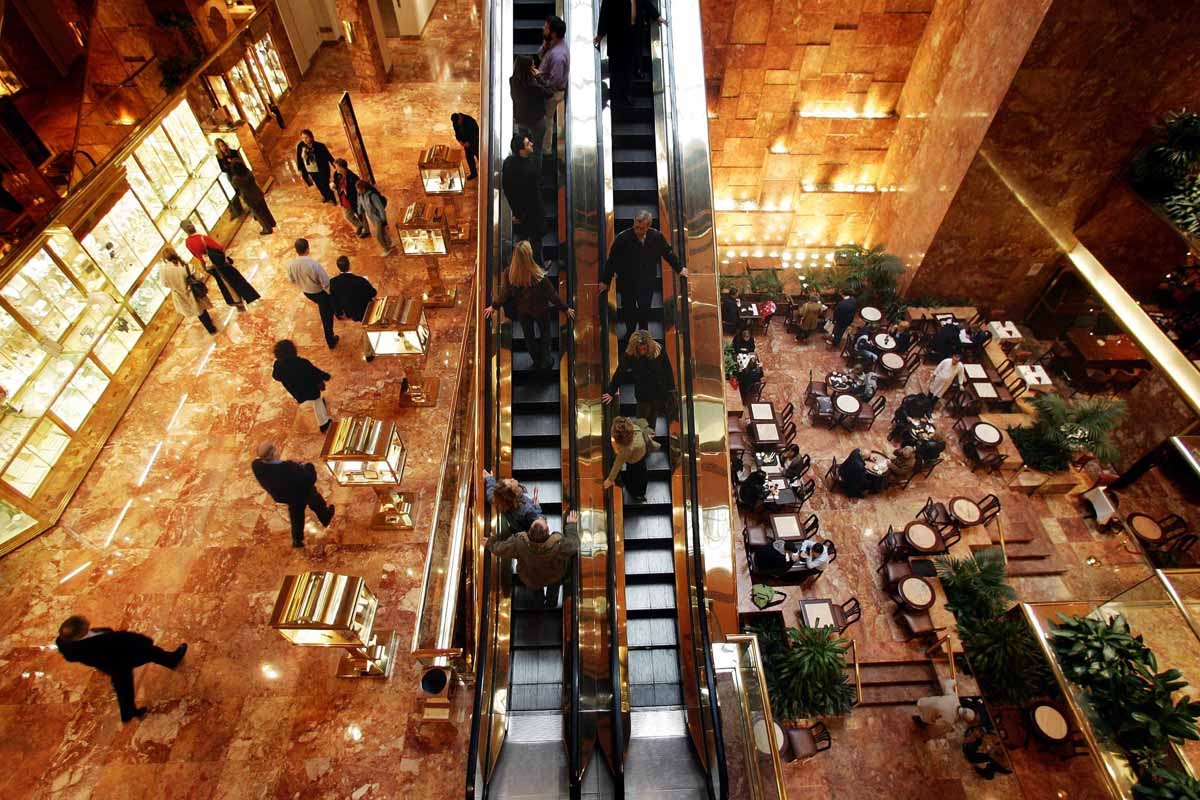 Trump Tower in quieter times, before its owner ran for the White House. October, 2004. (AFP / Don Emmert)
So when my turn came to do pool duty on Thursday, November 17, I was wary of what awaited me. In the end I had reason to be -- not only did we never see the candidate himself, holed up in his penthouse triplex, but we got only crumbs of information from his entourage.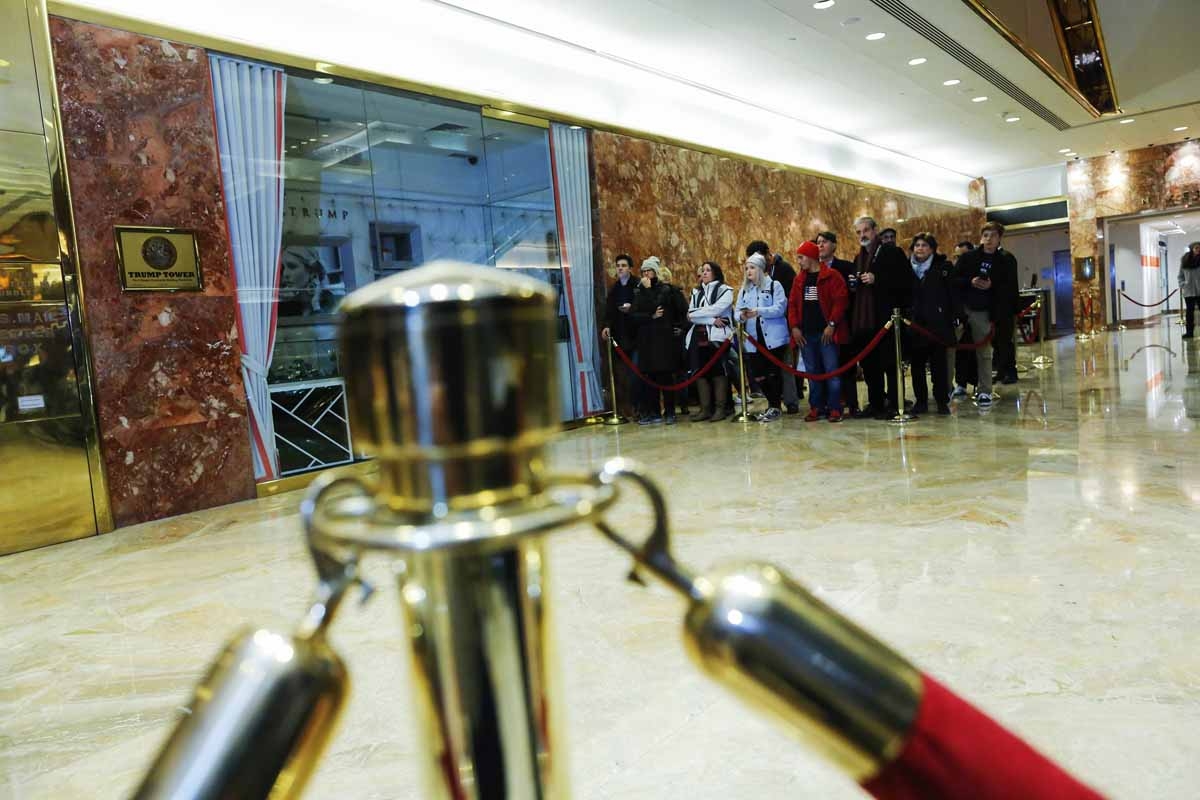 Bystanders in Trump Tower, November 21, 2016. (AFP / Eduardo Munoz Alvarez)
8:00 am My backpack goes through one of the X-ray machines set up at the tower entrance, guarded by five policemen in combat gear. The less than a dozen writers, photographers and camerapeople set up camp on the two black metal benches in front of the two elevators that we will scrutinize for the next 12 hours.
9:00 am Trump's sons Don Jr., then Eric arrive. Will your father name new members of his team today? one of us shouts. "We'll see," says Don Jr. Eric doesn't say anything, but gives a thumbs up. We duly note it in our notebooks.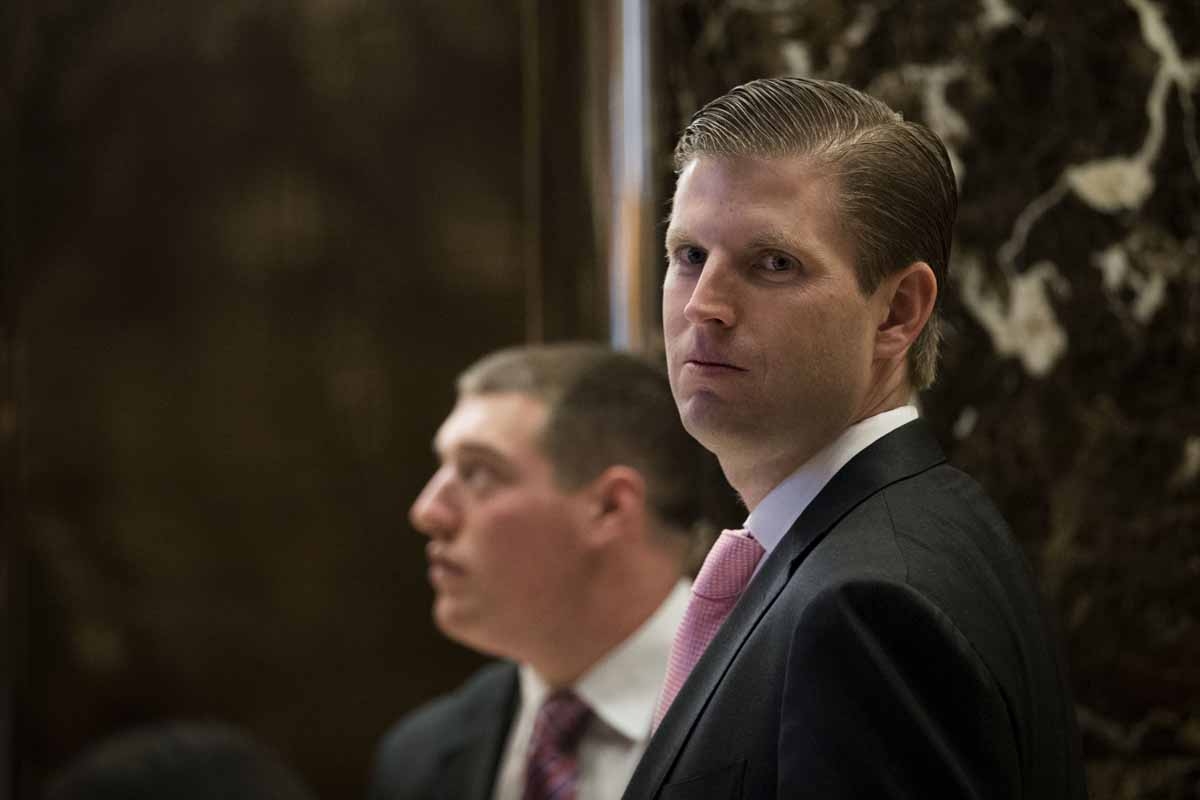 Eric Trump arrives at Trump Tower, November 17, 2016. (AFP / Getty Images/Drew Angerer)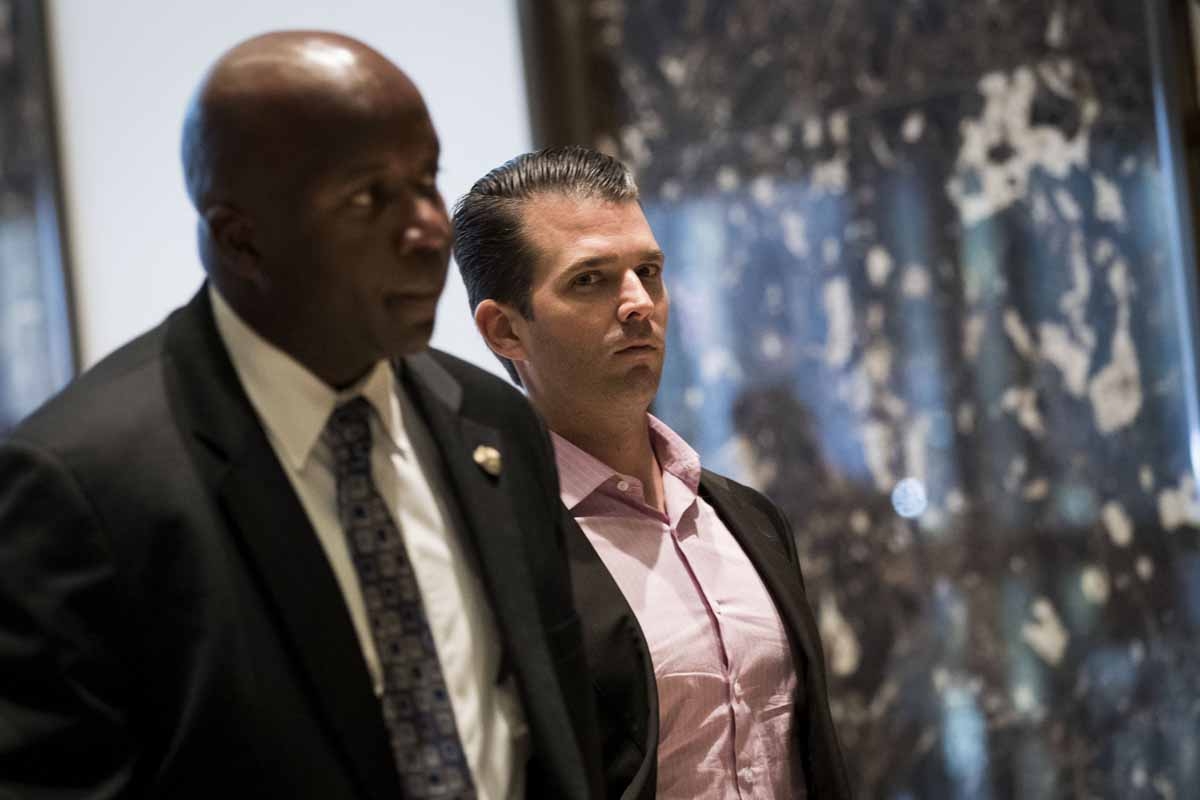 Donald Trump Jr. (R) arrives at Trump Tower November 17, 2016. (AFP / Getty Images/Drew Angerer)
9:25 am A young woman introduces herself to the press and hands out her business cards, saying she will sing at Donald Trump's inauguration ceremony in Washington on January 20. When she asks to go upstairs, she is politely told that she cannot do so and leaves.
(AFP Graphics)
Few people know it, but lower parts of the tower where Donald Trump lives and where he has set up his transition headquarters are open to the public. There is a Nike store, as well as the Starbucks and a Trump Grill. There is even a public terrasse on the 4th floor.
The first members of the team begin arriving around 9:00 am, some an hour later, and most will leave around 7:00 pm.
10:10 am There is Rudy Giuliani, former mayor of New York City who seems to have been smiling non-stop since the election. He is thought to be considered for the job of heading the State Department. Will you be offered the job? One of us asks? "I am going to get some rest," he says.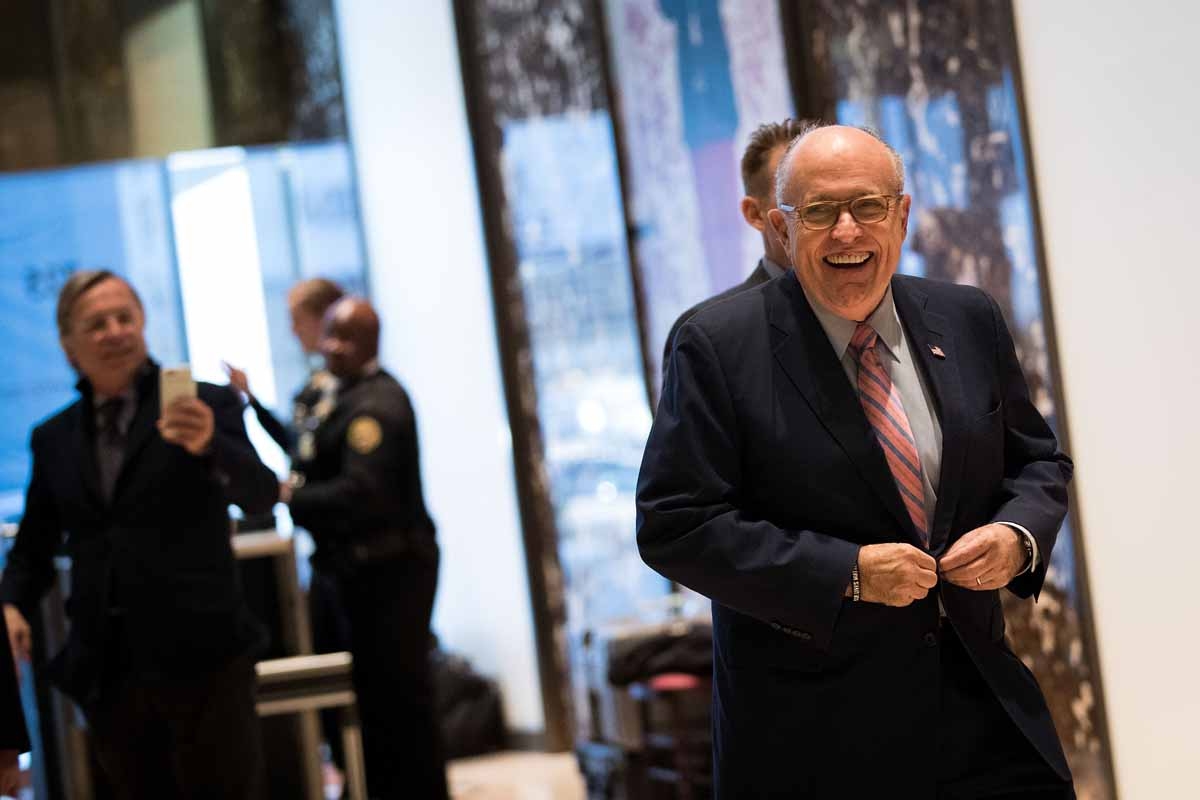 Former New York City mayor Rudy Giuliani arrives at Trump Tower, November 17, 2016. (AFP / Getty Images/Drew Angerer)
11:00 am Retired Army Lt. General Michael Flynn takes the elevator, flashing a V-sign with his right hand and repeating the phrase of the day: "It's going really well, it's a great transition and the president-elect is in full control, believe me." The next day he will be named national security advisor.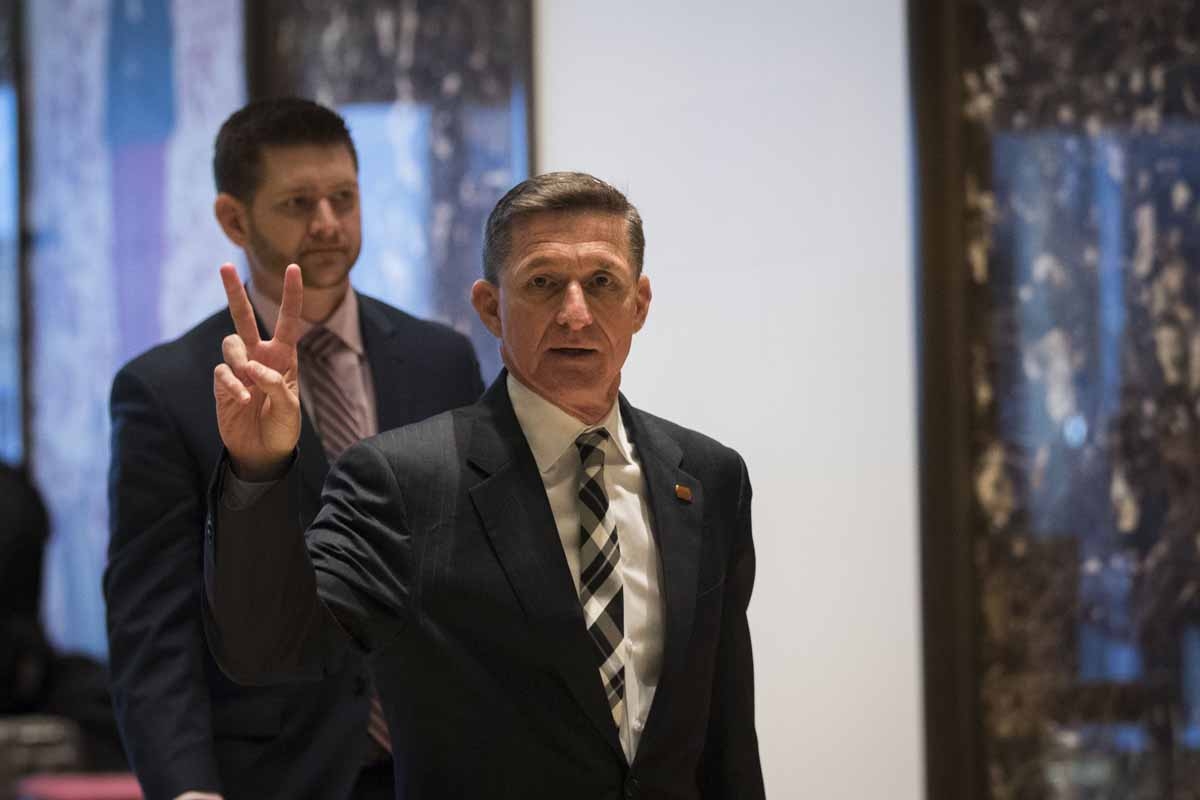 Retired Lt. Gen. Michael Flynn gestures as he arrives at Trump Tower, November 17, 2016. (AFP / Getty Images/Drew Angerer)
As desolate as our situation is, it was even worse and more chaotic for the reporters serving in the pool during the first few days of the transition. At least now, Trump's press team gives us the list of his meetings in advance and provides a daily briefing.
But we are kept at a distance, to say the least.
For example, we learn from a statement that Trump has met with Henry Kissinger, former secretary of state under Richard Nixon, whom noone saw arrive.
Besides the lobby where we are stationed, there are at least two other entrances into the highrise -- through the garage and via elevators that service only the 39 top residential floors.
We are told that we will remain on the ground floor while Trump will hold his first meeting with a foreign leader, Japanese Prime Minister Shinzo Abe. We protest, but to no avail. Not even photographers are allowed inside. Later, the Japanese government releases photos of the encounter, which then leads to a somewhat surreal situation of the American press having to rely on a foreign government for coverage of their president-elect.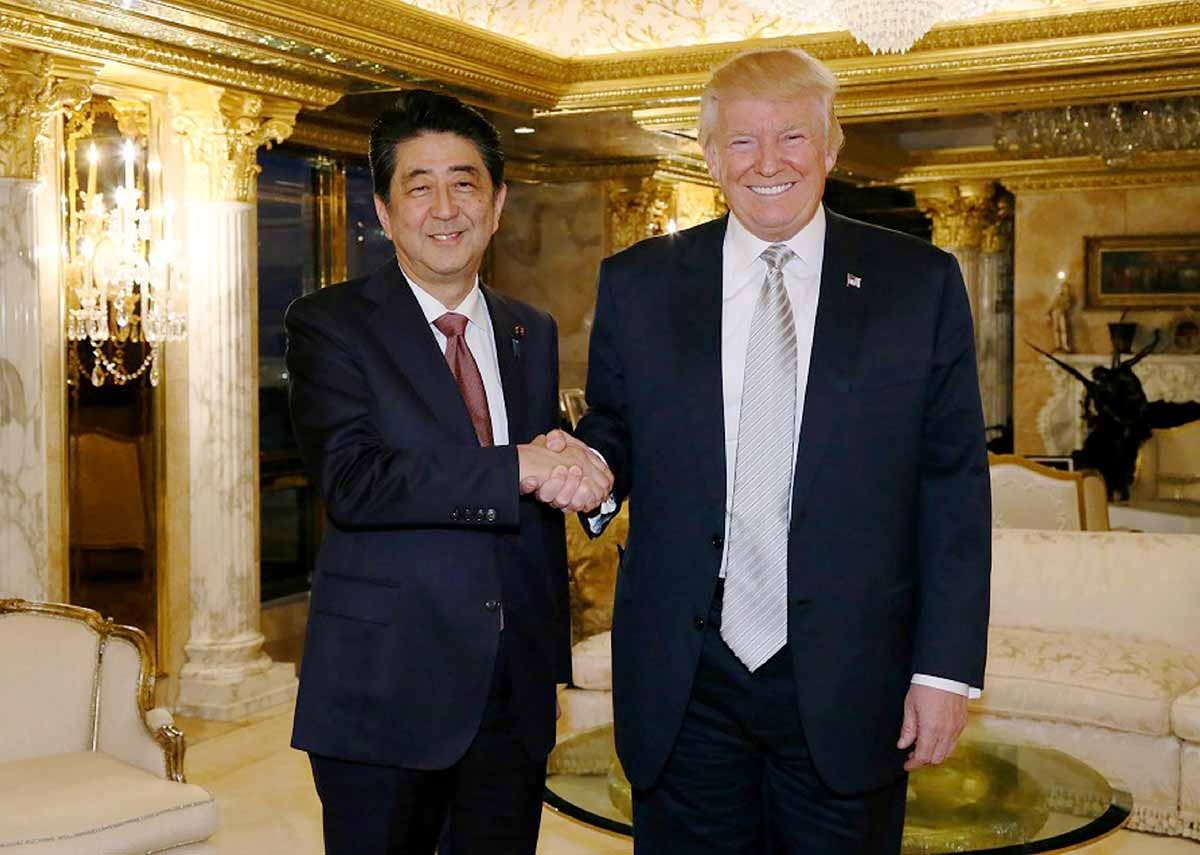 This handout picture from Japan's Cabinet Secretariat released on November 18, 2016 shows Japan's Prime Minister Shinzo Abe (L) shaking hands with US President-elect Donald Trump in New York. (AFP / Japan Cabinet Secretariat)
2:05 pm  I manage to get some concrete information -- the head of Trump's advance team George Gigicos says that the president-elect's first trip, his so-called "victory tour" through the swing states that he managed to capture during the election will take place after Thanksgiving. What a scoop.
3:45 pm With information so scarce, we concentrate on the little things. As soon as someone appears in those elevator doors, we scrutinize their face for any signs -- satisfaction, disappointment -- and carefully record how much time they spent upstairs. There is retired general Jack Keane, his brow furrowed, who stayed for only 56 minutes and ignores our questions completely as he leaves. We will learn later that he was offered the defense secretary post, but refused it for personal reasons.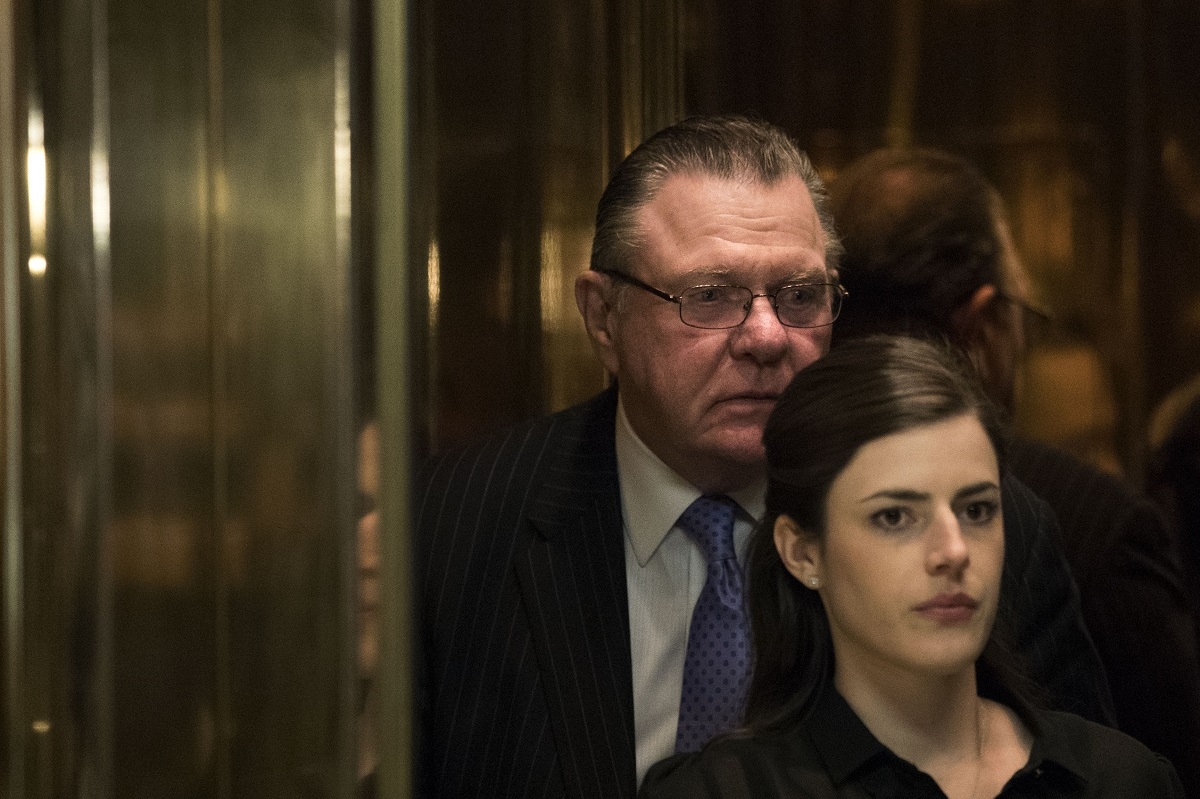 Retired U.S. Army Gen. Jack Keane gets into an elevator at Trump Tower November 17, 2016. (AFP / Getty Images/Drew Angerer)
Then comes Alabama Senator Jeff Sessions, smiling widely. He actually comes over to the press pack. Do you want to be secretary of state? we ask. "I haven't -- if he asked me, I'll share with him, but I'm not talking about my agenda at this point. I'd be pleased to continue to serve in the Senate."
The next day we will learn -- again, through a statement -- that the anti-immigration hardliner has been appointed as Attorney General.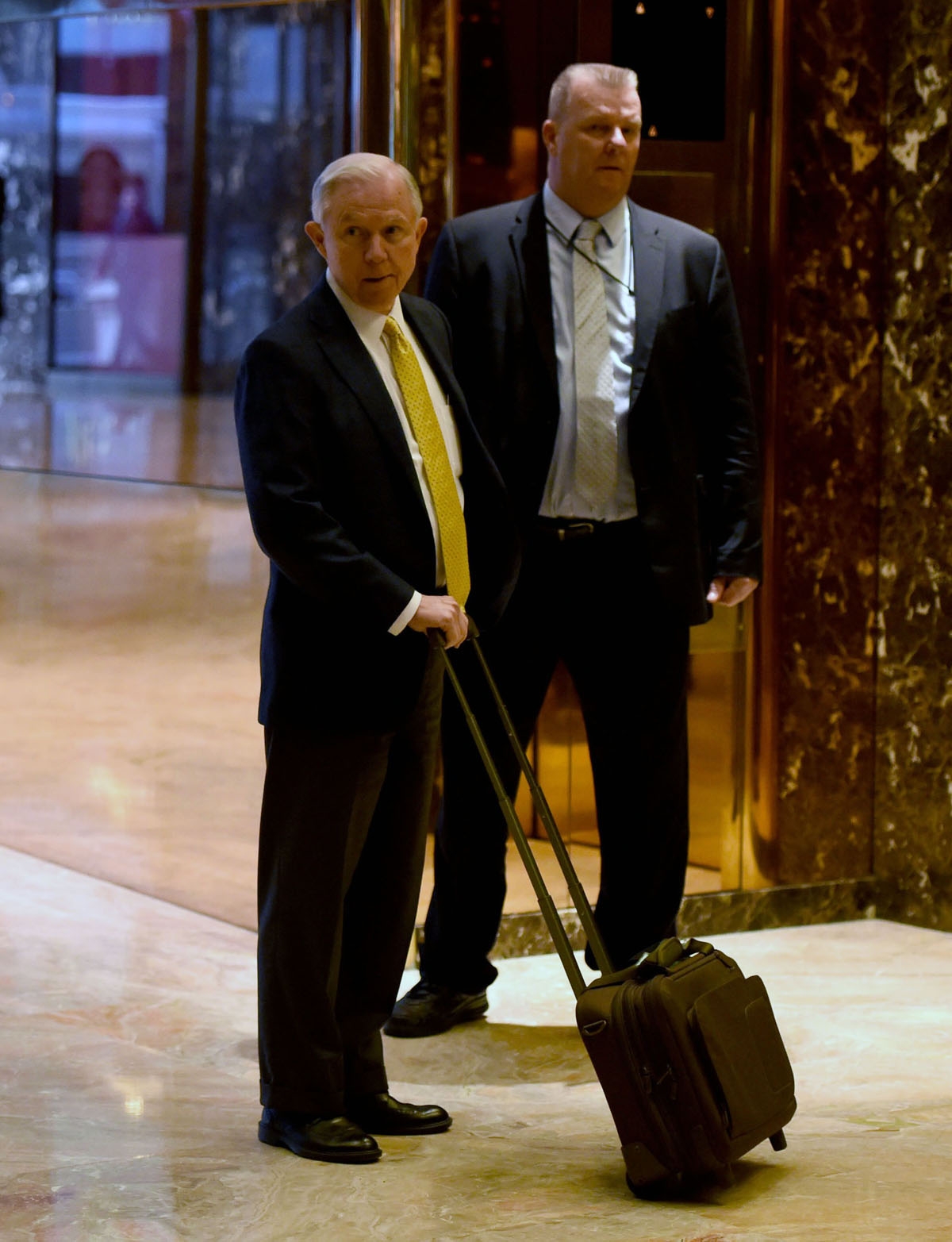 Jeff Sessions from Alabama arrives at Trump Tower for meetings at the Trump Tower November 16, 2016 in New York. (AFP / Timothy A. Clary)
4:54 pm -- A man with an air of a skateborder runs through the marbled hallway and does a flip, yelling "Wu Tang!" A furious security officer shoves him outside on the sidewalk.
4:55 pm One of us gets an email from a Japanese journalist telling us that Shinzo Abe has arrived and has started his meeting with Donald Trump, dozens of floors above us. Later, when the Japanese government releases its photos of the meeting, we will learn that the US president-elect met with Abe in his golden living room.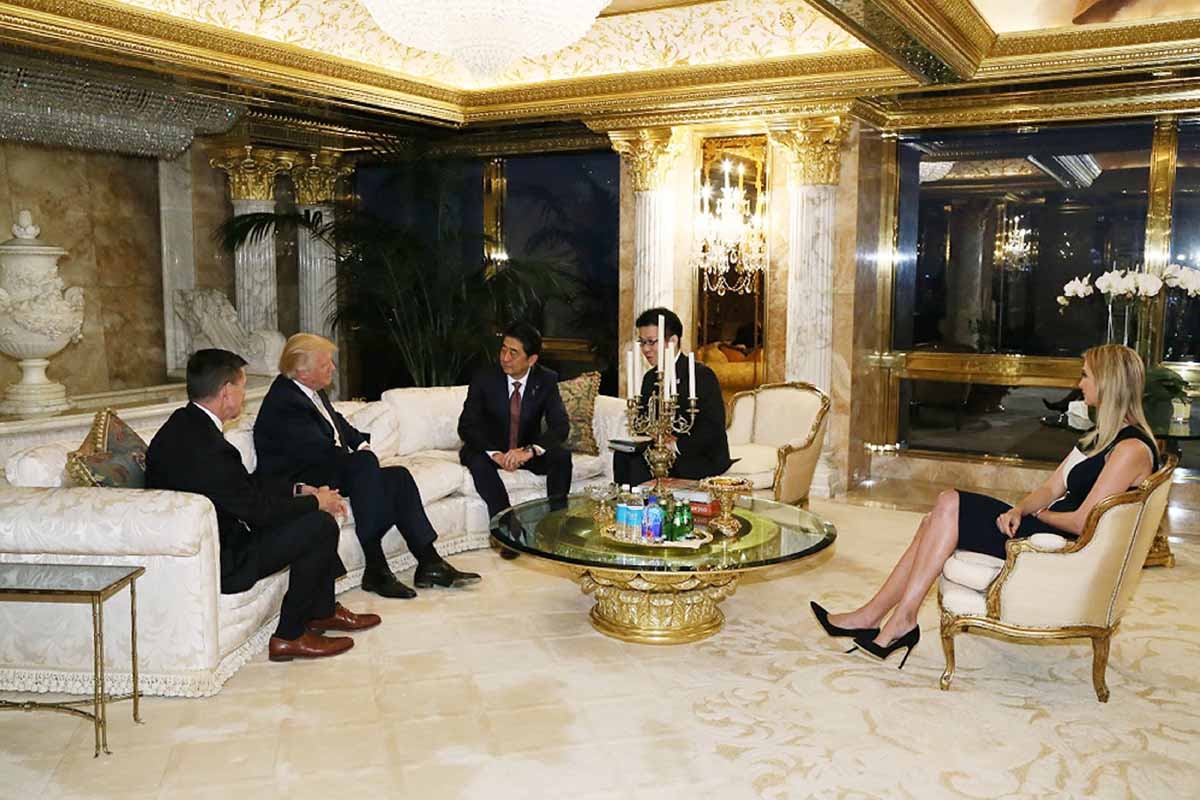 This handout picture from Japan's Cabinet Secretariat released on November 18, 2016 shows Japan's Prime Minister Shinzo Abe (3rd L) meeting with US President-elect Donald Trump (2nd L) in New York, as Trump's daughter Ivanka Trump (R) looks on. (AFP / Japan Cabinet Secretariat)
8:09 pm Secret Service agents close access to the lobby, tourists are escorted away. For a few minutes, we dare to think that we might actually get a glimpse of Donald Trump. Maybe as he goes to dinner again? We scrutinize the elevator. The doors open. We see… vice president-elect Mike Pence leaving the premises. Smiling, but mute.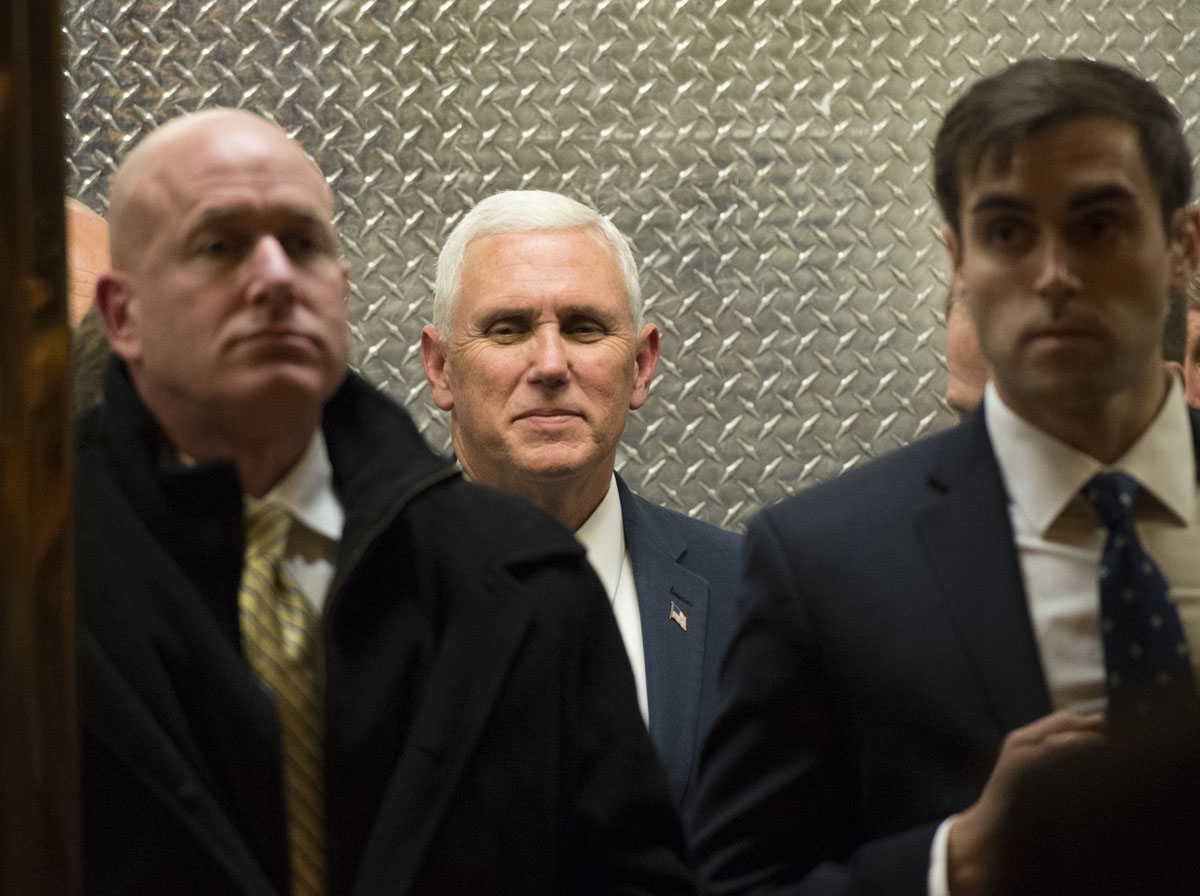 Vice president-elect Mike Pence arrives at Trump Tower for meetings with President-elect Donald Trump November 17, 2016. (AFP / Don Emmert)
8:38 pm The last of the journalists of the president-elect's 'protective pool' leave. Until the next day.
This blog was translated by Yana Dlugy in Paris.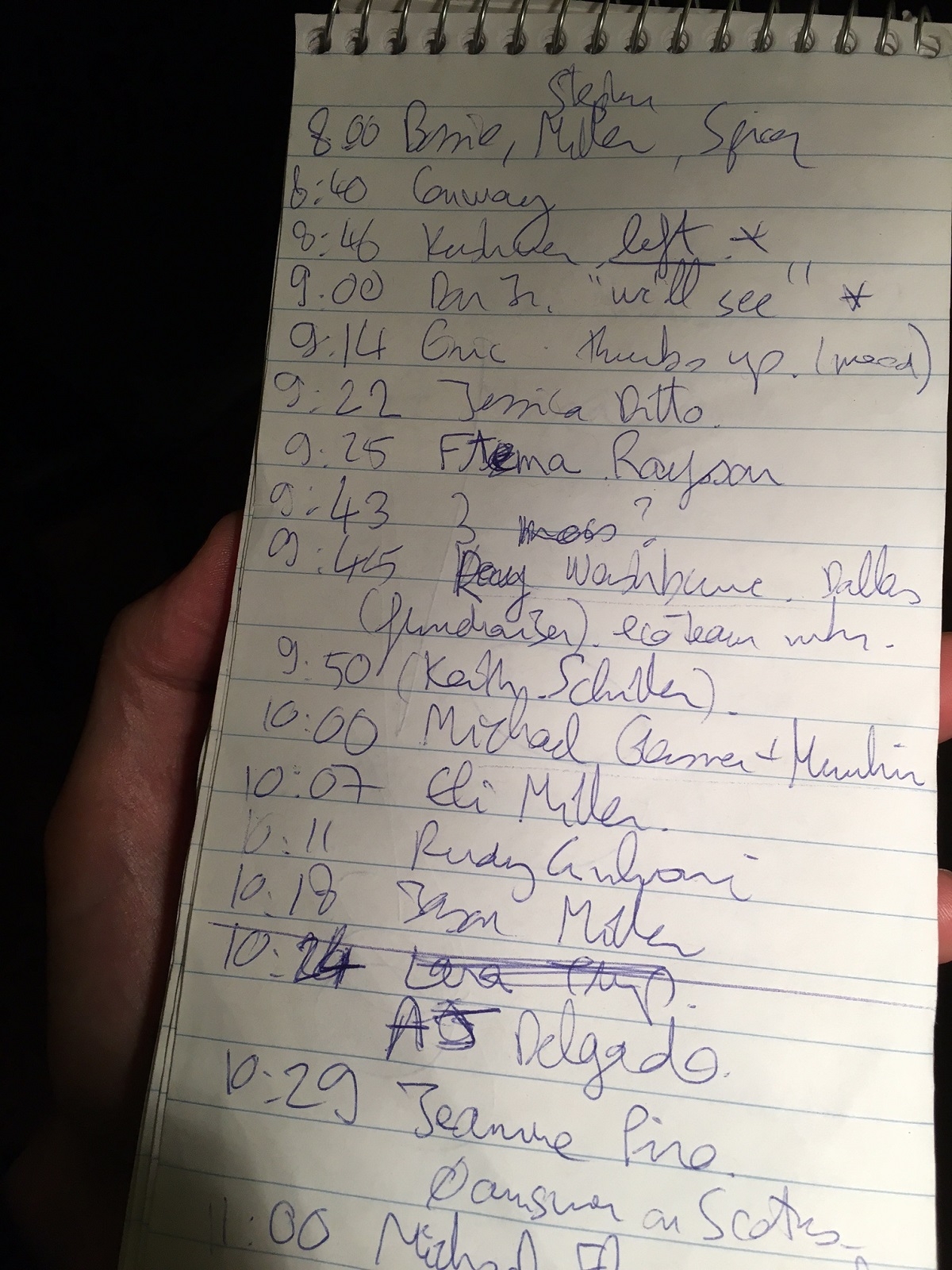 (AFP / Ivan Couronne)