Dead bodies and hellish prisons on the Philippines police graveyard shift
Philippine president Rodrigo Duterte was elected by a landslide in May, largely on a pledge to clean up the streets by killing tens of thousands of criminals. 
His campaign threats were backed by his record in southern Davao city, which he ruled for two decades according to his ruthless law-and-order policies. He was accused of running or tolerating death squads that killed more than 1,000 suspects.
Police say 402 drug suspects have been gunned down in the past month, and rights groups claim hundreds more have been killed by vigilantes. Thousands of people have also been detained, doomed for lengthy stints in underfunded and overwhelmed jails.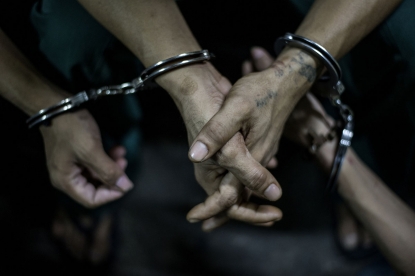 Inmates at the Quezon City Jail in Manila wait to be brought to court on July 29, 2016 (AFP / Noel Celis)
MANILA - Sometimes it takes the whole night, other times the dead bodies turn up early. What's certain is that the Manila Police's graveyard shift is now worthy of its sinister name.
After the May 9 presidential election I took to spending my nights at the capital's larger police precincts -- on top of my day job at AFP's Manila bureau. 
Rodrigo Duterte had been elected president by promising to kill thousands of criminals. I wanted to be on the streets if or when he carried out his threat.
A few days after the election, police began rounding up drunks, unaccompanied children, and shirtless men -- enforcing new district-level curfews. We'd not seen this before. 
It would be a few weeks before the bodies started to pile up. 
I use radio to keep informed of what's happening in the city. The set is always on -- even when I'm asleep. 
It's helpful on the crime beat to develop police contacts, but as a rule I avoid making friends with officers. A lot of police enjoy media coverage too much -- they keep framed clippings of crimes they have solved on their desks. One officer kept texting me to ask me to photograph a thief he'd arrested.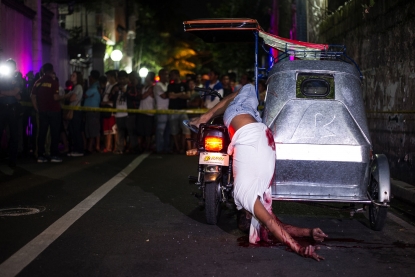 Bystanders watch the dead body of a tricycle driver shot by gunmen in Manila on July 22, 2016 (AFP / Noel Celis)
It was the night of June 25 when the radio alerted the first killing that was walking distance from my apartment. Police had raided a slum in a Muslim area in northern Manila and killed three drug suspects.
To get there, I had to squeeze myself and 18 kilograms of camera kit and a laptop through a hole in a concrete wall that led to a long, dark, muddy alley. 
"What if I get mugged here?" I thought. I was armed only with a flashlight. I had two camera bodies and three lenses -- two of them expensive primes with large apertures for shooting in low light.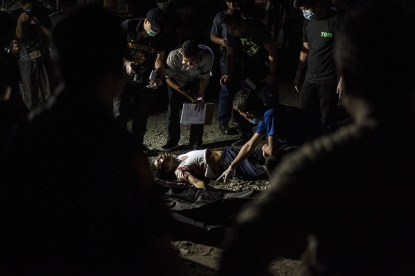 The body of an alleged drug pusher lies in a street of Manila on July 27, 2016 (AFP / Noel Celis)
But I made it to the house without incident and found a gaggle of TV crews and other photographers.
The most memorable case was the July 22 shooting of a rickshaw driver on a busy intersection. The victim's girlfriend broke through the police tape and clutched her dead boyfriend as she cried out for help. The photograph of that scene -- which looked like Michelangelo's Pieta sculpture -- went viral.
There were a lot of photographers there, shooting their third death of the night. The woman shouted "stop shooting and help us instead".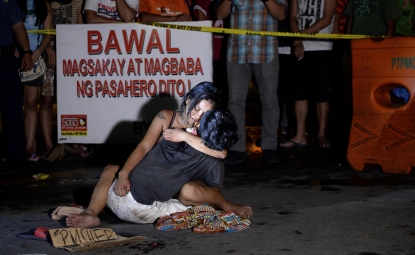 (AFP / Noel Celis)
We were shell-shocked. Some of us simply stopped shooting. Many of us began to question our motives. Why are we doing this? We're like vultures. We couldn't eat that night. We couldn't talk on the ride back. Everyone felt guilty that we hadn't been able to help. Later, one local newspaper photographer who had been there that night quit covering the graveyard shift. 
Death comes in three versions in this drugs war. 
First, there is the so-called police "buy-bust" sting operation, where suspected dealers almost always end up with a bullet below the eye, their limp hands touching a handgun.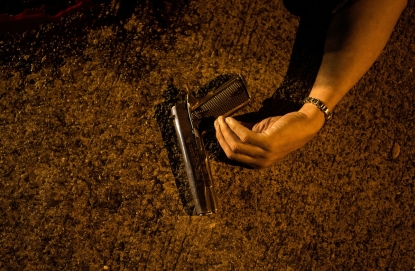 A gun lies beside the hand of an alleged drug dealer shot dead by the police in Manila on July 15, 2016 (AFP / Noel Celis)
In the early days we exchanged knowing glances about the old, rusty pistols the suspects were found clutching. For years, Filipino policemen have been accused of planting evidence. But now we have noticed shiny new guns in the dead people's hands.
Second, there are the Philippine streets' angels of death -- the "riding-in-tandem" motorcycle gunmen. Their faces are always camouflaged with their helmets and scarves, according to witnesses and CCTV images of hits. One of the pair drives the getaway bike. The gunman walks up to the target, fires and then hops onto the bike for a casual getaway.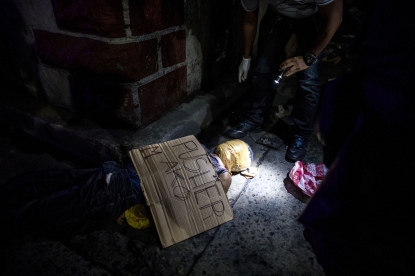 (AFP / Noel Celis)
The motorcycle gunmen were responsible for the death of the rickshaw driver in the Pieta-like image. They always leave behind their signature, a rectangular piece of cardboard saying in Tagalog: "I'm a pusher, you're next" or "I'm a pusher, don't be like me". Sometimes they even draw a Batman logo.
Third, there are mystery killers. All we see are their victims -- left on lonely, poorly-lit streets or in vacant lots, the corpses riddled with gunshot or stab wounds. The faces -- sometime the entire corpse -- are wrapped in packaging tape, like some sort of Egyptian mummy. The bodies all have the same cardboard signs accusing them of dealing in narcotics.
Some nights there are as many as 18 bodies reported. It's physically impossible to photograph them all.
To show the full picture of the Duterte anti-crime campaign, AFP's Manila bureau decided to try and meet people who were detained in the crackdown. I proposed visiting the jail in Manila's Quezon district, which was built for 800 inmates but now houses nearly 4,000 prisoners.
Inmates at the Quezon City Jail in Manila ion July 18, 2016 (AFP / Noel Celis)
After weeks of waiting for a visitation permit, we were finally allowed in to cover a dance contest in the prison's open-air courtyard. A warden told us that conditions were much worse at night when many inmates slept on the same yard. I immediately thought: that's the picture. We asked the warden if we could go back that night and he agreed.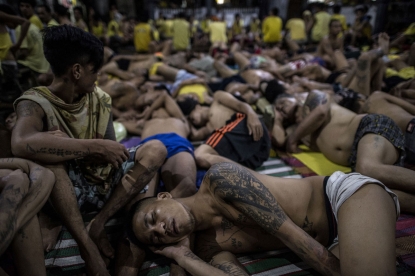 (AFP / Noel Celis)
What we saw shocked us. The inmates were packed like sardines in the courtyard. Inside the overflowing cells there was hardly any space for us to walk between the makeshift beds and hammocks. I had to ask some sleeping inmates to get up so we could get past them. 
If there was a riot now, we're dead, I thought. What if they took us hostage?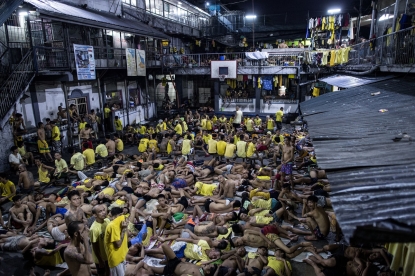 Inmates sleep on the ground of an open basketball court inside the Quezon City jail in Manilaon July 21, 2016 (AFP / Noel Celis)
Inmates sleep on a staircase at the Quezon City jail on July 18, 2016 (AFP / Noel Celis)
I saw other prisoners sleeping on a staircase so I climbed through a window to get a top shot. I returned the following night and climbed onto the roof of a police station nearby so I could get a bird's eye view of the jail.
In the first dozen or so years I worked as a news photographer, nights were different. The only press covering the Graveyard Shift were local radio reporters, eager to break stories of slum fires, random jaywalkers run down by cars on poorly lit backstreets, and our regular diet of armed robberies of passengers catching a late night ride on a jeepney -- the reconditioned small trucks that pass for Manila's mass transport system.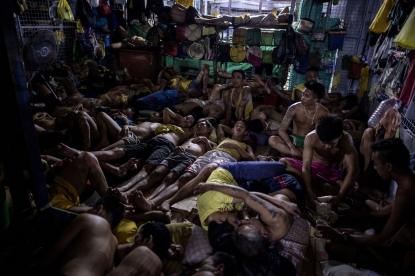 (AFP / Noel Celis)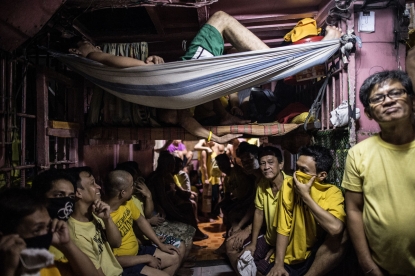 (AFP / Noel Celis)
Now, there are a lot more journalists on the late night crime beat -- including smartly dressed television network stars and foreign reporters. Sometimes, the bodies show up as early as 6pm, other times we're waiting until 4am. The long hours hanging around are passed eating greasy food at hole-in-the-wall restaurants and swapping war stories with other journalists. Everyone gets woken up if a body is found, and the press pack moves as a literal pack, including sharing rides to the crime scene.
The most frustrating part of the job is getting access to the actual crime scene. Some scene of the crime (SOCO) police are bad tempered and don't let photographers in. Some districts have earned a reputation for not allowing any photographs at all, other police districts will let journalists work, especially before the arrival of the SOCO police units.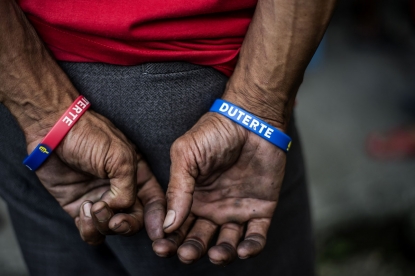 A suspected offender waits to undergo drug tests at Camp Karingal police station in Manila on June 24, 2016 (AFP / Noel Celis)
Most of the time for us journalists, it's a race between us and the SOCO to get to the crime scene. Sometimes we get lucky and arrive there first and get up to 30 minutes to take photos. Some SOCO are lenient and allow us to shoot if we take care not to step on bullets, blood or bits of flesh inside the yellow crime scene tape before the bodies are taken away by the mortuary services.
Covering that overcrowded jail was the closest I've ever been to hell. It reminded me of old paintings of Dante's Inferno. If hell were real, that's what it would look like.
Our work as photographers and journalists covering this war on crime has the power to shock and can make people reflect on what's happening. 
I hope they go one step further and do something about it. 
(This article was written with Cecil Morella in Manila).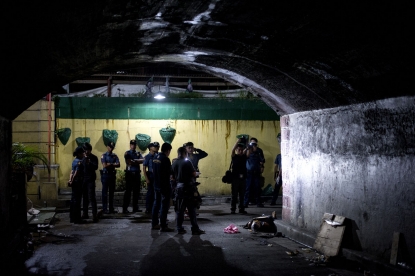 (AFP / Noel Celis)