Cubans on the edge
Havana, April 5, 2016 -- Some call the Malecon, Havana's magnificent, decaying seafront and favorite gathering place, a window on the soul of Cuba.
So during US President Barack Obama's recent historic visit to the communist island I went to have a look – and found the soul troubled, excited, and restless.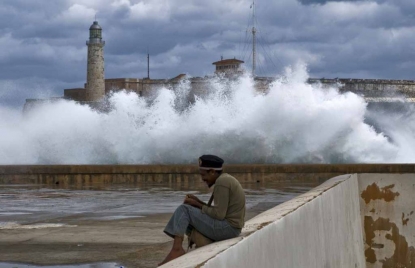 The Malecon, October, 2008. (AFP / Adalberto Roque)
Residents of Havana have all sorts of reasons to flock to the Malecon.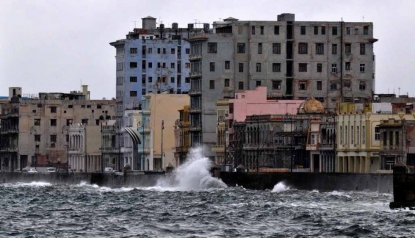 The Malecon, August, 2008. (AFP / Adalberto Roque)
Most come simply because in a crowded city the wall jutting out into the Caribbean offers space, fresh air, and the pleasure of hanging out with lots of other people with nothing more on their minds than relaxing. In a Cuba where people earn $20 on average every month and often live in tiny, sub-divided apartments, they go to the Malecon because they have little else to do.
Fishermen, prostitutes and dreamers
Then there are the fishermen and the prostitutes. The former sit on the wall, trying to pluck a little extra food or income from the sea. The latter patrol the wave-battered sidewalk, with an eye for the growing number of foreign tourists.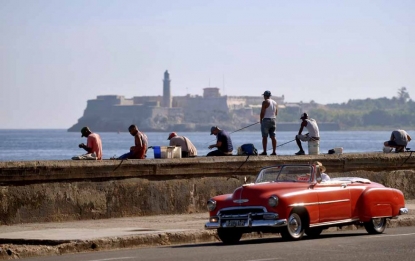 Fishermen at the Malecon, September, 2015. (AFP / Filippo Monteforte)
And finally there are the dreamers who come to gaze out to sea.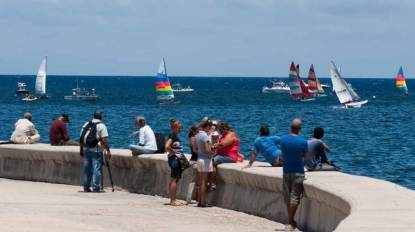 People watch a regatta from the Malecon, May, 2015. (AFP / Yamil Lage)
In Cuba, that sparkling view comes loaded with hope -- and cruel realities. For decades, Havana residents would lean on the Malecon's parapet fantasizing of escape across the Florida Straits to a new life, away from political repression, poverty, and the crippling isolation resulting from the US embargo. Many thousands risked everything, some taking to boats made of little more than inner tubes or Styrofoam. Some were caught, some drowned or were eaten by sharks.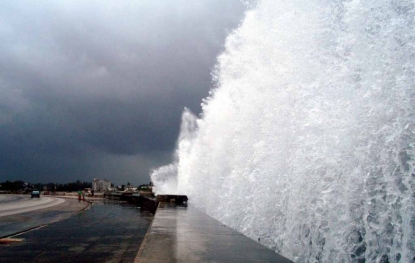 The Malecon during a hurricane, October, 2005. (AFP / Antonio Levy)
Today, Cubans see something else out there: the prospect that improving relations with the United States will revitalize their country, so that instead of refugees fleeing, tourists and potential investors will come flooding in.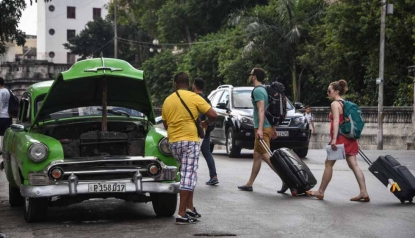 A man fixes his car as tourists walk past in Havana, March, 2016. (AFP / Rodrigo Arangua)
An eerie silence
When Obama arrived two weeks ago, I expected the Malecon to be filled with people straining to glimpse the president's huge armored limousine, "the Beast," as it raced along the seafront to his first event, a walkabout in the old town.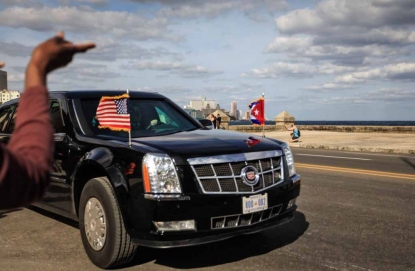 The Beast drives across Havana on March 22, 2016. (AFP / Diana Ulloa)
But the Malecon was empty. Not just quiet -- deserted, as if in a post-apocalyptic scene.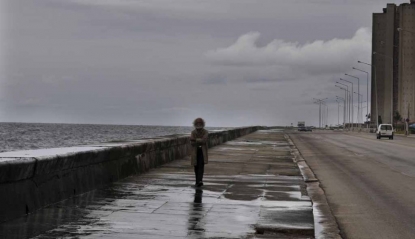 The Malecon deserted, November, 2008. (AFP / Stringer)
At first I put this down to the unusual rain falling that afternoon, but that couldn't explain why a city buzzing with excitement ahead of the first visit by an American president in 88 years was suddenly so somber.
Then I looked more closely at the few little knots of people that had made it out. A few were the inevitable foreign tourists, but the rest, down to a man, were plainclothes police.
With their hard stares and athletic builds, they stood out. And they were everywhere, in ones and twos, in clusters of four or five -- at every street entrance and every corner.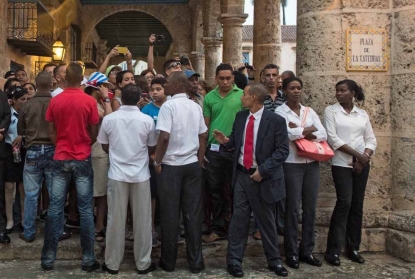 Cuban security agents watch over the crowd ahead of Obama's tour of Old Havana on March 20, 2016. (AFP / Nicholas Kamm)
Desperately looking around for non-policeman Cubans to interview, I spotted a group of around 20 people sheltering from the rain under a bus stop.
I discovered Americans, French, Spaniards. Plus two more secret policemen. But I also ran into Ariel Hernandez, a 42-year-old civil engineer -- and an actual Cuban.
"They don't want us to be anywhere near the visit," Hernandez said, and by "they" he meant not just the police but President Raul Castro himself. "Maybe they let me come here because they think I'm a tourist with my backpack."
The government's attempt to separate Obama from real Cubans persisted through the three days of his visit. He did meet crowds -- outside the historic cathedral and at a US-Cuban baseball game, for example. But these were approved crowds, playing a role in the stage-managed events that left them as little better than decoration.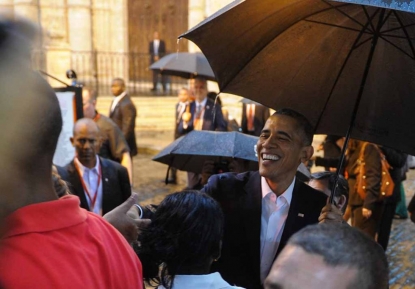 Obama greets tourists and Cubans outside the Havana Cathedral on March 20, 2016. (AFP / Yamil Lage)
Even if the measures were not surprising, they were still sad. After all, this government was founded in armed revolt against a dictatorship, a high-minded revolution still mythologized daily in the state media.
But while Raul Castro demonstrated his ability to control the streets, his attempt to control his people's mood failed utterly.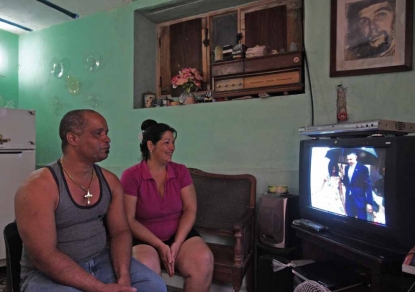 Cubans watch Obama arrive on March 20, 2016. (AFP / Rodrigo Arangua)
Hernandez, hiding both from the rain and his own police, was ecstatic that Obama had broken almost 60 years of standoff and propaganda by coming to Havana.
"Since I was a child I've heard the story of the revolution and this was really the story of being against the United States," Hernandez said. "It's truly a historic moment, it's huge."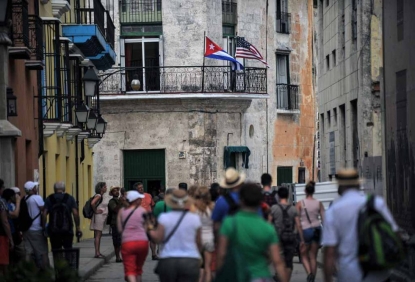 Old Havana hours before Obama's arrival on March 20, 2016. (AFP / Yamil Lage)
That optimism -- even joy -- at the prospect of reconciliation with the old enemy was impossible to suppress.
When Obama and Castro held a joint press conference, broadcast for the first time ever live on state television, Cubans were treated to the astonishing contrast of the US president smoothly, often humorously fielding questions, while their own leader resembled an increasingly grumpy old man.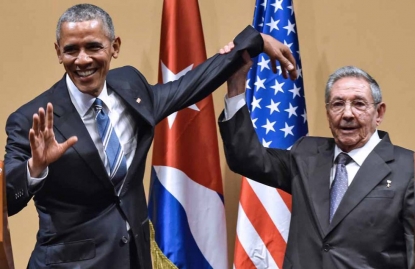 Barack Obama and Raul Castro during their press conference. (AFP / Nicholas Kamm)
Later, Obama gave a speech, again broadcast live, in an ornate theater. When he called for democracy, parts of the audience, even if was handpicked, burst into applause. Sitting stony faced up in a box, Castro could do nothing to prevent that.
'Like the Messiah'
No sooner had Obama left, another potent herald of change flew in: the Rolling Stones.
In Europe and the United States, the elderly Stones may border on self-parody as they trot out decades-old, if still hugely popular hits. But in Cuba – where they had never been able to play before and where fans were once forced to listen to rock music behind closed doors – they were dynamite.
"Like the Messiah," one Cuban rocker told me.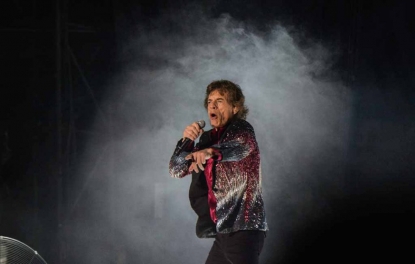 Mick Jagger struts his stuff for the first time in Cuba. (AFP / Yamil Lage)
And the night the Stones played Havana, the all-powerful, all-seeing Cuban government had never looked less relevant.
The concert was free of charge and so many people turned up that the crowd filled the complex of playing fields, then spilled out, right onto the surrounding rooftops. When Mick Jagger -- once branded part of the English-speaking, capitalist world's plot to ruin the Cuban revolution -- said "finally the times are changing," the crowd jumped up and down.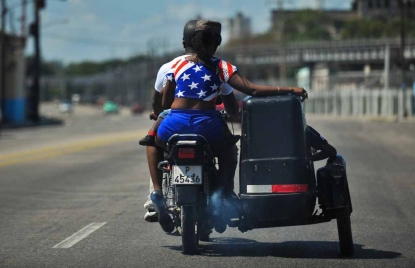 The Stars and Stripes in Havana ahead of Obama Visit. March, 2016. (AFP / Yamil Lage)
Of course, Obama flew out and so did the Stones, leaving Cubans and their sputtering revolution to themselves. But as business got back to usual on the Malecon, where hundreds upon hundreds gathered late into the nights to chat, flirt, play music, and look out to sea, it seemed clear that the island would never be the same.
The last Cuban revolution, as every child here is taught, got going in the Sierra Maestra mountains.
Who knows? The next one might just start among all those people with big dreams and nothing to do on the Malecon.
Sebastian Smith is an AFP correspondent based in Rio de Janeiro. Follow him on Twitter.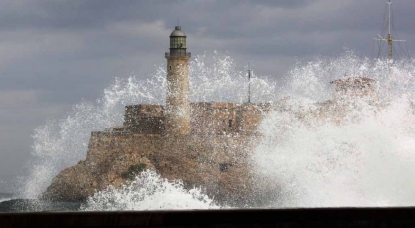 A wave breaks against the Malecon, January, 2008. (AFP / Adalberto Roque)