Chasing the moon
Athens -- 183 minutes may sound like plenty of time to take a good picture. But not if you're trying to capture a lunar eclipse. In multiple locations.
I started thinking about how I would illustrate the longest "blood moon" this century, which coincided with Mars's closest approach to Earth in years, days ahead of the spectacle on the night of July 27-28.
Every time we have an eclipse or a phenomenon like that, we try to illustrate it against the background of something symbolizing Greece. Usually that's the Parthenon. But lunar eclipses don't happen when the moon rises, gliding past the Parthenon's majestic columns, but during the night, when the moon is very high in the sky. So most of the time it's impossible to capture it with the usual landmarks like the Parthenon or the Sounio.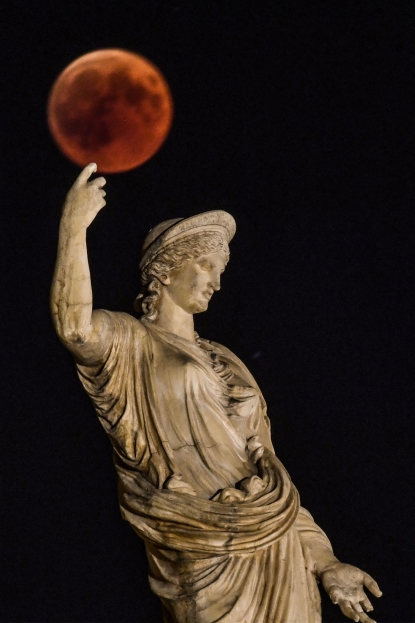 Hera and the moon, July 27, 2018. (AFP / Aris Messinis)
I decided to try from several different locations. As the eclipse began, I framed the moon against the statues of Athena, the ancient Greek goddess of wisdom and the patron of Athens that overlooks the neoclassic Athens University building in the city center. There is nothing more symbolic than Athena -- she is Athens, ancient Greek history and mythology. After I felt I had enough, I headed to my plan B location -- the National Archaeological Museum, the roof of which features statues of Apollo, Hera, Ares and Eirini, goddess of peace, cradling Plutus, god of plenty.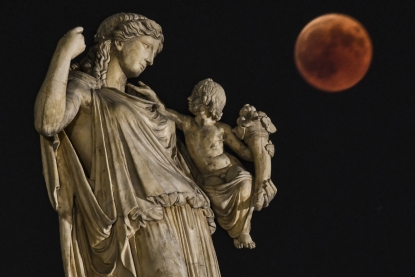 Eirini, goddess of peace, cradling Plutus, god of plenty. (AFP / Aris Messinis)
I wanted to get a shot with all of them -- because these statues are not static, they display movement, you have an opportunity to play around with them. I tried to get shots that would symbolize what the ancient Greeks believed -- that the gods toyed with the world and with humans. I think I may have succeeded, especially in the image where Apollo and Hera appear to be bouncing the moon between them like a ball.
Capturing such images isn't easy. I snapped some 300 images that night. Numerous ones were of Apollo and Hera. But only one -- one -- was good enough to file, where each god is appearing to hold the moon.
Apollo and the moon. (AFP / Aris Messinis)
You basically have a second to frame each shot and you need to play with millimeters to place the subject exactly where you want.
Just to be safe, I also raced to the Acropolis, on the off chance that I could get a shot with the Parthenon. But as I suspected, the moon was too high.
The complete eclipse lasted for a total of 183 minutes, the longest this century. It's a nerve-wracking experience. To get a good shot, you need a big lens. The lighting isn't good, so you have to do a long exposure. But that's difficult, because the moon rises very quickly. So you need to find a balance between the long exposure and the shutter speed -- otherwise you'll get a blur.
I get really nervous, because everything happens very fast and you don't have many chances to do it again. I used a tripod, a Nikon D500, a crop camera and a 200-500 mm zoom that, combined with the crop camera, acted like a 300-700 mm.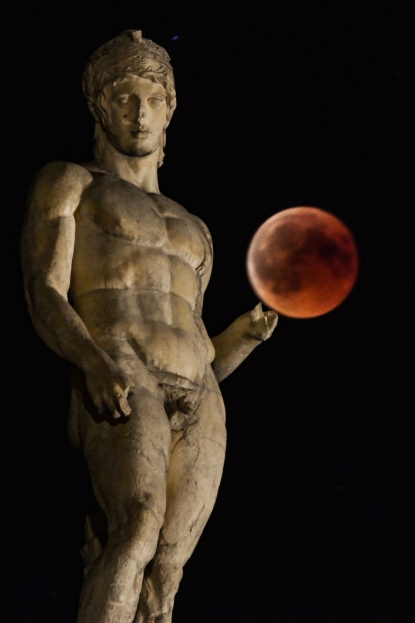 Ares and the moon. (AFP / Aris Messinis)
After the pictures were published, there were some who said that I must have used Photoshop to touch up the images. It's not the first time that I hear this about my work. To be honest, I take it as a compliment, because it shows that I managed to capture an image so nice, people just can't believe it's real.
Overall, I'm happy with the results from that night. Now I just have to think of something different for next time…
This blog was written with John Hadoulis in Athens.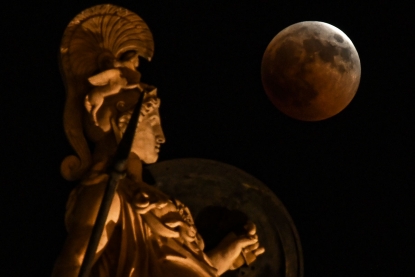 Athena and the moon. (AFP / Aris Messinis)