Back to the future in Scotland
GLASGOW, September 22, 2014 - For people who have a country of their own, independence movements can seem inward-looking, all the more so in a globalised era.
But if you do not feel you belong to a country, independence may feel crucial to affirming who you are, taking hold of your destiny and making your voice heard in the world. Two takes on the same word: nationalism.
In 1995, I was 17 years old. Too young to vote in Quebec's second referendum on independence for the French-speaking Canadian province, which was rejected by a wafer-thin majority.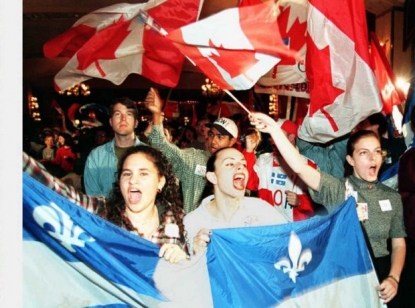 Youths cheer for the anti-secessionist leader Daniel Johnson at a campaign rally in Montreal in October 1995, before the independence referendum in Quebec (AFP Photo / André Pichette)
The pro-independence leader at the time, Jacques Pariozeau, blamed the result on "the ethnic vote", accusing immigrants of tipping the balance against self-rule. His comments shocked the public, and fed the notion that Quebec's drive for autonomy was rooted in an unpleasant ethnic nationalism.
In 2011 in Juba, I saw another people face a similar choice, as South Sudan voted to become independent after decades of civil war.
North and South Sudanese had much to divide them, but southerners were rarely accused of seeking self-rule on ethnic grounds. Their narrative was all about "liberating" a long-suffering people.
The morning of the referendum they came in their thousands, proud and determined, to cast a massive 99-percent vote for independence.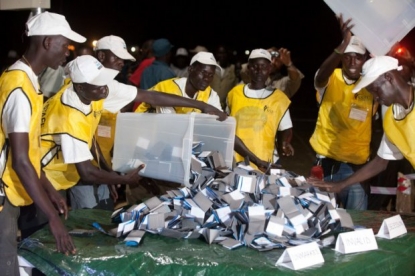 Polling officials empty ballot boxes in Juba on January 15, 2011, after South Sudan's independence vote (AFP Photo / Yasuyoshi Chiba)
After decades of war and poverty, no one could reasonably hope to convince the South Sudanese they were "better together" with the north. They had nothing to lose by breaking away, unlike Quebec or Scotland, both centuries-old Commonwealth democracies with developed market economies.
Yes, there were concerns for the soon-to-be independent South, about how to divvy up oil resources, trace the border, and settle citizenship for southerners living in the north.
But no one in the West seemed to question the legitimacy of South Sudan's aspiration for self-rule -- unlike the Scots or Quebecois whose projects were subjected to intense scrutiny, asked to prove they were "viable".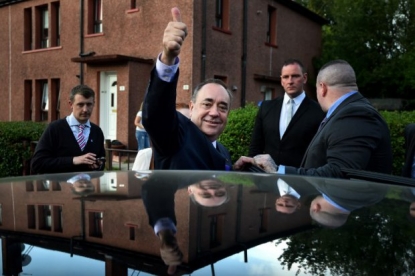 Scotland's First Minister Alex Salmond gestures as he leaves following a visit to a housing estate in Glasgow on September 13, 2014 (AFP Photo / Ben Stansall)
Last week I travelled to Scotland to try to better understand the "Yes" and "No" camps, and to compare them to my experience of Quebec -- without the requirement to file news stories for AFP. I simply wanted to seek out the Scottish people. One of the first I met -- oddly -- was Alex Salmond, leader of the independence camp, at a concert by the Scottish rock outfit Franz Ferdinand.
Smiling, open and enthusiuastic, Salmond seemed nonplussed to learn I was from Quebec. But then the Scottish campaign for self-rule did seem to have tried to avoid Quebec's mistakes.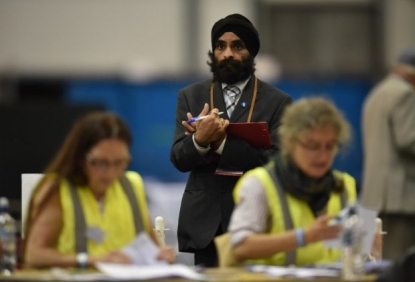 Votes are counted in the Royal Highland Centre in Edinburgh on September 18, 2014 (AFP Photo / Leon Neal)
Poll campaigns in Quebec, for elections and referendums alike, are top-down affairs, with a message broadcast from the party out to the population. In Scotland the "Yes" and "No" camps both drew on a network of activists from across society, who could take their camp's message on board and tailor it to their audience if need be. Grassroots campaigners brought funds too, like one Andrew, met on a drizzly afternoon in the coastal town of Dunbar, handing out "Yes" flyers paid for out of his own pocket.
The campaign reached deep into Scotland's cultural communities, like the South Asian Scots -- many of them Muslims of Pakistani origin. At the great mosque in Glasgow, people were proud to be Scottish, and the upcoming vote was debated through and through, in between prayers.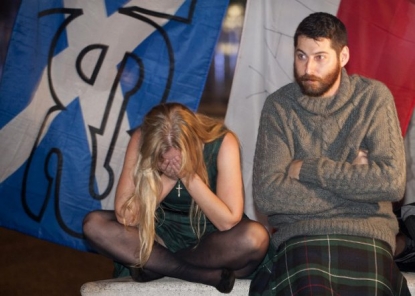 Pro-Independence supporters in Edinburgh show sadness as referendum results are announced (AFP Photo / Lesley Martin)
"Here we're about 52 percent 'No', and 48 percent 'Yes'," joked the local imam ahead of the ballot, roughly the same as in the wider population, which many saw as a sign of the community's healthy integration. Older South Asians leant more towards the "No" camp, with the young largely rallying for independence.
"The older generation are worried about their pension and their passport, but we're young and we're not afraid," summed up a young man called Iqbal, who felt strongly about Scotland's welfare system and Salmond's promise of a radical change of policy towards the Middle East.
The "No" camp in Glasgow could also draw on heavyweight support from the former Labour MP Mohammad Sarwar, who flew back specially from Pakistan where he is now governor of Punjab, with a population 20 times that of Scotland.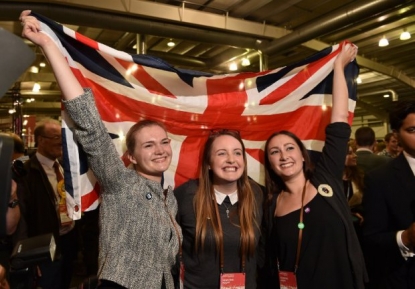 Pro-Union supporters celebrate as Scottish referendum polling results are announced in Edinburgh (AFP Photo / Leon Neal)
The "Yes" camp meanwhile tried its best to make the campaign about the future -- a socially-just future a world away from the economic conservatism inherited from the Thatcher years.
Sign of her loathed legacy in this part of the realm, Thatcher was notably absent from a gallery of great, late British leaders, plastered on the walls of a pub in a run-down area of Glasgow.
In Quebec, the question of unity, or not, with Canada is partly about defending a welfare system, but also about a linguistic identity. The Quebecois are eight million French-speakers in an English-speaking North America. The Parti Quebecois (PQ) was beaten into opposition in April after publishing a controversial charter that tried to define Quebecois identity. It has been whittled down to a fragile coalition of independence supporters of the left and right, in need of a new leader, but even more of a new project -- such as the one that rallied almost half the Scottish population in its favour.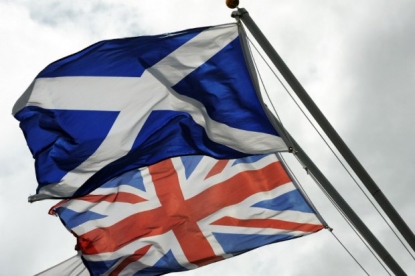 The Saltire, the flag of Scotland flies above the Union flag near the border between Scotland and England in August 2014 (AFP Photo / Andy Buchanan)
For something did rise up in Scotland, as an entire people asked itself -- many perhaps for the first time -- core questions about its future, with "Yes" and "No" advocates debating passionately around the same family tables, without anger and with an acute sense of democracy.
When Salmond conceded defeat by saying Scotland had decided "not, at this stage, to become an independent country," my thoughts turned immediately to the Quebecois independence leader Rene Levesque.
"My dear friends, if I understand you correctly, you're saying: 'until the next time'," were his words as he accepted defeat in Quebec's first referendum on independence, in 1980 -- paving the way for another poll 15 years on, after his death.
Guillaume Lavallée, a journalist from Quebec, is currently AFP's correspondent in Islamabad, following postings in Khartoum and Montreal.