Where even the rain is timed
New York City -- At 10 minutes to 2:00 pm, I was alone backstage, wondering what was going on. Radio City's summer Rockettes show "New York Spectacular" was to start at 2:00 pm. I could hear the audience on the other side of the curtain, settling in. But with 10 minutes to go there were still no dancers.
And then five minutes later, they came. Perfectly coiffed, dressed to a tee, the Rockettes dancers came up in the elevator and took up their positions on stage, and then the curtain lifted and it was non stop from then on.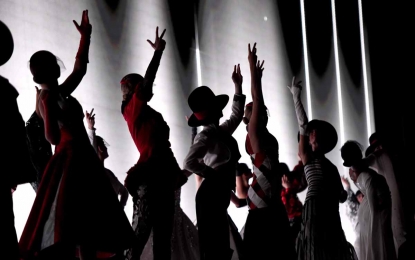 (AFP / Timothy A. Clary)
That's typical Rockettes for you. The perfection you see on stage -- the synchronized, flawless moves -- is so well rehearsed that backstage it works like clockwork.
This was my second time shooting a Rockettes show. In December, I shot their Christmas special, which is something of hallowed ground in New York City -- the Christmas holidays in the Big Apple wouldn't be complete without a Rockettes show at Radio City Music Hall.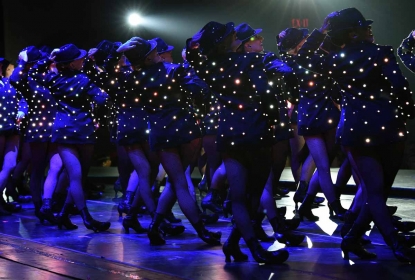 (AFP / Timothy A. Clary)
But their attempt at a summer show last year was met with less than critical success. So this year, they revamped it completely, from the storyline to the dance routines. The story is of a brother and a sister who get separated from their parents on vacation and have an adventure as the city's landmarks come to life.
(AFP / Timothy A. Clary)
Maybe Radio City liked my work from the previous show, maybe they wanted the publicity, maybe a bit of both, but they invited me to come back and shoot the show from backstage and I gladly accepted.
The show was heavily themed on New York, so it had these iconic New York locations -- you had Times Square, Wall Street flappers, rocking the Met, a show from the fashion district.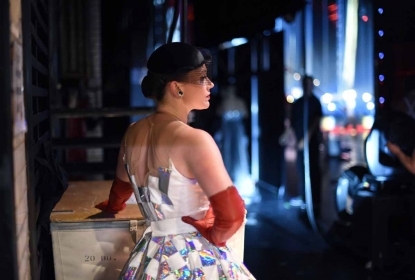 (AFP / Timothy A. Clary)
And as usual, everything was choreographed to the second. For every number, the dancers just moved on and off the stage like clockwork. They went through costume changes like clockwork.
At any time, there were basically five or six dancers backstage dressed and ready to go in case someone hurt themselves. So if someone twists an ankle, which has happened during a show in the past, another dancer takes her place. The audience would never even know that something had happened.
They're really perfectionists. They had a Singin' in the Rain number, where it actually rained on stage. They set up this elaborate system, including drainage. So for about four to five minutes it was pouring rain on the stage in Radio City. And then the water was gone. That's how real they made it.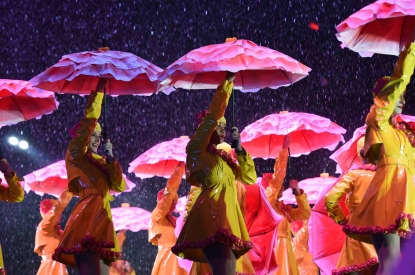 (AFP / Timothy A. Clary)
Not that I had too much time to enjoy the show. For me it was a 90-minute workout because I was running around the whole time.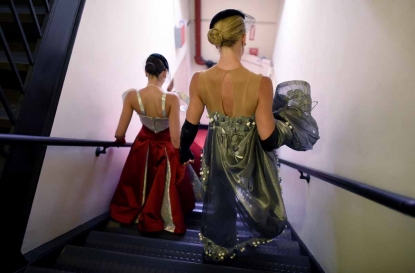 (AFP / Timothy A. Clary)
The Christmas show I'd seen before, so I had an idea of what shots I wanted to get and where. But I had no idea what to expect on this one. Luckily the stage manager was not only totally plugged in and on the ball, but he also had a very good feeling for what would make a good shot.
This guy ran me the length of the show, non-stop. He just knew where every picture was going to look good from. It's his baby, he knows the show inside and out. So he was constantly telling me, for this number, shoot from there, this number will work better from this angle. And he turned out to be right.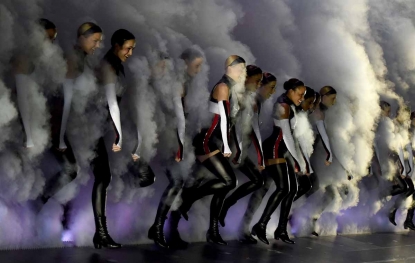 (AFP / Timothy A. Clary)
For the Christmas show, there were animals involved in the numbers, so they were very strict about where I could and could not go, to make sure that I didn't get in the way. For this number, I had more freedom in that I got to see more costume changes.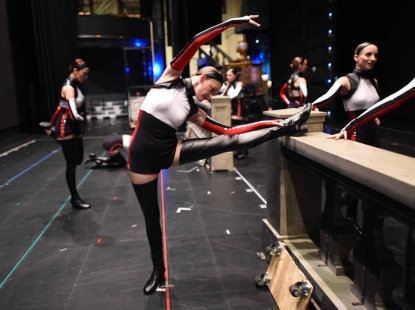 (AFP / Timothy A. Clary)
But I had to watch my movements, so that I didn't accidentally step out on the stage. Or didn't remain there, shooting, as the curtain lifted.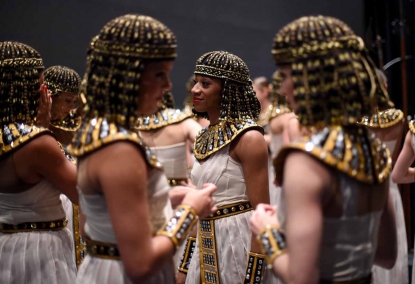 (AFP / Timothy A. Clary)
Apparently all the dancers in this show were in the Christmas one as well. The Rockettes are very stringent -- you have to try out for every show, even if you've danced in the previous one. But the turnover is very low. Between the Christmas show and the summer show, it's a pretty good gig for a dancer. Plus you're dancing in Radio City. Plus you're a Rockette.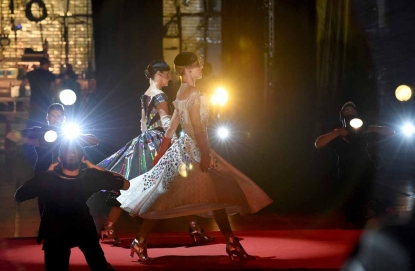 (AFP / Timothy A. Clary)
So for the summer show, they apparently took only one new person. The dancers, they just don't leave….
This blog was written with Yana Dlugy in Paris.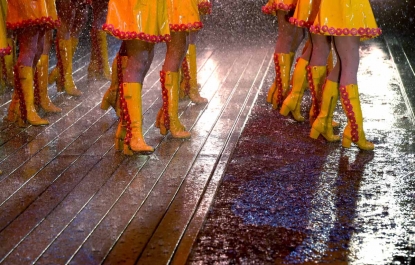 (AFP / Timothy A. Clary)