When it pays to be late
Paris -- In the news business, speed is everything. But sometimes it pays to be late. It can save you a lot of embarrassment. Sometimes it can even keep six billion euros of value from being wiped out within minutes.
On Tuesday, November 22, at 4:12 pm, the AFP economics department receives a press release. We receive hundreds of statements like this each day (about 500 to be exact). But this one jumps out.
It comes from the French building giant Vinci SA and nestled in the normally stilted financial wording is some shocking news -- the company has fired its finance chief after discovering accounting errors amounting to 3.5 billion euros for the year 2015 and the first half of 2016.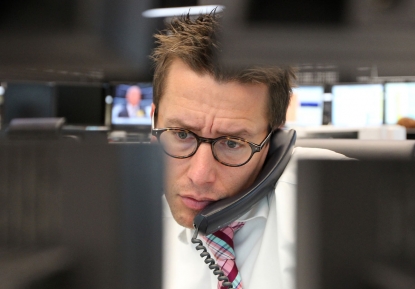 Frankfurt stock exchange, August, 2011. (AFP / Daniel Roland)
Vinci is one of France's top publicly traded companies, with a market capitalization of 36 billion euros, so this is huge news that can move markets and that sends a rush of adrenaline through the eco department's "slot" desk.
The slot desk is the department's command center, responsible for monitoring all incoming news. Five journalists take turns here throughout the day sifting through the hundreds of press releases that we receive, deciding what's important, what can wait. When a statement comes and the reporter covering that sector is absent, the slot journalists follow up.
On this day, the reporter covering France's construction sector happens to be at the office. She is at her desk, engrossed in a telephone interview. I and one of my deputies, Frederic Pouchot, try to get her attention, frantically waving at her from across the room. But she is concentrating so much on her interview that she doesn't notice.
Meanwhile a reporter covering France's benchmark CAC40 stock market index calmly tells me that trading in Vinci shares has been suspended after they plunged more than 18 percent. That's six billion euros of value wiped out in minutes. Apparently the news is out and we're behind the curve. My stress levels go up a few notches.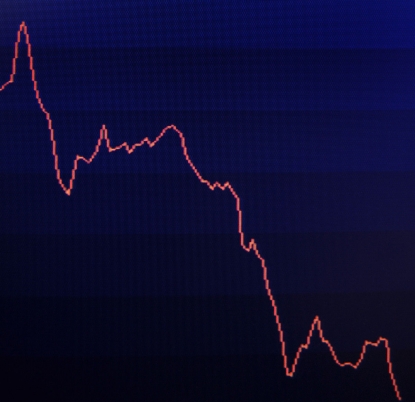 What a downward trend looks like. Hong Kong Stock Exchange, August, 2011. (AFP / Laurent Fievet)
Company statements are usually sent to multiple news outlets, normally at the same time, and this news is already appearing on Twitter. Worse, another reporter says that Bloomberg, the world's premier business news agency, has sent out a series of "alerts" (one-line news flashes) on the news.
My stress levels climb a bit further. It appears that we are really late. The reporter covering construction has managed to get off the phone and is now looking at the statement, which she didn't receive in her mailbox. Which is odd.
I scan the statement again. A few phrases seem a bid odd to me, convoluted even for a financial press release. Or is that how the Vinci press people usually write?
Frederic agrees. Then we notice the email address of the sender "vinci.group." That seems odd. Shouldn't that be "vinci.com" or "vinci.fr"?
We start getting doubts. Something seems out of place. Or does it? We decide that the reporter covering construction, who knows the company and how they usually communicate, should get confirmation before we run the news.
She tries to reach the Vinci spokesman, via a number that she usually uses. The statement has the name of the spokesman, but with a different cell number. Another oddity.
The minutes pass by. Interminable, agonizing minutes.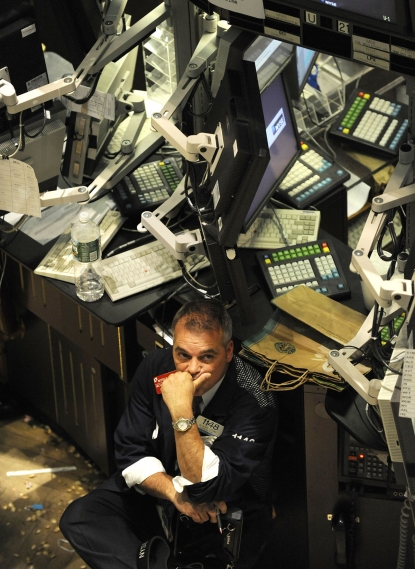 When numbers are a concern. New York Stock Exchange, October, 2008. (AFP / Timothy A. Clary)
At 4:20ish, the reporter yells from her desk: "They've been hacked! The spokesman told me so!"
At the same time, reporters covering the CAC40 receive a message from one of our economic journalists in London, telling them that Bloomberg has tweeted a correction to their Vinci alerts.
A huge sigh of relief passes over the slot desk.
We get to work, writing a news story on how a fake statement sent Vinci shares plunging.
Then we take a closer look at that statement. Frederic discovers that the link to the "Vinci" website contained in the message directs you to a website that actually closely resembles the real one. That fake website would be operational through the evening.
The next day we write a story that details just how easy it was for the hoaxers to pull off their stunt. They got a domain name (vinci.group), created a website that resembled the real thing, an email address linked to the website and provided a cell phone number. Our reporter used the number she usually uses, so she got in touch with the real spokesman. But other media used the cell phone provided in the fake press release and ended up talking to a fake spokesman who confirmed the fake news.
In other words, it didn't appear to be a sophisticated cyber attack. "An email, a cell phone, Photoshop (photo editing software) and that's it," is how a spokesman at another major company put it.
The following day we learn that we also had luck on our side -- Bloomberg had received the press release at 4:05 pm, seven minutes before we did. Normally you would fume at receiving a press release seven minutes after a competitor. But this time… I was fine with it.
What we still haven't learned is the motivation behind the hoax -- was it to depress the share price in order to scoop it up at a discount? To damage the company's reputation? The French financial markets watchdog is investigating.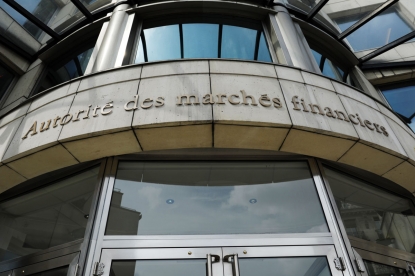 The French market regulator AMF, Paris, 2014. (AFP / Eric Piermont)
While we dodged the bullet this time around, we have taken advantage of the occasion to reinforce guidelines to avoid falling into such traps in the future. I'll share a few of these; others we prefer to keep private, just in case.
Most are common sense -- don't rush with the news, don't hesitate to confirm it. The bigger the news, the more you should perhaps doubt it. And if it looks too good to be true -- if for example bad news for a company is written in plain language instead of couched in obscure phrasing in order to hide the reality as it is usually -- then all the more reason to hesitate.
Others are a bit more specific -- look closely at the sender's email, to whom the statement was sent, at the time that it was sent. Don't forget personal contacts. Usually large companies here tip off reporters covering them of any major announcements. If such an announcement comes without warning, in the middle of the trading day, then take a minute to verify it with the company.
While time is of the essence in our trade, so is accuracy. Better to be late but right than the other way around.
This blog was translated by Yana Dlugy in Paris.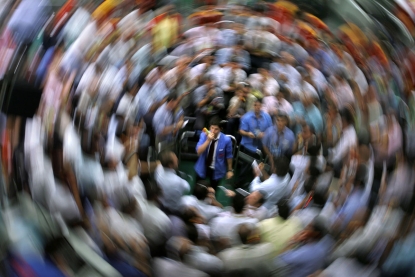 The Mercantile & Futures Exchange in Sao Paulo, Brazil, October, 2008. (AFP / Mauricio Lima)