Under Gaza with Islamic Jihad
(AFP Photo / Mahmud Hams)
GAZA, March 17, 2015 - The first phone call takes us by surprise: we are told to be at the ready. Then comes the second: "Take the coastal road." The third call gives us a clearer idea of where we are headed: "Drive south, towards the former settlement".
At our request, Islamic Jihad has agreed to take us down into the heart of its best-kept secret: the network of tunnels under the Gaza Strip where the Palestinian movement ferries weapons back and forth in preparation for the next conflict with Israel.
The number two force in Gaza after the ruling Hamas, the Islamic Jihad took its time responding to us, but it opened the gates at last. We are to be given access to its subterranean galleries - a major thorn in the side of the Israeli army which suffered painful losses during last summer's war when armed fighters burst from beneath its feet.
The Islamic Jihad voices allegiance to both the Palestinian national cause and Islamist ideology. Founded like Hamas in the 1980s, it was inspired by the Iranian revolution. It advocates armed struggle rather than political action and does not take part in elections, although it was party to the ceasefire signed with Israel in late August 2014.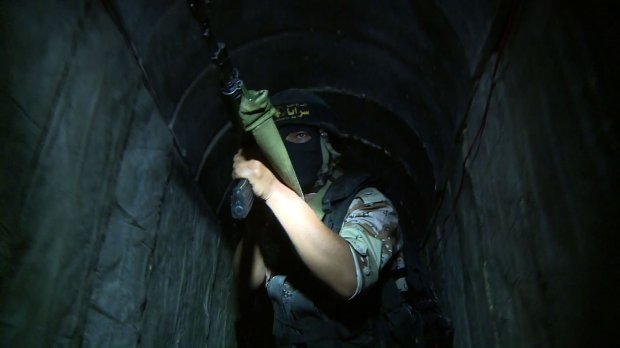 Click here to view on a mobile device
Its leaders are a mix of former members of the Muslim brotherhood, ex-Marxist activists and Arab left-wingers. The group draws as much on Iranian notions of martyrdom as on the techniques of Vietnamese guerilla fighters - hence the tunnels. Like the galleries dug by the Viet Minh and Viet Cong to ambush first French then US forces, the Gaza tunnels are used to store weapons, move unseen across the territory, and launch assaults on Israeli forces in the event of a ground attack.
Israel vowed to destroy Gaza tunnels
Destroying the tunnels, used by all armed movements in the enclave, was a stated aim of the Israeli assault on the coastal enclave last summer, the third in six years. After 50 days of intensive bombing backed by a ground offensive, the Jewish state claimed to have wiped out the underground network. But eight months later Islamic Jihad is intent on showing us that its tunnels – or at least what it is willing to show of them – are still very much there.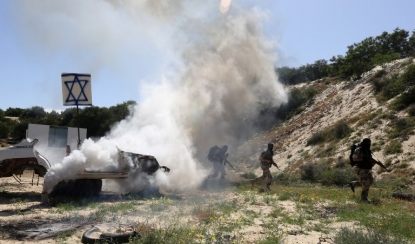 Al-Quds fighters train in the southern Gaza Strip on March 3, 2015 (AFP Photo / Mahmud Hams)
So here we are, in the region of Khan Yunis in the southern Gaza Strip. We are met by fighters of Islamic Jihad's armed wing, the Al-Quds brigades, at what a banner describes as the "School of the Mujahedin".
Across the vast site, some 200 youths have been training since sunrise. Ten years ago in 2005, this was a major Jewish settlement – dismantled after Israel announced the unilateral pullout of troops and settlers from Gaza the same year.
An underground world
We film and photograph the young fighters, training with real ammunition under the beating sun. The area has been used to simulate an urban landscape, where youths weave in and out of houses and around burning cars, as deafening grenades and smoke canisters detonate all around. It's clear they are highly motivated.
Then it is time to take us down below ground. We have visited Gaza tunnels dozens of times before – but only ever the ones linking the enclave to neighbouring Egypt and used to pass goods across the border. A few months back, we ran a story on fast food being delivered, still hot, from Egypt to customers in Gaza.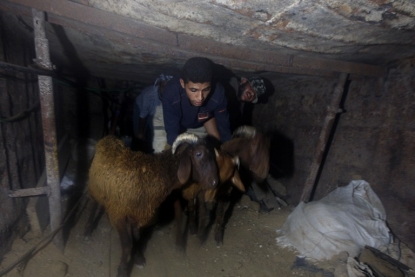 Smuggling sheep from Egypt into Gaza through a tunnel under the border in November 2010 (AFP Photo / Said Khatib)
Today, we are going to get a glimpse of a world under Gaza and the fighters who dwell there, in the "tunnels of the resistance" as the Palestinian movements call themselves.
Those same fighters who vanished from view during last summer's war. They were nowhere to be seen as we walked the streets of Gaza reporting on Israeli air raids. We will not get to see their faces this time either. Our escorts are all masked.
Searched and blindfolded
We are searched from head to toe before climbing into one of their cars. Our cameras are examined in detail, and all other metal objects confiscated, right down to our watches and wedding rings. Oh and we are blindfolded, too.
We drive half an hour or so, although it's likely the driver was circling to confuse our sense of direction. He pulls over and our blindfolds are removed. We are in the middle of an olive grove. Not a building within sight, no landmarks, nothing we could recognise.
A militant from the Islamic Jihad's armed wing, the Al-Quds Brigades, squats in a tunnel under Gaza on March 3, 2015 
(AFP Photo / Mahmud Hams)
This is the entrance. We make our way in, descending to a dozen metres below ground level. For the first 40 or 50m we are creeping bent double along a tunnel barely 1.50m high. Then it opens up to reveal a long tube around a metre wide – sometimes less – and 1.80m high.
Lack of oxygen
After a while a commander tells us to stop. Ahead of us, say the rank-and-file fighters and their chiefs, there are many more tunnels of varying lengths. We have to take their word for it, since we won't get to see any more.
In the section we do see, little pockets have been carved out here and there, large enough to seat two or three people. The ground is made of packed earth but the walls are concrete. Nothing like the tunnels used by smugglers which are wide enough to ferry car parts, construction materials - even animals.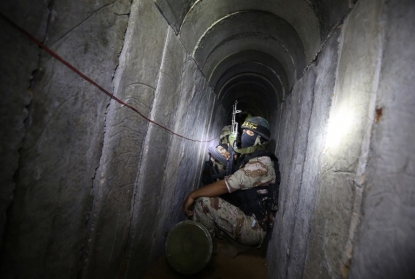 A militant from the Islamic Jihad's armed wing, the Al-Quds Brigades, squats in a tunnel under Gaza on March 3, 2015 
(AFP Photo / Mahmud Hams)
Around 20 fighters are down here, moving around easily. Most of them are slender and shorter than the ceiling height. They seem to know the network inside out. Markings indicate different directions: to one side the "Abu Bakr as-Siddiq road", named after the first Islamic caliph, on another the "Uthman Ibn Aaffan road," one of his successors.
The fighters we see are masked and armed with grenades, automatic weapons and even rocket launchers. Some have miner's lamps. Others move confidently, not bothering with lights.
Last summer, the Israeli military took the media down into a tunnel discovered during the war, running between Khan Yunis and a kibbutz over the Israeli border. But only very few journalists have been given access by the armed groups themselves.
Words are used sparingly down here. Lack of oxygen is a real issue and we suffer from it ourselves during our reporting trip. We stay below ground for half an hour – which is just about bearable. I don't know if we could have managed much longer. The fighters move fast. They know what they have to do and go about their business without delay.
When we emerge at last, it's a joy and a relief to feel the fresh air rushing back into our lungs.
Mahmoud Hams and Yahya Hassouna are an AFP photographer and video reporter in Gaza.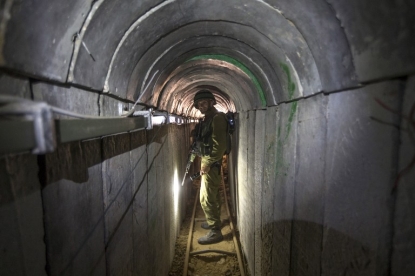 An Israeli army officer gives a press tour of a tunnel said to be used by Gaza militants for cross-border attacks, on July 25, 2014 
(AFP Photo / Pool / Jack Guez)