A roach with your ceviche?
LIMA, March 18, 2015 – It was the height of summer, and I was feeling peckish. The 1990s were drawing to an end and Peru was only just emerging from the doldrums after a decade of economic hardship. The least you can say is that Peru was not a choice destination on the world gastronomic map.
I was young, fresh out of university, and broke. A friend and I picked up a couple of "salchipapas" – a snack of fried potatoes with a sausage on top – from a street vendor using an old trailer as a food stall.
After polishing off my dish slathered in mustard and mayonnaise, I felt a little something wedged between my teeth. "Must be a piece of charcoal from the sausage grill," I figured.  But after extracting it with my fingers, I realised the foreign body was, in fact, a tiny brown V-shaped stick, covered in microscopic hairs.
"What on earth? Please tell me this is not what I think it is… ?" I said to my friend with horror and disgust. He burst out laughing. Because yes, as I feared, it was none other than the tiny, roasted leg of a cockroach.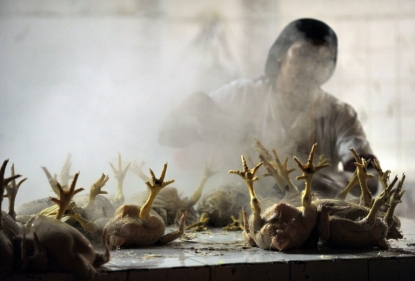 A woman at a central market cleans chicken to deliver before the opening of Lima food markets and restaurants on July 18, 2010 (AFP Photo / Cris Bouroncle)
In later years my work as a journalist took me far from my native Peru. Having recently returned home after a decade away, one of the first stories to greet me was the temporary closure of a famous pizza chain, on hygiene grounds.
How did that come about? The trigger was a complaint from an outraged customer who found an unwanted ingredient on his pizza: a cockroach complete with crispy antennae, couched between the salami and the cheese.
A cloud of suspicion
The scandal quickly spread to engulf establishments all over Peru. Some hapless customer found a razor blade in a loaf of bread, someone else a shred of surgical glove in a salad. Yet another pulled a roach from an ice cream cone. Mice had invaded a movie theatre.
Suddenly every street food vendor in the country was labouring under a cloud of suspicion, and every customer seemed to have a hygiene-related bone to pick with them.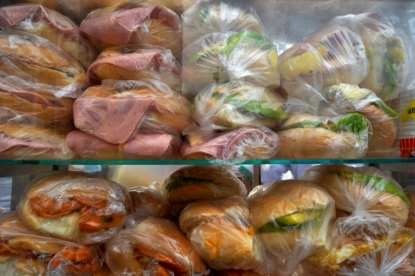 Sandwiches in a typical food stall in downtown Lima on March 18, 2014 (AFP Photo / Cris Bouroncle)
Shortly afterwards, an industrial baker had to freeze its production over a health and safety breach by one of its suppliers. Which deprived a major burger chain of bread rolls for a day - a disaster in a country where eating could easily rank as an Olympic discipline.
Scrutinised down to last salad leaf
Social media had yet to be invented back in the days when I found a roach in my snack. Complaining to the police would have produced little result, beyond a good chuckle in the police station. And had I complained directly to the vendor, the best I could have hoped for would be a free "salchipapa" – produced in the same conditions as the first. My misfortune was so banal no one was remotely interested.
These days, all it took was the picture of a roach on a pizza posted on social media to set off an avalanche of complaints all over the country, and colossal exposure in the media. The food scandal was the lead item on the main TV news for a week, and the subject of my first story since returning to Lima. Such was the outrage that the health ministry sent food inspectors to all the firms involved, to scrutinise everything down to the last salad leaf.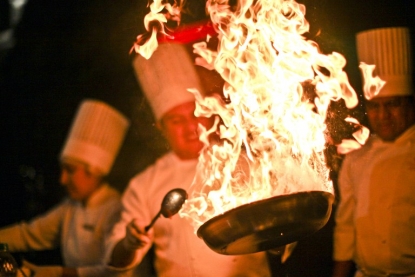 A Peruvian chef at a restaurant competition in Lima in September 2014 (AFP Photo / Ernesto Benavides)
What has changed since the turn of the century - social media aside? The answer is Peru's "food revolution".
Lima was described by The Economist last year as a "gastronomic mecca", home to seven of what were rated as the 15 best restaurants in Latin America. Whatever may been tolerated in the past, roaches on pizza and razor blades in bread rolls are now clearly viewed as unacceptable affronts to the paying consumer in a country that draws some three million tourists each year, a significant number of whom now cite Peruvian cuisine as a - if not the - key reason for visiting.
Ambassador for Peruvian cuisine
As far as I can see, Peruvian cuisine owes its greap leap forwards to two main things. The first was a young man called Gaston Acurio who was sent by his father, a well-known politician, to study law in Madrid – but spent the money on cookery classes instead. After finally talking his family around, he went on to study at the French Cordon Bleu school.
Back home in Peru, he started by launching an haute cuisine restaurant, but before long had the daring idea of drawing on traditional Peruvian recipes, turning family dishes into gourmet fare. He went on to open a string of restaurants based on the concept in the United States, Spain and across Latin America, becoming an ambassador for Peruvian cuisine in the process.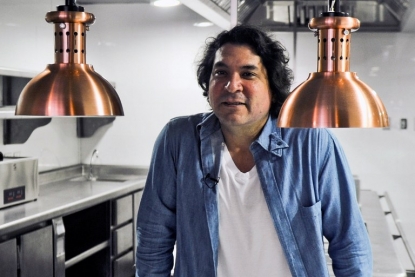 Peruvian chef Gaston Acurio, in a kitchen in Lima on February 12, 2014 (AFP Photo / Ernesto Benavides)
In Brazil, a generation of kids grew up wanting to become footballers like Neymar. In today's Peru, children dream of becoming Gaston the chef. The cookery star runs schools for people of humble backgrounds. It's no exaggeration to say some here would like to see Gaston president.
Home-cooked fare for the bosses
The second factor behind the boom was Peruvian emigration. Our gastronomic boom began over the border in Chile, where many Peruvians - women especially - went to work as domestic employees during the economic hard times of the 1990s.
Come dinner time, they would serve up home-cooked fare to their bosses. Who loved the taste. It didn't take long for someone to spot the business opportunity and open a little Peruvian restaurant. Today Santiago de Chile has more than 200 Peruvian restaurants, all of them thriving, and you can find typical Peruvian ingredients widely for sale in Chilean markets.
Brazilians and Argentinians like to talk football. Chileans are unbeatable on wine. And Peruvians like to talk food. Even when we're already in a restaurant, we usually wind up talking about what we'd like for our next meal – or the treats we gorged on for the one before.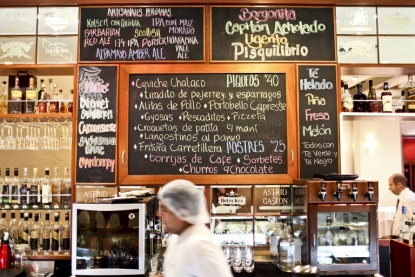 Gaston Acurio's flagship restaurant, Astrid y Gaston, in Lima's Miraflores district, on September 16, 2013
 (AFP Photo / Ernesto Benavides)
Within every Peruvian lurks an inner chef, an inner food critic. And the specialities that delight today's tourists were born on simple stoves, rustled up by our ancestors who knew nothing of the fine art of cuisine and concocted dishes with whatever they could lay their hands on.
Food for the troops
A prime example of those humble roots is the causa limeña, a dish made from mashed potato spiced with aji, the distinctive Peruvian chili, salt, pepper and lemon. The potato is served in slices that are layered with avocado, vegetables, chicken, shrimp, octopus, crab or even - for a taste of luxury - with king crab, a local delicacy.
Historians believe the "causa" was invented during Peru's war of Independence in the early 19th-century. People took what they could find in their kitchens to prepare dishes that were sold to raise funds for the troops. Potatoes and vegetables were combined into "la causa" – named after the common cause of independence. Many Peruvians today use the word to describe a dear friend: "mi causa".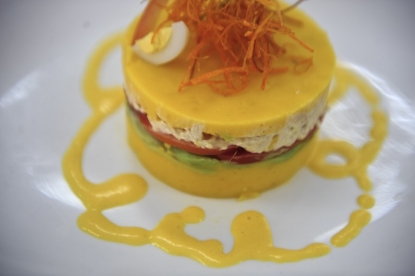 'Causa', the Peruvian traditional dish made with layers of spiced potato (AFP Photo / Ernesto Benavides)
Much has changed in the 10 years since I left Peru. The economy has taken off and so have people's disposable incomes. Shopping malls are thronged with customers, there are gleaming new cars everywhere you look. These days many of my compatriots are willing to pay a little more, to eat in a restaurant not only for the food and the atmosphere, but for the guarantee of decent hygiene.
But every Peruvian also has his "Tia Veneno" – his "Aunty Poison" – the street vendors who throw together the dishes that everyone eats, in the hygiene conditions everyone can well imagine, without anyone dying of food poisoning.
And I can also see how some things remain just the same as ever. Like the possibility of stumbling across a crunchy, six-legged surprise in a dish bought on the sidewalk. But when it comes down to it, as one of my Brazilian friends told me philosophically when I raised the subject, there is really nothing to complain about: "Cockroaches have been around for thousands of years, and they know where to find the good food."
From 'son of a bitch!' to 'ceviche'
To wind up on a more savoury note , since I mentioned every Peruvian has a chef hidden inside him, allow me to share with you my recipe for ceviche – one of our most emblematic dishes.
Some say the word ceviche comes from the Quechua term "siwichi", which means tender fish.
But I once read a book called "Dios es Peruano" (God is Peruvian) by Daniel Titinger which told the story of an English sailor who was offered the chili-heavy dish upon arriving in Lima and exclaimed: "Son of a bitch!". Which became ceviche in the retelling.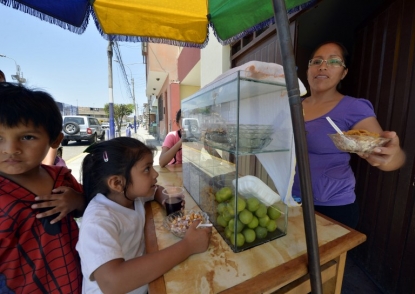 A woman sells ceviche in a food stall on the outskirts of Lima on March 18, 2014 (AFP Photo / Cris Bouroncle)
Since I lived away from home for such a long time, and couldn't always find the local ingredients, my recipe is a simple one. It's for two people and goes like this:
You will need two fillets of fish, white if possible, cleaned and cut into cubes, three lemons or limes, half an onion, sliced - red onion is best, but white is OK too - salt, ground black pepper. Optional extras are aji (or any other type of chili pepper), crushed garlic, coriander, maize chips.
Juices known as 'tiger milk'
Place the fish in a bowl and pour on the lemon or lime juice until it covers the cubes. Add a large spoonful or salt and sprinkle with pepper – until you can clearly see the black specks in the bowl. Stir well, taste and adjust the seasoning, adding more salt if need be. Add the onion slices – not too much onion, at most one third of the dish. Stir again.
Serve chilled along with the "cooking" juices - known in Peru as "tiger milk".
Some people rub a little garlic around the inside of the dish before they start. Others add a little ground garlic to the mix. Both work very well.
For an elegant touch, add a little chopped coriander and serve in a glass with a few maize chips propped on top and a lemon slice on the rim. Et voila.
Moises Avila is AFP's news editor for Peru and Bolivia. He has also been the agency's correspondent in Chile and Brasil.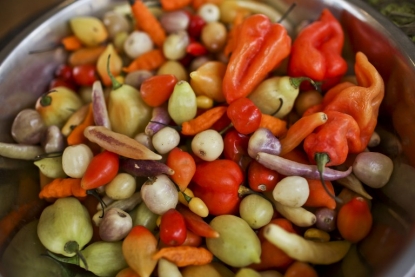 A variety of jungle chilis at the 2013 Mistura gastronomic fair in Lima (AFP Photo / Ernesto Benavides)