Stuck on pause in Zimbabwe
Harare -- A Zimbabwe press card is a precious thing. Much of the local media is under state control, and President Robert Mugabe has a long record of disliking foreign correspondents. So when I had a chance to get temporary accreditation to cover an arts festival, I jumped at it.
After three months, I finally got word that my application had been approved. I had a week-long press card, a rare opportunity to take a look at a country that has been teetering on the brink of change -- for the last 20 years.
Armed with my laminated pass from the media commission, I spoke to anyone and everyone -- Mugabe supporters, war veterans, unemployed men, female businesswomen, street hawkers, fashion bloggers, musicians, politicians, activists and many more.
The focus of my trip was the Harare International Festival of the Arts, an annual event in the capital that the government is keen to showcase.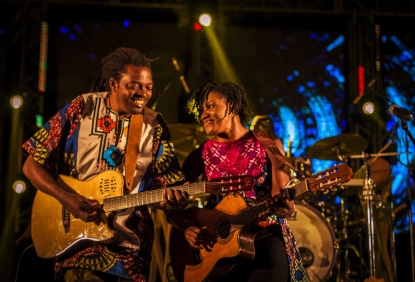 Cameroonian artist Kareyce Fotso (R) performs with her band at the Harare International Festival of the Arts (HIFA) in Zimbabwe on May 4, 2017. (AFP / Jekesai Njikizana)
HIFA was founded in 1999, and has survived all of Zimbabwe's years of turmoil and economic collapse. But the festival was cancelled last year as the country's financial crisis deepened, so its revival was widely seen as an expression of defiance.
HIFA's rebellious spirit was most evident in its normalcy -- a chance for the young crowd to listen to loud music, party, drink and socialise late into the cool evenings.
Mugabe has ruled Zimbabwe since it became independent from British colonial rule in 1980. Early optimism was fuelled by hope that it would become a beacon of African development based on its strong agricultural sector. But Mugabe -- who was a leading guerilla fighter -- has overseen an era of systemic corruption, mass emigration, election rigging, an investment exodus and brutal repression of dissent.
Today much of the country seems to be stuck on "pause," waiting for change, with authoritarian 93-year-old Mugabe still at the helm.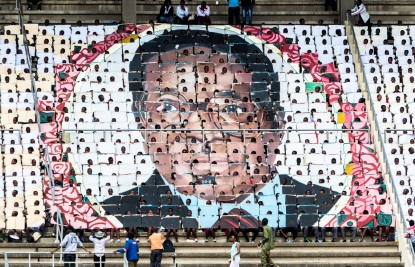 School children hold an image of Zimbabwe's President Robert Mugabe during the country's 37th Independence Day celebrations at the National Sports Stadium in Harare April 18, 2017. (AFP / Jekesai Njikizana)
Many festival-goers at HIFA told me that instead of putting their trust in the "false hope" of imminent political improvements, they try to think and live as separated as possible from the regime.
"We are ruled by a government that wants to take everything. We must live our lives anyway -- liberal, free, and allowed to be who we want to be," said one graphic designer drinking in a festival pop-up bar called "Pariah State".
During the day, I took the opportunity to explore Harare, walking the streets that bustle with markets while many grand buildings in the city centre stand abandoned – a poignant symbol of the optimism of the post-independence 1980s and the subsequent malaise.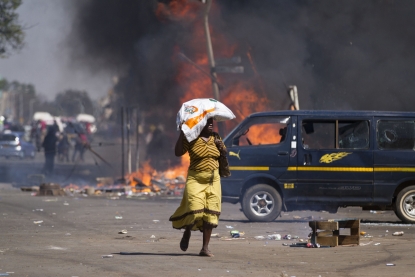 A woman carrying groceries on her head runs away as Zimbabwe's opposition supporters set up a burning barricade as they clash with police during a protest for electoral reforms on August 26, 2016 in Harare, Zimbabwe. (AFP / Zinyange Auntony)
One Friday, I sat in the back row of the Sacred Heart Cathedral during communion service, admiring the soaring Gothic Revival architecture.
Mugabe used to be a regular worshipper here, but the frail 93-year-old with a terrifying reputation has not visited recently.
Instead the worshippers are local regulars, many of whom don't have jobs in a country with an impossibly high unemployment rate.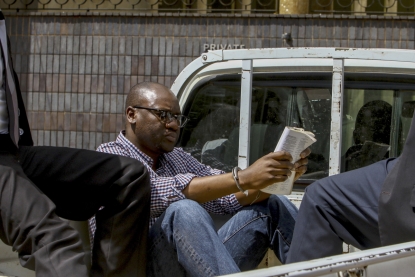 Zimbabwe Pastor Evan Mawarire, who led protests last year against President Robert Mugabe's authoritarian government, arrives in handcuffs in the back of a pickup truck at the Harare Magistrates Court on February 3, 2017 in Harare. (AFP / Jekesai Njikizana)
Religion perhaps offers some sense of salvation in Zimbabwe, a break from the seemingly hopeless politics.
Evangelical churches have ballooned – and large congregations gather on patches of open ground across Harare every Sunday. One pastor currently pulling in the crowds walks up and down the aisle of his church claiming to be talking to god on his mobile phone.
Another church is led by anti-Mugabe activist Evan Mawarire.
At the old colonial Harare Club, I wandered through the empty saloon bar, finding tattered red leather chairs and dusty framed sketches of long-forgotten white politicians wearing tailcoats and top hats.
Popping into the magistrates' court on a drowsy Wednesday morning, I saw Promise Mkwananzi -- one of the leading young voices of anti-Mugabe activism -- sitting in the dock.
He casually leaned his head back against the dark wooden panels of courtroom number 6 as his lawyer deftly cross-examined policemen in the witness box in front of a female judge.
The case, on a criminal nuisance charge from a street protest last year, was adjourned, and Mkwananzi smiled broadly at his lawyer's efforts before heading off to lunch.
After I left Zimbabwe, he was acquitted of the charges.
Picking through the morning papers at our Harare bureau, one surprise was perhaps how much vehemently anti-Mugabe criticism was allowed.
One memorable headline during my stay read: "Mugabe living in cloud cuckoo-land", another was "Cash crisis exposes clueless government".
But a surge of protests last year against Mugabe's regime has abated for now, and he rules unchallenged from State House, his heavily-guarded official residence.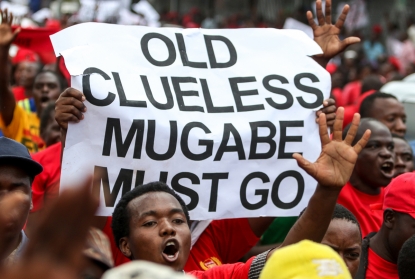 One take on things -- Movement for Democratic Change (MDC) youth supporters hold up a sign during a demonstration by the opposition party in Harare on April 14, 2016. (AFP / Jekesai Njikizana)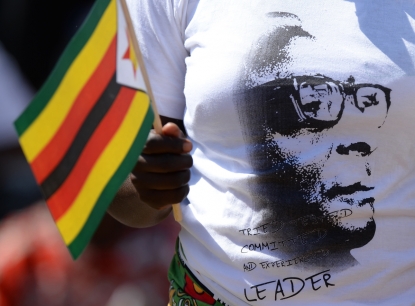 And another -- a supporter of President Robert Mugabe during his swearing-in ceremony on August 22, 2013 in Harare. (AFP / Alexander Joe)
At the weekend, I drove out to Borrowdale racecourse with my Zimbabwean AFP colleagues for a story on the impact of the economic meltdown on a once-thriving sport.
As with so many aspects of Zimbabwean life, the racing scene is trying to hang in there -- down-beaten and a bit shabby, but clinging onto some hope that change is on the way.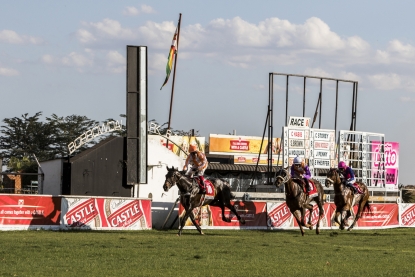 Evert Pheiffer of South Africa races to victory at the finish post during the 55th running of the Castle Tankard, the only Grade One horse race in Zimbabwe, at the Borrowdale Race Course in Harare, on May 6, 2017. (AFP / Jekesai Njikizana)
Cheering a horse to victory, perhaps having a bet and a cheap beer, are small moments to be enjoyed far away from the all-pervading doom of living under a state that seems frozen in aspic.
But Zimbabwe will change -- probably soon and probably fast.
It could get better. There's no guarantee that it won't get worse.
Opposition politicians spoke to AFP about their plans to unite to oust Mugabe in elections next year.
The odds look insurmountable, but it could be a seismic moment for a country that has known no other ruler since independence.
And -- though it sometimes seems hard to believe -- Mugabe will not live forever.
Whatever the future holds, there will be plenty to report on.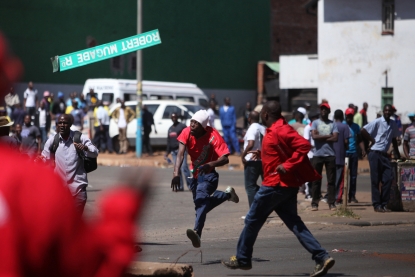 A protester throws a street sign with President Robert Mugabe name on it as Zimbabwe opposition supporters clash with police during a protest march for electoral reforms on August 26, 2016 in Harare. (AFP / Wilfred Kajese)