Race, land and murder in South Africa
Parys, South Africa, February 26, 2016 -- To learn about race relations in rural South Africa more than 20 years after the end of apartheid, I travelled to the endless fields of the highveld, with its wide open spaces and barely a soul as far as the eye can see.
A 90-minute drive from Johannesburg brought me, an AFP photographer and a videographer to the Biesiebult Farm in the Free State province. Surrounded by old barns and rusting tractors, the farm has a straight dirt road running past an entrance that displays its name and owner, L. van der Westhuizen, on a sign made out of a plough.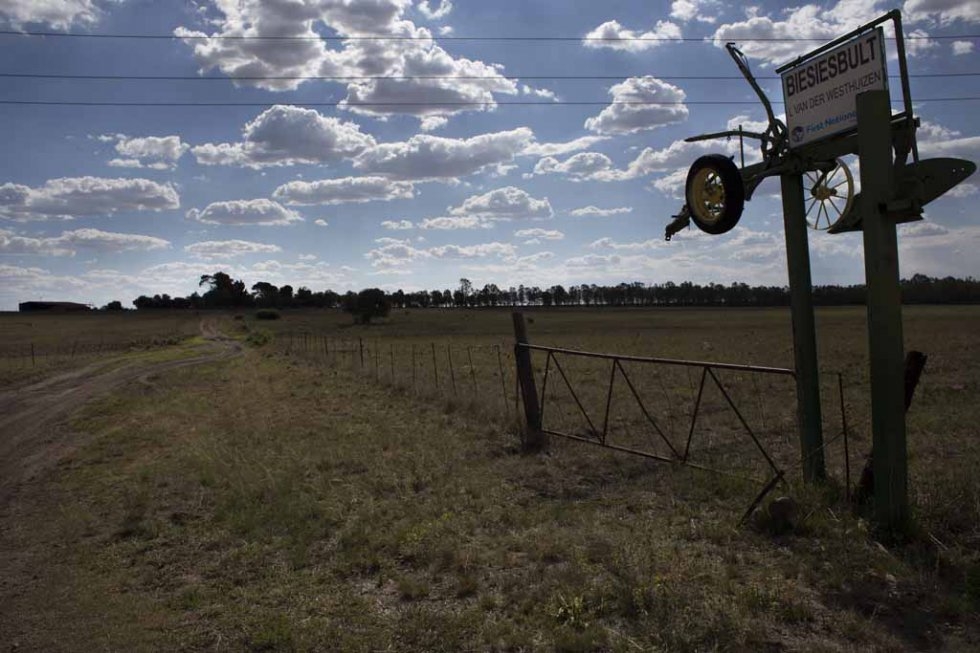 The entrance to the Biesiesbult farm. (AFP / John Wessels)
Something happened on this spot one afternoon last month that ended a few hours later with two black farm workers lying in a field, dying after a savage beating, and four white farmers charged with their murder.
The case has ignited visceral emotions in the area. The white farmers' first bail hearing in the nearby small town of Parys attracted angry protests, with a white crowd singing the apartheid-era national anthem, while a black crowd chanted "kill the farmers."
Rival protests outside the courthouse. February 12, 2016. (AFP / John Wessels)
We came to attend the second court hearing in the Parys magistrates court, hoping to find out more about how the men died and how blacks and whites relate a generation after Nelson Mandela won the country's first democratic election.
During the long, hot day, I undoubtedly learnt more about South Africa than in any other day since moving here nearly a year ago.
According to police, on that fateful day Seun Tangasha and Samuel Tjexa went to van der Westhuizen, demanding that he hand over 20,000 rand ($1,300) in what may have been a long-running dispute over unpaid wages. When he refused, Tangasha and Tjexa allegely hit him over the head with a gun, before he pressed a panic button that alerted neighbouring landowners who rushed to his aid.
The two men fled on foot as up to 60 farm vehicles joined a high-speed chase to catch them across the huge fields. Police said the farmers eventually found the pair eight kilometres from van der Westhuizen's farm, beat them up and left them for dead.
A 'dorp' like any other
In many ways, Parys is a typical "dorp", the Afrikaans word for the quiet backwater towns that dot South Africa's vast agricultural expanses. But it also attracts weekend visitors out of the city, offering hiking, good restaurants and white-water rafting on the Vaal River. The surrounding land is used for industrial-scale farming of crops and cattle, sometimes employing casual labour from the township of Tumahole, which lies on Parys's outskirts.
The physical change between Parys and the Tumahole township is stark, even decades on from the end of legal racial segregation. After a few blocks of neat suburbia, the tarmac runs out, the road becomes a bumpy track, scavengers sift through a smouldering rubbish dump, and then the low, hot, cramped township houses begin.
Seun Tangasha's family home in the Tumahole township. (AFP / John Wessels)
'These farmers must go to jail for life'
There, standing in their bare house, we interviewed Tangasha's relatives. Two young pregnant women were inside, as well as a very ill old lady lying on the hard floor, barely breathing.
"These farmers must go to jail for life," Tangasha's aunt, Anna Jubeba told us. "The courts see these guys killing black people, but they are let out on bail because they are white. No one has come to help us. The police haven't even come to our house."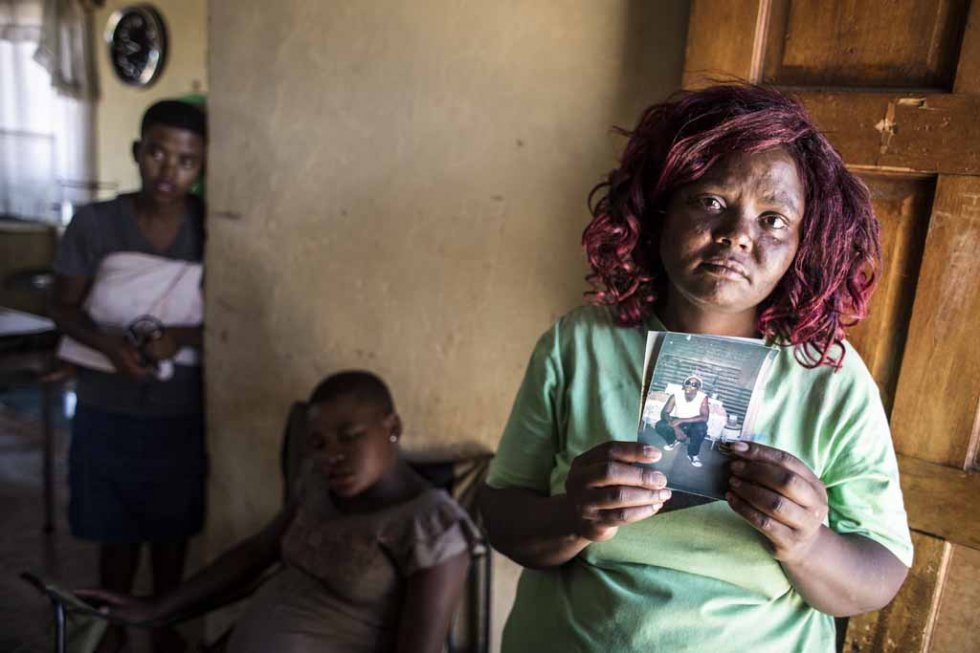 Seun Tangasha's sister holds up a photo of him. February 12, 2016. (AFP / John Wessels)
Seun had left from this house to go to van der Westhuizen's, so we re-traced his final journey along the dusty tracks and drove to the Biesiebult Farm some 11 miles (18 kilometres) away.
On the way, we stopped in to interview a neighbouring white farmer, Kobus Dannhauser, who knows van der Westhuizen and the four men charged with murder.
Dannhauser welcomed us into his expansive farmhouse, with beautiful lawns and a swimming pool. His ancestors have farmed the same land since 1876, and he prides himself on good relations with his employees, some of whom are the fourth generation to work for the family.
He was carefully even-handed over the murder case, but admitted that race relations in general are not good.
'Farm attacks' on the rise
"Last year South Africa had the most farm attacks ever, but that doesn't excuse that these guys lost their lives. We totally condemn it," he told us. "The first farmers who caught (Tangasha and Tejexa) tied them up. I think emotions were high, and they did it roughly. Then what happened? That is what I want to hear from the court."
A nationwide wave of violent, often deadly "farm attacks" has targeted white landowners, many of whom view the Parys murder case as evidence that they have been forced into a vicious fight for their lives.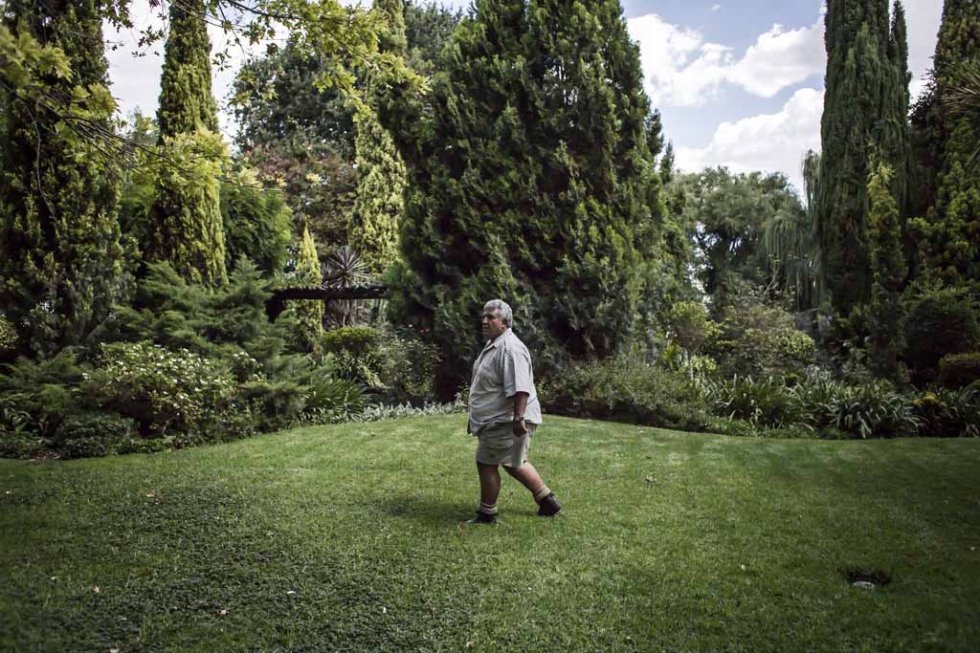 Kobus Dannhauser at his farm. February 12, 2016. (AFP / John Wessels)
At Biesiebult, we pulled in and shouted through the locked wire gate, but no one was at home except some friendly dogs.
It was our final stop in a day that began that morning in the magistrates court, where the four farmers accused of the murder were brought for their second bail hearing.
Sitting on the hard wooden benches, we could hear outside that the demonstrators had returned to chant racist abuse and threaten each other.
A handful of white protesters – furious, but subdued – gathered next to a Spar supermarket where customers shopped undisturbed. Nearby, one group of black protesters was from the ruling ANC party, while the other was from the new, radical opposition party the Economic Freedom Fighters (EFF).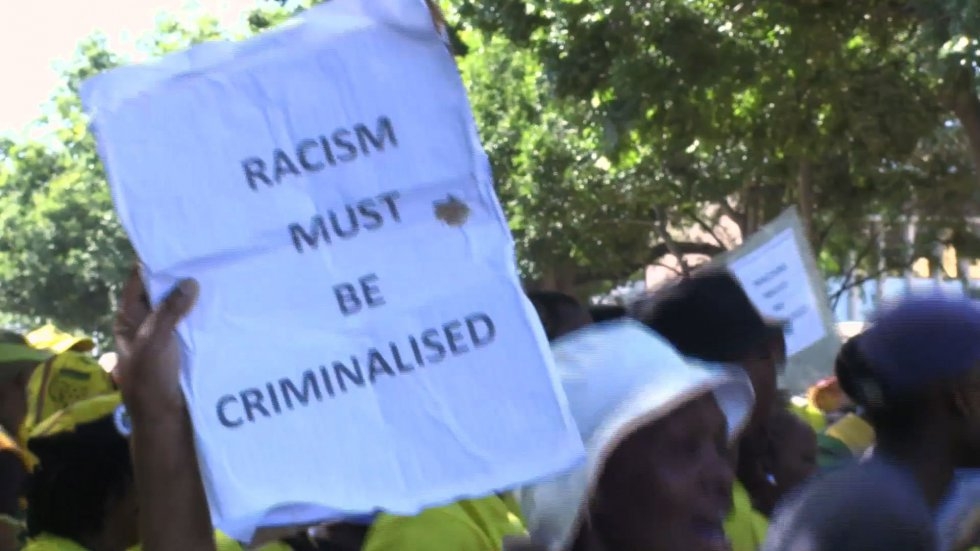 Click here to watch on a mobile device
Political temperatures in the country are rising ahead of municipal elections later this year, with land redistribution and racism among key battlegrounds. And the Parys murder case seems to be a microcosm of many of the fierce issues that confront the country.
Our day's reporting had proved an eye-opening experience -- wealthy farmers in lush gardens, white supremacists at noisy rallies, political activists keen to stir up friction, bereaved relatives in an impoverished black township, and the reality that the long legacy of apartheid still hangs over South Africa.
Ben Sheppard is AFP's deputy bureau chief based in Johannesburg. Follow him on Twitter.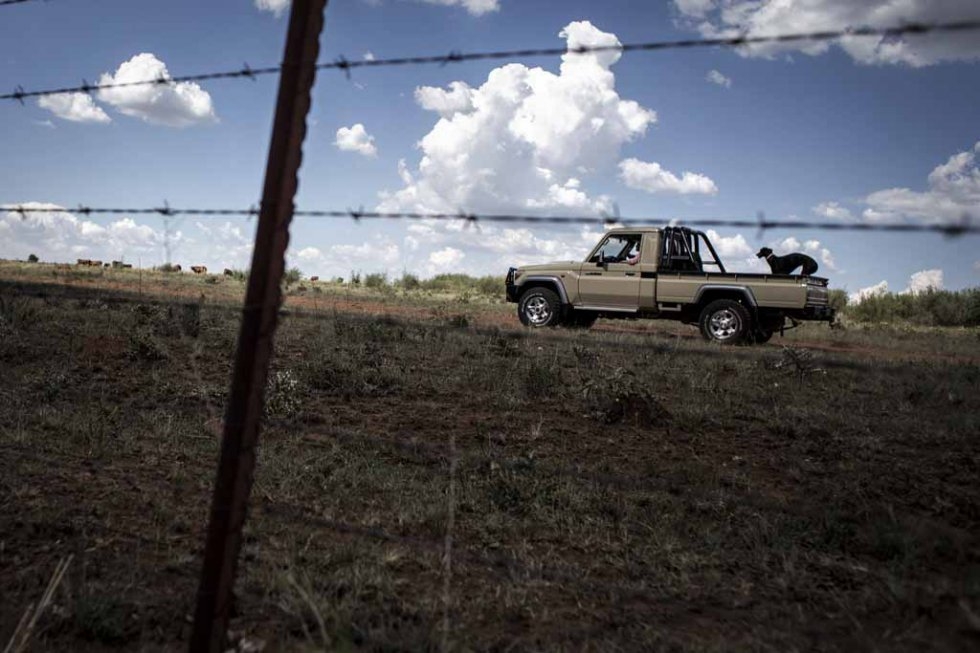 Kobus Dunnhauser drives out to his cattle. February 12, 2016. (AFP / John Wessels)