Secret diplomacy in the Twitter age
WASHINGTON, June 25, 2014 - "So," my neighbor asked casually on as we chatted on her lawn, "are you going with Kerry to Iraq?" My jaw dropped. This was after all three days before we were due to arrive and the visit was supposedly hush-hush. The bosses, and my husband, were the only people in my circle I'd told.
But in the days of Twitter, 24-hour news and social networking, Secretary of State John Kerry's trip to Baghdad on Monday was possibly one of the worst kept secrets in diplomatic history.
With security at the forefront of everyone's minds, the travelling reporters, who were prepped to go, tried to keep up the charade that we were not imminently due to land with Kerry in Iraq on a mission to try to shore up the country's unity in face of a militant onslaught.
Yet the information was already out there in the ever-insatiable Twittersphere and had taken on a life of its own, as other reporters sought official confirmation of what one of their own had recklessly tweeted out.
US Secretary of State John Kerry greets US marines as he arrives at the US embassy in the International Zone June 23, 2014 in the Iraqi capital Baghdad. (AFP Photo / POOL / Brendan Smialowski)
With the dates for a Kerry trip to Amman, Paris and Brussels already known, it didn't take much to put two and two together and come up with the likely scenario for when he was planning to drop by Baghdad.
Imagine if there had been instant messaging and Facebook back in 1971 when then secretary of state Henry Kissinger sneaked into China for talks which paved the way for president's Richard Nixon historic visit the following year?
How would Kissinger have been able to slip in from Pakistan, feigning illness with the help of the Pakistani president, while on a trip to Asia dubbed "Operation Marco Polo?" The grizzled Kissinger would no doubt have been quickly outed by the first person with a smartphone who spotted him in his hotel lobby.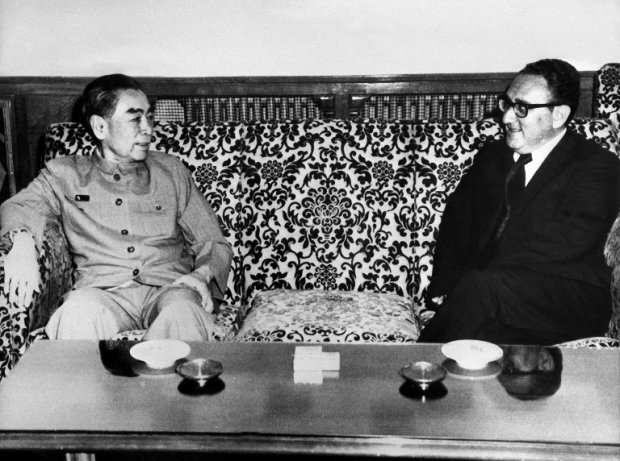 US Special envoy Henry Kissinger meets with China's Prime Minister Zhou Enlai, July 1971 in Beijing. (AFP file)
So today's diplomacy demands more wily, and even low-key, out-of-the-way approaches, to outwit the world's press and billions of curious netizens.
But surprises still do happen.
Last year it was revealed that decades-long foes the United States and Iran had been engaged in months of secret talks to try to kickstart nuclear negotiations.
At the instigation of President Barack Obama, Deputy Secretary of State Bill Burns and White House advisors Jake Sullivan and Puneet Talwar had been holding incognito talks with high-level Iranian officials.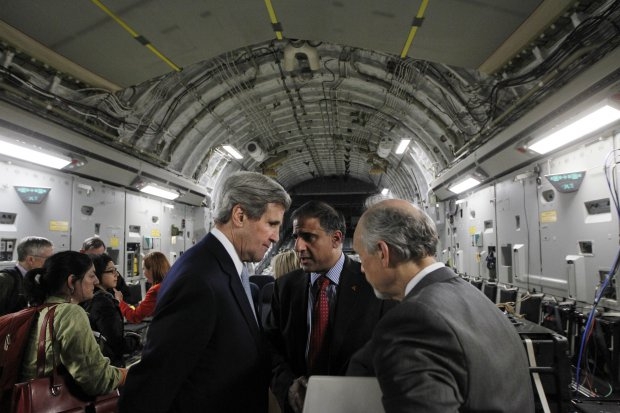 Kerry speaks with Puneet Talwar (C), the National Security Council's Senior Director with responsibilities for Iran, Iraq, and the Gulf countries, and another advisor aboard an Air Force C-17 aircraft during their return to Amman from a trip to Baghdad March 24, 2013. (AFP Photo / POOL / Jas)
Incognito, because well, despite being smart, creative and dedicated advisers at the sharp end of US foreign policy, most people would be hard-pressed to recognise them in the street.
They could literally slip in under the radar and carry out delicate, high-stakes diplomacy without anyone outside a tight circle being any the wiser.
Whether a full deal will be reached remains to be seen, but the backchannel talks brought both sides publicly to the table.
A picture taken on board a helicopter shows an US State Department helicopter flying over the Iraqi capital Baghdad as it transports Kerry. (AFP Photo / POOL / Brendan Smialowski)
Kerry is a great proponent of such face-to-face diplomacy.
So with Iraq in crisis his Baghdad trip went ahead despite the leaks, and amid very tight security as he flew in from Amman on a C-17 military plane and then transferred to helicopters to reach the fortress-like US embassy.
And he still had one surprise up his sleeve.
With all eyes on Baghdad, the next day he slipped into northern Iraq to meet with Iraqi Kurd leaders in Arbil, with most people unaware that he was coming.
Jo Biddle is an AFP correspondent at the US State Department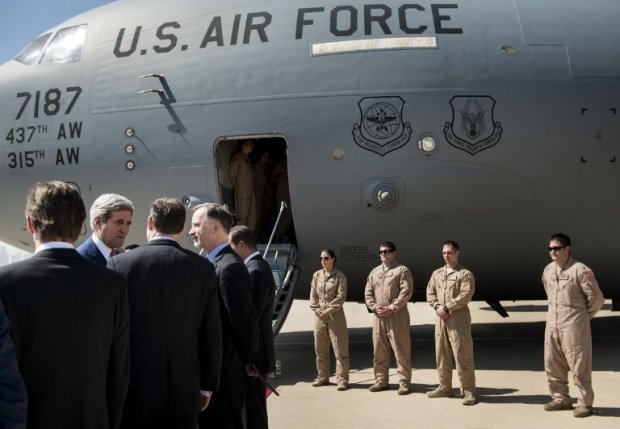 Kerry met in Arbil, the capital of northern Iraq's Kurdistan autonomous region, with regional government president Massud Barzani as part of a US drive to prevent the country from splitting. (AFP Photo / POOL / Brendan Smialowski)