Bitten: Trying to capture the Suarez chomp
MONTEVIDEO, July 1, 2014 – It's not unusual for a photographer at a World Cup game to fire off 500 or 600 photos, sometimes more. Things move at such a frantic pace that it can be hard keeping up with all of what's happening on the pitch.
Such was the case when Uruguayan striker Luis Suarez bit Italy's Giorgio Chiellini during last week's Group D game. Though the four AFP photographers in the Natal stadium noticed something unusual was going on, they weren't immediately sure what it was. 
So, they began shooting in the direction of Italy's defence, on the off-chance they'd capture something, despite the risk of missing a goal or another vital piece of action.
Moments later, they'd captured several images that would quickly go viral, showing Suarez rubbing his teeth and Chiellini displaying his bitten shoulder. A week later, even though Uruguay is out of the World Cup, the story continues to attract attention.
One of the photographers in the stadium, Yasuyoshi Chiba, says he initially thought Chiellini had been hit –- he never would have imagined that he'd been bitten by an opponent. At the time of the bite, cameras were following the ball, which was elsewhere on the pitch, so there are no photos of the bite itself.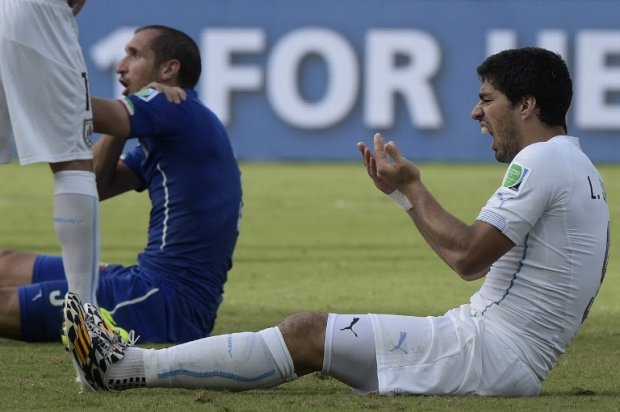 The biter and the bitten: Just after the infamous attack. (AFP Photo / Daniel Garcia)
Like his colleagues, Chiba pointed his camera in Chiellini's direction after the bite.
"Chiellini was surrounded by other players. I didn't realise what had happened, I just saw that he was standing up and starting to show his shoulder," says Chiba, who was covering the game from the press box.
"It was a strange scene. I'd never seen a player approach the referee like this, revealing his shoulder in such a sexy way! I continued to shoot."
The photos by AFP and other agencies exploded online. Jokers were quick to alter the images to show Suarez as a vampire, a zombie, or some other blood-thirsty creature.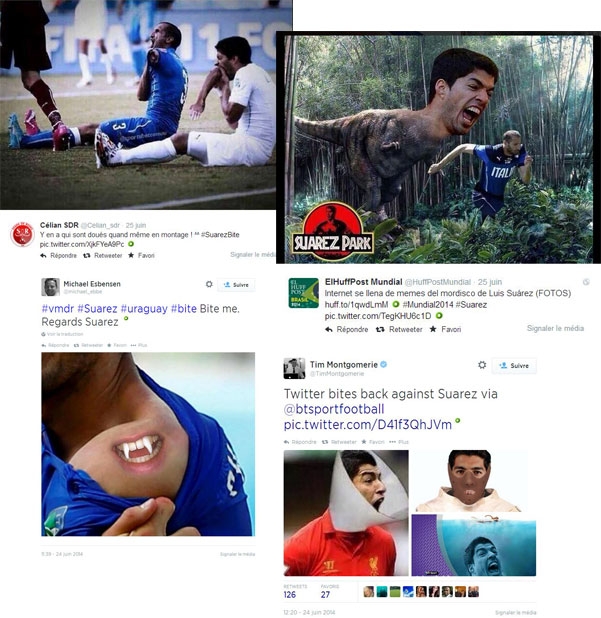 Just a small selection of the many Suarez-related gags that popped up on Twitter.
On the other side, facing the Uruguayan bench, AFP's Javier Soriano was taking photos through a 400-mm telephoto lens. "The Italian player was holding his shoulder and yelling and pointing. The only thing that Suarez was doing was holding his teeth, as though he'd been hit," says Soriano. "I started thinking that something strange had just happened and kept taking photos. It all only lasted a few seconds, and it wasn't until the end of the match that I found out what had happened."
The two other AFP photographers at the match, Daniel Garcia and Emmanuel Dunand, didn't know what had happened until after the game. As usual, they carried on taking photos and sending these to the Paris photo editing desk.
In another AFP busy centre, which has been set up in Barra da Tijuca, to the south of Rio de Janeiro, the World Cup photo coordinator, Eric Baradat, was monitoring incoming pictures while following the game on TV, to make sure that the photos being sent to clients showed clearly what was happening on the ground in Natal.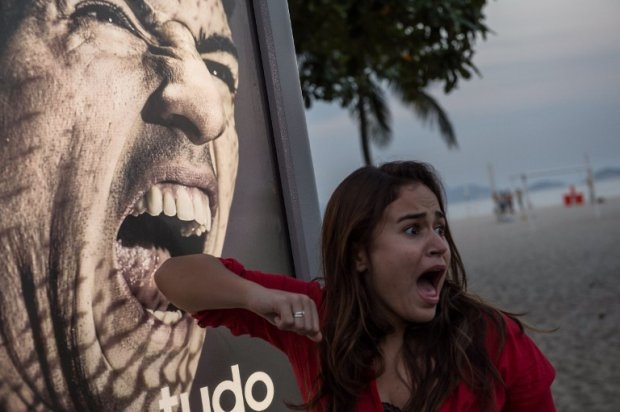 A tourist jokes in front of an advertisement showing Luis Suarez, in Rio de Janeiro, June 26, 2014. (AFP Photo / Yasuyoshi Chiba)
"When we saw slow-motion replays on the TV, I called our photographers and asked them to send whatever they had from this particular event," Baradat says. "It really reminded me of Zidane's head-butt on Materazzi during the 2006 World Cup. On that day, we'd been the only agency to have a photo of the crucial moment. Unfortunately, this time no one captured the exact moment where Suarez bit Chiellini."
It was not the first time Suarez's teeth had gotten him in trouble. He'd been suspended twice before for biting while playing for Liverpool.
Chiba said he was happy to have gotten a shot of Chiellini but he regrets having missed the moment itself –- such a photo would have constituted an impressive double, as Chiba got a picture of Suarez using his hand to block a goal from Ghana during the 2010 World Cup in South Africa.
The infamous handball got Suarez a red card but deprived Ghana of a quarter-final win.
"I can't forgive myself for missing the exact moment of the bite," says Chiba.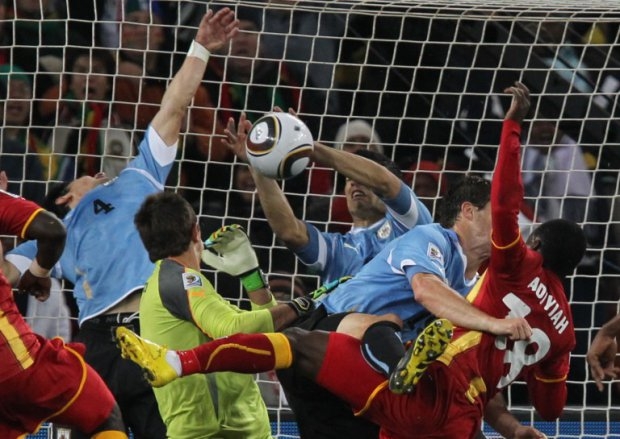 The infamous handball from Suarez that deprived Ghana of a quarter-final win at the 2010 World Cup in South Africa in 2010. (AFP Photo / Yasuyoshi Chiba)