The really beautiful game
Prague -- It was the end of January when I got the offer to cover this year's women's football Euro championships. It sounded very tempting. For one, the invitation arrived when my native Prague, where I work as AFP correspondent, was covered in snow and the prospect of an event in July meant that sun would somehow be involved. I also love going on reporting assignments and hadn't been on one in ages. Thirdly, I like football. So I said yes, looking forward to what I hoped would be an enriching experience. It was -- I saw sport in its purest form and learned a few things about myself as well.
Prior to the trip, my experience with women's football had been zero. I had seen women's basketball, handball, volleyball, done a lot of women's tennis – but football was terra incognita. Women's football exists in the Czech Republic, but like in many other places, it is largely ignored at best, and I have to admit that I had never been tempted to go and see a game.
When I told my friends about my upcoming adventure, reactions were mixed.
As a post-Communist country, the Czech Republic does not exactly glorify diversity, be it with refugees in recent years (who have been doing their best to avoid the country), homosexuals, the Roma, or, as it turned out, women footballers.
Some of the comments I heard: "They look funny." "They're below par." "Why do they actually bother to play?" "They look like men, most of them," combined with: "They're all gay, aren't they?" Three of my friends asked me to send them a picture of the players swapping shirts with their opponents after the final whistle. Given these comments and my lack of experience in covering the women's game, it promised to be a tough month. But I was looking forward to the experience.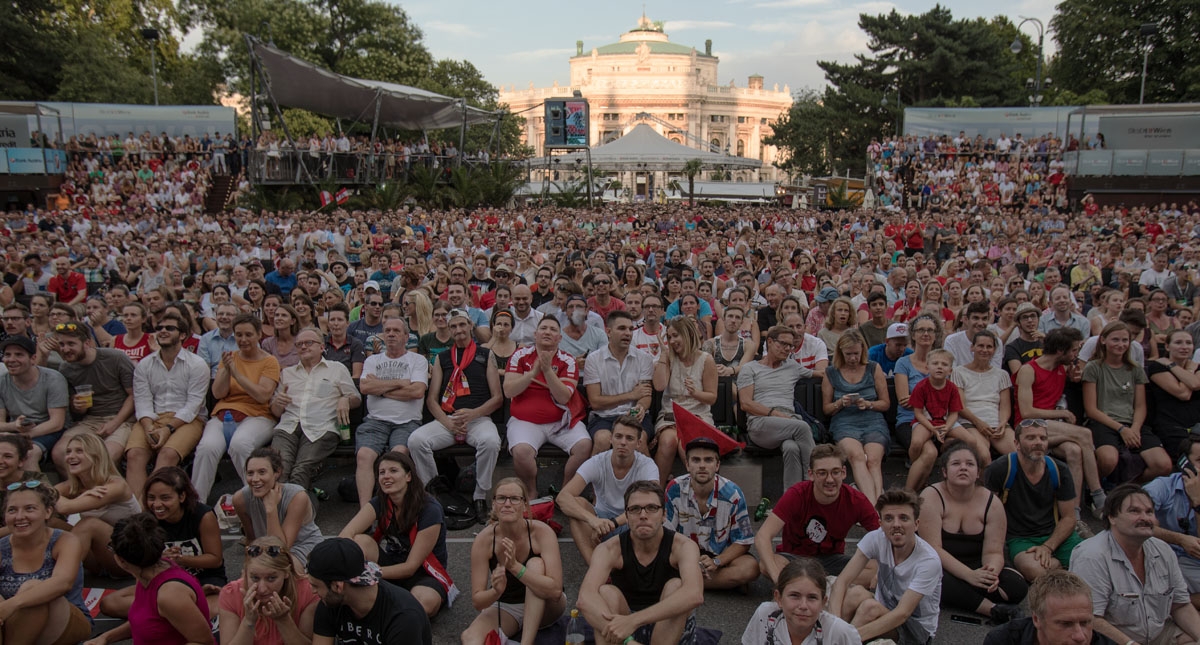 Fans and supporters of the Austrian women's football team follow the semi-final match Austria against Denmark at the Cityhall Square (Rathausplatz) in Vienna on August 3, 2017. (AFP / Alex Halada)
The first of many surprises came during the pressers before the match between Germany and Sweden in their group's opener that was also a replay of the 2016 Olympic final. When I walked into the room for Germany's presser, I was shocked. The place was packed. The next day, the Swedish tent was full. Even more impressive was the orange crowd outside the Utrecht stadium for the tournament's first game between the Netherlands and Norway. Men, women, kids with orange outfits, funny hats, flags on their faces, all of them pretty loud and in general similar to crowds at men's football matches (with one important difference -- fan trouble is not part of THIS game).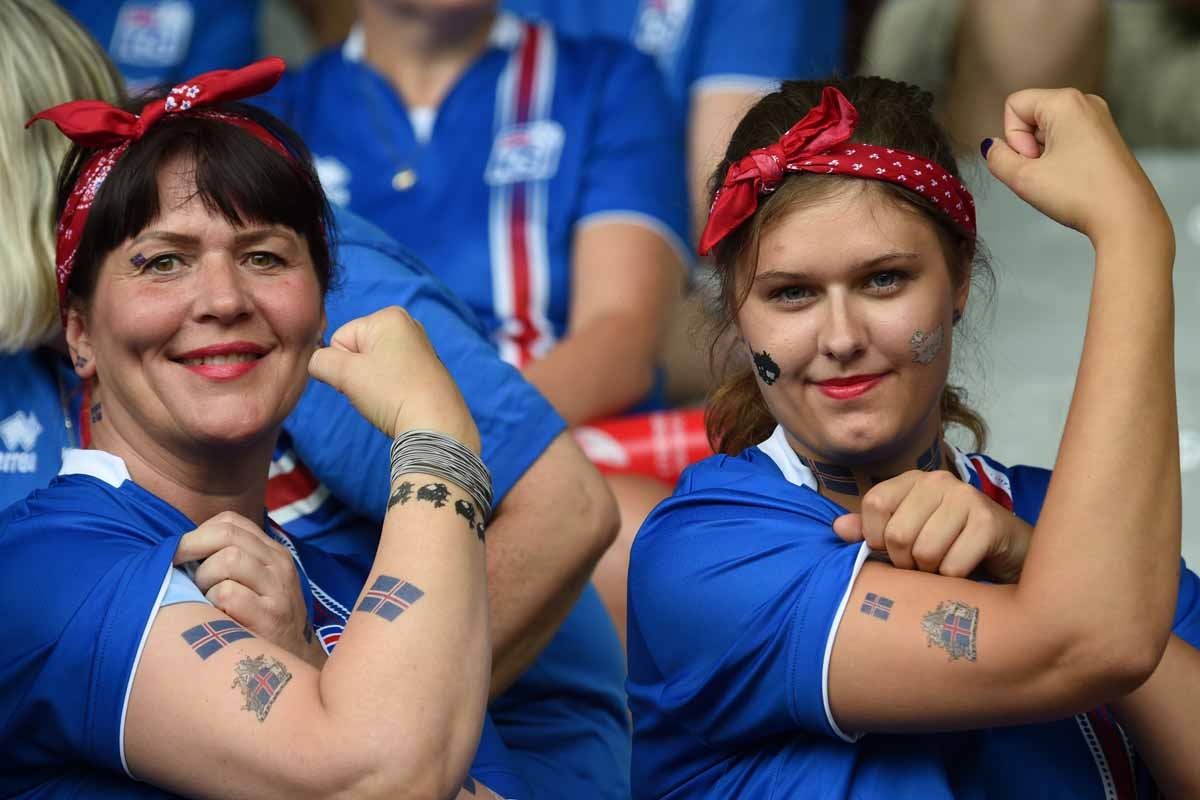 Iceland supporters, July 22, 2017. (AFP / Daniel Mihailescu)
These fans were convinced that  a) women's football is a great sport and fun to watch, b) it needs support, that's why they are there,  c) the Dutch will win the opener as well as the tournament. They were right on all accounts, as I soon found out. They also made me take the tournament very seriously.
In a bid to boost interest in the sport, UEFA decided to up the field of contenders to 16 from 12 in 2017. This turned out to be a good idea: the tournament newcomers pulled a couple of surprises, with Austria reaching the semi-finals and sparking a women's football fever at home where one in nine Austrians watched the games on TV while others saw their women perform in bars or on large screens set up in public areas. The same happened in Denmark and England, whose teams also reached the semis, and of course in the Netherlands.
Every single one of the Dutch games was sold out, including the 28,000 who filled the stadium in Enschede for the final. The day after, more than 10,000 people welcomed the winners in  Utrecht's central park. At an open training session before the final, a long queue of fans, mostly children, were waiting in the small eastern town of De Lutte for their stars, many clad in orange, many wearing the Orange Lionesses' names on their backs.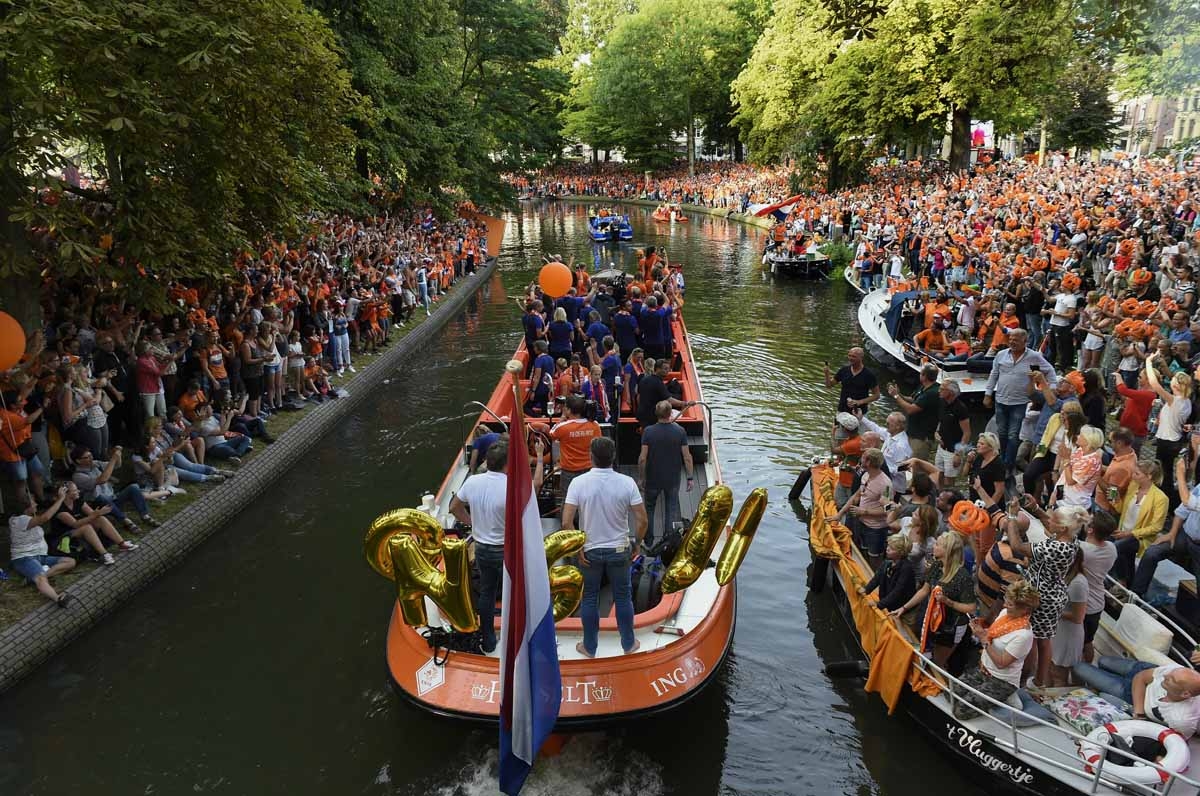 Celebrating the Dutch win in Utrecht on August 7, 2017. (AFP / John Thys)
It was a very special moment that really illustrated what makes the women's game particularly great. When the Dutch players had finished the training session and talked to the journalists, they walked down to the queue and went from one fan to another, patiently signing their shirts or taking selfies with every single one who asked. All of the players, Dutch or not, mingled with the supporters. Many of the players had family and friends in for the tournament. The atmosphere was almost like a giant family party, minus the quarrels.
 
While the pre-game atmosphere was convivial, the match itself was anything but. Here things got very serious.
"Women don't weep like men," one fan told me in Utrecht before the opening game, explaining why he likes to watch, and he was right. Diving and play-acting were rare, and some of the games got pretty rough as several players finished them with bandages on their heads. The women never gave up. Determination was the key word for all the games. Before the matches, the players promised to give it their best, and they meant it.
The game sometimes suffered from atrocious passing and some comical goalkeeping blunders, but as the tournament entered the knock-out phase, it got better and better. The final offered world-class football as the Netherlands beat Denmark 4-2 in a match that could go either way most of the time.
Netherlands' forward Lieke Martens heads the ball during the UEFA Women's Euro 2017 football match between Belgium and the Netherlands at Stadium Koning Wilhelm II in Tilburg on July 24, 2017. (AFP / Tobias Schwarz)
Over the 25 days, I met many spectacular women: the Afghan-born Nadia Nadim, who left her homeland with her mother and four sisters after the Taliban had killed her father and found a new home in Denmark whose kit she proudly wears; the tattooed Hungarian-born German captain Dzsenifer Marozsan, who radiates authority both on and off the pitch; the brave Scot Frankie Brown, who has a PhD in immunology and a part-time job at the University of Bath; the big English sweeper Millie Bright, who wears an elaborate princess-style hairdo and has as firm of a handshake as I've encountered; the strong-looking Swedish striker Stina Blackstenius, who started to cry when I asked her about Sweden's loss to Germany at the Rio Olympics; the valiant Danish captain Pernille Harder, who at one press conference showed incredible patience and professionalism when answering rather ridiculous questions from an English journalist about her relationship with a Swedish defender also playing at the tournament; the young Dutch star Vivianne Miedema, who moved from Bayern to Arsenal before the tournament and who would talk to you about football in perfect English for ages; or the tireless Austrian midfielder Laura Feiersinger, running miles and miles to help her team to glory.
Then there were the coaches: Sweden's Pia Sundhage, a former footballer always ready to talk about the subtleties of the game; Scotland's Anna Signeul, who walked up to me before a presser with her hand stretched, saying: "Hello, I'm Anna. Who are you?"; Austria's Dominik Thalhammer, who got very emotional greeting his family back home in a live TV entry after his team had made it to the playoffs; Denmark's Nils Nielsen, a very witty former rock guitar player cracking jokes at each press conference, who got pretty angry when former Dutch international Arnold Muhren criticised the Dutch team; and finally the Dutch queen Sarina Wiegman, who combined a very solid defence, inventive midfield and deadly attack to become the top coaching star while insisting there was no way she would become a celebrity.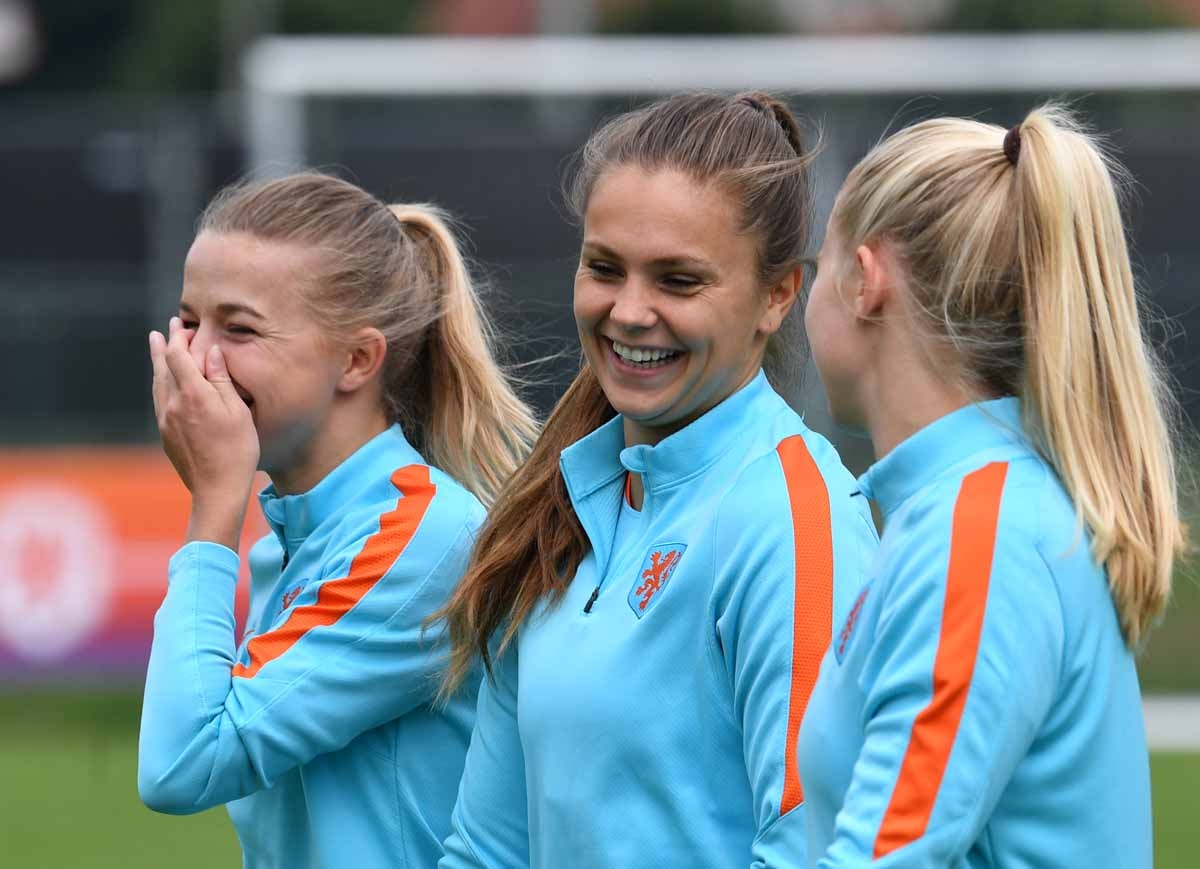 Jackie Groenen (L), Lieke Martens (C) and Jill Roord (R) of The Netherlands attend a training session in the eve of the UEFA Women's Euro 2017 football tournament final match against Denmark in De Lutte on August 5, 2017. / (AFP / Daniel Mihailescu)
All these people had one thing in common: besides striving for success, they are constantly seeking recognition for their sport. (Which makes the job of a journalist easier, as they are always ready to talk, unlike most male footballers I have come across.) Recognition, naturally, will bring in more money.  UEFA said during the tournament that it had spent eight million euros on prize money for the event, against some 300 million euros for men's Euro in 2016. It cited a survey which also found that 50 percent of female players were not paid by their clubs while 35 percent of national team players received no money for representing their country. No wonder that European women's football cries foul, looking overseas where the US national team has forced US Soccer to sign a new labour deal ensuring better conditions for them.
UEFA is naturally trying to promote the sport because they have a damn good product there, an enterprise with a huge growth potential.
I do hope the women get the recognition and compensation that they deserve. And yet, there is a certain charm in the "poverty" of the sport. When I talked to fellow journalists and asked them about their impressions from the tournament, most said it was "nice" and "friendly". Many of them complained about a tough life at men's tournaments, compared with this one. Readers are hungry for news about the male stars, which puts more pressure on the journalists, but at the same time, the male stars are far less accessible and willing to talk. To me the conclusion was obvious: women's football has not yet been spoiled by the exorbitant sums that the men get.
I have to admit that I wouldn't mind if women's football stayed that way -- maybe poor, but nice, friendly, and full of that pure sporting spirit. Before, I would never say this, but… the women's game is too good to spoil.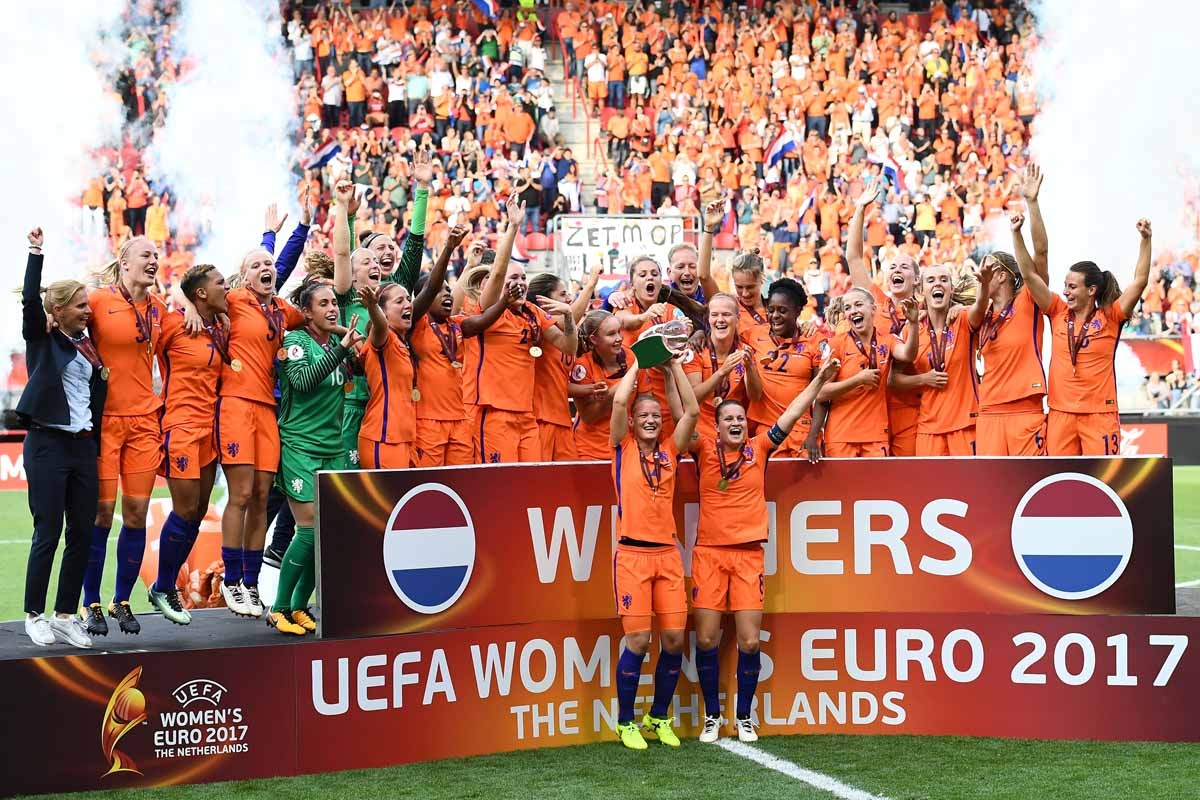 Netherlands' team players celebrate with the trophy after winning the UEFA Women's Euro 2017 football tournament final match between Netherlands and Denmark at Fc Twente Stadium in Enschede on August 6, 2017. (AFP / John Thys)