The pianist of Yarmouk in his new land
Berlin -- It was the only thing Aeham Ahmad saw when he entered the room. A shiny Bechstein piano on which he would play in a few hours, on a Berlin stage aptly named "The Home Port."
We met ahead of the performance for our interview and the first thing I noticed were his huge eyes. And his backpack. I recognized it right away.  It's with this backpack that he traversed thousands of kilometers eight months ago, making his way from Damascus to Berlin. In battered buses, boats, trains, on foot. Like hundreds of thousands of other Syrians, forced into exile by the war in their land and after months arriving -- exhausted -- in Germany.
As he made his way along the migrant route, Aeham Ahmad posted photos of himself on social media. My colleague in Beirut, Rana Moussaoui, poignantly told his story by remaining in contact with him along the way. 
Aeham Ahmad was a pianist in a Palestinian refugee camp of Yarmouk, at the gates of Damascus. He had an old piano that he took around with him on the bombed-out streets of his neighborhood, in the middle of rubble. Children would gather around him as he played and they would sing. Despite the siege by government forces, the jihadists of Islamic State, the bombings and the hunger, they would sing.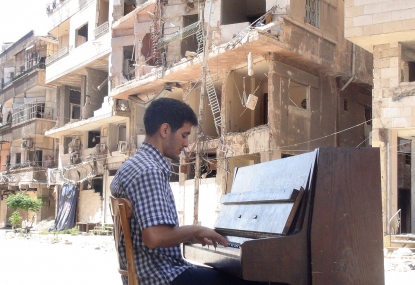 In Yarmouk, June 2014. (AFP / Rami Al-Sayed)
He left Yarmouk last year, after Islamic State jihadists burned his piano. On his birthday. In front of him. Although he initially left with his wife and two small sons, they quickly decided that the journey would be too dangerous for his family, so they turned back and he continued on his own.
I met him as he was being sought for concerts throughout Germany, after he received a human rights prize, some eight months after he arrived in the country. 
He was living in a room with three other refugees in a center for migrants in the city of Wiesbaden, near Frankfurt.
The first thing that jumped out when you met the 28-year-old was his endless energy.  As soon as we sat down for our interview (I on a chair, he on the bench in front of the piano), he raised his arms in the air, getting ready to play, and told me with a wide grin that the previous day he finally received his refugee papers. And good thing, too, as he had concerts booked up until "the 12th month." By that he meant December -- he speaks in an English sprinkled with Arabesque turns of phrase that only add to his natural charm.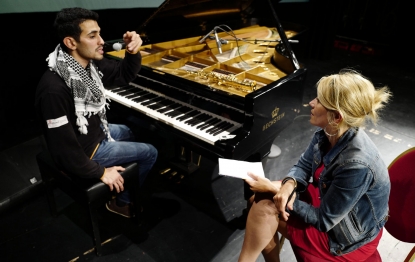 The author with the pianist. (AFP / John MacDougall)
As we spoke, he casually mentioned that German President Joachim Gauck had come to listen to his concert, "on the 25th of the fourth month," and that Chancellor Angela Merkel was expected at another one "on the 31st of the fifth month."
"But I am not a star, I am a refugee," he added emphatically.
I have covered the refugees for two years now in Berlin. The first ones I interviewed were in October 2014. They lived in a tiny room in a disused school in Berlin and came from Homs, a family of engineers and doctors whose oldest son spoke Oxford English.
I was in shock when I came back from the interview and when the bureau chief asked me how it went, I told him "I couldn't stop thinking that it could have been you or me in that room, if war had erupted here instead of Syria."
There have been moments during these two years when I heard things that I had a hard time believing. During such moments, I thought of my colleagues in Greece and Turkey, who had witnessed worse, much worse, on the beaches of Turkey and Lesbos, where bodies of drowned mothers and babies wash up on the beach.
The refugees in Germany may not have a certain future, but at least they have reached the Promised Land. They no longer risk death. That's how I had dealt with my emotions when faced with people whose lives have been thrown into such turmoil.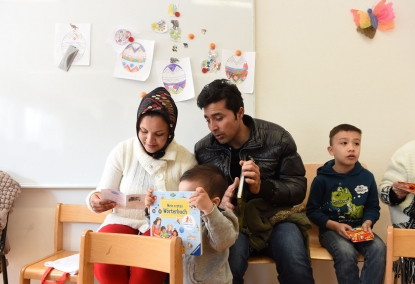 An Afghan refugee family at a refugee camp in Munich, March 2016. (AFP / Christof Stache)
And then one day the refugees arrived on my doorstep. Little before midnight on a Friday night, 150 Syrians, Iraqis and Afghans got off three buses. The city of Berlin had requisitioned a gymnasium near my house, with a view of turning it into an emergency shelter.
The transformation was chaotic. The soldiers who were sent to transform the gymnasium to accommodate the arrivals were still putting together Ikea bunk beds when the buses pulled up out front. So their first night in Germany was spent sleeping on mattresses, or on the floor, below basketball nets, without privacy.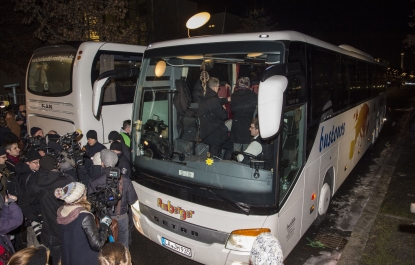 A bus filled with refugees arrives at the chancellery in Berlin in January, 2016, from Bavaria. (AFP / John Macdougall)
When Aeham Ahmad got to the end of his journey, he was sent by the German authorities to a suburb of Frankfurt. At first he lived in a motel converted into a refugee shelter where, by chance, he had a piano. So he did what he had always done. He played and sang with the children. He soothed the refugees' bruised hearts by singing of the mountains near the Syrian capital and the "sweet lost dreams" of his people.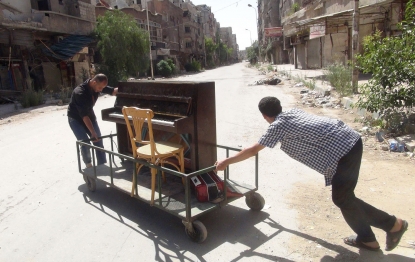 Aeham Ahmad transports his piano with a little help from his friends, June, 2014. (AFP / Rami Al-Sayed)
When the refugees settled in the gymnasium next door to me, I could no longer contain and compartmentalize my emotions as before.
Now when I read eloquent declarations talking about the "migrant influx" that had to be "shut off at the source," I get enraged. It has become difficult to write about the statistics -- a million migrants in Germany, figures that say nothing.
The "migrant influx" now has a face for me, the many faces of my new neighbors -- a hairdresser from Baghdad, a bus driver for Aleppo, a body builder from Kabul, a beautician from Damascus, a student from Babylon. And a multitude of young Syrians, barely out of teenagedom, who left rather than be engulfed in the war that has destroyed their country.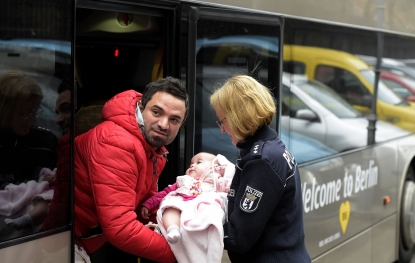 A German police woman helps a man carrying a baby onto a bus outside a registration office in Berlin in March, 2016. (AFP / Tobias Schwarz)
They have told me their tortuous stories ("This is Daesh," says one, using a name for Islamic State and rolling up his sleeve, revealing skin lacerated with scars.) They have pulled out their cellphones to photos of a father, mother, twin brother ("How do you say in German that we were together in my mother's belly?") who have stayed behind.
I have played cards with them (learning how to play Uno), I have helped them sign up for German and integration lessons, or to go to the doctor. I have served lots of meals.  We have conversed in a hodgepodge of Arabic, English and German. Relationships have begun, affection has sprouted.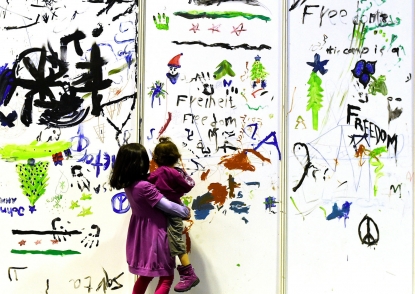 Inside the former Tempelhof airport in Berlin, converted to a refugee shelfter, in December, 2015. (AFP / Tobias Schwarz)
It is impossible to remain indifferent to their suffering and their tears. How many times have they cried on my shoulder, 20-year-olds who have come to a strange land alone? How many times have I met a gaze overflowing with sadness and all those things that they don't say. How many times have we laughed through the tears at our linguistic misunderstandings? ("When you came to Germany from France, you were a refugee too?")
It is impossible not to be moved by their resourcefulness, with their Aldi telephone cards, their Primark clothes, their used bicycles bought at flea markets. They roll their cigarettes, and another, and a last one, to push back the hour when they'll have to hear the snoring of their neighbors on the top bunk.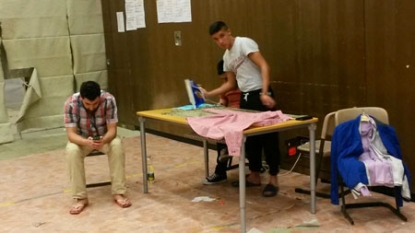 (Photo: Yannick Pasquet)
You should see them, all with the same haircut because Thamer, the barber from Baghdad, cuts their hair for free but without creativity or flourish. You should see how they battle with German declinations, the dative in red, the accusative in green. You should see them pose like matadors in front of the Reichstag, and post the photos on Facebook. You should see them watch football matches on their smartphones, screaming in Arabic, gesticulating as they watch Real Madrid and Barcelona.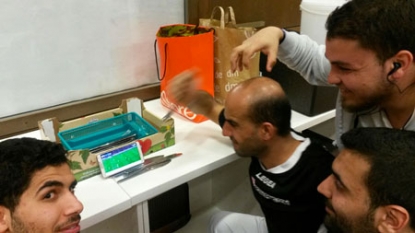 (Photo: Yannick Pasquet)
And once you are moved by them, you realize how awful it is that Europe is indifferent to their tragedy and you wonder when will Europe open its eyes?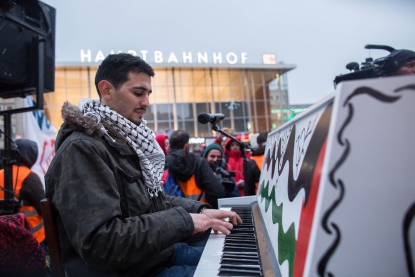 Aeham Ahmad plays on January 16, 2016, in front of the train station in Cologne, where hundreds of women reported being sexually assaulted on New Year's Even in a crowd of mostly Middle Eastern and North African men. (AFP / Maja Hitij)
The night of our interview, when I saw Aeham Ahmad climb on stage in a country rich and at peace, when I saw a German audience, which normally restrains its emotions to an extreme, give him such an ovation that he came back on stage twice, it reminded me of another scene, in Yarmouk in ruins.
It's a video that you can find on the Internet.  His keffiye scarf wrapped around his neck, he is playing the piano in front of a ruined family store, on a street devastated by shells. A Palestinian flag flaps in the air. His father, blind, accompanies him on the violin.
His friends stand around his old piano. The oldest must be 25. They sing amid the ruins. Since then, some of them have died, Aeham told me so, holding back his tears.
I ask myself where he finds his strength, despite all that has happened to him and his people. I think that the answer lies in his piano. "It's my heart, my life," he says.
(AFP / John MacDougall)
When I wait at the metro in the morning to go to work, I often hear "Yannicka, Yannicka" behind me (I have yet to make them understand that there is no 'a' in my name). My neighbors.
I greet them with a "Salam Aleikum" while they respond with a "Wie geht's Dir?" ("How are you?"). We laugh. And then I go to write my stories on the refugees, while they go to stand in lines at government agencies in charge of studying their asylum applications.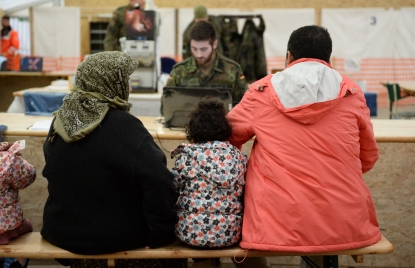 Syrian refugees wait to registers at a German air base in Erding, southern Germany, in January, 2016. (AFP / DPA / Andreas Gebert)