Nightmares and miracles in Srebrenica
PARIS, July 11, 2015 – It's the summer of 1995. I am in Croatia to cover French army manoeuvres being staged there on Bastille Day, when I get a call from AFP's chief editors. Can I go to Bosnia? Srebrenica has just fallen to Serb forces.
Of course, I answer yes. Do you have money to get there? None at all. A car? Nope. In fact I can't even drive, a rarity for a journalist. But I have learned that when out in the field, be it in South Sudan, Romania or Gaza, you can always count on little miracles to help you along the way.
My first miracle occurs at Split airport.
I am pacing around the departure lounge looking for journalists who, like me, are trying to head towards Srebrenica, when I stumble across a young women pacing in the opposite direction.
"You wouldn't be French by any chance," I venture. "Yes I am!" "Can you drive a car?". "Yes I can!"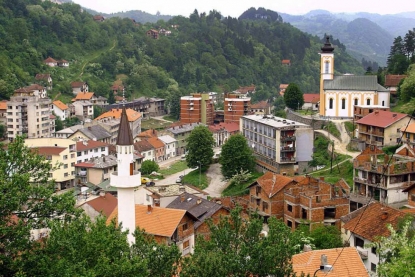 This March 2005 file photo shows a general view of the eastern Bosnian town of Srebrenica, with its mosque (L) and Orthodox church (R) (AFP Photo / Stringer)
She turns out to be a fellow reporter from Le Monde, who will be my teammate throughout this difficult assignment. Together we a recruit a third colleague, a tall fellow from the Italian daily Corriere della Sera, to make up our crew.
We still have no money. But suddenly I hear someone shouting "Nadège, Nadège!"
Miracle number two: it was a journalist friend from France 2 television, on his way home to Paris, with a spare $5,000 in cash. Which France 2 kindly lent to AFP for the duration of our mission to Bosnia.
Avoid being shot at
We are ready to leave for Tuzla, the nearest town to the Muslim enclave of Srebrenica in northern Bosnia that is accessible to journalists. To my knowledge there are no journalists in Srebrenica itself. It would have been risking their lives.
The road is long, winding and dangerous. We travel in convoy with other journalists, on the advice of the UN peacekeepers, to avoid being shot at. We are in an unmarked rental car, so we make sure to stick close to a large jeep marked PRESS.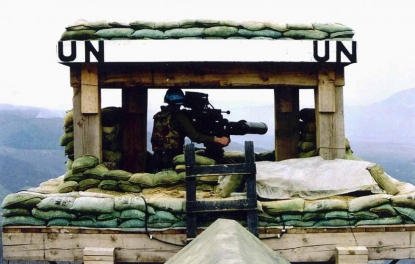 Picture dated 10 July 1995 of a Dutch UN peacekeeper post near the Muslim enclave of Srebrenica just before Serb forces overran the zone. (UN / Dutchbat / Peter Van Bastelaar)
At one point we stop in a town called Zenica to stock up on supplies. I knew the town from before the war, having family in the area.
But as I walk into a cafe I find myself face to face with about 100 guys glaring at me. Mujahedin as we used to call them back then. Armed with Kalashnikov rifles and dark, menacing looks. I leave as fast as I can.
We arrive in Tuzla and head to the airport, where we discover a surreal scene.
Bloody feet, ragged clothing
The airport is right next to a wood. Beyond the wood lies Srebrenica. And we watch as half-starved men emerge in little clusters from the trees, after spending days on the run.
On the runways the NGOs have set up trestle tables laid out with orange juice, thermos flasks of coffee, all that's needed to welcome the escapees. It reminds me of a Gymkhana or a village fete.
Except these people have not run a marathon. They have just escaped from death.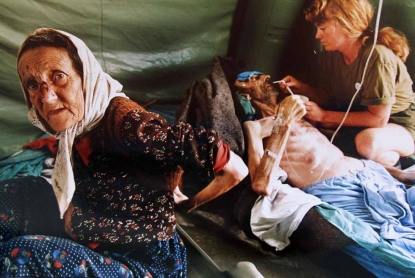 An elderly Muslim couple are treated for injuries inflicted by Serb forces as they fled Srebrenica. The man on the right died shortly afterwards. (AFP Photo / Odd Andersen)
The men we see emerging with bloody feet and dirty, ragged clothing, from the woods, are among an estimated 10,000 to 15,000 men and boys from who fled as Serb forces advanced on Srebrenica, a UN-protected enclave that the peacekeepers proved powerless to defend.
They were hoping to reach Muslim-controlled territory on foot. Close to 8,000 of them would be slaughtered. Among those who survived, around 100 would make it to Tuzla while I was there.
Poor desperate people, thirsty, frightened. Men who do not know what has become of their families.
Raped and murdered
And they tell us of the nightmare. A man around 40 years old, seeing I can understand a little Serbo-Croatian, clings on to me. I can still feel his hot arm on mine, his nails digging into my skin.
He grips my arm tightly, and pleads: "Help me my find my daughter!" He tells me she boarded a bus in Srebrenica, but that the soldiers made her get off again. He tells me she is 13 years old.
Most of the women of Srebrenica were evacuated along with the children towards Tuzla. Except the prettiest ones. Who were raped, and in most cases murdered by Serb fighters.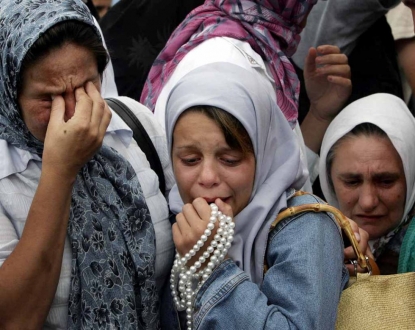 Bosnian Muslim women cry during a funeral of the remainds of their relative, victum of the Srebrenica massacre in the village of Potocari, 11 July 2005 (AFP Photo / Dimitar Dilkoff)
I don't catch everything he is saying, but I understand quite clearly when he begs, "Help me!", "My daughter!". He is as if crazy. And there is nothing I can do. I still dream of it 20 years on.
They tell us how the Serb fighters track down the fugitives. They trek through the woods calling out typical Bosnian Muslim first names. Tricked into thinking they have found a friend in their flight, the men emerge from their hiding place and are shot dead.
I am devastated by what I am seeing, and hearing.
Not lying
Some of my journalist colleagues are suspicious, still scarred by the case of Timisoara in Romania six years earlier, in which Western media picked up fabricated testimony about mass graves containing the bodies of tens of thousands of people.
I am certain they are not lying.
Later on I go to report on the work of a man who is caring for young rape victims - those whose lives were spared. We go there in a team with my colleague from Le Monde, for the sake of safety but also for moral support.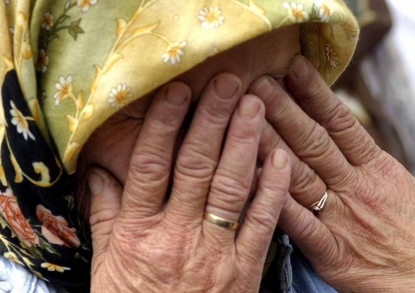 A Bosnian Muslim woman wipes her tears while around 300 recently identified bodies of Bosnian Muslim men are transported from Sarajevo to Srebrenica, 09 July, 2003 (AFP Photo / Elvis Barukcic)
As we arrive we are told that one of the young women hanged herself the day before. For these young Muslim women, in addition to the trauma, to be raped is seen as a terrible stain on their honour. For some of them, unbearable. All of the young women present had been raped. None of them wished to speak with us. We didn't insist.
I later saw that a French weekly had published a photo of the hanged girl. I resented them for doing so. A story like this one forces you to stop and think about the work we do as journalists.
Not for me to judge
At the time the Dutch UN peacekeepers were heavily criticised for their failure to intervene in Srebrenica. But I remember interviewing a Dutch captain who was doing all he could to assist the survivors. It is not for me to judge them. Especially when you consider that none of the other powers did anything to prevent the massacre.
In Tuzla, I am staying on the 12th floor of a grand hotel. On the 15th, there is a patio where all the radios and TVs are set up. From time to time the Serb forces fire a shell in our direction and everyone lays belly-down on the floor behind a little wall around the patio.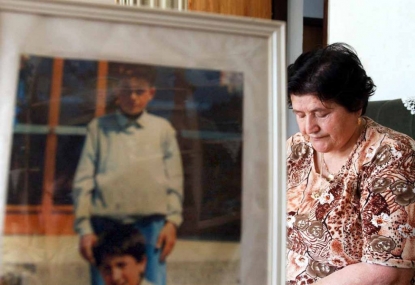 Bosnian Muslim Nura Alispahic, formerly of Srebrenica, is shown at her home in Tuzla on 04 June 2005 beside a picture of her son who was shot dead by Serb forces 10 years earlier (AFP Photo / Elvis Barukcic)
I will soon be joined by an AFP photographer equipped with a satellite transmission case. But in the meantime, that first day in Tuzla, I have no computer, no phone, no means to send the story I have just written up by hand on a piece of paper.
Cue my third miracle.
I am sat on a stairway with my story in my hand, wondering how on Earth I am going to get my story into print. Two well-known French journalists have just refused to lend me their phones - this is a huge story and competition is sharp among the press pack. Then suddenly I hear, in Hebrew: "Hey, how are you?"
It's an Israeli journalist friend, who promptly lends me his phone so I can file my story to AFP.
I come home from Bosnia on July 23. I remember it well because the 24th was a Sunday and on Monday 25th I went back to work to try to shake off the horrific memory of Srebrenica.
That same evening, Paris was struck by a terrorist attack in the St Michel underground station in the Latin Quarter. It was the first of a wave of attacks that would rock France, and mobilise AFP's journalists myself included, all through the summer of 1995.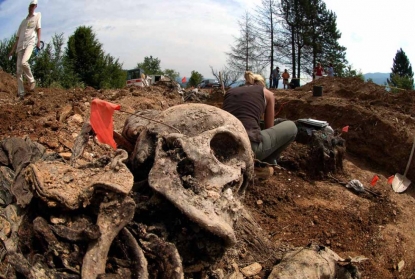 Forensic experts work in a mass grave in the village of Budak, near Srebrenica, 09 July 2005 (AFP Photo / Joe Klamar)
For my AFP colleagues based in the region, though, the story of Srebrenica was far from over.
"Srebrenica was the place I could never get to during the fighting," recalled my photographer colleague Odd Andersen, who was based in Sarajevo during the 1992-95 war. "A few brave colleagues did manage the journey there and their tales and images were always the envy for us who did not make it.
"When the enclave was overrun in July 1995, I was in Oslo and scrambled to get back to Bosnia, flying to Split and driving to get to Tuzla where the influx of refugees had started. As the town itself was constantly being shelled by Serb forces, most of the refugees sought shelter at the airport.
"In a day or two the runway in Tuzla was turned into a sprawling refugee camp with Swedish UN soldiers struggling to provide water and basics for the thousands who made it through the gates, and the many more that decided to camp just outside the perimeter.
"The people with the worst injuries were cared for at a Norwegian UN field hospital in Tuzla.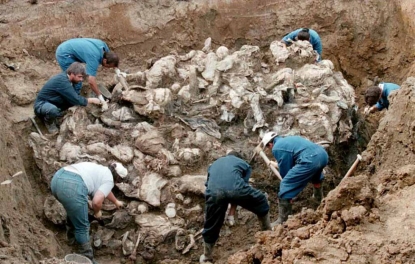 ICTY investigators work on top of a cluster of bodies, many of them with their hands tied in the back and blindfolded, at a mass grave outside Pilica, some 55 km east of Tuzla on 18 September, 1996 (AFP Photo / Odd Andersen)
"I relocated to Tuzla in November 1995 to set up an AFP bureau there waiting for the US NATO troops, part of the Dayton peace agreement, to arrive.
"Within months of the NATO troops settling in, amid protests by survivors, investigators from the war crimes tribunal in The Hague started their work."
Seeing horror for ourselves
"I spent the whole summer of 1996 finally getting to places that Serb forces had spent the previous three years denying media access to. Here we could see with our own eyes the evidence of the harrowing tales the survivors had told us a year earlier.
"We spent months with the war crimes tribunal investigators as they opened up mass graves.
"The hills littered with human remains, and the smell of the open graves are still fresh in my memory despite having burned every piece of clothing and shoes after leaving eastern Bosnia for good in late 1996."
Nadège Puljak is an AFP reporter based in Paris. Odd Andersen is an AFP photographer based in Berlin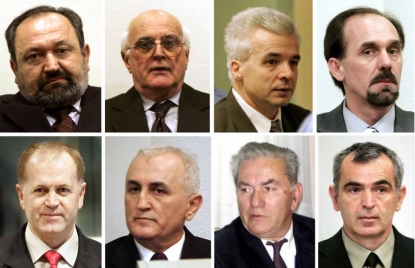 Bosnian Serb officers tried over the Srebrenica massacre, top L to R: Vujadin Popovic, Ljubisa Beara, Drago Nikolic, Ljubomir Borovcanin and bottom, L to R, and Vinko Pandurevic, Radivoje Miletic, Milan Gvero and Milorad Trbic (AFP)