Musical discoveries on 1,300-band week
NEW YORK CITY, Nov. 5, 2014 - I'm an obsessive music-lover, someone who would rather be at a concert than almost anywhere else (with a few exceptions), but even for me the five days of CMJ offer daunting choices.
CMJ -- it originally stood for College Music Journal, although organizers now just prefer the acronym -- is a 33-year-old annual institution in New York in which dozens of clubs across the city transform into testing grounds for up-and-coming (or hoping-to-be up-and-coming) bands that want to gain notice.
Plenty of artists have seen their careers take off from CMJ, with spirited performances at dingy clubs with dirty bathrooms resulting in industry connections that have turned them into stars. Lady Gaga, Arcade Fire and, much earlier, R.E.M. all became household names after CMJ triumphs.
Of course, plenty of other artists leave CMJ with little more than the experience of dirty bathrooms and, perhaps, some debt from the cost of traveling to the Big Apple.
More than 1,300 musicians came to New York over CMJ from October 21st to 25th. I tried to see many of them, but of course it was humanly impossible to see anywhere close to a majority. But here are a few highlights that, in my humble opinion, stood out:
September Girls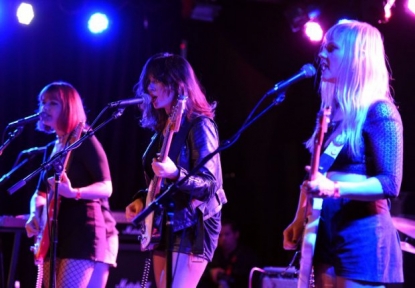 The Irish band "September Girls"performs at the Knitting Factory on October 23, 2014 in New York (AFP Photo / Don Emmert)
With a hazy guitar reverb, dominating bass-lines and a touch of psychedelia in the keyboards, the Dublin-based September Girls conjure up a landscape of overcast skies but framed through pop melodies. Think The Bangles if The Jesus and Mary Chain played back up.
All but one member of the five-woman band takes turns on vocals, with songs on the debut album, "Cursing the Sea", revolving as often as not around relationship dysfunction.
"How long must I be lost at sea? Take these pills and swallow me," runs the pop-catchy chorus of "Ships," set to a shoegazing guitar. Lauren Kerchner's keyboards somehow could be at home in either 1960s surfer pop or 1980s Goth. 
"We all kind of have pop sensibilities but are more interested in the darker side of it," guitarist Caoimhe Derwin told me after one of September Girls' seven shows at CMJ.
Fellow guitarist Jessie Ward, who unlike her Irish bandmates is a transplant from California, said the sound had a "dirtiness and the darkness (that) is part of the Irishness."
"We write pop songs, but we think a straightforward pop song is a bit boring," Ward said.
Pompeii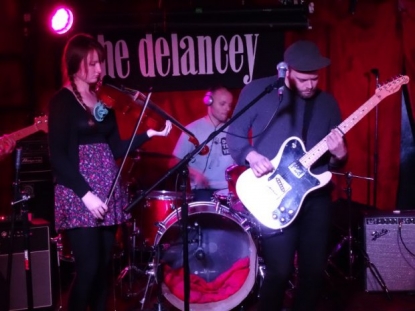 The Texas-based Pompeii band (AFP Photo / Shaun Tandon)
"Loom," the first album from Austin, Texas-based Pompeii in six years, starts gently with melancholic piano chords before sweeping strings foreshadow a bigger sound to come. The title song gradually climaxes into the ferocity of frontman Dean Stafford's guitar.
The band bears a strong resemblance to Icelandic post-rock icons Sigur Ros, except Pompeii crafts its sound into concise rock tunes with vocals.
"I was 19 when the band started in '04 and now I'm 30, so basically we've reached the point where the band went through this necessary puberty," Stafford told me after a CMJ show.
"We had to take this time to figure out -- how do we want to change the sound? Because we felt we were a little melodramatic in the early days," he said.
For "Loom," the band's third album, Pompeii tapped the Tosca String Quartet, which had its start as a popular tango orchestra in Austin; guitarist/keyboardist Erik Johnson brought in analog synthesizers.
Stafford voiced hope that Pompeii would work on soundtracks, saying: "We're a very cinematic band by nature."
Pompeii had a taste of cinematic drama as it filmed a video to be released for the song "Blueprint," in which the band went to a ranch and blew up an old Honda Accord.
Ballet School
::video YouTube id='ZgXwvvZNbt4' width='560' height='315'::
Ballet School's rhythm section could have come straight from the 1980s, with a synth bass line that Whitney Houston would have danced to, but the Berlin-based band is defined by the soaring voice and presence of singer Rosie Blair.
Blair, who has had no formal vocal instruction, empowers each song with her vast-ranged voice in a delivery that bears similarities to Siouxie Sioux, even though Blair prefers to wear white instead of black.
But the synth sound is deceptive, with guitarist Michel Jun Collet giving a rock kick. The dichotomy is all the more striking on stage, with the Belfast-bred Blair prancing around the stage as the Brazilian-French Collet keeps cool, Slash-style in a black overcoat and top-hat.
The band played first but enjoyed the warmest reception at a CMJ showcase by the Bella Union label, run by Simon Raymonde of Cocteau Twins fame. As the band spoke to me, one stranger even approached Blair and said that Ballet School made him enjoy music again.
Blair, a self-described "provincial kid from Ireland," said she came of age "when authenticity was at a certain apex" with artists such as Kurt Cobain, who killed himself in 1994 when she was 10.
"What I found was this huge conflict between wanting to be successful and also wanting to maintain some integrity," she said.
"On stage, the tension is tangible between those two things," she said. "But that conflict, I think, is what makes great artists really great."
Stars from Taiwan
::video YouTube id='YN0sOA-blho' width='560' height='315'::
CMJ is an international affair, with numerous countries devoting resources to supporting resources hoping for a big break in New York. Australia, Britain, Canada, France, Ireland, the Netherlands and New Zealand all seized on CMJ by organizing special showcases, inviting music watchers to discover artists from their countries.
One special case is Taiwan. Unlike other international showcases, Taiwan sent stars with already established credentials. A largely Taiwanese crowd packed the Highline Ballroom in the Meatpacking District for a show headlined by A-Lin, who has been nominated three times for best female singer in Mandarin at the island's Golden Melody Awards.
The show also featured the US debut of Dwagie, a Taiwanese rapper known for his social consciousness. Whereas Dwagie isn't removed from the stereotypical hip-hop passions for partying and women, he also gave a shoutout to the Dalai Lama and left the stage playing a video with a message of compassion from the spiritual leader.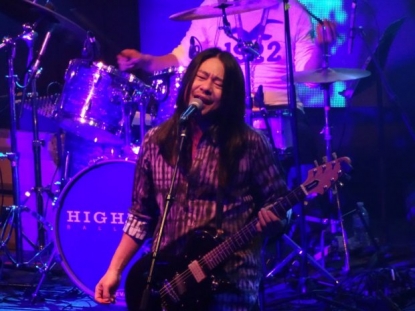 The Taiwanese guitarist and vocalist Luantan Ascent (AFP Photo / Shaun Tandon)
The Dalai Lama is not Dwagie's only collaborator. Dwagie, who already enjoys a vibrant fan base at home, earlier this year teamed up with hip-hop heavyweight Nas for the song "Refuse to Listen."
The Taiwanese showcase was also diverse in genre. Performers included Luantan Ascent, a key force in the island's indie music scene. The singer and guitarist on the surface plays heavy metal, but he incorporates touches from folk and classical traditions.
So what is accomplished by bringing big Taiwanese names to New York to be seen by fellow Taiwanese? The strategy isn't accidental.
Ed Yen, the executive producer of the Taiwan showcase, said that he wasn't realistically expecting an American audience to discover and embrace Taiwanese music.
Instead, the effort aims at boosting Taiwan's role with Western entertainers, hoping that they look to the island and its cosmopolitan artistic scene for collaboration when they try to expand in Asia's huge market.
Shaun Tandon is AFP's music correspondent, based in New York City.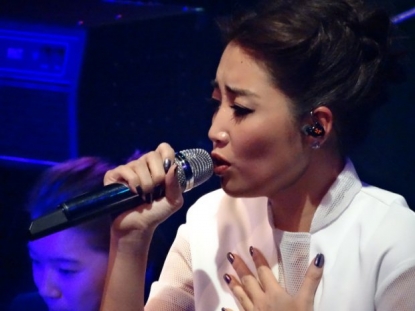 The Taiwanese singer A-Lin (AFP Photo / Shaun Tandon)