Meeting Saudi Arabia's 'Mr. Everything'
RIYADH -- Diplomats call him "Mr Everything" and this, I thought, might just be my chance to meet him, or at least get a close-up look for the first time.
Deputy Crown Prince Mohammed bin Salman is one of Saudi Arabia's most dynamic and powerful figures.
"You are invited by the royal court", an Information Ministry official told me cryptically in a Saturday phone call, without mentioning the prince.
There was no doubt, though, that the invitation concerned the release of the ambitious Vision 2030 plan to diversify the kingdom's economy away from oil, of which Prince Mohammed is the principle architect and booster. Would he actually be there two days later to meet us ? There were no details, only hope.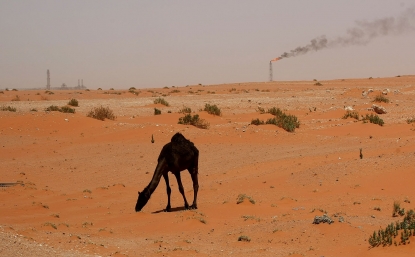 An oil installation near the oil-rich area of Khouris, June, 2008. (AFP / Marwan Naamani)
Saudi Arabia  does not operate on the strict schedules and timetables which Westerners abide by. Press conferences may be called one hour or so before they start. Or reporters might wait hours for a meeting to end, just in case someone makes a statement even if he won't answer questions.
Unusually for the tight-lipped kingdom, Prince Mohammed has been talking – especially about Vision 2030. He's called "Mr Everything" for his multiple portfolios that include Minister of Defence and chairman of the Council of Economic and Development Affairs.
In a country used to geriatric leadership, Prince Mohammed, a son of King Salman, has reached the heights of power at the tender age of 30, serving as a role model for the kingdom's youthful population, more than 35 percent of which is under 19. Prince Mohammed expects young people will be the drivers of Vision 2030.
A day after the initial phone call we got a sliver more of information. Simply: Be at the King Fahad Cultural Centre at noon Monday with my colleague AFP photographer Fayez Nureldine. Just in case, I donned a jacket and tie, packed extra batteries for my tape recorder and – in the unlikeliest of hopes – strung a miniature camera on my belt in case I had the chance to grab some video.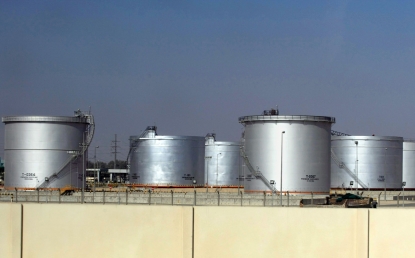 The Aramco oil facility in Dammam. (AFP / Hassan Ammar)
Things weren't quite what I expected when we arrived at the Cultural Centre. It was filled with medical personnel in white coats attending a Ministry of Health gathering.
We checked around the side of the building, where we spotted a black Mercedes-Benz and a man dressed like a hotel concierge beckoned us inside. Our names were checked against a long list before we entered a waiting room where other journalists were already gathered.
This wasn't the palace but it was opulent enough with Renaissance-style padded chairs, heavy red and gold drapes and mirrors on the wall. Evian water, coffee, and a small buffet with miniature eggplant sandwiches, croissants and melon balls were there for anyone hungry during the wait. We had no idea how long that would be.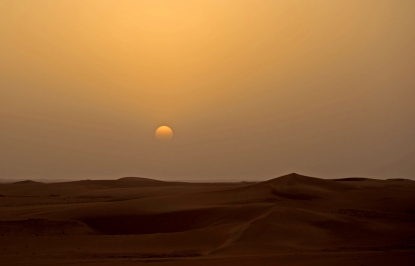 The Saudi desert. (AFP / Marwan Naamani)
I ate two sandwiches but then our information ministry contact invited us across the hall where a formal dining room had been set up with an even bigger buffet tended to by Filipino staff. Pepper beef, Thai chicken, grilled shrimp, and the Saudi specialty kabsah, meat on a bed of rice, were among the many choices.
The information ministry didn't know what time we would go to the palace. Only the Royal Court knew.
Would there be the chance to ask many questions ? Another unknown.
Better to eat from this buffet, I thought, in case we were stuck here until evening. While we digested our food we learned that a television interview with the prince was being broadcast. If he's already revealing Vision 2030 on TV what could there be left for us, we wondered ?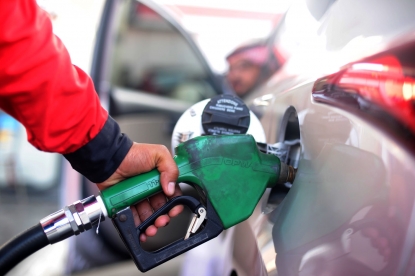 Fueling up. (AFP / Amer Hilabi)
At 1:45 pm the answers edged closer when we were called to buses parked out front. Our names were checked against the list again, we showed our Ids, and boarded.
I asked the man next to me, an economic expert invited to witness the ceremony, what would be on the agenda. "No one knows," he said.
The three buses of journalists and other guests travelled for about 20 minutes before reaching a complex of modern low buildings inspired by traditional designs and clad  in bright white tiles. A security barrier rose up and we passed a fountain before pulling into an alcove housing a bank machine and a Saudi Arabian Airlines office.
Strange things to have at a palace, I thought, but this seemed more like an administrative centre for the royals. We had to leave our mobile phones with Royal Guards manning airport-style metal detectors. They took my camera too, but luckily not my laptop and mobile Internet link.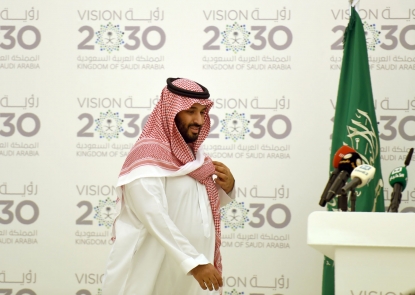 'Mr. Everything' is the main driver behind the Vision 2030 initiative. (AFP / Fayez Nureldine)
Upstairs, we entered a bright, high-ceilinged, mirrored room with gold-coloured relief on the walls. A white lectern beneath a chandelier stood ready in front of two Saudi flags and a backdrop of the Vision 2030 logo.
A seating plan had been drawn up and AFP was in the front row, beside CNN and a burner of incense that filled the room with sweet smoke.
About an hour after we reached the palace, Prince Mohammed walked in briskly and without fanfare. From the moment he entered and leaned his left hand on the lectern, he had the air of an ordinary person, one not at all intimidating. He also did not waste time. We already knew the details of Vision 2030, he said, since he had just revealed them on television, and in earlier interviews.
He was ready for our questions.
For the next 50 minutes, seeming relaxed, he stood there and politely answered us – a rare event in a kingdom where officials are traditionally reluctant to talk.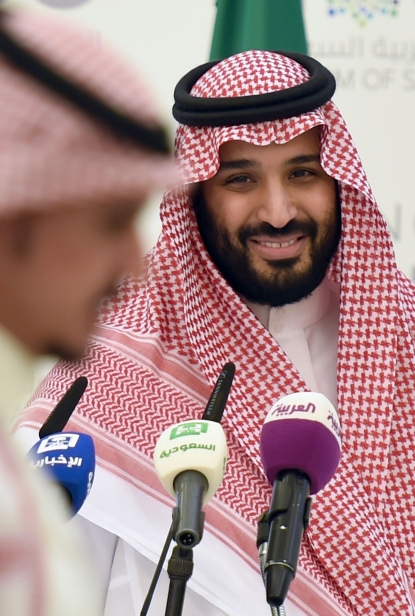 (AFP / Fayez Nureldine)
Wearing typical Saudi attire -- sandals, a crisp white thobe and headdress – he sometimes rubbed his eyes, and replied in Arabic to questions posed in English by the many journalists invited from around the world.
When the time was up – more than we could have imagined – he said: "Thank you very much for being here and I hope that I have answered some of your questions."
An oil facility near the oil-rich area of Khouris, June, 2008. (AFP / Marwan Naamani)