The man in the wheelchair
Gaza-based Mahmud Hams received top honors in the photo category at the 25th Bayeux-Calvados War Correspondents Prize for his image of a wheelchair-bound demonstrator during the "Great March of Return" protests earlier this year.
A 38-year-old resident of the Gaza Strip, Hams has covered numerous conflicts, from demonstrations to incursions by the Israeli army. Here he describes the particulars of these protests.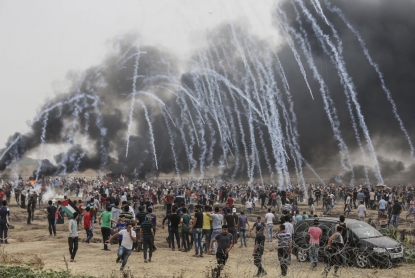 Protests along the Gaza-Israel border, May 4, 2018. (AFP / Mahmud Hams)
Gaza City -- In some ways, these protests were more dangerous than when we've had an Israeli attack or incursion. Protesters began going to the fence between Israel and Gaza as part of the "Great March of Return" demonstrations. The protests peaked the day the US moved its embassy to Jerusalem, and have continued since.
As more and more people went to the protests, the number of injuries increased -- more than 5,000 wounded by gunfire since March.
The man in the wheelchair is a known activist/protester and came to the fence every week. His name is Saber Al-Ashqar and believe it or not he is only 29. He looks a lot older. He comes on a bus and his friends help him get down and accompany him to the protest site.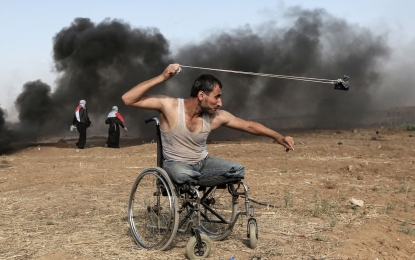 (AFP / Mahmud Hams)
There were two other handicapped men who were also regular demonstrators, but they have since been killed. Two journalists were killed in the protests as well, despite wearing clear markings.
This is the first time that I can remember that such huge protests have taken place in an open area so near the border. People used to be afraid to approach the fence as it's very exposed and there are Israeli snipers on the lookout.
Being injured is scary enough, but being injured in Gaza is especially so, since medicine is in short supply. So of course I was scared when covering this story. But it's my job.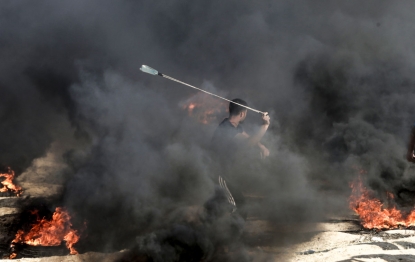 A Palestinian man uses a slingshot to throw a stone towards Israeli forces as smoke billows from burning tyres during a demonstration along the border with the Gaza strip east of Gaza city on June 1, 2018. (AFP / Mahmud Hams)