Living on borrowed time
Kutubdia, Bangladesh, December 14, 2015 -- If you're based in South Asia and want to do a piece about islands being swallowed up by rising sea levels, then surely you pack your swimming trunks and head to the Maldives, ready to dust down the old cliches about trouble in paradise as you admire the turquoise seas and pristine white sands.
Ah, but that would be too obvious and so with the approach of the climate conference in Paris, we instead decided to go to Bangladesh where global warming is but the latest challenge to face the country.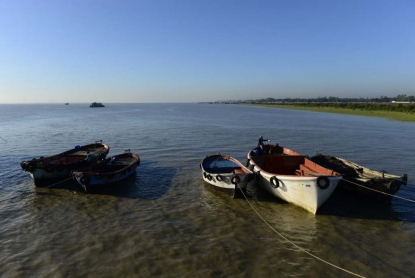 Boats at Kutubdia. (AFP / Munir uz Zaman)
Bangladesh is one of the most satisfying places to work as a journalist, full of great stories while the people are unfailingly polite and hospitable. It's also massively under-reported, with only a handful of foreign correspondents based there.
My previous visits had been limited to the teeming capital Dhaka, one of South Asia's less attractive cities whose population has grown from a little over three million in 1980 to around 18 million nowadays.
Fishing above old homes
But Kutubdia island, the destination this time, has the opposite problem, with an estimated 40,000 people leaving in the last three decades, as the sea waters first began washing away entire villages. The remaining 100,000 know that they are living on borrowed time -- with some experts saying the whole island could be submerged in as little as 50 years. The accord reached at the Paris talks is unlikely to change much.
'They want to drive us away'
Before heading to the island, we met some of those who have decamped to a slum area of Cox's Bazaar, a nearby resort town. Some still fish around the island, casting their lines in the waters above what were once their homes and villages. A café owner, Nur Hussain, spoke of his pain when thinking about the mosques, schools, madrassas and markets of his old villages that now lie at the bottom of the sea.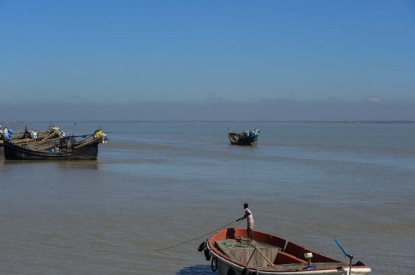 Fishermen fish off Kutubdia. November, 2015. (AFP / Munir uz Zaman)
We then chatted to 90-year-old Mukhtar Ahmad, who was one of the first batch of evacuees to move to Cox's Bazaar in 1987. As he doesn't own his land, he now fears he may be on the move once more as developers look to transform a town that boasts the world's longest uninterrupted stretch of beach.
"They want to drive us away," Ahmad told us.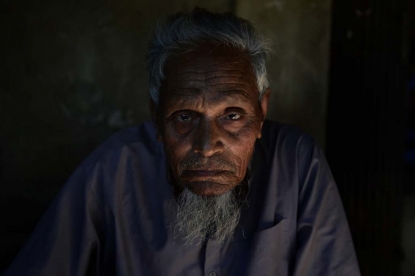 Mukhtar Ahmad, who moved from Kutubdia in 1987. November, 2015. (AFP / Munir uz Zaman)
Situated next to a massive dry fish processing site, Ahmad's current home is not exactly glamorous. But a drive around town, where giant tourist hotels from chains such as the Marriott and Great Western are nearing completion, soon makes you realise why he feels vulnerable to the tide of development.
With views that give the Maldives a run for its money, you might think at first glance that Kutubdia would also be home to deluxe hotels.
We were there on a gorgeous autumnal day, barely a cloud in the sky while the sea was placid and inviting. But the cyclone shelters which are dotted across the island are a reminder of the dangers that the islanders face during the monsoon season, as was the network of flood defences that pockmark the beaches.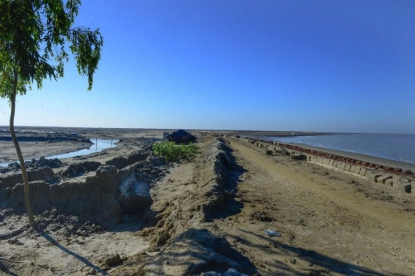 Some of the coast defences in Kutubdia. (AFP / Munir uz Zaman)
We were hoping to shoot images of roof-tops poking out of the water, possibly the odd lonely minaret way out at sea. But of course all the buildings are made out of mud and once engulfed by the rising tides or else torn down by cyclones, they are gone without a trace.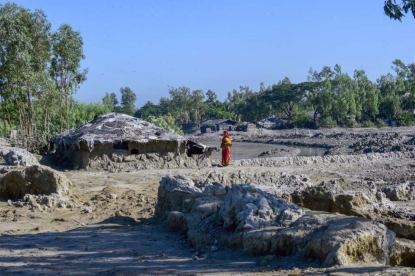 A villager stands next to her house in Kutubdia. November, 2015. (AFP / Munir uz Zaman)
The island's police chief was typically welcoming while we were on Kutubdia but was also visibly relieved when we headed back to the mainland on a rickety motorboat.
Our visit to Kutubdia came the day after a general strike called by the opposition to protest the death sentences that had been handed down the day before to two of their leaders for their role in the independence war, when Bangladesh broke away from Pakistan.
Although the shutdowns are only half-heartedly enforced in Dhaka, it's a different matter in other parts of the country and there have been a number of firebombings of vehicles that dared to defy the strike. The area around Cox's Bazaar is a traditional stronghold of the country's largest Islamist party.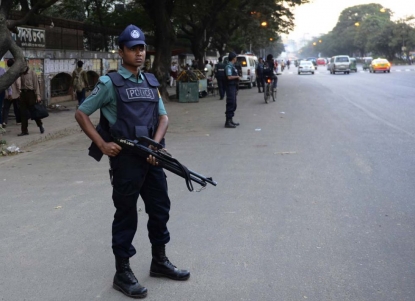 A policeman stands guard in Dhaka after executions of two opposition leaders. November, 2015. (AFP / Munir uz Zaman)
Alternative tourist destination
It's often tricky for journalists get visas, and the authorities have been particularly nervous of late after the recent murders of an Italian and Japanese nationals.
My colleague Agnes Bun (who is AFP's South Asia video coordinator) and I managed to get our visas before the killings but we spent much of our week in Bangladesh being tailed none too subtly by special branch agents. They were annoying but thankfully made no attempt to interfere in our reporting.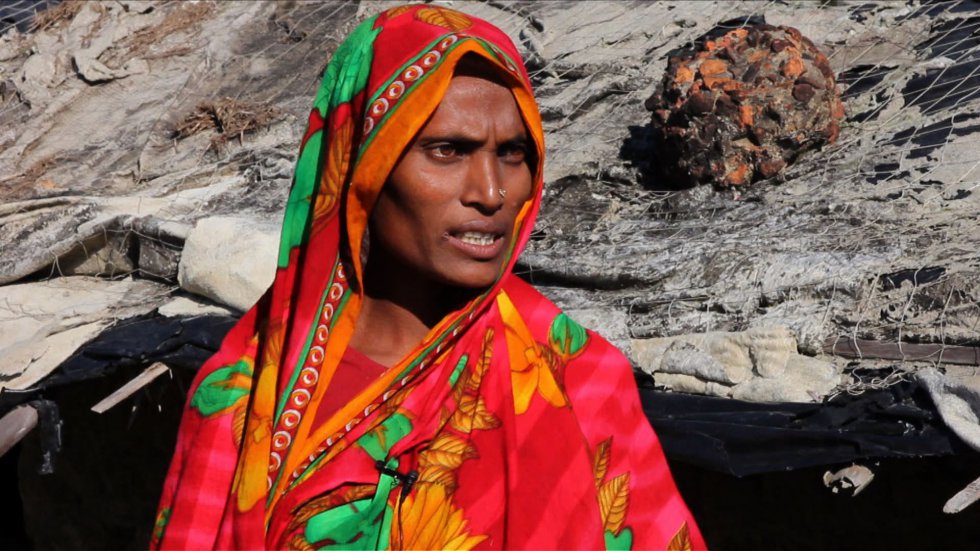 Click here to watch on mobile device
Although it's long been associated with disaster, Bangladesh is now touting itself as a new alternative tourism destination. At Dhaka airport, posters for the 'Visit Bangladesh 2016' campaign are plastered everywhere.
But you can't help wondering how the security services are going to deal with a an influx of tourists as well as worrying about the impact for a group of islanders who are already struggling to absorb the pain of losing their homes.
Chris Otton is AFP's South Asia bureau chief, based in Delhi.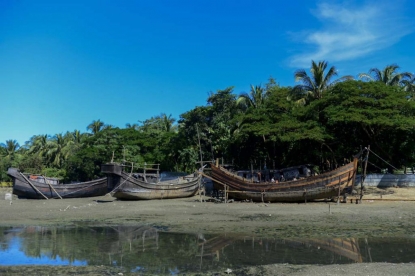 Labourers work on boats in Cox's Bazar, where many of the climate refugees from Kutubdia have resettled. (AFP / Munir uz Zaman)
Correspondent is no longer accepting comments on its blogs, as the 'conversation' moves to social media.