In Karachi heat, the stench of death
As Pakistan's sprawling metropolis Karachi finally cools off after a deadly heatwave that killed more than 1,000 people, AFP's correspondent in the city reflects on covering - and living through - one of the hottest weeks in living memory.
KARACHI, June 26, 2015 - These have been restless, wearying days. At the office, the building's central air-conditioning goes off at 1 pm, the hottest part of the day, every day because of power cuts. At home, the electricity goes off again and again during the night and hardly anybody can sleep. You wake up with your body drenched in sweat – I have been able to sleep for barely three hours a night.
The first reports that the heatwave could be something serious and deadly came on local media last weekend. Everyone was struggling with the heat, and there were regular protests about power cuts – the marks of burned tyres on the road were a common sight – but the deaths were not visible. It was only when I began calling round hospitals to file my first story on Sunday that it became clear what was happening.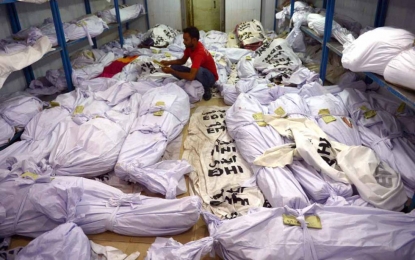 A Karachi mortuary overwhelmed with bodies on June 22, 2015 (AFP Photo / Rizwan Tabassum)
I spent my early life in Hyderabad, 160 kilometres (100 miles) inland from Karachi, where temperatures are above 40 C most of the summer and a hot wind blows like a furnace, but in 20 years of living in Karachi I have never experienced a heatwave like this.

For the first few days, over the weekend and early in the week, the sky was clear and the sun was unrelenting. Temperatures were hovering in the mid-40s Celsius. Just a few minutes in the sun and the whole body was drenched in sweat. In the Saddar area downtown, which is normally heaving with people, the streets were almost deserted, with vendors hiding in whatever shade they could find, leaving their carts and stalls abandoned.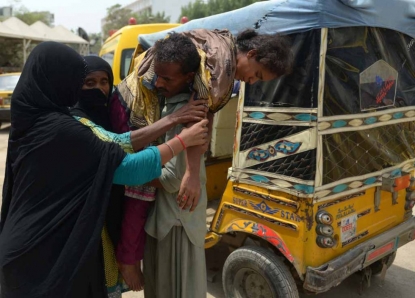 A Pakistani man carries a heatstroke victim to a hospital in Karachi on June 23, 2015 (AFP Photo / Rizwan Tabassum)
The heatwave claimed more than 1,000 lives in five days. As the toll rose, mortuaries struggled to cope with the sheer number of bodies that were arriving and grave-diggers were unable to keep up with demand. Outside one morgue, run by the Edhi Foundation, a charitable welfare group, relatives of victims stood in groups, some unable to find room for their bodies inside.
Many of those who died were poor, sick or elderly – the most vulnerable in an often cruel and chaotic city. One man, Moin Ahmed Khan, lost his 80-year-old mother.
"She was doing fine till the evening and then all of sudden she vomited. She gasped in my lap twice and then she passed away," he told me.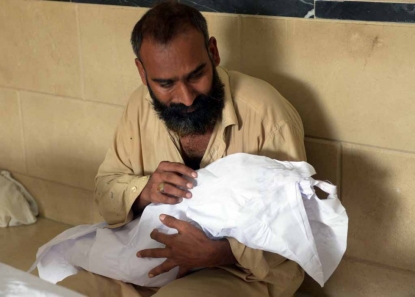 A Pakistani man carries the body of his three-year-old son, killed in the heatwave, at the Edhi morgue in Karachi on June 22, 2015 (AFP Photo / Rizwan Tabassum)
After so many years of terrorism, journalists in Pakistan are sadly used to death, and the smell of decomposing bodies is not unfamiliar. When the former prime minister Benazir Bhutto returned to Pakistan in 2007, a bomb attack on her convoy in Karachi killed 139 people. After that attack I spent half an hour at the mortuary to write about the victims, and the smell stayed with me for weeks.
So this week, when I visited a morgue and caught a whiff of that sharp, sickening smell of death, I decided very quickly to move on to treatment centres to find out what was being done for the living.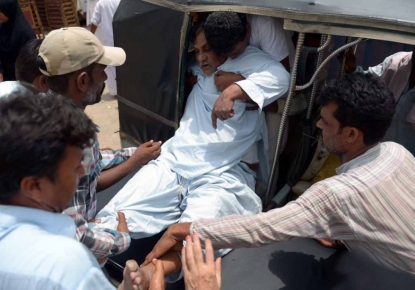 A heatstroke victim is transported to hospital in Karachi on June 23, 2015 (AFP Photo / Rizwan Tabassum)
There I saw some frantic scenes as relatives tried desperately to cool off unconscious patients – fanning them, mopping them with damp cloths, rolling cold water bottles on their feet. Outside, relief posts run by the army and political parties were handing out juices and mineral water. Karachi's hospitals have treated nearly 80,000 people for heatstroke and dehydration in recent days.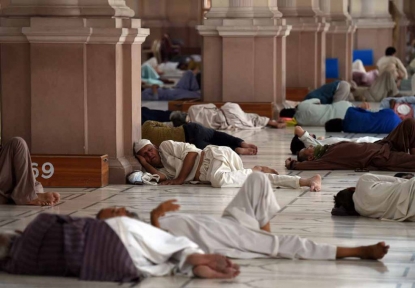 Pakistani Muslims rest at a mosque during a heatwave in Karachi on June 22, 2015 (AFP Photo / Asif Hassan)
The heatwave has coincided with the start of the Islamic fasting month of Ramadan, during which Pakistani law makes it illegal for Muslims to eat or drink in public during daylight hours. But some clerics have been urging people to break their fast if their health is at risk.
Now at last, thankfully, the heat has subsided and the sea breeze has started up again. Like the other 20 million people in the city, I hope it continues.
Ashraf Khan is a correspondent with AFP's Karachi bureau. Follow him on Twitter.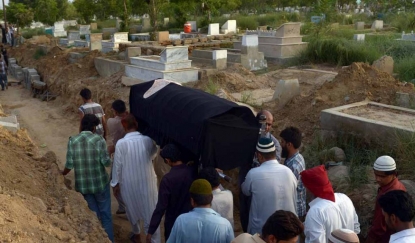 A heatwave victim is buried in Karachi on June 25, 2015 (AFP Photo / Rizwan Tabassum)