Inside a strangely sombre occasion
You could call it karma... Having spent five years in AFP's London bureau wrestling with Brexit, Boris Johnson and three prime ministers in two months, I missed the biggest story in decades by leaving just two days before Queen Elizabeth II died.
But then my luck changed. I got the chance to return to cover the coronation of Charles III – and from inside Westminster Abbey itself – to watch history being made before my very eyes. The last coronation was in 1953 and who knows when the next will be.
With hundreds of millions of people around the world interested, AFP pushed out the boat with more than 60 reporters, video journalists and photographers mobilised to cover the story, with reports in the run-up from London, Edinburgh, Glasgow, Belfast, Sydney and even Vanuatu in the Pacific, where Charles' late father Philip is worshipped like a god.
As dawn broke on the big day, some of my colleagues were already with the royal fans who had camped out for days along the route of the procession, while others were with republican protesters, whose arrest by British police even before the parade got going sparked an outcry over freedom of speech.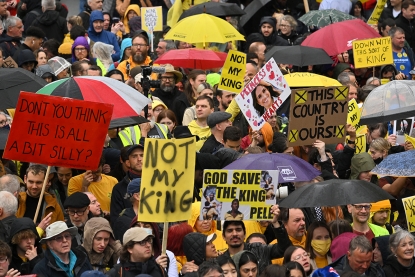 Lese-majeste: British republicans protest against the coronation (AFP / Sebastien Bozon)
My alarms went off at 5 am – I set two –  there was no question I was going to miss a coronation. The ceremony was to start at 11 am on the dot. But we lucky few allowed into the abbey with world leaders and VIPs began gathering at 6.15 am in our Sunday best. One journalist arrived in trainers only to swap them rapidly for a pair of stilettos.
It was the first of the day's dilemmas. How does one dress for a crowning? Buckingham Palace had asked us rather vaguely to wear something "appropriate for the occasion", which left a lot of room for interpretation. Could one wear black, or would that be seen as off? 
I sought clarification from the Palace, who would only give this steer, "A dress or suit and tie, hats optional." So I went looking for something in a department store, where a sales assistant tried to help. "What kind of occasion is the dress for?" she asked. "Hum, something quite posh," I answered. I ended up with an ochre dress, which turned out to be right on trend, with the Archbishop of Canterbury, who crowned the king, sporting a mitre in exactly the same colour. His Grace is clearly a man of taste.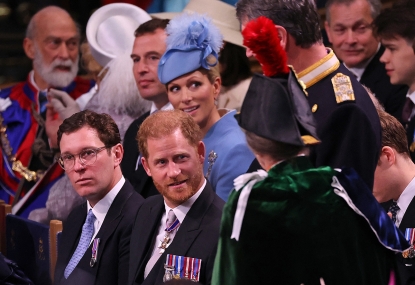 Royal 'black sheep' Prince Harry chats with Princess Anne as she takes her seat for the coronation of her brother (AFP / Richard Pohle)
We finally got into the abbey – where William the Conqueror was crowned on Christmas Day 1066 –  a little before 8 am after going through airport-style security checks.
Scores of people were already in their seats, which faced the aisle rather than the altar, giving it an air of a fashion show. Right on queue, I bumped into Edward Enninful, editor-in-chief of the fashion bible British Vogue, who was casting his eye over the foreign dignitaries in their traditional costumes, the Scots in their kilts and the South African soprano Pretty Yende rocking a spectacular yellow dress.
Even the clergy were at the top of their game in their most beautiful liturgical vestments, in stark contrast with the royal fans waiting outside in the rain in plastic ponchos.
We journalists were in the north transept and I slipped in next to the person from the Palace press office thinking she surely would have the best view. Although not bad, it was partially obstructed by a pillar and my colleagues back in the office would probably have a better view than me, though I had to be there in case something happened beyond the eye of the cameras.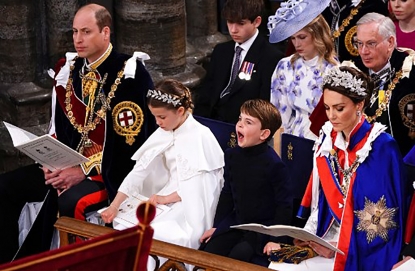 Prince Louis cannot stifle a yawn as he watches the ceremony alongside his mother and sister, Princess Charlotte (AFP / Yui Mok)
Still, I saw five-year-old Prince Louis unleash his now famous yawns and observed Prince Harry, who seemed in playful mood despite being put on the naughty step since his Netflix series and tell-all book "Spare", though my view was partially obscured by the plumes of his aunt Princess Anne's hat. The cream of British politics and government were seated to our left with the British and other royals, who arrived last, to our right with foreign heads of state.
Charles' coronation was much more diverse than his mother's, with the king sacrificing the aristocracy to squeeze more of the meritocracy into the abbey, with many people from charities and civil society in attendance. You can imagine the displeasure of many a lord and lady at not getting an invite.
Those lucky enough to receive one got a booklet setting out the order of ceremony, because like cricket, a coronation is rather long and you don't always understand what is happening… particularly as some of it was in Welsh and Scottish Gaelic.
We had a few hours to kill in the church, but we waited patiently. After all, Charles had to wait several decades to become king. One had to resist the temptation to while away the time by taking selfies or tweeting, as both were strictly banned within the abbey. I could, however, send short messages to my colleagues back at the office describing the atmosphere, like the smell of the flowers carefully chosen by the king himself, a nature lover who once admitted to talking to plants.
As the hours wore on, tummies began to rumble, and some began to discreetly share sweets to keep going.
There was also some very fine music to distract everyone from 9 am, with magnificent soloists and children's choirs that reached a pinnacle with the spectacular "Zadok The Priest" by Handel at the most sacred moment of the coronation, when Charles III was anointed (out of public view) with holy oil. As monarch, he is supreme head of the Church of England, and the service underlined the links between the British crown and the Anglican church. "The weight of the task given you today is only bearable by the Spirit of God," the Archbishop of Canterbury reminded him in his sermon.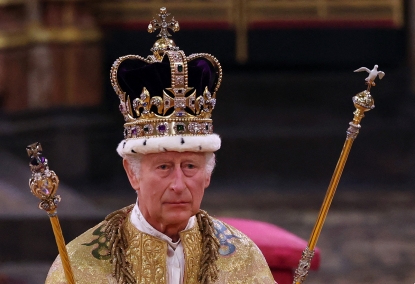 'Overwhelmed by the sudden weight of his role': Charles III at his coronation (AFP / Richard Pohle)
And that burden seemed heavy on Charles' shoulders when he entered the abbey with Camilla a little after 11 am. His face was so grave you wondered what was going through his head. Was he thinking of his mother's funeral, which had taken place here eight months before?
Charles was four when he attended Elizabeth II's coronation, the young queen herself only 25 when her father George VI's early death thrust her onto the throne.  He is now 74, and has had a whole lifetime to prepare for this day, yet he seemed overwhelmed by the sudden weight of his new role. His first words as crowned king was to say that he was there "not to be served but to serve". Which was maybe an attempt to justify the monarchy at a time when it is being called into question. 
While the majority of Britons still support the royals, the young are for the most part either indifferent or hostile to them. And the cost of the coronation – at least £100 million (115 million euros) – mostly paid by the taxpayer, has not helped at a time many are struggling to make ends meet as inflation eats into wages.
Seeing Camilla it was impossible not to think of how far she has come. When Diana's funeral was held in this same church in September 1997, Camilla Parker-Bowles was one of the most hated women in the kingdom, accused of wrecking Diana's marriage to Charles. A quarter century later, the two lovers are married, and Camilla is being crowned queen.
Despite a few modern touches, like the inclusion of women bishops and Muslim, Jewish, Hindu, Sikh and Buddhist religious leaders, the ceremony seemed to come straight from a deep, surreal past. Charles was presented with spurs, symbols of chivalry and "bracelets of sincerity and wisdom" as trumpets adorned with banners worthy of a mediaeval banqueting hall were sounded. Yet this perfectly orchestrated spectacle was also strangely moving.
Time seemed to stand still when the assembled 2,300 guests proclaimed  "God save the King" as if with one voice.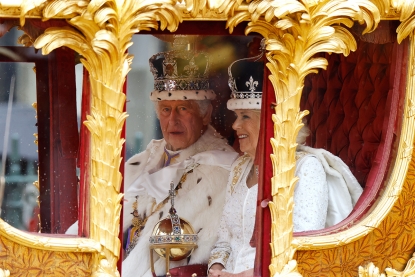 Read my lips: Charles III and Queen Camilla in the royal carriage (AFP / Odd Andersen)
Freshly crowned, Charles left the abbey in a golden carriage while I scurried on foot through the lashing rain to rush off my report. The king, I thought, could finally relax, everything seemingly having gone like clockwork. What I didn't know, having been inside the abbey, was that William and Kate's late arrival had reportedly thrown a spanner in the works, and that Charles had been made to wait in his carriage outside, complaining angrily to Camilla – according to a lip-reader employed by Sky News – that "there's always something. This is boring".
Frustrating as it might have been, Your Majesty, I can assure you your big day was anything but that...
Edited by Fiachra Gibbons and Catherine Triomphe in Paris