Arman Soldin, an eternal smile
Arman Soldin was a child of war. He was barely a year old when his mother carried him onto a humanitarian flight from their home in war-torn Sarajevo to France. 
Another conflict claimed the AFP journalist's life in Ukraine last week when he was killed by a rocket near Bakhmut. Yet the things that come up again and again when people talk about him are his smile, his infectious good humour and his deep humanity. In his 32 years, Arman touched an awful lot of hearts.
Praised widely for his courage and professionalism, he spent his last days not only depicting the intensity of the fighting in Ukraine but also the terrible vulnerability of ordinary people you seldom see in the headlines, who live under constant threat.
In bomb-scarred Siversk, Arman followed Oleksandr, a welder who delivered bread on a puttering moped to isolated old people near the front line. He spent a night in a field hospital near Bakhmut with Ukrainian soldiers wounded in the longest and bloodiest battle of the war. On May 1, he tweeted of his "pure terror" when a volley of Russian rockets landed near him and a small AFP team. 
Arman (centre) sledging in the mountains above Sarajevo with his brother Sven and sister Ena in February (Contribution AFP)
The panic, destruction and death he covered in Ukraine were also visited on the Bosnia he fled in his mother's arms. Oksana Soldin and Arman flew to Paris in the belly of a French military aircraft with around 100 other Bosnian mothers and children on April 25, 1992, airlifted out by Bernard Kouchner, a founder of Doctors Without Borders, who would go on to be France's foreign minister. 
"Shells had smashed the staircase of our house in Sarajevo," Oksana recalled.  "I managed to get onto the plane and sat on the floor with Arman in my arms for the whole flight. Kouchner sat close to us."
TV footage from the time shows them arriving at Paris Orly airport. Arman had blond curly hair then. It would be six years before they returned to Bosnia when the bloody ethnic conflict finally cooled. By then more than 100,000 people had died.
"Sarajevo was devastated," remembered Arman's friend Aldin Suljevic. The two became friends for life on September 2, 1998, when they sat down next to each other in primary school –  never losing contact even when Arman returned to France in 2002 after his parents separated. "Arman would ask us questions all the time. We were the same age but his mind was older," said Aldin.
Oksana and her three children – Ena, the oldest, Arman and Sven the youngest – moved to Rennes in Brittany, northwestern France. "We went through a testing time of being rootless. We found ourselves right at the bottom of the heap as refugees. That's why our family is so close, why we talk every day," said Sven, 26. He saw his older sibling as "invincible", "an idol… the most important person in my life".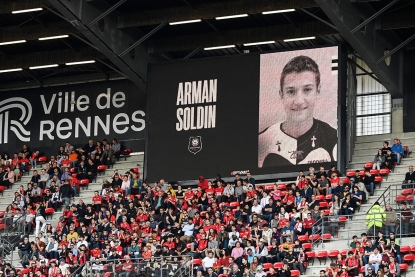 Arman Soldin's old club Stade Rennais paid tribute to him by showing a photo of him when he played for their youth team before the French side played Troyes on May 14, 2023 (AFP / Sebastien Salom-Gomis)
Each summer, the children would return to Bosnia to see their father Sulejman, himself a well-known journalist. "Arman was French but Bosnia was in his heart," his friend Aldin said. He believes the war there "played a role" in his desire to cover the fighting in Ukraine.
Aged just 11, Arman played at writing news stories in his bedroom in the western French city of Rennes, his mother recalled. Five years later the teenager uploaded a compilation of excruciating images entitled "Sarajevo in War" to YouTube, soundtracked by Italian composer Tomaso Albinoni's sorrowful "Adagio".
"Arman may not have had any ties with Ukraine but he chose to go there because he wanted to make himself useful. He wanted to seek the truth," said Oksana, a philosophy and sociology professor.
Like many French teenagers, Arman was crazy about football, and was good enough to play in the youth team of top-tier French side Stade Rennais from 2006 to 2008 – only giving up on a professional career because of knee injuries. "Football was a big part of his life," his brother Sven said.  "He was extremely good, extremely talented. He had something extra."
Arman studied in London, Lyon and Sarajevo before securing an internship at AFP's Rome bureau in 2015. By then he was also fluent in English and Italian.
Video reporter Sonia Logre remembers him as "a dream intern". "He wanted to do everything, see everything, know everything. He wanted to learn, had a desire to discover Italy and a deep love of life." He was "beaming all the time", said AFP's former sports correspondent in Rome, Emmanuel Barranguet. "He even smiled when he would play football. He out-dribbled me I don't know how many times, smiling all the while."
Arman was hired by AFP in London that same year, where outside work and covering Brexit he "partied from Friday night to Sunday" with a close group of friends, said his ex-girlfriend Diane Dupre. The young reporter was nevertheless frustrated at "not being out in the field enough", she added. Alongside his job for AFP, Arman became a UK sports correspondent for French TV channel Canal+ from 2019, where deputy sports editor David Barouh recalled his smile and a "wild charm" that meant "everyone loved him".
Later, whenever Arman would return from Ukraine, he would slip instantly back into the privileged world of the Premier League and its immaculate turf – days after being under bombardment. "Maybe it was like coming up for air for him," Barouh wondered.
Arman was already in Ukraine when Russia invaded in February 2022. He had volunteered to be among the first AFP special correspondents sent in – just as he had volunteered to cover the first lethal months of Europe's Covid-19 epidemic in Italy.
AFP photographer Dimitar Dilkoff met Arman on February 24, the day of the Russian invasion. "We went into Ukraine together," the Bulgarian said, hailing his colleague's "sunny" nature and his "desire to be the first on the ground". Arman returned regularly on missions before moving full time to Kyiv last September as AFP's Ukraine video coordinator. 
There was never a dull moment, said Dilkoff, remembering Arman lying down in a trench to film a Ukrainian tank driving over him and then popping up smiling ear to ear to shout, "Again, again!"
Emmanuel Peuchot, a veteran of many war zones, was immediately charmed by Arman when he joined the team last October.  Nearly three decades his senior, he described him as "a whole social network by himself. He was always on Twitter but not at all to post his own selfies."
He admired his "openness whenever he would meet people", saying at heart "he liked people, he was oriented towards others".
Last month the AFP team found a badly hurt hedgehog in the bottom of a bomb crater not far from where Arman would later die. Indeed at first they thought it was dead. But Arman took it upon himself to feed and care for the creature.

Some of Arman's tweets about the injured hedgehog 'Lucky' he rescued near Bakhmut from the end of April 2023

He revived the poor little thing – who he named "Lucky" – with water from a syringe, documenting its recovery on Twitter. "It worked!" he tweeted. "I'm officially a dad!"  He filmed one-eyed Lucky's recovery to the delight of his followers before setting him free in a garden. But as he did so, he reminded them how they could help the war's human victims. "Amid this cute story, don't forget there is a bloody war going on and millions of people are displaced," he wrote in one of his final posts. "Help by donating to NGOs."
Besides his daily reporting, Arman had begun working with an artist on a graphic novel about Ukraine, to "get people to understand what's happening on the ground", Dupre said. The reporter "wanted to embody the war, without making himself the story," she added.
Arman was caught in a barrage of Grad rockets near Chasiv Yar, close to Bakhmut, on May 9. Dimitar Dilkoff and Emmanuel Peuchot, who were only metres away, were unharmed. Moments before, "he was just like always, making jokes", Dilkoff said.
Arman died "with his camera in his hand", his face showing no signs of suffering, Peuchot said.  Since his death, hundreds of his colleagues and friends have hailed the big-hearted person they loved and admired. There has been praise too from politicians and international organisations.
Between their tears, many of the dozen people AFP interviewed for this piece laughed as they remembered his high jinks. Born in Sarajevo and killed in the Donbas, Arman Soldin was above all "a very sensitive, very emotional person", his mother Oksana said. "He gathered all the flowers in the world for me."
Written by Joris Fioriti in Paris and edited by Catherine Triomphe and Fiachra Gibbons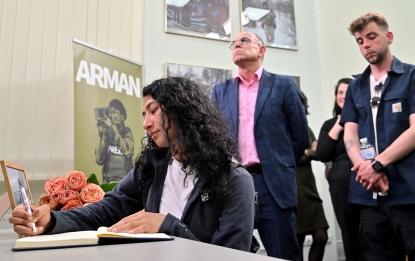 Colleagues and friends sign a condolence book for AFP journalist Arman Soldin in Kyiv on May 15, 2023 (AFP / Sergei Supinsky)