Human pinball in Las Vegas
LAS VEGAS, January 14, 2015 - Ever heard of a hackathon? It's what you get when you lock a bunch of software whizzes in a room, deprive them of sleep for days at a stretch, and wait for visionary new ideas to emerge fully formed at the other end.
It also sums up pretty neatly my own experience of covering CES -- the annual gadget and television extravaganza in Las Vegas, Nevada, which provided the starting gun for nine of my past 10 years as a technology correspondent at AFP.
The Consumer Electronics Show shares many of the basic ingredients of a hackathon - as a melting pot overflowing with gadgetry and concepts, out of which the technology world tries each year to pluck the Next Big Thing.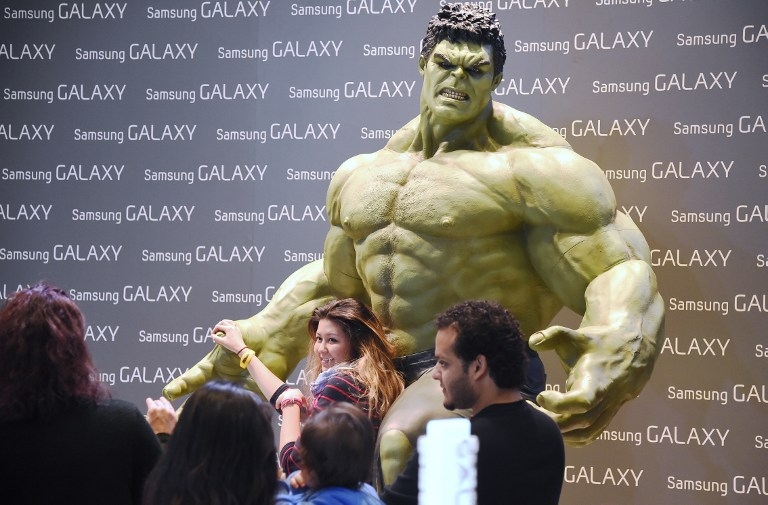 'The Hulk' at the Samsung booth at CES, on January 8, 2015 (AFP Photo / Robyn Beck)
Sensory overload is everywhere. Think of being in a scrum while running a marathon in a football-field-sized pinball machine with lights flashing and buzzers sounding. That's CES.
So is lack of sleep – which I've long known to be my nastiest nemesis at the show. By the midway point in the week-long gadget fest you can see journalists dropping like flies, passed out on couches, or fast asleep face-down on their desks.
One key difference, of course, is scale. This is no one-room affair with 170,000 attendees, armies of public relations people pulling out the stops to grab headlines for their tech clients, and a sprawling show floor the size of not one but 25 football fields - on which it's easy to get lost.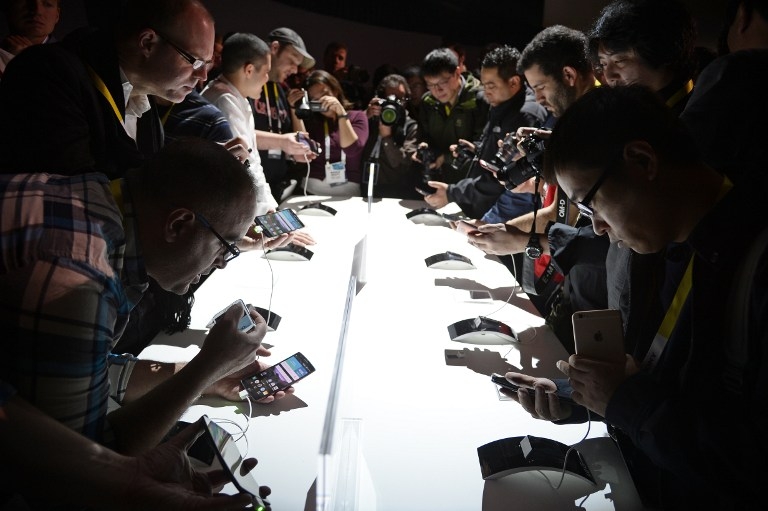 Attendees get their hands on the new LG G Flex2 smart phone at CES on January 5, 2015 (AFP Photo / Robyn Beck)
I hit the ground days before the official start of CES, heading down to an old part of Vegas, known for the famed days of Frank Sinatra and the Rat Pack. For once I leave to a colleague the annual state-of-the-industry presentation by economists working for the CES -- which always, rain or shine, manages to forecast a bright future for the sector.
Instead I head to a casino to check out an actual "hackathon", run by US colossus AT&T. Teams of software savants from companies small and large are going without sleep for 24 hours in a race to see which can create the most promising "app" synched to the telecom service.
Hit-and-run interviews
Gear provided for the teams to let off steam – the giddier side of hackathons -- includes Nerf foam dart guns and bunny-ear head pieces. I launch a few foam darts, but pass on the rabbit ears.
Snaking through the mayhem, I search out the significance, if any, of it all and what cool new ideas are coming to fruition. One team trains drones to act as guides during disasters in office buildings. Another augments reality to turn everyday homes into fortresses to be defended from zombie attacks.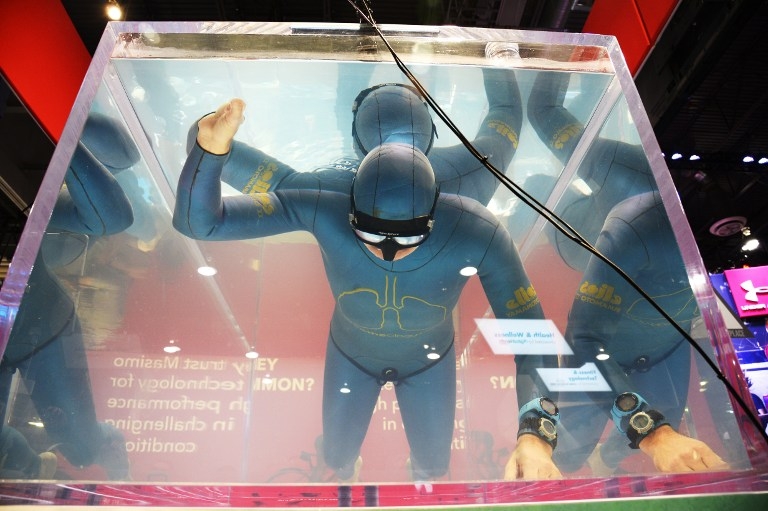 World freediving champion Stig Severinsen demonstrates the accuracy of the Masimo SET pulse oximetry device at CES, on January 8, 2015 (AFP Photo / Robyn Beck)
I pack in the hit-and-run interviews, then dash to a shuttle ferrying journalists to a golf club house for a soiree hosted by some well-funded start-ups, most of them involved with the digital currency bitcoin.
I sink into one of the seats that ring the inside of the shuttle, spectator style, backed by deep wells filled with ice to keep champagne bottles chilled. Thankfully, there are no bottles on the ice. Succumbing to the boozy party side of Sin City during CES is a sure recipe for misery for journalists hoovering up interviews, pictures and videos during the day, and hitting deadlines late into the night.
In the shuttle center is a stripper pole; arguably for a very short stripper. At the soiree, I join journalists being wined and dined by start-ups eager to promote offerings such as bitcoin wallets and blockchain security for sensitive digital company records.
::video YouTube id='0XEp-Phgvi4' width='620'::
Another Vegas-style party shuttle whisks me off to the next target on my barely-dented CES agenda: a vast casino ballroom taken over by scores of start-ups pitching their innovations to reporters crammed elbow-to-elbow in the hunt for food, drink, and quirky stories to sate editors and captivate readers.
Casinos you can't leave
It is closing in on midnight by the time I wind my way through casinos cleverly designed to keep visitors from leaving and along sidewalks affording few straight paths from one point to another.
On the strip in Las Vegas, crossing streets often involves finding stairs or an escalator to reach elevated pedestrian walkways. It is common for escalators to somehow lead you back into a casino, where you are aimed at shops or gaming tables – and have to figure out all over again how to escape. A two-block walk can take half an hour.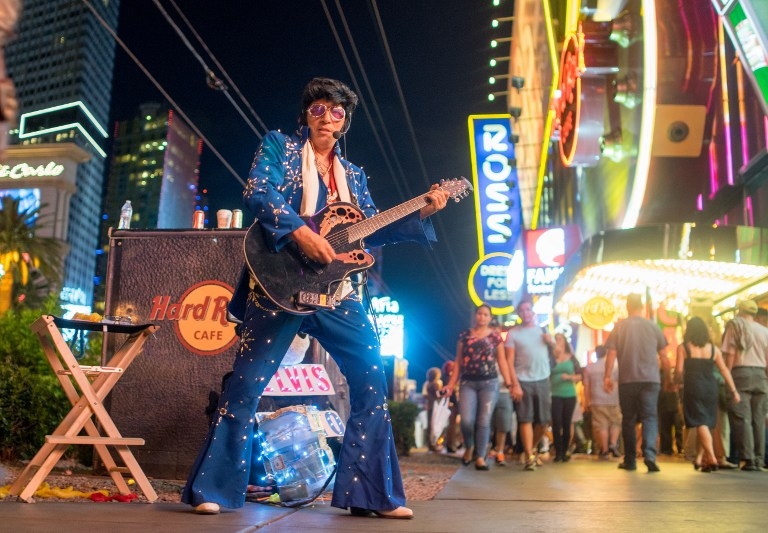 An Elvis impersonator on the Strip in Las Vegas, Nevada, on April 11, 2014 (AFP Photo / Joe Klamar)
I make my way along an infamous Sin City strip crowded with tourists sipping tequila-spiked slushy drinks from ostrich-necked plastic take-away glasses, and gawking at manufactured wonders such as a majestic dancing fountain and a flaming volcano.
Elvis impersonators mix with people playing parts of show girls and characters from films including "Frozen," "Star Wars," and, appropriately enough, "The Hangover."
Armies of men and women wearing "Orgasm Doctor" or "Girls, Girls, Girls" t-shirts hand out cards for strippers who make house calls.
My trek back to the hotel seems an odyssey, part of it through casino air heavily perfumed to mask the smell of cigarette smoke. In my room, I turn notes into stories until fatigue drives me to sleep.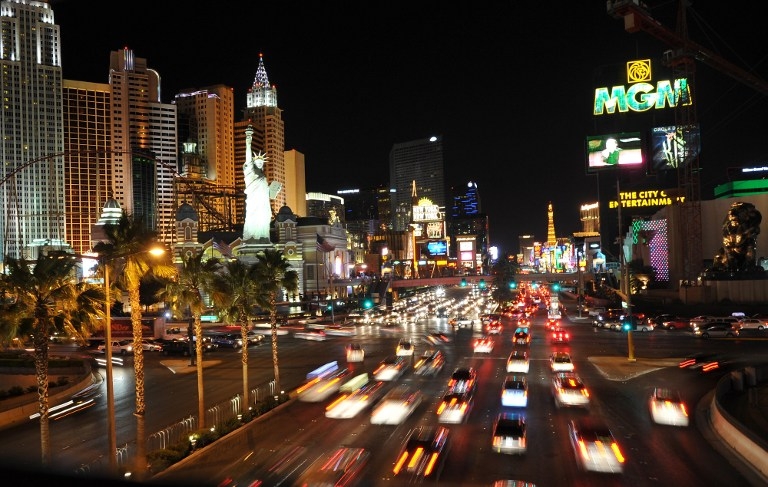 Rush hour traffic on the Strip in Las Vegas. Picture taken on June 9, 2012 (AFP Photo / Joe Klamar)
The official CES press day kicks off first thing next morning with a briefing at Mandalay Bay casino. By the time the door opens, the queue stretches along corridors and around corners. The scene replays through the day as the briefings kick off hourly with military precision, each one lasting just long enough to allow time for herds of journalists to stampede to the next.
Brains for once-dumb things
Gadget makers unveil stunning televisions few could afford; appliances infused with brains; cameras; stereo speakers; ovens; smartphones, and more billed as the newest must-have gizmos for modern lifestyles.
An overload of gadget news is roiling in my mind. Part of me can't help wonder about all the must-have things touted here last year - calorie-counting forks spring to mind - that the world seems to have mostly managed without since then.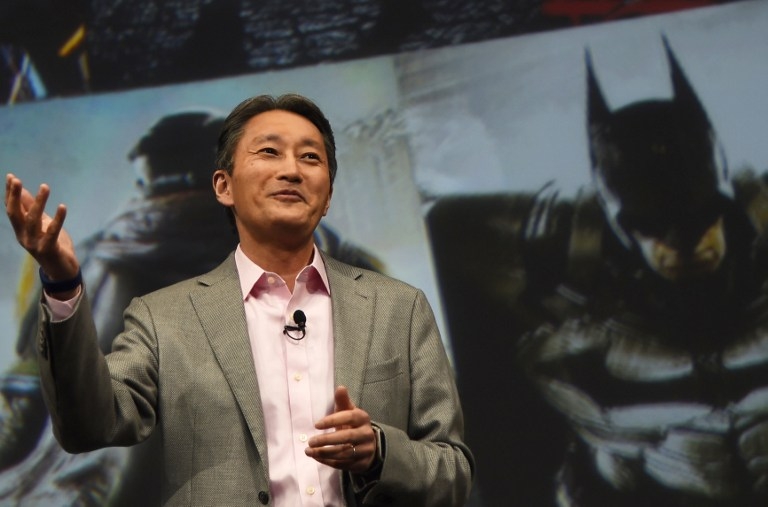 Sony President and CEO Kazuo Hirai at CES on January 5, 2015 (AFP Photo / Robyn Beck)
Sony wraps press day with a packed evening event at the Las Vegas Convention Center – where you can see work crews still busy building the displays into which tens of thousands will dive when CES opens to visitors the next morning.
Warily eying fading battery power on my laptop, I begin writing up my story - about Sony's reaction to the cyber-attack that derailed the release of the comedy "The Interview" - on a bus shuttling journalists back to the Venetian.
I finish and file my piece near a power outlet in an entryway, glad for a place to plug in and racing not just to get the story out, but to catch a keynote presentation about to begin five floors above me.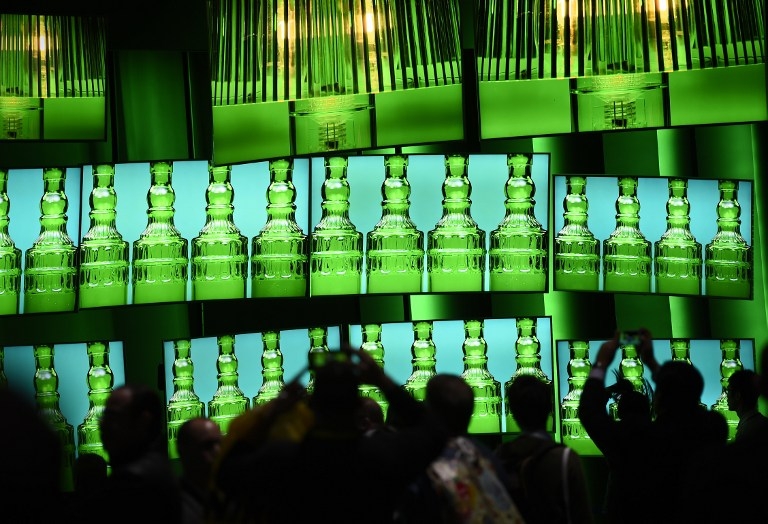 Attendees photograph 4K TVs from Samsung at CES on January 8, 2015 (AFP Photo / Robyn Beck)
The head of Samsung is to speak on "The Internet of Things" - a defining theme of CES that sums up the trend of using chips, sensors and web connections to build brains into historically dumb things such as thermostats, lights and appliances.
Into the maelstrom
The queue for the keynote began forming shortly after lunch, and the gargantuan ballroom quickly filled to capacity. My path up the final escalator is blocked by unsympathetic security guards who say the room has hit its limit. I dart off to stream the keynote live on my laptop in a hallway.
From there I weave back past slot machines and gaming tables, out onto the seemingly impassable strip and on to another gadget fest at another casino. Here I find another dizzying selection of product-pitchers, repeating the scene from 24 hours earlier, this time with an eighties theme complete with greeters dressed like Madonna circa 1985.
::video YouTube id='dNtI2B4c2a8' width='620'::
My voice recorder brims with interviews while the time to write and file slims. I write until too weary to think, then succumb to slumber.
Like many journalists there, I am already well on my way to gadget news overload by the time the CES show floor actually opens, but I make the pilgrimage nonetheless to capture the Times Square-style scene.
"Marco Polo", the Netflix TV drama, streams in ultra-high-definition on gorgeous screens - some picture-frame thin and some curved. A queue wraps around a virtual reality booth, where people wait to immerse themselves using headgear supplied by the Facebook-owned company Oculus VR.
There are myriad small companies claiming never-before-seen spins on headsets, smart watches, fitness bands, Google Glass and other innovations fielded by trend setters.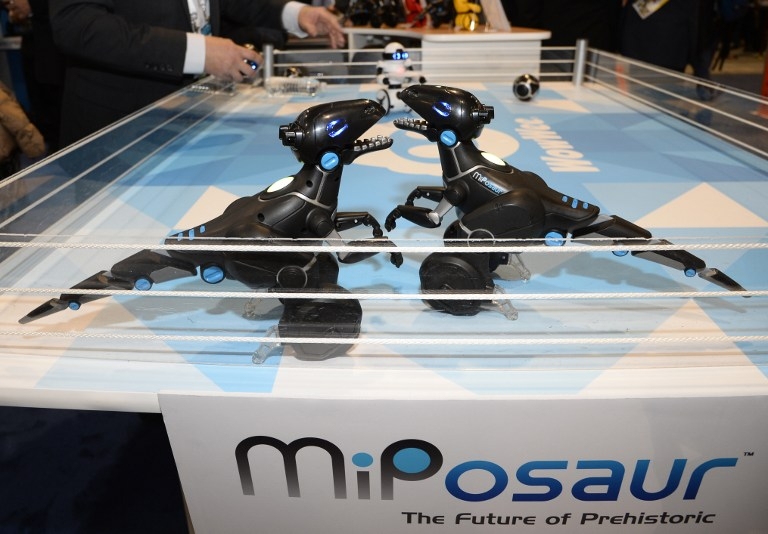 MiPosaur reactive robots chase a ball, January 7, 2015 at CES (AFP Photo / Robyn Beck)
I make forays into the visual and auditory maelstrom hunting for products and voices that can speak to trends, ever watchful for the quirky or unexpected – a fork that warns when people are eating too fast, a robot that might pass at a glance for a real woman, or a ring that lets its wearer rule their smartphone with a wave of their hand.
Haunted by gadgets
Ensuing days are a cycle of trekking to show floors, threading through hordes of people making deals, pitching gadgetry or marveling at creations. I slip off to casino hotel suites for demonstrations -- and shun invitations to late night parties at hip Vegas clubs.
Each night, I fight off sleep to make sense of what I learned that day. I am haunted by thoughts of cool gadgets I didn't have time or luck to find. It helps to remind myself that seeing everything at CES borders on impossible.
With the close of the show floor, fatigue yields briefly to elation at having crossed the finish line. Arriving home in Silicon Valley, walking the dogs with my reality augmented only by fresh air and sun shine is bliss. The pups also prescribe a long nap.
Glenn Chapman is an AFP technology reporter based in San Francisco. He covered CES 2015 along with Rob Lever, Robyn Beck, Guillaume Meyer and Sophie Estienne.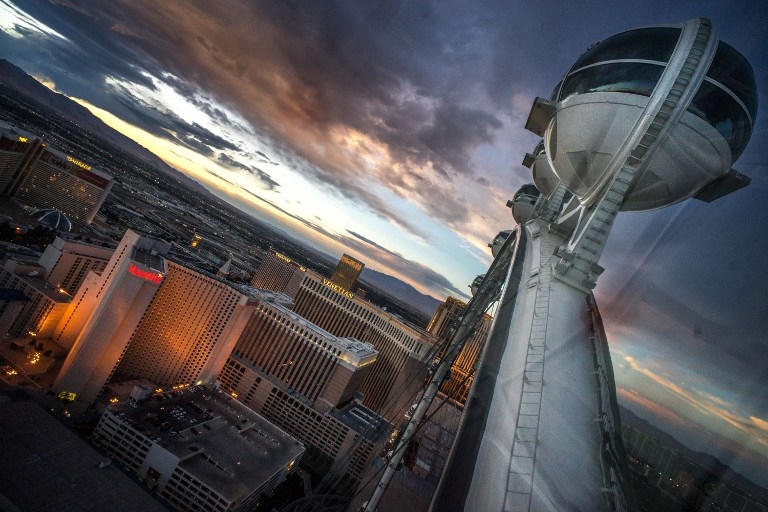 View from the Las Vegas High Roller observation wheel, above the Strip on April 11, 2014 (AFP Photo / Joe Klamar)