Fifty shades of DSK: from courtroom to sex club
PARIS, March 4, 2015 - I am sitting alone at the bar. Nervously I sip a glass of wine and pick at a bowl of peanuts, more often than I need to.
I try to assume an air of confidence, but can't help worrying how that looks to the couples entering the club, their eyes stopping to linger on the woman sitting here by herself. Changing tack I pull my notebook and pen in front of me on the bar, scribbling notes that may be useful colour for my article, but mostly because I do not want to look like I belong here.
But then I don't want to scare people off either. I shove my notebook under my handbag and resume my faux-casual observation of the room around me.
A few days earlier I had sent a message to my significant other, who was out of town, to say: "Hypothetically, if I were to spend Valentine's Day, on my own, for work, in a sex club, would you want me to tell you or not?"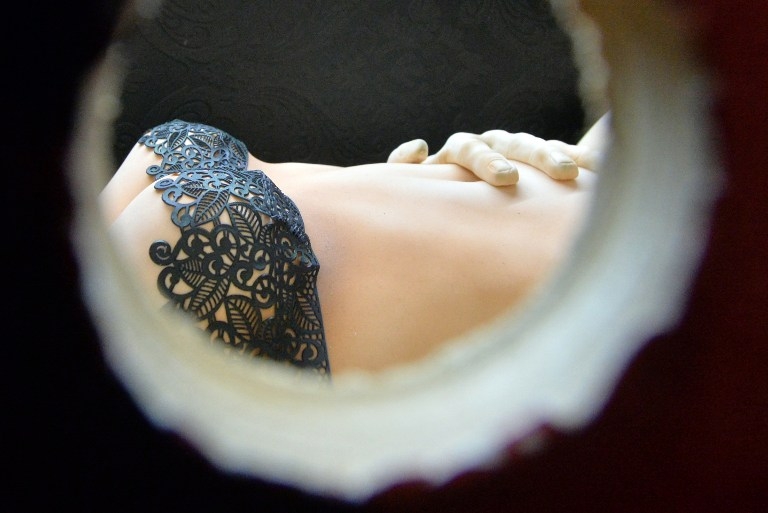 A cake depicting a woman at a British exhibit on the 'Fifty Shades of Grey' phenomenon in February 2015 (AFP Photo / Paul Ellis)
This job is one that can require whopping levels of understanding from our loved ones.
My awkward presence at the bar of a Parisian swingers' club is a direct consequence of my presence, the previous week, in a room with arguably less sumptuous decor, fewer animal prints and flickering candles: a court in Lille in northern France.
Humdrum vice case
It all begins when I am sent to cover the trial of Dominique Strauss-Kahn, a name that has become synonymous with power and eyebrow-raising sex.
At first glance it's an explosive story. While we know that sex sells, journalists don't actually get to put it in headlines that often, let alone get the name of the former head of the International Monetary Fund and the word "pimping" in the same sentence.
But it is a fiendishly complex story to cover. No one would be interested in the trial of 14 people for allegedly procuring prostitutes if it were not for DSK. How to explain his presence without losing readers entirely in the minutiae of a relatively humdrum vice case?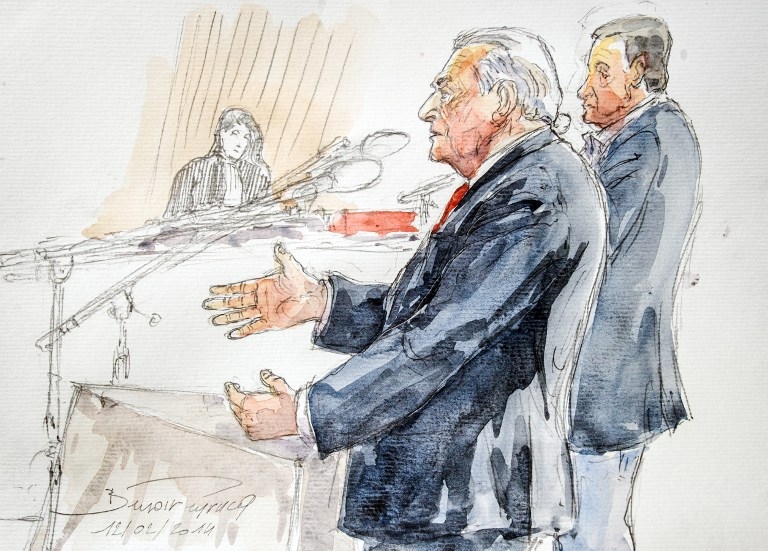 Court sketch of former IMF chief Dominique Strauss-Kahn (L) testifying in the so-called 'Carlton Case' at Lille courthouse, 
northern France, on February 12, 2015 (AFP Photo / Benoit Peyrucq)
It is known in France as the "The Carlton Affair" after a hotel whose managers are accused of procuring prostitutes for sex parties from someone known as "Dodo the pimp"…
I see a lot of the media coverage getting it wrong, mixing up details in the complex case, which if illustrated would look much like the Olympic rings.
DSK himself never actually set foot in the Carlton. He knew a guy who knew a guy who knew a guy who hired prostitutes from Dodo, and the court is basically trying to find out to what extent he himself organised for prostitutes to attend orgies - which would make him guilty of procuring.
No-holds-barred detail
Which means that, since he only appears in court the first day and in the second week to testify, it is a constant battle to link whoever is in court to the star attraction of the trial, DSK, in ongoing coverage.
When testimony does touch on DSK, in all its sordid, no-holds-barred detail, we are presented with a new challenge: how do you write about this kind of sex?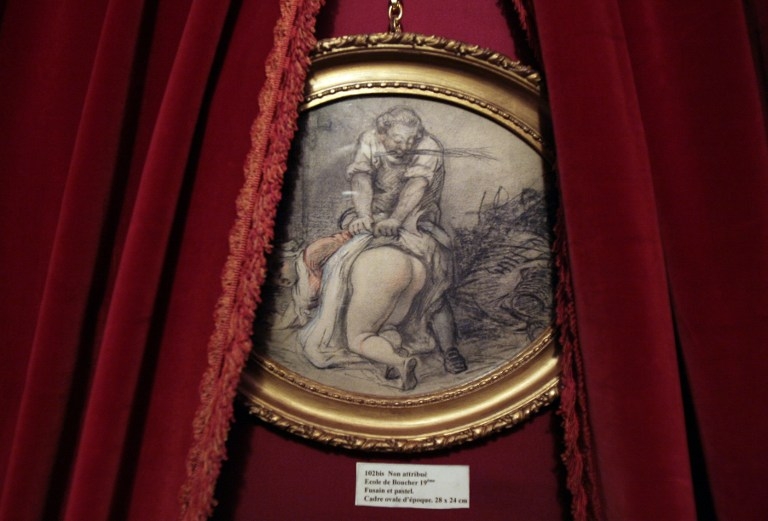 A picture from a 2009 Paris exhibit on bordellos and prostitution (AFP Photo / Francois Guillot)
The court pushes former prostitutes to recount tales of group sex, sodomy which they say they did not want but felt powerless to refuse. In the press room we feel like a bunch of voyeurs. We are all adults, and yet here we are, squirming and gasping as the graphic tale unfolds - or staring disapprovingly at others for doing the same.
But what does this have to do with pimping? That question comes up in court as DSK lashes out at the focus on his sexual preferences, arguing that he is not on trial for deviant acts. Some lawyers want to show that his tastes would demand the use of prostitutes. Does that mean such acts are the sole preserve of call girls? A flick through a woman's glossy magazine – which these days routinely feature helpful tips on bondage or the etiquette of sex parties – would suggest otherwise. So would a visit to a Parisian swingers club, but more on that later.
Gasps from the gallery
So how much of this gratuitous seediness do I share with readers? Do they want to hear the phrase "anal sex" or should I stick with the more biblical "sodomy"? It is a delicate balance.
Once, when asked if she had spoken to DSK on a particular occasion, a former prostitute retorts "No, he was in my mouth." Cue gasps from the gallery. That particular quote does not make it into my story. I feel I can't justify it newswise nor do I have the space.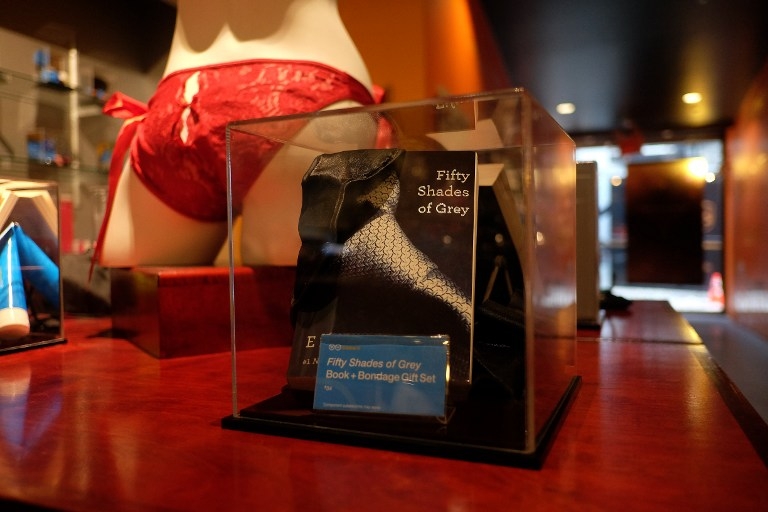 'Fifty Shades of Grey'" themed merchandise at a Babeland store in New York on February 4, 2015 (AFP Photo / Jewel Samad)
People - as a rule - love reading about sex, as shown by the immense popularity of "Fifty Shades of Grey" whose movie version hit cinemas as DSK was in the dock. But for all those clamouring for off-the-grid bedroom antics, there will be others shaking their heads disapprovingly. As a journalist covering this trial I have to try to find some sort of middle ground, with newsworthiness as my guiding principle.
Who are these 'libertines'?
But my curiosity is piqued from the beginning by DSK's defence that he is simply a libertine, a word describing someone free of moral restraints in matters of the flesh. In practice this appears to mean engaging in sex with groups of people. But who are these people? Are they hooded perverts who spend their time wildly copulating in dark cellars or are they people who, like DSK, walk the corridors of power.
So I decide to go and find out.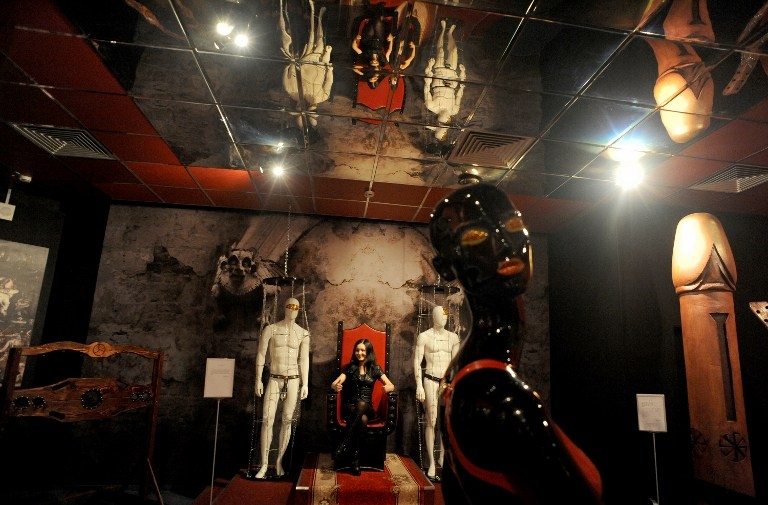 A display at the 'MuzEros' erotic museum in St. Petersburg in 2013 (AFP Photo / Olga Maltseva)
There is always a moment of anxiety when I embark on a story, maybe heightened by danger depending on where I am, but mostly related to whether I will get the quotes, the story, the finished product.
My heart pounds as I make my way to the libertine club in Paris. Will people want to speak to me? Will they be sexually aggressive? My mind boggles.
'What are you doing alone?'
I sit at that bar for a long time waiting for the club to fill up. One guy looks as if he has stepped out of a computer lab, his girlfriend dressed as if she is going to church.
Others leave nothing to the imagination. But in other respects it feels like a normal bar. People chat, eat from a buffet. Disco lights play across the dance floor.
I decide on a tactic. I will wait for people to come and talk to me - very, very quickly making it clear I was not there for whatever they might imagine - and try to use that opening to ask them a few questions. A few single guys, a rarity in these clubs, come up to me and are happy to answer my questions, but I am more interested in what couples have to say.
Finally a woman buying a drink next to me leans over and says, in a friendly manner: "What are you doing here all alone?" We strike up a conversation and she invites me to sit with her and her husband of 25 years for an interview.
The 'Quai 17' swingers club in Paris (AFP Photo / Kenzo Tribouillard)
My job has taken me all sorts of places - eastern Ukraine, often-dangerous corners of Africa - but this surely has to be one of the most unusual challenges it has thrown me so far.
In the sex club, as in the courtroom, how can I possibly tell this story without being vulgar? I try to focus on the people, why they are here in a swingers club, who they are.
The night ticks on and I talk to people from all walks of life, of all ages, come here in search of something still largely taboo for society at large, if judged from the responses to DSK's lifestyle. In this club, personal limits are sacred. Some come to soak up the sensual ambiance, some come to watch others having sex, or just have sex with their own partner, while others head to the club's alcoves and backrooms to get entangled in a heap of people.
As for me, seated alone at the bar, as couples drift back and forth from the darkened back rooms, I find those I speak to friendly and respectful. And as Rihanna blares from the speakers I catch myself thinking this isn't the worst Valentine's evening I have known!
Fran Blandy is an AFP reporter based in Paris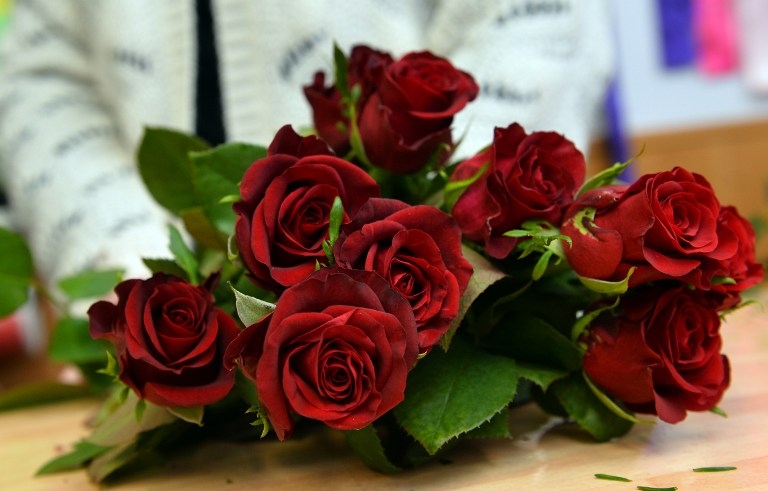 Roses being prepares for Valentine's Day in February 2014 (AFP Photo / Paul Ellis)