The high church
DENVER -- The colors made the most impression on me. They were so vibrant, like nothing I've ever seen. Definitely not what you would expect in a 'usual' church. But this church is not your ordinary church. There is definitely a whiff of atypical about it.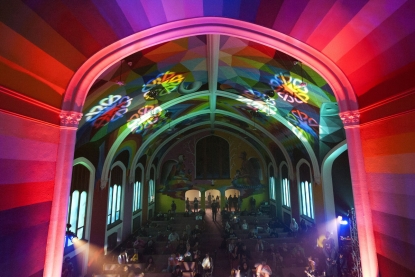 The International Church of Cannabis from the inside, April 20, 2018. (AFP / Jason Connolly)
Welcome to the International Church of Cannabis in Denver, at the foot of the Rocky Mountains, where high spirits and enthusiasm are matched by a state of mind.
It was founded a bit haphazardly by six people 2016, who had recently moved to Colorado from Florida. The building was owned by a family of one of the members and the idea at the time was to turn it into condominiums. Eventually, the plan changed and the Church of Cannabis came into being.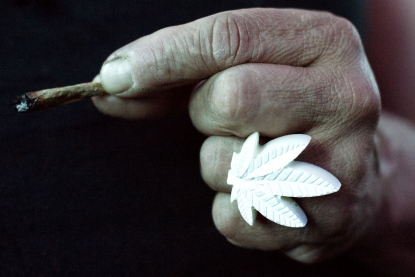 (AFP / Jason Connolly)
The building was first built as a house of worship by the Lutherans in the early 1900s and changed hands between several denominations before ending up with the weed smokers, following the Rocky Mountain State's legalization of cannabis in 2014. The church's red-brick exterior doesn't give away anything unusual -- it looks like any other church, except for a miniature Statue of Liberty sitting on the front lawn. But there is no mistaking that this place is special when you step inside.
(AFP / Jason Connolly)
There are the colors. The church's huge walls were painted over the course of six days by an LA street artist Okuda San Miguel who was flown in for the occasion.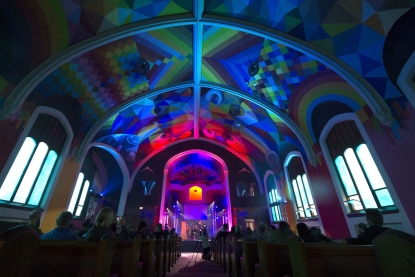 (AFP / Jason Connolly)
Surprisingly for me, the smell of marijuana is not ever present. In fact, you only get a whiff inside the actual church nave, which is located on the second floor. Marijuana is only smoked during the members-only service and the ventilation system is so good that it eliminates the odor after a service within minutes.
I'd known about the church for a while and this year, I got lucky because I not only got to photograph it on April 20 (4/20 in the US), but I was also the only media member present. 420 is a sort of a code word for marijuana consumption among people who smoke. It refers both to the time of day (4:20 pm) and to the date of April 20th. This year, April 20th happened to fall on a Friday, which is the day when the church holds its services. You could say I hit three birds with one stone.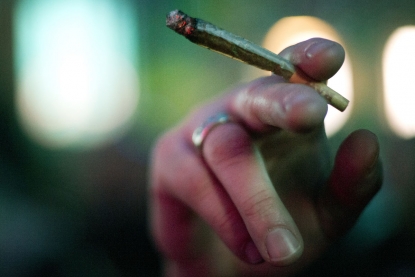 (AFP / Jason Connolly)
The church counts about 40 regular members, with another 5,000 others who are members online. On the day that I was there, there were about 25-30 people for the service.
The church feeling is there, except perhaps for those bright colors on the walls. I don't smoke, but I suppose that if you are in an altered state, those colors could be quite awe inspiring. Everyone was very welcoming and there was only one person who didn't want to be photographed.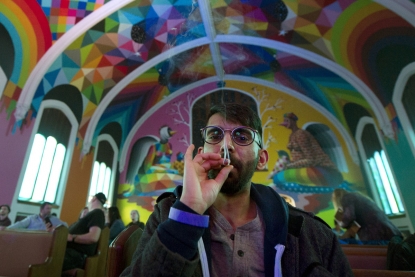 (AFP / Jason Connolly)
Church members practice elevationism, which they describe as the belief that through a ritualized use of cannabis sacrament, a person can achieve his or her spiritual goals.
During the service, people shared joints (you can't sell on the premises). One woman had a tambourine and danced around. A couple sat in a meditative state and at one point, I saw tears streaming down the women's cheeks -- she was obviously in a higher place.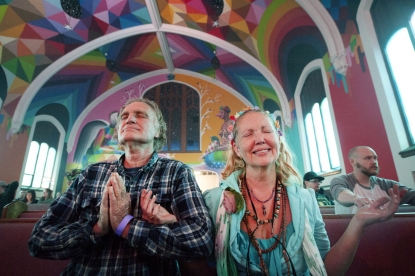 (AFP / Jason Connolly)
The service included speeches, and a musical performance by a really talented musician. I wanted to get some pictures from above and was told that I could climb up to a window on the next level. Next to the window was a tub, it looked like a giant bathtub. So I got in to take my shots.
I may not have been smoking, but I wasn't denied an unusual experience. I was basically sitting in a big bathtub, taking pictures in a church painted with bright psychedelic colors as parishioners high on marijuana swayed to music below. It was certainly otherworldly.
This blog was written with Yana Dlugy in Paris.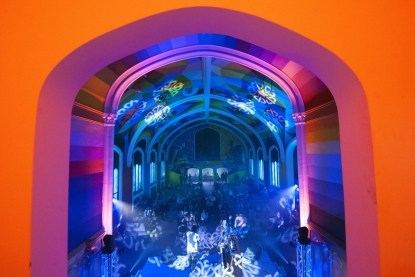 (AFP / Jason Connolly)