Fleeing through the eye of a needle
AKCAKALE, Turkey, June 15, 2015 - We have been on the Turkey-Syria border for nearly a week now, within sight of the Syrian town of Tal Abyad where Kurdish forces are battling Islamic State jihadists for control. Thousands have fled the fighting, hoping to join the 1.8 milllion Syrian refugees already in Turkey, 13,500 of them from Tal Abyad, but in recent days Ankara had been holding the border shut fearing a new mass influx of people.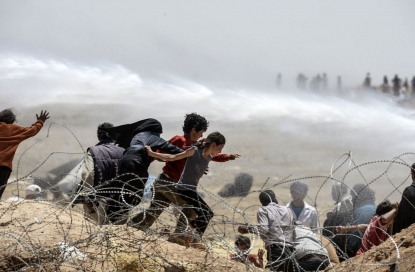 Turkish soldiers use water cannon to move Syrian refugees from border fences at Akcakale in Sanliurfa province, on June 13, 2015 (AFP Photo / Bulent Kilic)
Things started to take a dramatic turn on Saturday, June 13. We were driving near the border searching for refugees, when we heard that a lot of people had appeared near the crossing in Akcakale. We headed there to see a huge crowd massing in a field in the scorching heat – with Turkish forces using water jets and firing shots in the air to keep them from the fence.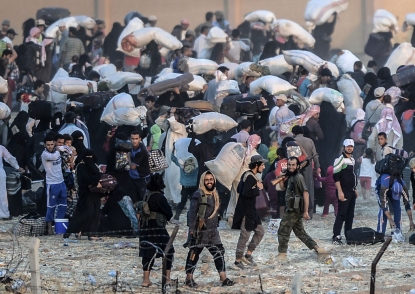 Islamic State fighters ask people to leave the Akcakale border crossing with Turkey on June 13, 2015 (AFP Photo / Bulent Kilic)
That evening we saw a group of IS fighters – seven or eight of them – turn up, telling the Syrians to head back to Tal Abyad. But once the fighters had left, thousands of people came flocking right back. I don't know why the fighters came. A kind of a message or show perhaps? They could see us taking pictures – and they made jokes and big gestures.
Syrians rush through broken fences to enter Turkish territory illegally, near the border crossing at Akcakale on June 14, 2015
 (AFP Photo / Bulent Kilic)
The next day we were expecting people to come through the Akcakale border gate. But then we heard ISIS was not letting people across. It seemed we had been waiting for nothing. Then suddenly I saw a couple of people appear on a nearby hill.
I thought they were just local villagers, but the people didn't stop coming. Thousands suddenly appeared from behind the hill and swarmed down towards the border fence.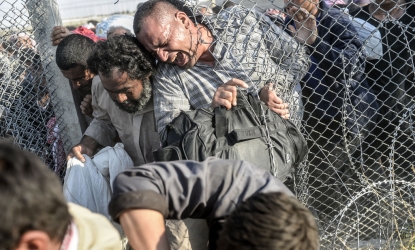 (AFP Photo / Bulent Kilic)
Everything happened in five minutes. It was like a Hollywood film – a big movie production, you can't imagine. From the Turkish side people ran up to the fence to help them. And I ran with them. The Turkish soldiers were shouting at us, but at that point I didn't listen.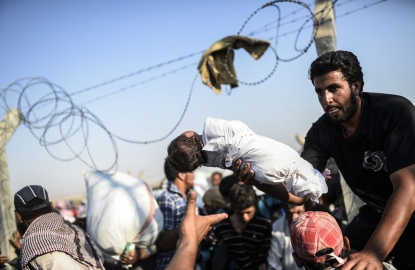 (AFP Photo / Bulent Kilic)
I saw Syrians using tools to cut through the fence. At first there was a narrow hole just large enough for one person to pass. They were pushing each other – five, 10 people – trying desperately to pass into Turkey through this tiny passage.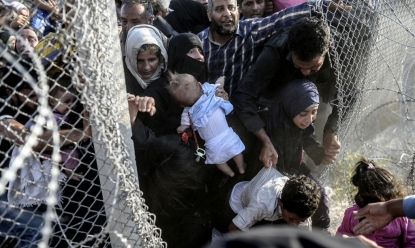 (AFP Photo / Bulent Kilic)
After that they managed to break open the fence, and they all came flooding across – it was incredible. Almost every woman had children with her. So many children – can you imagine? You are five years old and you're left with a memory like this.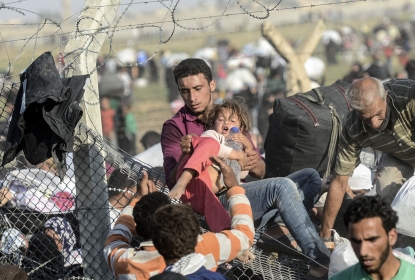 (AFP Photo / Bulent Kilic)
I saw some kids getting their clothes ripped, but thankfully no one getting seriously hurt. Once on the Turkish side, the Syrians then ran up against the border trenches. Dozens managed to scramble over, and authorities eventually helped the others to cross.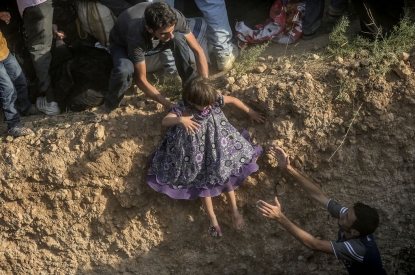 (AFP Photo / Bulent Kilic)
I have been photographing refugees on the Syria-Turkey border for nearly four years now. I saw the refugee crisis in Kobane. But yesterday was different. I have never seen anything like it before – with thousands of people pressing through such a small opening.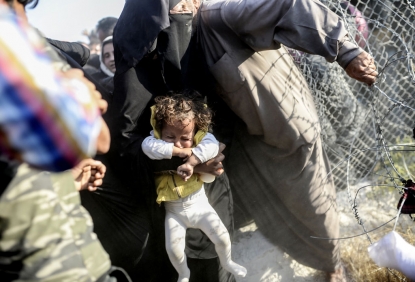 (AFP Photo / Bulent Kilic)
This time I could not find time to speak with the refugees, but I could see the fear in their eyes. They were shouting, pushing to get to safety. People were there with two or three children – desperate to keep their family together, not to lose a child in the crowd.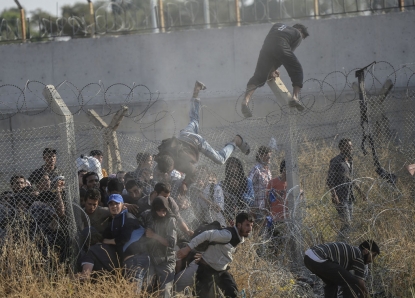 (AFP Photo / Bulent Kilic)
Right now we are waiting for a new wave of crossings. I can see the whole border from where I stand. There are 1,000, maybe 1,500 people waiting for the Turkish side to open the fence again. We can also see Kurdish fighters moving closer to the border, we can hear the sound of mortar fire.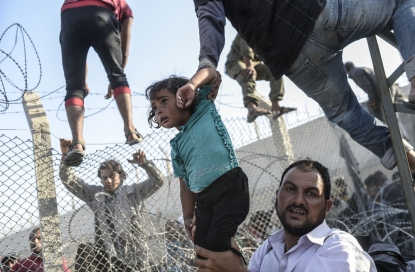 (AFP Photo / Bulent Kilic)
To cover this crisis you sometimes have to forget the rules. Everything has changed along this border. Everything is a mess. You don't search on the roads for refugees.
Of course I respect the law, and the military. You have to be careful when you are working near a border. Normally they don't allow us right up near the fence - on the actual border. But when 2,000 people come flooding over the fence there are no rules anymore. And when it came down to it, the Turkish authorities let us do our job.
Bulent Kilic is an AFP photojournalist based in Istanbul.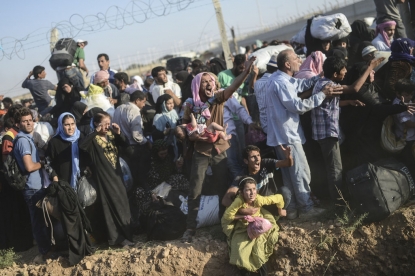 (AFP Photo / Bulent Kilic)