Clamouring for cash on the streets of Athens
ATHENS, July 2, 2015 – We knew there would be ugly scenes, as Greece said it was opening its beleaguered banks for three days to allow elderly people to draw cash. People shoving, yelling in anger at hapless bank employees. In six long years of crisis, we have seen images like this any number of times. It's sad. But it's the reality and your job is to record it.
I was outside the headquarters of the Greek national bank at 6:30 am yesterday morning. At 7 am – two hours before it opened – there were already 100 people there. Over the time I was there I saw around 300. Two photographer colleagues were posted at other branches to help cover the story, as thousands of pensioners besieged the nation's banks.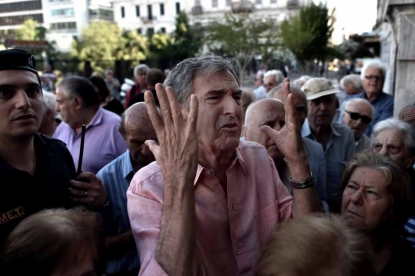 (AFP Photo / Aris Messinis)
By no means everyone was behaving badly – some were just standing in line. But you see all sorts of nasty behavior – small details that are not easy to capture in a photograph. I saw an old lady beating the hand of old man to snatch his numbered ticket. It happened in a flash, too fast for me to shoot.
They could just wait quietly to get inside. But no, instead they jump at the bank employee to grab a ticket – so they can save themselves 20 minutes of queueing. I was shouted at and shoved by pensioners as I worked.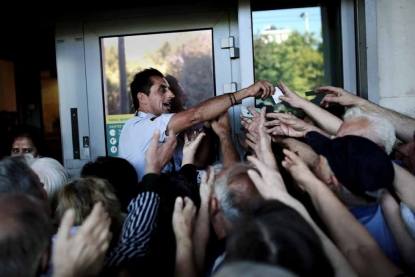 (AFP Photo / Angelos Tzortzinis)
Of course, the elderly are more frightened in a crisis situation like this. Some really need the cash.
But you get the sense that others – like the ones who emptied the nation's cash machines in a panic this week– are simply afraid of losing what they have. They no longer trust the banks and feel safer with money in their pocket.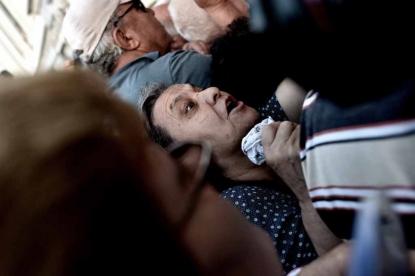 (AFP Photo / Aris Messinis)
To my mind, this is not about anger. It's about how you control yourself and how fair you are with the person next to you. Everyone here is angry, I am angry with the situation. But I can still wait in the queue or give my place to someone who needs it more.
We Greeks are very open-hearted, we express ourselves loudly. And often behave in strange ways. In difficult situations like this you see civilized behavior disappearing.
I've seen the same many times before, for instance when there are food deliveries held out of solidarity. People - often elderly people - jumping queues, jostling to grab a few potatoes.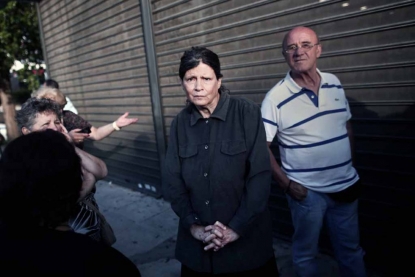 (AFP Photo / Angelos Tzortzinis)
But you can also be sure that if things started getting dangerous, if there was an accident, people would say 'Woah' and calm down. Unlike other countries where I have seen people ready to kill for something they want.
Things have been very bad in Greece for six years. We are talking about hundreds, maybe thousands of suicides. People have suffered a lot, and not just these past few days because of the banks and the capital control measures taken by Prime Minister Alexis Tsipras.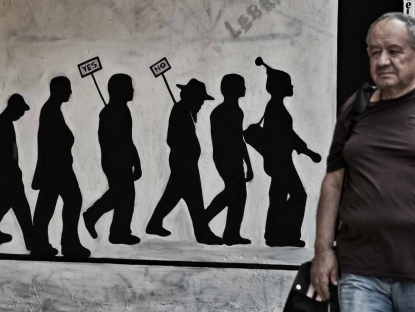 A man walks past a wall bearing graffitti concerning the Greek referendum a debt deal with its EU-IMF creditors in Athens on June 28, 2015 (AFP Photo / Aris Messinis)
Some people are very scared. Others stay calm because they reason there is little more that can go wrong. No need to stand in a queue to get 60 euros. I'd say it is about half and half.
We don't know how things are going to go in Sunday's referendum, but it does feel dangerous to have a country divided in the middle like this.
This referendum started out as a 'Yes' or 'No' to a specific bailout plan. But then it was recast in Brussels as a question on remaining in the eurozone. And now everybody is trying to play his own game.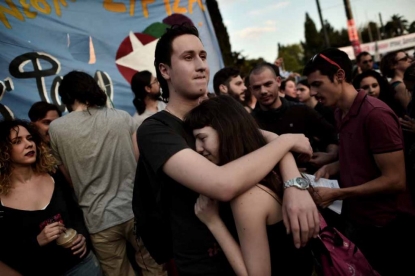 Protesters in front of the Greek parliament in Athens on June 29, 2015 (AFP Photo / Aris Messinis)
We have shot the big 'Yes' and 'No' rallies in recent days, but to be honest these demos are not really pro- or anti-European – they are always led by political camps.
The 'No' camp are more left-leaning, they don't want to leave the EU but most desperately want a different kind of Europe, with less austerity, and job programmes to create a brighter future for the younger generation. The majority of the 'Yes' camp – in my experience – are people who are a little better off, and therefore feel they have something to lose. These tend be more right-wing.
A pro-European Union demonstrator in front of the parliament in Athens on June 30, 2015 (AFP Photo / Aris Messinis)
The Greek media are not always fair – they are part of the political system and all media takes sides in their coverage. As a result, journalists are not welcome here. It's very difficult to cover this story without facing trouble.
I have spoken to many, many people on the street since this crisis began. You talk to people – you get attacked by people too, as happened to me yesterday. Images like this are very powerful, and make you think they are the whole story. In truth they are only part of it.
The problem with our job is that it is very hard to show the other side of the story. There is another part of the Greek population that still lead normal lives, as they did before the rise of Syriza. But cool-headed behavior is hard to express with an image.
Graffiti in central Athens on June 27, 2015 (AFP Photo / Aris Messinis)
Over the past years, I have often used graffiti on the walls of Athens to illustrate the twists and turns in Greece's debt crisis.
Graffiti is part of our life here. Just as art is part of our history. It makes this concrete city more beautiful – and we need that beauty. An image is there every day to walk past and reflect upon, and it can often express the way of thinking of the silent majority.
Images like this are a form of political expression. Sometime they are much more interesting – and make more sense than pictures of people shouting.
Aris Messinis is an AFP photographer based in Athens. Click to follow him on Twitter. This post was written with AFP Correspondent's editor Emma Charlton.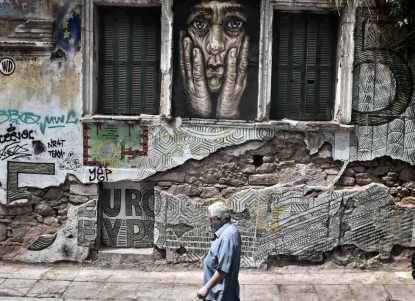 Graffitti referring to Greece's possible exit from the euro in Athens on June 28, 2015 (AFP Photo / Aris Messinis)