Battling to capture history
Washington, DC -- Organizing coverage for a US inauguration is always a bit hectic, especially with a new administration coming in. But this one has been by far the most difficult.
As AFP's photo coordinator for North America, I am the agency's contact person for the inauguration. My job is to secure locations and accreditation for the small army that AFP is deploying to cover the big day on January 20, as well as the various events that precede and follow the swearing-in of a new US president. This is the third inauguration that I have organized for AFP. I did both of Barack Obama's and had a front seat to George W. Bush's second one, learning the ropes from my boss at the time.
There is always a certain amount of stress until the last minute. After all, a US inauguration is a huge and complicated affair, consisting of many moving parts.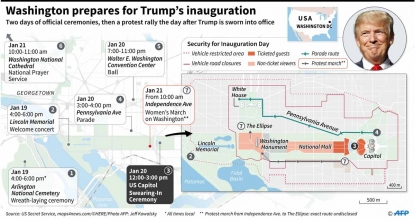 (AFP Graphics)
First, the president-elect gets to the White House in the morning and meets with the outgoing president.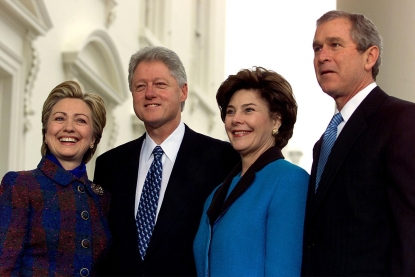 Morning of inauguration day, 2001. (AFP / Stephen Jaffe)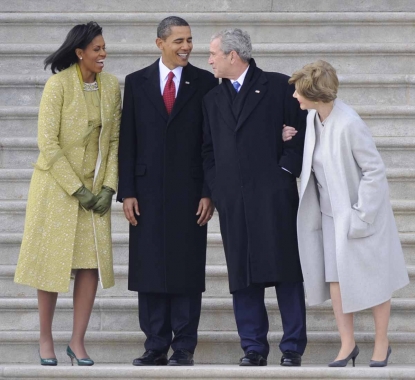 Inauguration morning, 2009. (AFP / Emmanuel Dunand)
Then both head to Capitol Hill and the president-elect gets sworn in with pomp and ceremony drenched in history and tradition.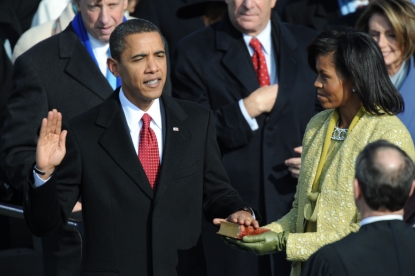 Barack Obama is sworn in on January 20, 2009, on the same Bible used to swear in President Abraham Lincoln. (AFP / Tim Sloan)
Then the new president makes his way down the 1.5-mile parade route along Pennsylvania Avenue all the way to the White House.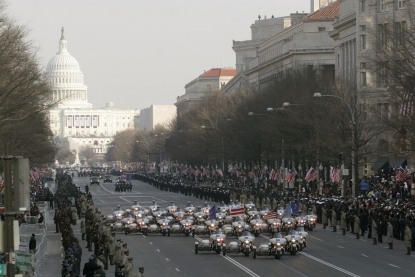 The presidential motorcade drives down Pennsylvania Avenue, January 20, 2009. (AFP / Ryan Anson)
He then watches a two-hour parade from a stand near the White House, as each branch of the military and other groups pay tribute to the new commander-in-chief.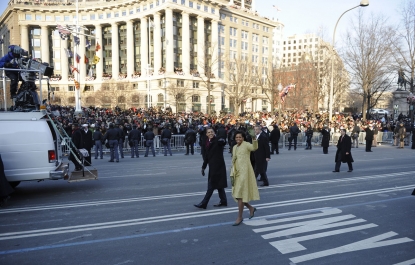 Walking down Pennsylvania Avenue, January 20, 2009. (AFP / Jim Watson)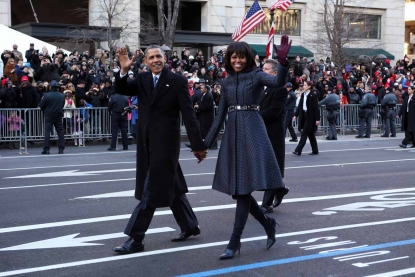 Walking down Pennsylvania Avenue, January 21, 2013. (AFP / Doug Mills)
The high note of the day is when the new president attends the several inauguration balls, the most glamorous of which is the Presidential Inaugural Armed Forces Ball at the beautiful Building Museum. This is the assignment most coveted by photographers because this is where they can capture the historic moment when the new president and First Lady dance atop the presidential seal.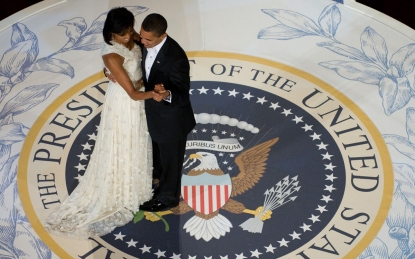 2009. (AFP / Saul Loeb)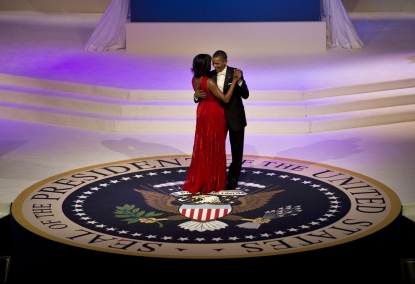 2013. (AFP / Brendan Smialowski)
Aside from the new president, we have several other things to worry about covering. First, capturing outgoing President Obama, who after the swearing-in ceremony will board a Marine One helicopter and fly off to a new life.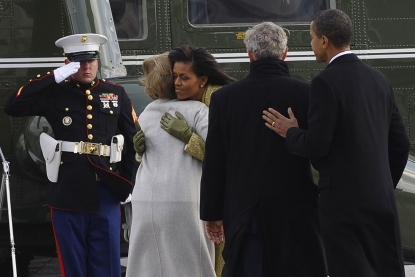 Newly sworn-in President Barack Obama sees off his predecessor George W. Bush on January 20, 2009. (AFP / Jim Watson)
And this year, we also have mass demonstrations being planned ahead of and during the presidential escort along Pennsylvania Avenue.
At each inauguration, there is a myriad of things for us to consider and to make sure that we are prepared for. On his way to the White House in the morning, Donald J. Trump will pass the newly-opened Trump hotel. We need to be there, in case he stops. Will the new president get out of his bullet-proof limo with the new First Lady and walk up the street for a few minutes before heading up to the White House?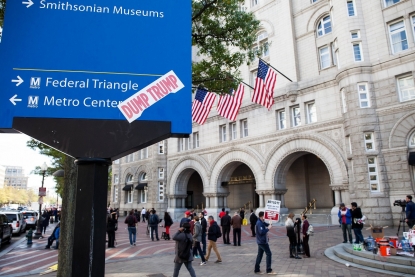 The new Trump hotel in Washington DC, not far from the White House, October 26, 2016. (AFP / Zach Gibson)
We have to think of all the possibilities and make sure that we have them covered.
To give you an idea of the village that it takes to pull this thing off -- this year we have 38 people, including photographers, video journalists, text reporters, and technicians. But it's more complicated than that.
Because the day is long and there are so many locations, pre-set times and White House security requirements, I need to move people around. This is history in the making and we need complete coverage -- the new president at the White House, Capitol Hill, the parade route, but also the crowds, the atmosphere.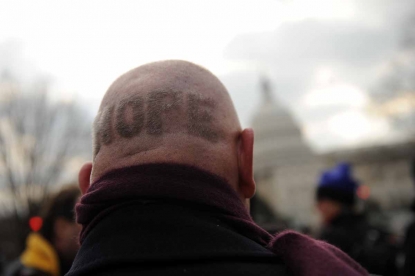 The theme of "hope" was strong at Obama's first inauguration in January, 2009. (AFP / Robyn Beck)
So for example, we will have at least eight photographers on Capitol Hill for the inauguration, as well as two video journalists and two technicians and shared photo pool production from at least nine participating outlets. We are also incorporating the brilliant idea of my boss to use new 360-degree photo technology in key positions. (These mega events are always a great opportunity to showcase new technology!)
Photos from the inauguration will of course be filed in real time to the Washington photo desk. So transmission lines have to be secured and tested and some photo equipment has to be brought in days ahead of the event (for example camera bodies and lenses for the 2-story high center camera stand opposite the swearing-in platform).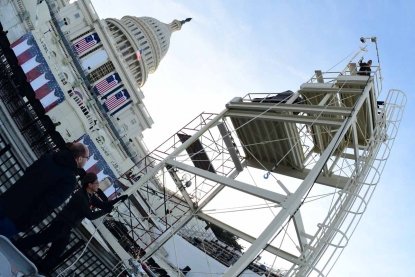 AFP photographer Mandel Ngan (2nd L) hauls equipment up the center stand camera position ahead of a dress rehearsal for the January 20, 2017 inauguration. (AFP / Eva Hambach)
On game day, the whole team needs to be in position and ready to go at the crack of dawn. The people on the ground will have to get there around 5:00 am, to go through security and to set up and check their equipment one last time… for an event that really starts at noon. After the swearing in, I need to secure their access to other positions, such as the trucks that precede the presidential escort, along the parade route. And afterward to an inauguration ball.
As if just planning the affair wasn't complicated enough, there are different players that we have to deal with insofar as coordination. So, all events on Capitol Hill are organized by the JCCIC (The Joint Congressional Committee on Inaugural Ceremonies) which communicates all event positions, rules and requirements to the various galleries in charge of photographers, correspondents and networks. Thankfully, the director of the Senate photo gallery, Jeff Kent and his team, are perfectly in command of the task at hand, making the coordination and planning on Capitol Hill fairly straightforward and easy. Almost a walk in the park…
All ready for the big day. (AFP / Saul Loeb)
The more difficult part is everything outside of Capitol Hill grounds, which end on Constitution Avenue and 3rd St. NW.
Everything beyond that point is handled by PIC, the Presidential Inaugural Committee. These are the people from the new administration. A whole new group of people, who may never have been involved in anything like this before, and who determine media access at all inaugural events. On their end, they have to coordinate with the JCCIC, the USSS (the US Secret Service), the White House and the president-elect's team. Like I said, a lot of moving parts….
Working with any incoming administration on this involves a certain amount of stress, as the people involved are usually not used to the ropes. But we have had a particularly hard time with this team so far.
I think it's a combination of several things. The general inexperience of any incoming team. The general wariness of the media that seems to pervade the Trump team. Not knowing how the media work -- things like protective pools, a small group of reporters that follows the president around at all times -- and a less than solid grasp of what is needed to have comprehensive photo coverage. Plus, the directions that the PIC people received from the top seemed to change all the time.
This time around, the major media outlets seemed to be getting hit with more restrictions. What seemed to have worked in the past, or even two days ago didn't seem to work anymore.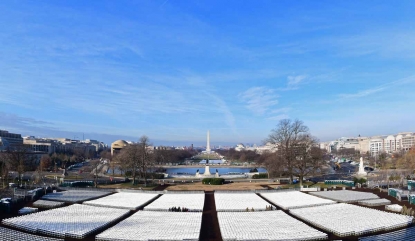 Chairs stacked all in a row... upon row... upon row. (AFP / Eva Hambach)
This year we -- the major wire agencies and newspapers -- found ourselves negotiating with the PIC for general positions and access. It was very difficult to get advance notice of the president-elect and his movements. Nothing was ever clear (is the president-elect coming to Washington on this day? If so, what time is he arriving? Where is he arriving?), so it was very difficult to plan anything.
And even when we were promised access, we weren't sure of the angles -- positions from where the photographers shoot --  that we would get. For example, two days before game day, I still didn't know whether we would get a second straight-on riser position (a spot above and directly in front of the event), a side position, a reverse angle position and positions for remote cameras for the Lincoln Memorial event the day before the inauguration, and the Armed Forces ball.
(Eventually we negotiated to have the travel pool plus one unilateral pre-set photographer per agency at the Lincoln Memorial, and to have one pre-set photographer per agency for all of the balls. It was a far cry from what we requested and had in the past, but it was something. And in the end, we weren't made aware that there would be fireworks over the Lincoln Memorial for the finale, so none of the agencies were able to shoot the spectacle, which was very disappointing.)​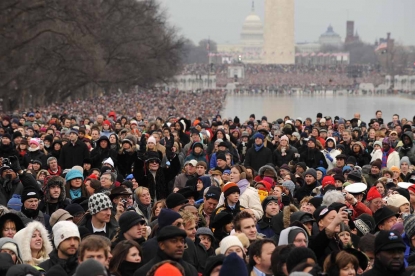 The event at the Lincoln Memorial on January 18, 2009 covered from one angle... (AFP / Robyn Beck)
....and from another. (AFP / Robyn Beck)
Not knowing where you will be able to place photographers for such a huge event just days before can add a bit of anxiety to a photo coordinator's life. To put it mildly. Never before during inauguration planning had I participated in so many hastily arranged teleconferences with my friends from our competitors and the PIC.
Normally, a week before the inauguration, I would have a good idea of which photographers will be in which spots. This year? I still didn't know four days before. Some guys were getting mad at me. They would call me to demand: "What am I doing on Friday? How come you don't know?" But how can I give them any details, when things keep changing?
Another example -- normally the photographers who are in the pool for the swearing-in on Capitol Hill are transported by secured buses to different points along the parade route. But this year they decided to go with only one bus, that will stop only at one spot, at the end of the parade route. Which means that some photographers will have to walk back to their spots with all their equipment and gear in what promises to be a rainy day. That also means that I have to preposition different people in these positions.
I felt for our PIC PoCs (Point of Contact) in a way, because orders from above kept changing.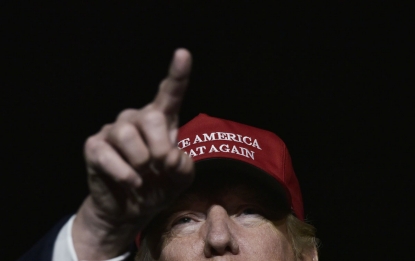 Donald Trump on the campaign trail, November, 2016. (AFP / Mandel Ngan)
During a conference call on Monday for example, they apologized profusely, saying they were not trying to stall, they were not holding back, they were working as fast as they could to get us information we needed but that things were evolving on their side. And we didn't think they were trying to trick or mislead us. But our courteous but firm exchanges were definitely leaving us all annoyed, anxious and unsatisfied.
But I couldn't shake the feeling that the new team was trying to restrict access.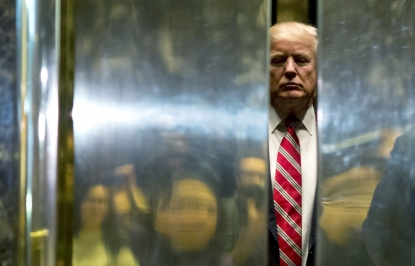 President-elect Donald Trump in the elevator at the Trump Tower in New York City, four days before his inauguration. (AFP / Dominick Reuter)
The upside of this situation was that it has brought the major news outlets much closer and we were speaking with one voice, trying to push for positions, trying to push for more access.
We were not just trying to get access during this process, we were trying to defend access that we've had at prior inaugurations. What we were trying to get across to them was that this is a huge event, an historic moment. You can't just have one photographer. You need multiple skilled professionals, humans, in various positions to capture all facets of the event, its depth and its emotion. If you don't provide access, we argued, you're not going to give justice to the inauguration.
This is not about Republicans or Democrats, rightists or leftists. This is history that we need to capture. That's all.
This blog was written with Yana Dlugy in Paris.​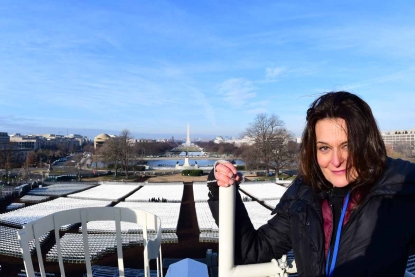 Taking a break from the stress and the conference calls. Author Eva Hambach atop the center stand camera position on the west side of the US Capitol, five days before the inauguration. (AFP / Eva Hambach)