From back-up to front seat
PARIS, January 20, 2015 - As elite police hunted for the Charlie Hebdo suspects, AFP's Sebastien Paquet and Reda Khoucha spent two days on their tracks -- sleeping rough, surviving on service station sandwiches, and barely speaking to their families.
So far so normal, for journalists assigned to cover one of the most dramatic stories to rock France in recent years. Except neither are journalists.
Both were part of a six-man team of video technicians who worked round-the-clock – and well outside their usual brief - from the January 7 Islamist shooting at the satirical daily, to the historic unity march in Paris four days later – via the deadly double siege in which three attackers were killed.
::video YouTube id='pUq6F3AmS88' width='620'::
"It all kicked off at 11:40 am on Wednesday – we heard shots had been fired at Charlie Hebdo's offices," said their boss Yves Tassel, video technical coordinator at AFP. "At noon the chief editors asked us to deploy our van – which is both a live TV transmission centre for AFP and its clients, and a sort of base camp for our journalists in the field."
Fast-moving story
"Forty-five minutes after the attack we were on site," said Fabien Lilie, sent with Willy Daniel to man the initial set-up. "You could feel the tension, the forensic police were at work, and the road was cordoned off. When we saw survivors being escorted out of the building - wrapped in blankets – and we started to realise what had happened."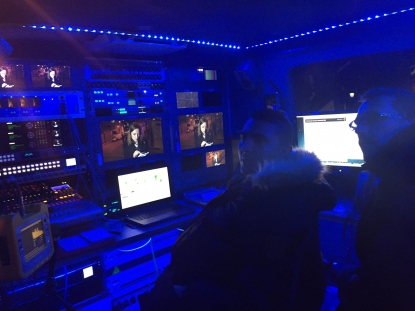 An ITN reporter providing live coverage of the Charlie Hebdo attack via an AFP link-up (Yves Tassel)
Sebastien and Reda took over at the site from 3 to 11 pm, providing live stand-up facilities for foreign TV reporters - from CNN to Belgium's RTBF - come to cover the attack – and providing back-up for AFP's own video journalists Agnes Coudurier and David Cantiniaux, who had posted themselves in an apartment over the road from Charlie Hebdo's offices.
The next morning, the AFP van and a fresh crew – Fabien and Willy again - headed to Notre Dame Cathedral to help cover the minute of silence in honour of the victims. From there, it would zip all over the city, with each new twist and lead in the fast-moving story, before winding up Friday at the armed stand-off with the Charlie Hebdo attackers in a print shop near Charles de Gaulle airport.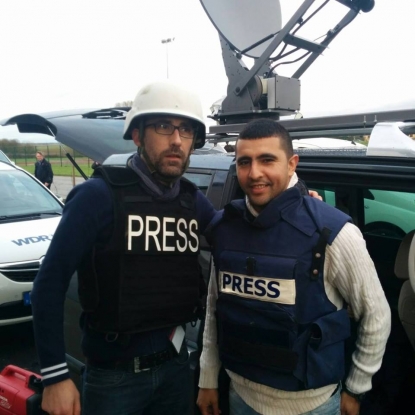 Sebastien Paquet (L) and Reda Khoucha (Regis Doucet)
Meanwhile, AFP asked Sebastien and Reda to kit out a second TV van – which involved adding a satellite dish and a modem to a Peugeot 807 in the company flock. "Just in case…" said Sebastien. "We'd barely finished when we were sent out on the road."
Leads in all directions
First stop: Porte de la Villette, in the north of Paris, to pick up two TV reporters - Laurent Di Nardo Di Maio and Viken Kantarci.
"We didn't know exactly where to go – we were getting leads in all directions," said Reda. "We heard the suspects' car was heading towards the west of Paris, possibly to Levallois. So off we headed. Except that turned out to be a false alert."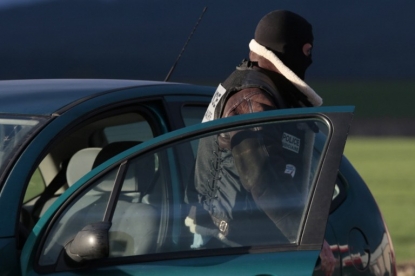 A police officer at a gas station where the Charlie Hebdo suspects were spotted on January 8, 2015 (AFP Photo / Joel Saget)
"Then we got a call, late in the afternoon, telling us to head up to Villers-Cotterets in the country north of Paris," said Sebastien. The Kalashnikov-wielding Charlie Hebdo attackers - Cherif and Said Kouachi - had been spotted in the town after holding up a petrol station.
"That's when we understood we were in for the long haul. That was the start of a crazy night on the tail of the police."
From Villers-Cotterets, where they hooked up with another team of AFP video journalists, began a game of cat-and-mouse, as the van tailed a column of two dozen RAID and GIPN elite police squads, hunting their suspects from small town to sleepy village.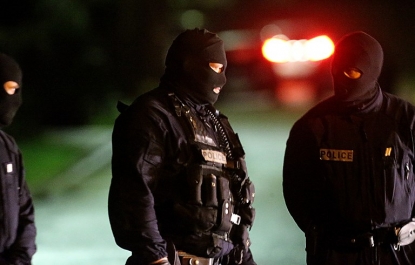 Police in Longpont, northern France, on January 8, 2015 (AFP Photo / Francois Nascimbeni)
"The police guys were trying to lose us – the last car in the convoy would take a wrong turn off a roundabout just to get us confused," said Sebastien. "At one point they all pulled over the darkness at the entrance to a village. We nearly missed them."
Hurtling down country roads
In the back of the van, the journalists held their breath. "I can tell you one thing – Reda is a great driver," said Laurent. "We were speeding down those dark country roads – you could hardly see. If it had been me driving, we would never have kept up!"
AFP were the only media on the squad's tail that night. "At one point we drove up to a checkpoint, without realising we had our lights on full," said Sebastien. "The police flashed their torch at me, but I didn't get it. Suddenly we saw a dozen officers with dogs step out of their cars to search our vehicle. It was pretty tense. Apart from the satellite dish, our van wasn't marked 'press', I had a two-day stubble… We could easily have seemed suspicious."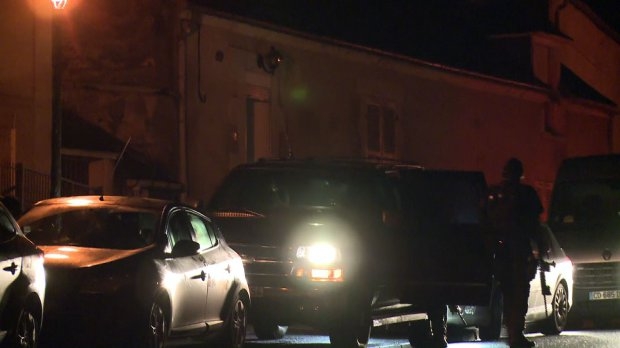 Click here to view on a mobile device
"They were armed head to toe, hurtling down these tiny country roads," Reda recalled. "Our reporters were telling us to stay on their tracks at all costs. I lost count of the number of stops we made."
Police on edge
"One time, a gendarme pulled the van over and said 'Watch out, the police are on edge, they don't want you following – there's going to be trouble!'," said Reda. "So I turned to our journalist saying, 'Hey! I don't want any trouble!' But she told me they were just trying to scare us off – fair game. She turned out to be right. The fact is our reporter colleagues were talking to the police chief before we set off on their tail. They basically seemed to accept our presence, and let the reporters do their job."
The chase lasted until 2 am in the night of Thursday to Friday, when AFP chief editors told the team to go get some sleep.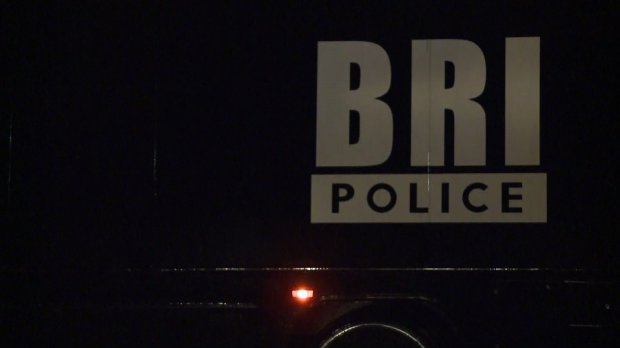 Click here to view on a mobile device
"We checked into a little hotel along with the reporters," said Sebastien. "Then Friday at 9 am, we got a call from the video department telling us the Kouachi brothers had been found in a town called Dammartin. The chief video editor Henry Bouvier told us, 'Go – but make sure you're careful'. We had been given flak jackets. It suddenly all felt pretty serious. Our wives were terrified – though I didn't tell mine the full story until it was all over.
"We were 50 kilometres from Dammartin. Our reporter was telling us we absolutely had to get there before police locked down the area. We made it. But we got flashed by two speed cameras. At one point we overtook this massive convoy of gendarme vans – with sirens wailing. One of the journalists was sick in the back of the van – from a mix of trying to read tweets on his phone, and wild driving in the pouring rain.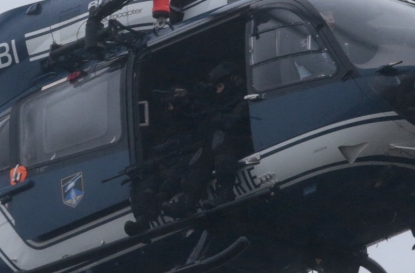 Elite GIGN police overfly Dammartin, north of Paris, on January 9, 2015 (AFP Photo / Joel Saget)
"Meanwhile we tried to figure out how his colleague Lise Bollot could transmit the live pictures she was filming from inside the van, as we bombed down the N2 highway."
Stuck in the mud
Arriving at Dammartin, Reda and Sebastien hooked up with the main AFP van – which immediately got stuck in the mud - while video reporters Viken Kantarci and Guillaume Bonnet, later joined by Agnes Coudurier, found a spot in the middle of a field, in the freezing rain, to shoot and transmit live coverage of the siege.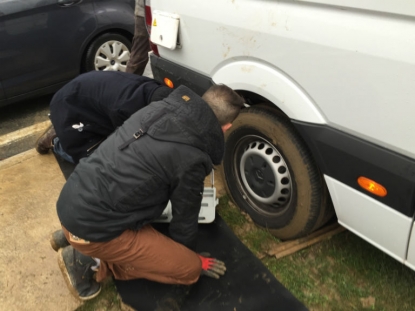 The AFP TV van stuck in the mud at Dammartin, north of Paris (Yves Tassel)
"There we watched, and waited, helped the reporters charge their batteries," said Fabien. "Then we heard the blast, and understood things were coming to a head."
While the technical team were following events from a safe distance - surrounded by police - Agnes, the video reporter who filmed assault, was shaken by the experience – and glad for their support.
"I came back to the van and broke down in tears – I was just exhausted, and felt like I'd done a rubbish job. Suddenly I had all four guys falling over themselves to offer me chocolate."
::video YouTube id='GqYKwKKsUoU' width='620'::
Meanwhile back in Paris, another of the six-man team - Regis Doucet - was at AFP headquarters producing live coverage of the double hostage siege, as events unfolded in parallel at Dammartin and the kosher supermarket in Porte de Vincennes, scene of a hostage-taking by the third assailant, Amedy Coulibaly.
"Being live, there's no setting a foot wrong. You're communicating in real-time with the reporters in the field, aware that it's a pretty heavy responsibility. A bit like being an air traffic controller," said Regis.
Footage under embargo
"After police gave the assault in Dammartin, the interior ministry asked AFP to stop broadcasting images of Porte de Vincennes – so as not to hinder the imminent operation there.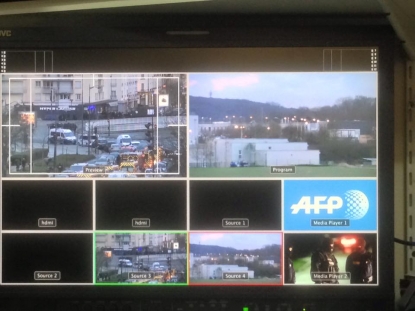 Footage from the double siege in Paris on January 8, 2015 (Regis Doucet)
"AFP agreed to that, of course, but not to stop our cameras rolling. Simply the footage was not sent to our clients until after all the hostages had been evacuated. So I ended up watching the assault in real-time on my monitor here – while the images shot by our video reporter Gabrielle Chatelain-Moor were under embargo.
"It was pretty exceptional, and pretty stressful," said Regis.
"AFP had never covered an event live on this scale before," explained his colleague Fabien "Eighteen hours of broadcast from Charlie Hebdo, 12 hours at Dammartin, several hours in Vincennes and then all day at the Paris march on Sunday.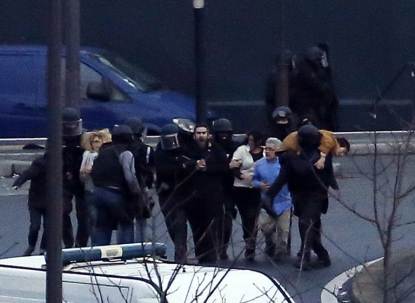 Special forces evacuate hostages in Porte de Vincennes, Paris, on January 9, 2015 (AFP Photo / Thomas Samson)
Hostages are evacuated from a kosher foodstore in Porte de Vincennes, Paris, on January 9, 2015 (AFP Photo / Thomas Samson)
"Obviously it's nothing compared to the job of our field reporters – guys who head to the front line on their own, transmitting via a satellite phone," said Fabien.
"But we really felt like we were part of the coverage – that we helped pull it off. I had to tell my wife I wouldn't be seeing my son much – that I had no idea when I would be coming home. But it was an incredible experience."
Saw it can be tough
"We were in the heart if it," agreed Reda. "And I think it helped us understand the reporters. We saw how their job can be tough, physical, all the waiting around, not knowing where you're going, whether or not you can trust your sources."
Sebastien and Reda headed home Friday at midnight, returning Sunday to support Agnes Coudurier in covering the historic Paris march.
"I'd found a spot perched upon a railing, but the guys were worried I would fall and hurt myself. So they hoisted me up onto a bus shelter," she said. "I was up there for four hours, broadcasting live, and they kept me going with regular cups of coffee."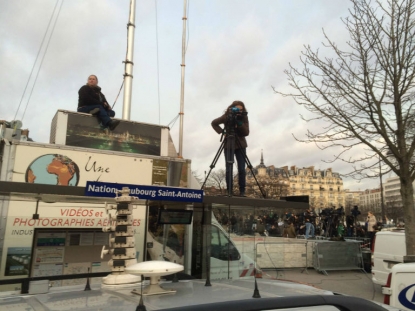 AFPTV's Agnes Coudurier filming the Paris unity march on January 11, 2015 (Michelle Hoffman)
Energy – whether it's phone and camera batteries, or the caffeinated kind – is key to keeping going on a big story, as Agnes found out the night of the Charlie Hebdo attack.
"I was filming from inside the security perimeter– and was about to run out of battery. I knew if f I left I would never get back inside. And then I heard Yves negotiating with the police – and somehow persuading them to let him past with my battery.
"I call Yves my Swiss army knife – the guy who's always there when you need him. The whole team are always a big support. But it was the first time I saw them roughing it to this extent. We were really in the same boat. They were wiped out by the end – but I think they were all happy to have been a part of it."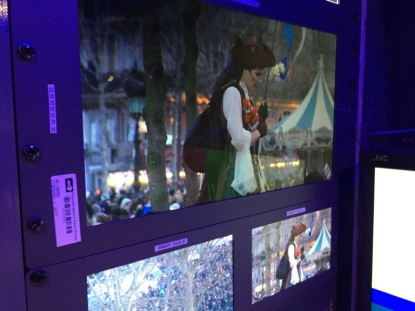 Images of the January 11, 2015, Paris unity march, on monitors inside an AFPTV van (Yves Tassel)
Emma Charlton is the editor of AFP Correspondent