Worse than the war
Managua -- When I was asked to go to Nicaragua, I didn't hesitate for a second. I wanted to cover the critical situation that was happening there since April and not just read about it – or, more accurately, suffer – from the close-but-not-so-close vantage point of Venezuela. It was a situation that was "worse than the war"the country went through in the 1980s, according to residents
In 25 years of working at AFP I have encountered extreme, risky and complicate moments in various Latin American countries. A year ago, with the team in Caracas, I covered four long and exhausting months of demonstrations in Venezuela. But this time it was different. Nicaragua is the country where I was born.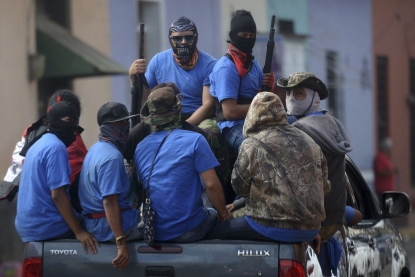 Paramilitaries are seen on trucks at Monimbo neighborhood in Masaya, Nicaragua, on July 18, 2018, following clashes with anti-government demonstrators (AFP )
Along its roads, at intersections, next to traffic lights and pedestrian crossings, and crammed in the back of four-door pick-up trucks, the sight of civilians masked and heavily armed greeted my return to Nicaragua's capital.
Just after arriving at the hotel, my photo and video colleagues and myself headed off to Masaya, a city that historically has always been the most rebellious in the country. In a small, modest cemetery three protesters were being buried. They had been killed by the pro-government forces of President Daniel Ortega while they manned barricades.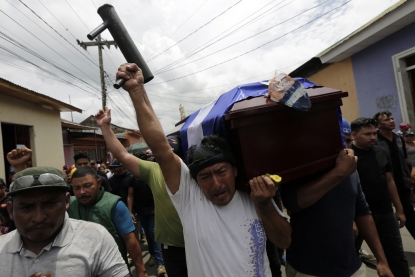 A friend of Jorge Carrion, 33, who was shot dead during protests against the government of President Daniel Ortega, carries a homemade mortar and shouts anti-government slogans during Carrion's funeral in the city of Masaya, 35 km from Managua on June 7, (AFP )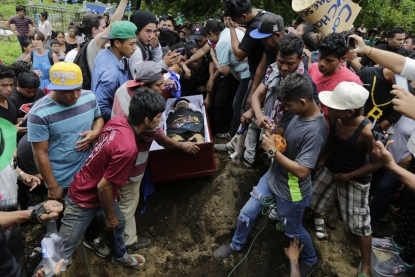 Friends and relatives cry during the funeral of Jorge Carrion, 33, shot dead during protests against the government of President Daniel Ortega, in the city of Masaya, 35 km from Managua on June 7, 2018 (AFP )
A blue and white Nicaraguan flag covered one of the wooden coffins, which lay at the bottom of a two-meter deep grave. Two men shoveled dirt onto it. Looking around at the mourners, I saw faces contracted by tears, impotence and rage.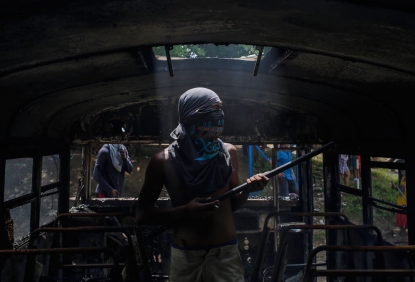 A demonstrator stands inside a bus set alight during a day-long national strike held to mark two months of violent chaos under President Daniel Ortega, in Tipitapa, about 25 km from Managua on June 14, 2018 (AFP )
Each day I spent in Nicaragua was a challenge, professionally and personally. The violence had swelled beyond the limits of anti-government demonstrations: deaths and gunfire occurred daily, houses were torched – one with an entire family inside, children and adolescents hit by bullets, disappearances, persecution, harassment.
Tear gas, used almost daily in Venezuela during protests, was used only for a few days in Nicaragua. After, it was bullets that were fired.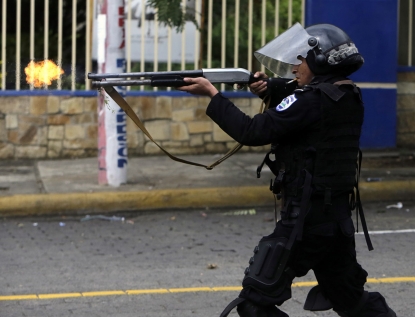 A riot police officer fires a weapon during clashes with students taking part in a protest in Managua on May 28, 2018 (AFP )
Just like it was at war, the government launched an intense operation combining police, anti-riot forces and paramilitary groups to "liberate" and "retake" territory in Masaya, tearing down to the last the hundreds of road barricades of loose paving stones that had been built in a sign of resistance and as a way of protecting local residents.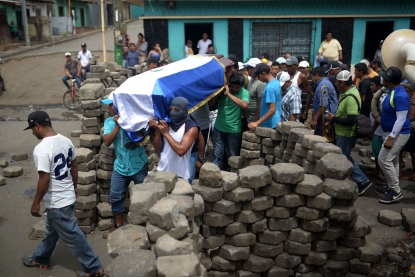 Friends and relatives carry the coffin of Jose Esteban Sevilla Medina, who was shot dead during clashes with riot police and paramilitaries at Monimbo neighbourhood in Masaya, some 35 km from Managua, on July 16, 2018 (AFP )
Wearing masks, the paramilitaries go about their business wearing the same-color t-shirts: white one day, sometimes green, other times grey or blue, so they don't get mistaken for the protesters on the roadblocks. The latter are also masked, so they aren't identified by the police and especially any neighbors loyal to Ortega. For the government, they are all "terrorists."
For our own security, we try to go to the zones of conflict only after a clash has happened, and always in a convoy with colleagues from other media. Despite that, sometimes we get caught in the crossfire of bullets or homemade mortars, as happened one day in Masaya, in the flashpoint neighborhood of Monimbo. According to locals, there was an elite sniper on one of the roofs.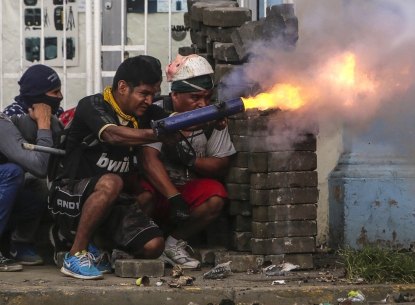 An anti-government demonstrator fires a home-made mortar during clashes with riot police at a barricade in the town of Masaya, 35 km from Managua on June 9, 2018 (AFP )
In this district of indigenous craftsmen, I interviewed a mathematics physics professor. He was a child when a popular uprising in 1979 toppled the dictator Anastasio Somoza. As a young man in the mid-1980s he fought to defend the revolution in the mountains where he lost a leg.
But nothing could console him over the death of his son in April this year, found in a trench. We spoke for a long time through an afternoon. After, we remained in contact. He kept me up to speed when anti-riot units and paramilitary forces approached with the aim of taking Monimbo.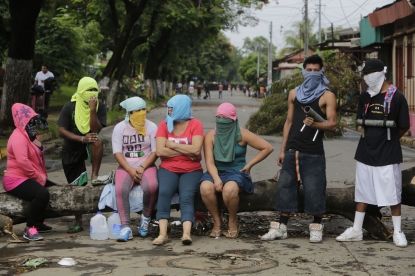 Anti-government demonstrators remain at an improvised barricade in the town of Masaya, 35 km from Managua on June 5, 2018 (AFP )
With a bullet-proof jacket and a helmet making movement difficult, we walked kilometers between the barricades of paving stones to enter villages to find witnesses of what had happened there.
In Sutiaba, an indigenous part of Leon, a city 90 kilometers northwest of Managua, we arrived early in the morning. We left the vehicles on the outskirts of the city and walked toward the center, guided by local colleagues who helped us avoid the routes controlled by police and paramilitaries. Before leaving, one of our guides closed his eyes, lowered his head and prayed.
The few residents we found in the streets of the town, which otherwise seemed deserted, pointed us to houses where, the day before, something had happened as pro-governmental forces had violently invaded. We knocked on the door of one of them and a women opened it to us. In front of us, just a meter and a half away, there was a body covered with a white sheet lying on a bed. On one side, a small bloodstain was barely visible.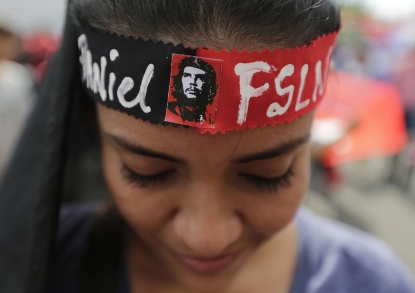 A supporter of Nicaraguan President Daniel Ortega takes part in a pro-FSLN government rally on Nicaragua's National Mothers Day at the Rotonda Hugo Chavez in Managua on May 30, 2018 (AFP )
The most difficult moment is one when a decision needs to be made. To take the risk or not to go to where conflict is happening. In Diriamba, 40 kilometers southwest of Managua, we arrived early in the morning with other international journalists in three vehicles, a day after the government's forces. According to human rights groups, more than a dozen people had been killed in the operation there.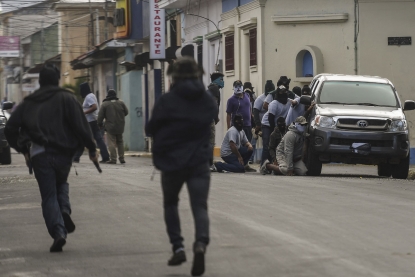 Paramilitaries surround the San Sebastian Basilica, in Diriamba, Nicaragua on July 09, 2018. Armed supporters of the government of Nicaraguan President Daniel Ortega burst into the basilica, besieged and insulted bishops who had earlier arrived in Diriamba (AFP )
Coming around the corner of a streets, we found ourselves in front of the basilica, next to which there were around 50 paramilitaries. Inside the church, a dozen people had taken refuge in the priest's quarters after escaping gunfire the day before. Two flags of Ortega's Sandinista National Liberation Front had been hoisted atop the town's clock tower.
Unable to turn back, we continued on our way, projecting calmness and keeping an eye in the rearview mirror to see if we were followed. A few streets on, we stopped and, after discussing it, decided to go back. We first went up to speak to two women in the group of paramilitaries, thinking it would be easier.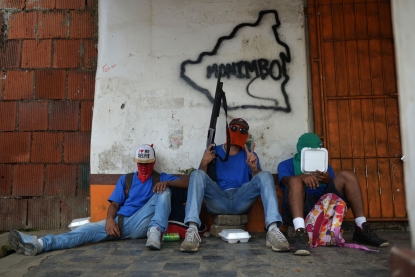 Paramilitaries rest in Monimbo neighborhood in Masaya, Nicaragua, on July 18, 2018, following clashes with anti-government demonstrators. The head of the Inter-American Commission on Human Rights has described as "alarming" the ongoing violence in Nicaragua. (AFP )
Once we convinced the masked men that we simply wanted to know their version of what happened, we called the rest of our colleagues.
In their interviews, the paramilitaries declared that the didn't have weapons and were simply residents who had organized themselves against the protesters to "liberate" the people. Several locals supporting them came up. Mid-morning, there were around 100 of them when a delegation of bishops arrived to provide assistance to the residents holed up in the basilica.
Yelling a slew of insults, the government supporters surrounded the clergymen and pushed their way into the church by force when the doors were opened to let the bishops and journalists pass. Chaos followed. Suddenly, between shoves and blows, we saw masked men, some armed, force their way in looking for those taking refuge.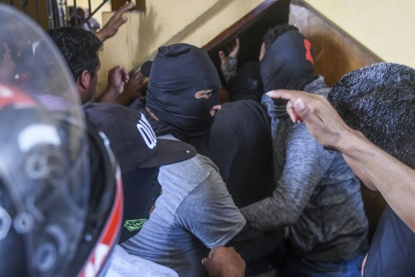 Paramilitaries burst into the San Sebastian Basilica, in Diriamba, Nicaragua on July 09, 2018. Supporters of the government of Nicaraguan President Daniel Ortega besieged and insulted bishops who had earlier arrived in Diriamba (AFP )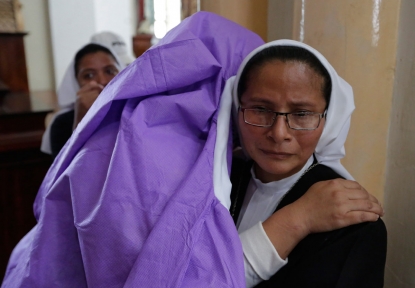 A woman afraid of pro-government Sandinista youths embraces a nun as she takes shelter at the San Sebastian Basilica in Diriamba, Nicaragua, on July 9, 2018. Hundreds of under-pressure Nicaraguan President Daniel Ortega supporters broke into the basilica (AFP )
At the altar, two paramilitaries saw me taking photos with my cellphone and turned on me. After an argument one of them snatched my phone. 
I followed him and grabbed it back. That enraged him and he fiercely shoved me. Forcing myself to stay calm, I persuaded him to let me delete the photos. Once that was done he allowed me to leave he church.
In the melee, colleagues managed to find each other and we exchanged our respective experiences: our photographer Marvin Recinos was beaten on the arm by one masked man who stole his camera; one journalist from a local TV station had his nose broken and his equipment also stolen; the paramilitaries had also aimed their weapons at a cameraman from an international news channel.
We quickly left Diriamba, shaken and conscious that it could have turned out worse.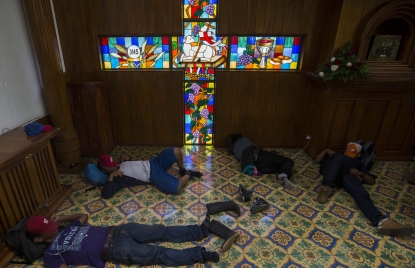 A Managua, des paysans ont passé la nuit dans une église après des affrontements mortels la veille ayant suivi une marche dans la capitale. 31 mai 2018. (AFP )
 Several times I found myself at a loss to see how little the rest of the world was paying attention to what was unfolding in this poor little Central American country.
With a history marked by military invasions, civil wars and natural disasters, it seems to forged its own character through suffering.
Coming from Venezuela, a country often on the front pages of the international press with the turmoil of its never-ending crisis, I was stunned that the situation in Nicaragua attracts less of the world's interest, even though it was bloodier.
For journalists, it's also much more dangerous. We never went out at night. Managua and other cities in the country were under a curfew imposed for months. From 6pm, the streets of the towns and cities were deserted. Many businesses were shuttered and nightlife was dead.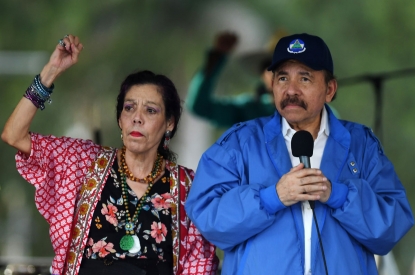 Nicaraguan President Daniel Ortega (R) and his wife, Vice President Rosario Murillo, cheer at supporters during the government-called Walk for Security and Peace in Managua on July 7, 2018 (AFP )
As in Venezuela, official sources of information were unavailable. A request for an interview with the president was politely refused by his wife Rosario Murillo, who is also his vice president and the government's chief spokesperson.
The international media was also accused by the government of waging a disinformation campaign and to facilitate a "coup d'état," which put us at risk when we covered pro-governmental demonstrations. But, so far, correspondents sent to the country have had no problem getting in.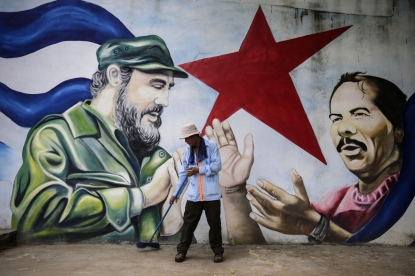 A municipal worker sweeps the floor in front of a mural depicting Cuban revolutionary leader Fidel Castro (L) and Nicaraguan President Daniel Ortega at Cuba square in Managua on November 26, 2016, the day after Castro died. (AFP )
For the month I was in Nicaragua, I often heard the refrain "it's worse than the war," referring to the conflict the country saw with the Sandinista revolution and the subsequent battle against Contra rebels backed by the US. It was said because of the impotence residents felt, not because of fear. They were displaying admirable courage, like that that I saw in Monimbo.
I finished my assignment in Nicaragua a day after an attack on students at the National Autonomous University who had been at the forefront of protests, and on a nearby church where, between raking gunfire, they had taken refuge for a night.
That Sunday, as I traveled out of the country, a government operation began to "retake" the rebel district of Monimbo.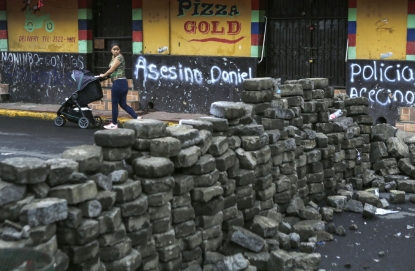 A woman looks back after passing by a barricade in the neighbourhood of Monimbo, in Masaya, a city some 35 km from Managua, on May 21, 2018 (AFP)
"They aren't attacking. We have people wounded and we can't evacuate them. They have us surrounded, » the professor told me on WhatsApp.
It was the last message I received from him. I later saw on social media a photo of him next to a little shrine with an image of his son between white and yellow flowers. "Urgent, urgent! The professor has been kidnapped," read the caption, and since then I've had no news about him.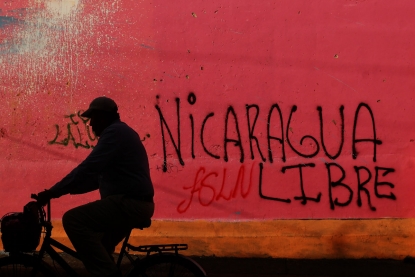 View of the headquarters of the FSLN which were occupied and looted by a mob of protesters in Diriamba, 40 km from Managua, on June 14, 2018 (AFP)