Waking up to Brexit
PARIS -- A few years ago I was walking along the coast with my brother in the scruffy English seaside town where we grew up, arguing about What It Means To Be British.
"It's obvious!" I said. "Being British is about being tolerant. We're a country made up of different communities, and that's something we celebrate."
Today, bleary-eyed after working through the night on AFP's English desk in Paris on the Brexit referendum,  shell-shocked from the result, I'm wondering what I was thinking when I came up with that sunshiny view of a happy, multicultural Britain.
My 'tolerant' Britain just voted  51.9 percent to leave the European Union after a campaign that had at its heart the kind of country we want to be -- and ultimately we decided that being open to our neighbours just isn't working out.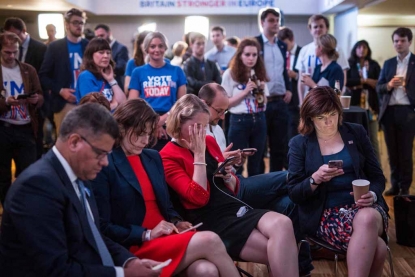 Supporters of the "Remain" react to results. (AFP / Rob Stothard)
I get some of the reasons for voting Leave, I really do. I know there are plenty of Brits who did so after thinking long and hard about what it would mean to go it alone in the world. For some people, the choice will have been straightforward. If I was a British builder, facing a flood of competition from new Polish arrivals, I probably would've voted to leave.
What disturbs me is that the Brexit campaign won partly by pushing a vision of Britain that I do not recognise -- and which an overwhelming majority of young Brits, who are outwards-looking by nature and to whom the benefits of EU membership are obvious -- do not recognise either. And it's us who are going to have to live with the consequences of this vote for decades to come.
If pollsters were looking for an archetypal pro-EU voter, they could do a lot worse than me. I'm 28, a university graduate, the child of an English mother and a Vietnamese immigrant father. As a young journalist I have worked in Britain, Hong Kong, the United States and now France. Before today's bombshell I was happily enjoying my right as an EU citizen to work in another member-state, and making liberal use on weekends of the Schengen passport-free zone when I visit my boyfriend, who lives in the Netherlands.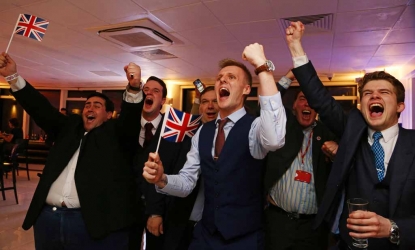 Leave supporters celebrate. (AFP / Geoff Caddick)
For me, staying in the EU just made sense. And if my Facebook newsfeed was anything to go by, last night should have delivered a 99% vote in favour of Remain. My social circle, for the most part young and well-educated, voted passionately in favour of staying in the European Union.
So I went into work on AFP's Europe/Africa desk late Thursday, tasked with editing referendum coverage throughout the night, feeling cautiously optimistic that a last-minute flurry of undecided voters could swing it for the Remain camp after days of neck-and-neck polls.
I had dinner before work with some colleagues at a local restaurant called the Albion, picked partly for sentimental reasons -- Albion is an ancient name for Great Britain. We were in good spirits. And when we arrived in the office to start work for the night, the good vibes grew with two opinion polls by YouGov and Ipsos MORI predicting a comfortable 52-54 percent vote for Remain. "That's it, game over," we said. Complacently.
Covering votes is always tricky. It's our job as journalists for a global news agency for to provide coverage that sticks to the facts, that doesn't skew or distort, that aims to inform, not to persuade.
But this time the stakes were high for all of us personally. I am one of many Brits working for AFP's English wire service -- at our Paris headquarters, across the EU and around the world. My boss came to live in France after working in Brussels and Berlin. My British colleagues in Madrid, Rome, Vienna and beyond will be affected by this vote.
Chatting on the phone every day to these colleagues -- "How do you think it will go?" -- we mostly expressed hope for a Remain, if nothing else because Brexit creates complications for our own lives.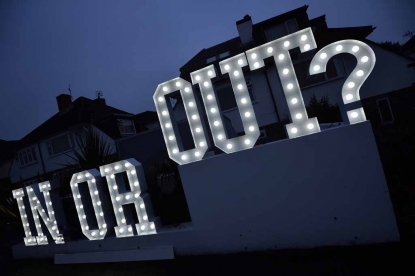 (AFP / Glyn Kirk)
But early in the night my boss was fretting, restlessly flicking his gaze between Sky News and the BBC's live coverage on the two TVs as he sat next to me. I told him he should chill out. YouGov and Ipsos MORI, both reputable pollsters, appeared confident we'd vote to stay. They'd called the last British election spectacularly wrong last year, and there was no way they'd make the same mistake this time round. Also, it was early days -- you can't possibly extract anything meaningful knowing the results from only three out of 382 constituencies.
But my boss was right.
Around 3:00 am the situation starts to seem surreal. The televisions keep showing results in favor of the 'Leave' campaign. My boss mutters and swears. The duty editor comes over every once in awhile and swears too.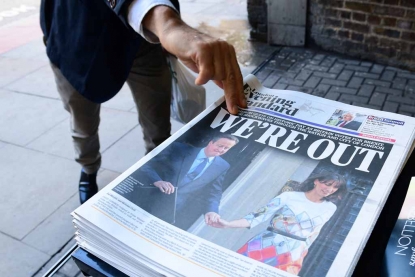 (AFP / Leon Neal)
Over the next few hours this turns into a bad dream. I hold out hope that cosmopolitan areas like London can swing the vote. But the reality check comes when they call Birmingham at dawn. Britain's second city, with a large immigrant population, pundits had assumed that Birmingham would vote to stay in the EU. But it votes to leave, by a slim margin of 50.4 to 49.6.
"There's no way we can get this back now," I think, watching the total for the Leave votes creep up to more than a million more than Remain's total.
I run on auto-pilot. I edit the stories from our London correspondents -- also working through the night, and also stunned by the political earthquake we are watching in real-time -- trying to make the articles easy to understand for readers who haven't been so plugged into the Brexit debate. But I feel like I'm dreaming.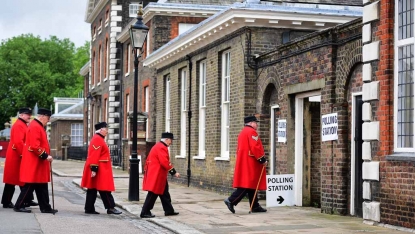 Chelsea pensioners are ushered into a polling station to cast their ballot papers. (AFP / Leon Neal)
By the time the major television networks call the vote at dawn, the boss is ashen-faced. The night duty editor is too. We no longer joke. My Facebook feed fills up with messages as people wake up to the news. "Britain, what have you done?" Friends say they are in tears.
People start trickling into the newsroom. I look up at them, shake my head, we exchange an expletive and I go back to work. We swing between cracking jokes -- British stiff upper lip, and all that -- and feeling utterly lost.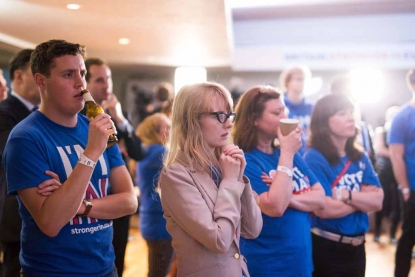 (AFP / Rob Stothard)
One of the most crushing things about this referendum is the vast chasm it has carved out between Britain's generations. The young voted in their droves for Remain -- by YouGov's estimate (although that poll must be taken with a pinch of salt, since it also predicted a Remain vote), 75 percent of the 18-25s did so. This is compared to just 36 percent of the over-65s, with a hefty majority of this age group -- including many of my friends' parents and grandparents -- voting to Leave.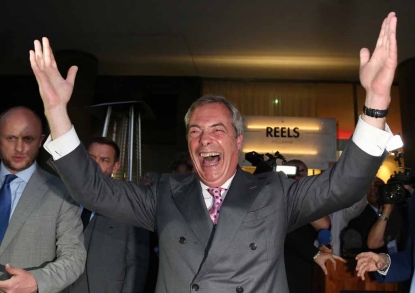 Leader of the United Kingdom Independence Party (UKIP), Nigel Farage, who had pushed for "Leave" reacts to the results. (AFP / Geoff Caddick)
The average life expectancy in Britain is 81 these days. Someone my age will be living with the consequences of this vote for the next five decades -- and younger Brits, of course, for even longer still. We did not want this future, but it has been gifted to us by a generation of older voters, many of whom expressed dislike for the way this country has changed since they were young.
My country has voted to 'take back control' from a 28-nation club blamed for stealing our sovereignty and filling our towns with immigrants who take our jobs and overload our public services. In his final pitch to voters the week before the referendum, star Brexit campaigner Nigel Farage unveiled a poster of a vast queue of distinctly non-white refugees flooding into Europe, with the tagline: "Breaking point."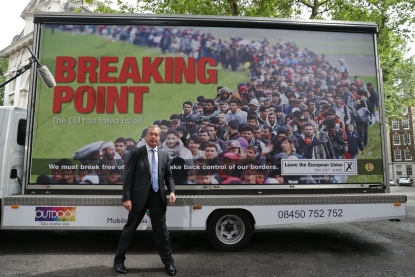 (AFP / Daniel Leal-Olivas)
He refused to apologise for the poster, despite widespread accusations of racism. The whole campaign was fuelled by fears over migrants and their apparently pernicious effects on British society. We have voted for an idea of Britain that seems small-minded, if not outright xenophobic.
This is not the Britain which welcomed my Vietnamese father to the point where, three decades later, his main hobbies include watching the BBC soap EastEnders and perusing the supermarket shelves for classic British dishes such as chicken tikka masala.
When I look at Great Britain today, all I see are divisions. I see a country torn between an alienated and angry majority that believes that the EU and globalisation have been bad for our country, and a perceived cosmopolitan elite with the privilege of only seeing the best Europe has to offer, like jetting off for visa-free holidays in Spain. It disturbs me to think of myself as part of the elite in a strange new societal conflict. I grew up living above my parents' bike shop in an unglamorous Essex satellite town and will never be able to think of myself as posh.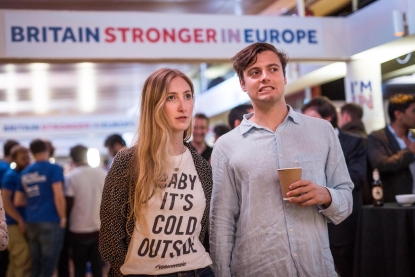 Supporters of the 'Stronger In' Campaign at a results party in London early in the morning of June 24 (AFP / Rob Stothard - pool)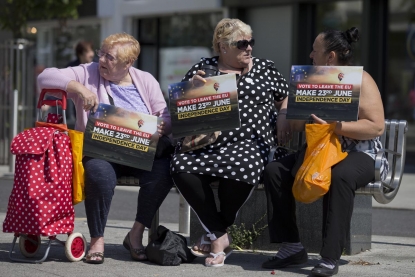 Leave supporters sit in Clacton-on-Sea on June 21 (AFP / Justin Tallis)
I hate thinking about the other ways this vote could wrench our country apart: a second independence referendum in Scotland and the possibility of vote to reunify Ireland, since Northern Ireland, unlike England, backed the EU. I struggle to see anything "united" about our United Kingdom. I wonder if we will deserve the Great in Great Britain after this.
It's been 30 hours since I slept, but every time I drift off I remember this bad dream will still be waiting for me when I wake up. Instead I sit endlessly scrolling through Twitter, desperate for news. One tweet finally makes me cry.
"Do something!" someone tweets desperately at Harry Potter author JK Rowling.

The author writes back: "I don't think I've ever wanted magic more."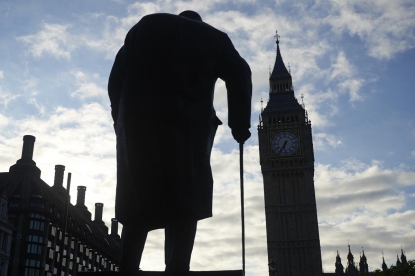 A statue of Winston Churchill is silhouetted by Big Ben and the Houses of Parliament in central London on June 24, 2016 (AFP / Niklas Halle'n)