Treading softly in Thailand
Bankgok -- In many ways, I should have been moved when some 300,000 people poured out on the streets of Bangkok in October for the days-long funeral of Thailand's late King Bhumibol.
The sense of popular grief was palpable. People were crying. Many were prostrating themselves on the asphalt. When you have grown up with someone's image everywhere, and with the idea that he is the "father of the nation," the deep sense of loss and emptiness at his death is perfectly understandable.
But as a foreign journalist, I was well aware of the other side of the monarchy, which is  protected by one of the strictest lese-majeste laws in the world. People have landed in prison for posting an unflattering BBC portrait of a new king on Facebook, or posting comments deemed insulting to the late king's dog (seriously).
In line with tradition, the funeral took place a year after the king's death. Soldiers marched for hours, taking extra-slow steps. Monks chanted psalms. All other coverage vanished from newspapers and television.
The Royal Urn is carried in the Royal Chariot during the funeral procession for the late Thai king Bhumibol Adulyadej in Bangkok on October 26, 2017. (AFP / Roberto Schmidt)
Hundreds of golden statues of creatures from Buddhist and Hindu mythology surrounded a 50-meter golden crematorium. An urn was transported to the top by a palanquin held by two men (the doctors who took care of Bhumibol). The new king Maha Vajiralongkorn, dressed in red, arrived in a Rolls-Royce. White-haired palace staff got on their knees before the new king and backed away from him in the same position. Funeral staff lay on the floor and crawled away.
When I first got to Thailand, I, like most Westerners, was also fascinated by the ceremonial rituals of the land. A photo of a former prime minister Yingluck Shinawatra -- lying prostrate on the ground in front of a photo of King Bhumibol, made a particular impression on me.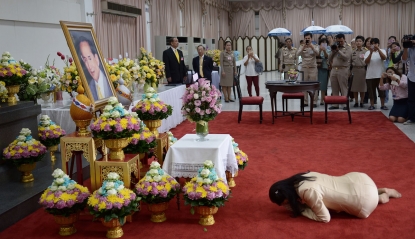 Ousted Thai prime minister Yingluck Shinawatra bows to a portrait of Thai King Bhumibol Adulyadej as she pays her respects during a visit at the Siriraj hospital in Bangkok on October 6, 2014. (AFP / Christophe Archambault)
But after four years of living here, the initial fascination had worn off.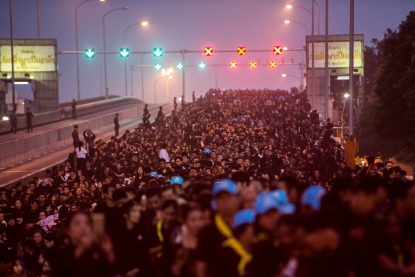 Mourners wait for the funeral procession of the late Thai King Bhumibol Adulyadej to take place in Bangkok on October 26, 2017. (AFP / Ye Aung Thu)
Aside from one young activist who posted on Facebook that he would put on a red shirt (color of the opposition) and do something 'unthinkable' on the day of the actual cremation, I did not see anyone questioning whether the year-long mourning period, or its cost or impact, was justified.
(The young activist received a visit from law enforcement and was told to get out of Bangkok for a few days, according to Thai Lawyers for Human Rights, an NGO that keeps track of lese-majeste cases).
Because of the lese-majeste, news outlets like AFP have to tread carefully about what they write about the royals. So reporting in Thailand has been tricky at times.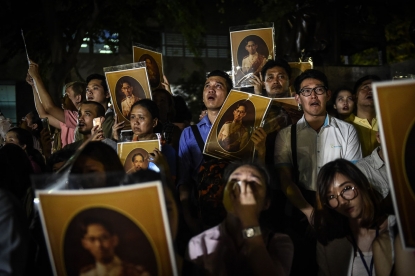 People react to the death of Thailand's King Bhumibol Adulyadej at Siriraj Hospital in Bangkok on October 13, 2016. (AFP / Lillian Suwanrumpha)
A few days before the funeral, I went to interview Sulak Sivaraksa, an 85-year-old Buddhist philosopher facing a lese-majeste case for having cast doubt on the official version of a 16th century battle in which the then king killed his Burmese adversary. He is a rare intellectual who dares to speak out, but still with extreme caution. The only thing that he accepts to have on the record is that, if past kings are also protected by lese-majeste laws, historians won't be able to do their jobs.
Ahead of the cremation, I tried to find analysts to speak about the significance of the event. I got one refusal after another. Finally one, David Streckfuss, based in Thailand, agreed. He dictated his quotes to me word by word, changing them here and there to make sure the formulation was not too daring. Normally I would have found this nitpicking ridiculous. But here, I could understand his caution.
One of the things he told me is that other monarchies, like the one in Britain, could evolve because they were open to criticism from civil society. There is nothing like that in Thailand. On the contrary, the Thais are always careful what they say about the royals -- there have been instances of people being denounced by a brother, a taxi driver, a neighbor.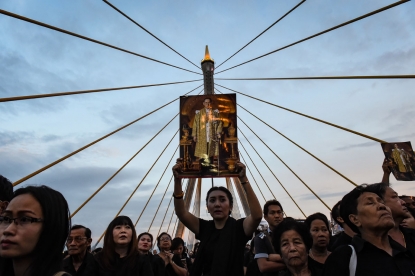 A woman holds aloft a picture of the late Thai King Bhumibol Adulyadej as people gather to commemorate his birthday on top of Bhumibol Bridge in Bangkok on December 5, 2016. (AFP / Lillian Suwanrumpha)
News organizations like AFP have good reason to tread carefully as well. Britain's Daily Mail has been blocked in Thailand for years, after publishing embarrassing material about the new king.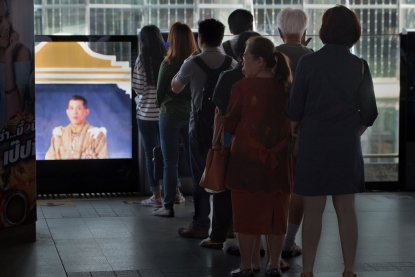 Commuters riding the metro train line up to wait for the next train near a portrait of Thai King Maha Vajiralongkom on October 30, 2017. (AFP / Roberto Schmidt)
Covering the funeral required unusual efforts. Our video and photo journalists had to adjust their appearance -- One had to shave his beard, another get a haircut. When this condition was relayed to me, following a visit with protocol chiefs at the palace, I thought it was a joke. But both journalists -- a Brit and a Colombian – complied, as they did with the request to maintain a respectful posture for hours in the stands assigned to them during the ceremonies.
But the funeral cortege, with the new king walking in the middle, presented an unexpected bonus for AFP photographers who could actually take pictures of the royal. Normally the only people allowed to do so are official palace photographers. You see them on the daily 8 pm"Royal News," taking photos on their knees (so as not to be higher than the king). I was always amazed by how quickly they could move back and forth on their knees and always wanted to know if they wore knee pads beneath their trousers.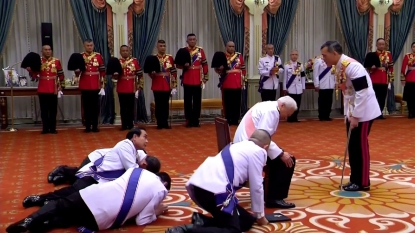 This screengrab from Thai TV Pool taken on December 1, 2016 shows Thai Prime Minister Prayuth Chan-Ocha (middle L) and Privy Council President General Prem Tinsulanonda (C, pink sash) prostrating themselves in front of newly appointed Thai King Maha Vajiralongkorn. (AFP / Stringer)
The royal palace is a well-oiled machine. There are no news leaks here. Messages are transmitted in circuitous ways. For example when the then crown prince Vajiralongkorn divorced his then wife, princess Srirasmi, in 2014, the first sign came when her face disappeared from the Royal News edition at 8 pm. Usually the faces of the royal family appear in golden medals before the broadcast. One night Srirasmi was there, the next she wasn't.
When the official announcement of the divorce came a few days later, it didn't mention the word. It simply said that Srirasmi was stripped of her royal title. The Thai press could not deviate from the official language and reported it as such. After a long and tumultuous discussion at the bureau, we decided to write very clearly that the couple was divorcing. Since the divorce, the princess has not been seen in public and many members of her family, including her elderly parents, are in prison having been convicted of lese majeste.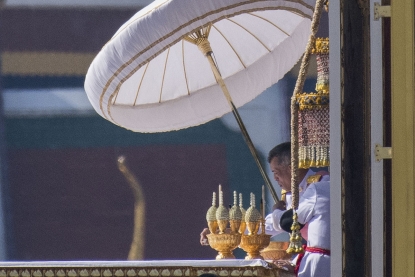 Thai King Maha Vajiralongkorn sorts through the remains of his father, the late Thai king Bhumibol Adulyadej, the morning after he was cremated at the Royal Crematorium of the Grand Palace in Bangkok on October 27, 2017. (AFP / Anthony Wallace)
To understand what's going on in Thailand, you need to become adept at reading nearly subliminal signals at times. For example, on the day of the cremation, I see a woman get down from the new king's Rolls Royce. She is dressed in red, like the new king, and is a familiar face at official ceremonies, but newspapers never write her name or title. (Like they never write about sons who were products of the new king's second marriage and who currently live in the US.)
A video colleague who had come from Hong Kong to help with coverage asks who the woman is, so that he could put it in the script accompanying his video. Thai colleagues get uncomfortable and tell him to forget it. We all know who she is, but we can't write her name without official confirmation.
So I call the palace spokeswoman to ask this young woman's title. After a long pause, she directs me to the office of the new king…. which never answers the phone. The identity of the mystery woman will remain for our clients just that… a mystery.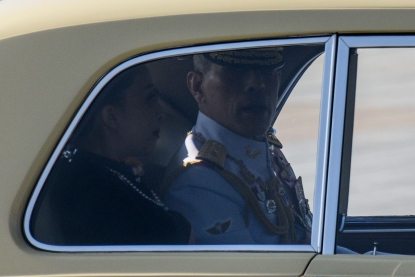 Thai King Maha Vajiralongkorn (R) arrives with his daughter Princess Bajarakitiyabha, the morning after the late Thai king Bhumibol Adulyadej was cremated at the Royal Crematorium of the Grand Palace in Bangkok on October 27, 2017. (AFP / Anthony Wallace)
Needless to say, neither I nor any of my colleagues have interviewed the new king. I made a request to do so last year, when he was still a crown prince. I was told to go directly to his palace, Ambarasathan, to deposit my written request by hand. I'll never forget the guards at the palace, all wearing a pin with a portrait of the prince as a baby on their uniforms. I never did get that interview, but the trip was worth it just to see those pins. To me they spoke volumes about the personality of the next king who will head this nation.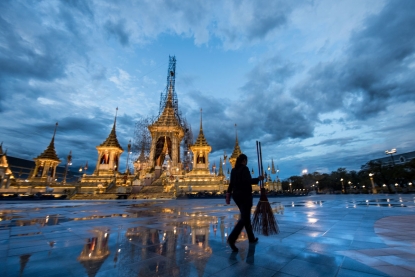 In this October 17, 2017 photo, a worker carries a broom on the grounds of the cremation site for Thailand's late king Bhumibol Adulyadej. (AFP / Roberto Schmidt)