On 'Survivors' Street'
(AFP Photo / Menahem Kahana)
HAIFA, Israel, January 27, 2015 – I did as I would with my grandmother. Pulled my chair right up beside her and asked in a loud, slightly dumb voice, as if speaking to a child, "Do you like it here, then?" "The food is good," she replied. Silence. "In Auschwitz I weighed 23 kilos." Silence.
I try a series of questions opening with the words "Do you remember when…?" Each time she cuts me short. "I remember it all."
Over the course of an hour Shoshana Colmer dives into her memories. Without coming up for air. She tells me about leaving Czechoslovakia, being rounded up with other Jews, the train where she spent two days on her feet, her suitcase which they had promised to give back. She tells of the "selection process" at the camp, of being showered, shaved, stripped naked and put to work in the munitions factory in Auschwitz.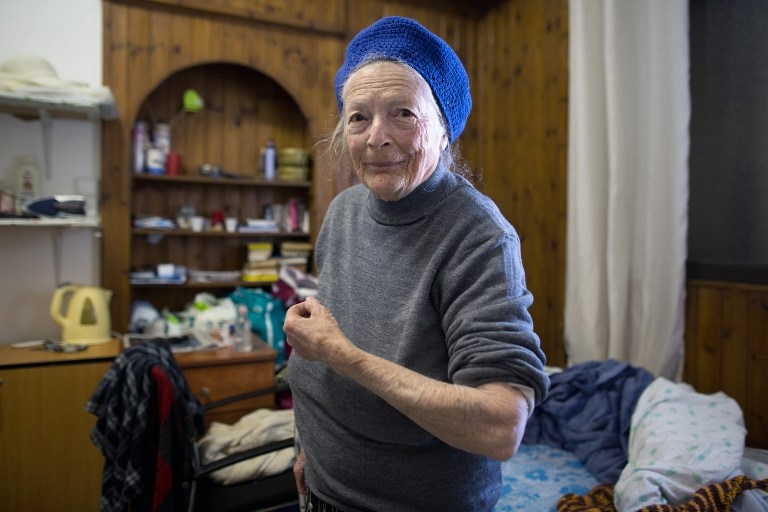 Shoshana Colmer on January 21, 2015 in her apartment on Haifa's 'Survivors' Street' (AFP Photo / Menahem Kahana)
"I can remember everything. But I can't tell you how I lived in Auschwitz because I wasn't alive any more. I was afraid, that's all," she tells me.
Ninety-five-year old Shoshana is one of the residents of "Survivors' Street', a little road up a hillside in Haifa, northern Israel, where close to 100 Holocaust survivors are living out their final years side-by-side.
Bound by memories
To the best of my knowledge, this is a one of a kind project, in which a group of elderly Holocaust survivors have been able to form a close-knit, supportive community thanks to subsidised housing provided by a group called Yad Ezer ("A Helping Hand").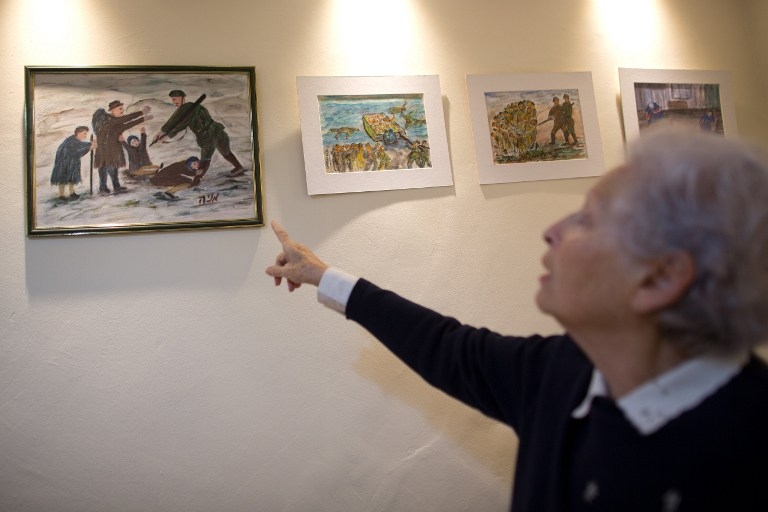 Hava Hershkowitz shows paintings by fellow resident Mania Herman in a building on Haifa's 'Survivors' Street', 
on January 21, 2015 (AFP Photo / Menahem Kahana)
For the men and women in this touching community, bound together by their memories, sharing their stories with the outside world – with journalists, students, soldiers, groups of foreigners – is as much a part of daily life as their games of bridge, or doctors' appointments.
Tattooed numbers
Lunch cuts short my interview with Shoshana. She has no intention of being late, even for our sake. To this day she routinely takes a piece of bread wrapped in a napkin to her bedroom after mealtime.
In the refectory, on the ground floor of one of the buildings on the street, the survivors sit in little clusters, often grouped according to their mother tongue – Romanian, Polish, Hungarian, Yiddish. The fittest among them fill plates and carry trays for those who are unable to walk. You can see the number tattooed on some of their forearms.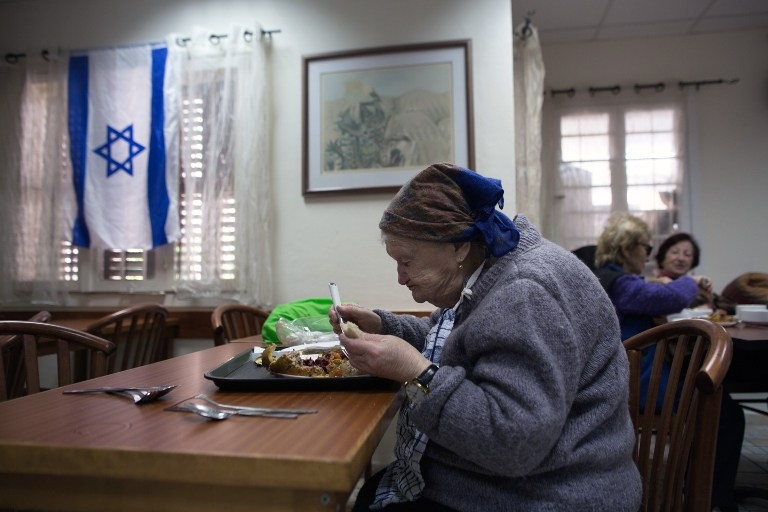 In the shared dining room on Haifa's 'Survivors' Street', on January 21, 2015 (AFP Photo / Menahem Kahana)
As my photographer colleague Menahem Kahana starts snapping away, I begin to take in the scene before my eyes: in this canteen in a remote corner of Haifa, these elderly men and women, noisily eating their lunch, are among the last living survivors of the Holocaust. And we are, perhaps, helping to immortalise their stories.
Wish I could hear them all
A woman calls out to me, and asks if I would like to "listen" to her. She hurries off to the bathroom to apply lipstick, thinking she would be interviewed by our cameraman, Ahikam Seri. Her fellow residents roll their eyes at her and mutter in Hebrew among themselves.
"Maybe later?" I tell her, feeling like a fraud. There are about 100 of them, and I wish I had no story to write and could just go from table to table to listen to them all. Every one of them. But our time is limited, and we have already lined up our interviews for the day.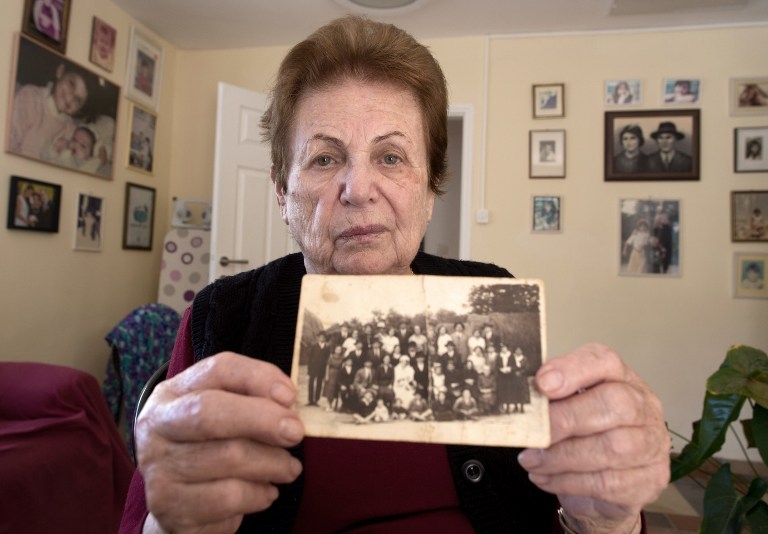 Judith Hershkowitz, 86, shows the only picture of her decimated family, on January 21, 2015 
in her apartment on 'Survivors' Street' in Haifa on January 21, 2015 (AFP Photo / Menahem Kahana)
The second survivor we meet, Judith Hershkowitz, lives in a tidy little apartment with a wide balcony overlooking Haifa bay. She doesn't mix much with her neighbours, says she doesn't care for the whole "kibbutz" atmosphere or for "talking about what happened back there." The leader of the community centre insisted we pay her a visit.
With dignity, out of duty
Menahem asks her to show us some old photographs. She only has the one. It's a picture taken before the war, at a wedding in a "Shtetl", a Jewish farming village in the Hungarian countryside. There are about 30 people in the yellowed picture.
"I'm the only one who survived," she tells us.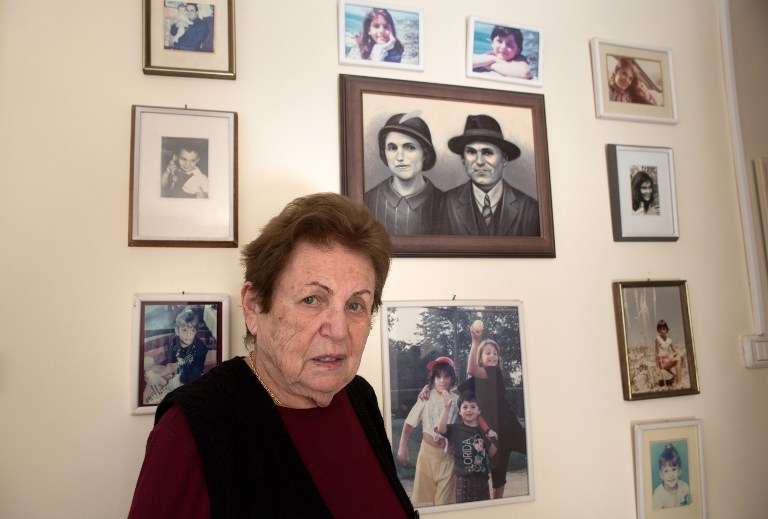 Judith Hershkowitz with a painting of her parents and relatives born in Israel on January 21, 2015 (AFP Photo / Menahem Kahana)
Judith has trouble speaking. Her few answers are punctuated by long silences. Between each sentence she swallows, pauses for breath. And picks up again her family's story. She tells it methodically, with great dignity, out of a sense of duty, because it worries her not to know who will remember the names of her murdered kin, when she is longer there to speak of them.
Journey into hell
Will there be a photo left? A photo of a photo?
These survivors fear we won't believe them. They fear we will forget.
Like Shoshana, who each time she pushed back the boundaries of horror in the telling of her story, would fix her grey eyes steadily upon me to make sure I was still with her, on her journey into hell.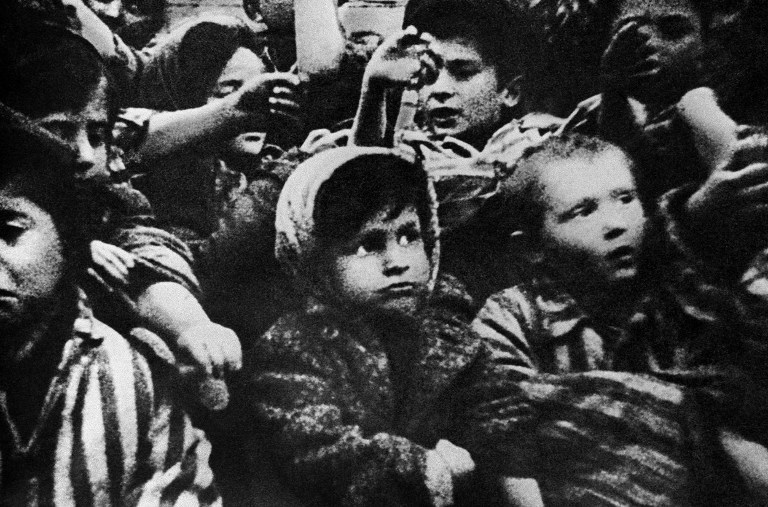 Child survivors of the Auschwitz concentration camp show their tattoos in January 1945 (AFP)
I understand that for her, nothing is "unspeakable" any more. But some things will remain unsaid as far as we are concerned. For the scenes Shoshana Colmer describes to me will not find a place in AFP's story. Or in this blog. Details about the crematoria, or the human experiments of the Nazi doctor Josef Mengele. Too raw, and in a sense too sacred.
To reveal these stories in a way that is bound - given the constraints of journalism - to be partial or caricatural, would feel like betraying their trust.
Of my day on "Survivors' Street", I retain several hours of tape recordings and a yellow notebook, which I slipped into a sealed plastic bag to set it apart from all my other notebooks. It must not be lost.
Daphne Rousseau is an AFP reporter based in Jerusalem.
::video YouTube id='jMEi8emCiIM' width='620'::