Surfing on the Severn
MINSTERWORTH, United Kingdom, March 24, 2015 – The surfers were there, limbering up on the shingle bank, well before the wave came in. The River Severn on the border between England and Wales is world-famous for its bore – a rare phenomenon where the incoming tide forms a wave that rides against the current up a river or bay.
I was sent to cover what was billed as a "five-star" bore, with the Moon exerting an extra gravitational pull due to its alignment with the Sun and Earth after Friday's eclipse – even more than for the "super tides" that normally accompany the Spring equinox.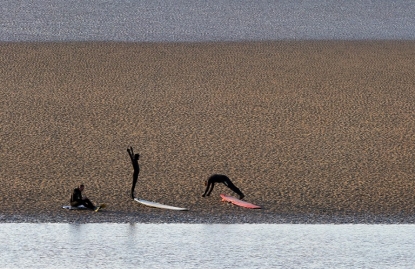 Surfers limber up as they wait to ride the Severn bore at Newnham, southwest England on March 21, 2015 
(AFP Photo / Geoff Caddick)
The start of the Severn bore is at Newnham, about 20 miles inland, an area of rural Gloucestershire dotted with quaint little villages.
That's where I first headed, arriving at around 6.30 am, an hour before the wave was due. Six degrees out: a chilly start to the day. I'd been told the best place to shoot from was the church. But as I parked my car, I was set straight by a passerby walking his dog: the best view of the bore was definitely from the patio of his house. Would I like to set up there?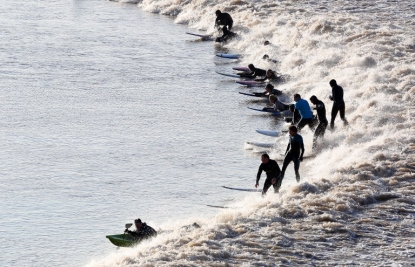 Surfers ride the Severn bore at Newnham, southwest England on March 21, 2015 (AFP Photo / Geoff Caddick)
Sometime things just work out like that… Turns out it was a really nice big house in an elevated spot on a bend in the river – perfect!
There were about 60 surfers already there, stretching in their wetsuits as they waited for the bore. But when it came through only about 20 of them caught it – the others were left behind.
After that I jumped back in the car to catch the bore at the next "surfing" spot – six miles upriver at a place called Minsterworth where the Severn is much narrower. It sounds like a mad rush, but in fact the bore is travelling at six miles per hour – so you have about an hour to get there…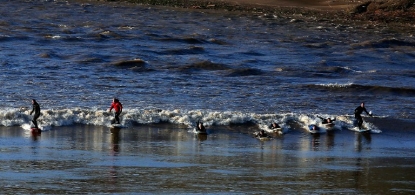 Surfers ride the Severn bore at Newnham, southwest England on March 21, 2015 (AFP Photo / Geoff Caddick)
At Minsterworth, everyone goes to this one pub called the Severn Bore Inn to watch the wave. I parked a little way off – but then once again, an elderly guy walked past and asked if I would like to shoot from a far better spot: his garden of course.
I gladly accepted, arriving to find several TV cameras already set up. It was a long view – shooting on a 400 mm lens – but a great position.
First, I saw four or five guys come around the bend – and wipe out just after I took this picture. One of them did manage to ride the bore for a couple of hundred yards, and then he wiped out as well! In fairness to them, the chap who owned the house said it was the best bore in 10 years, so I think it was quite a feisty one.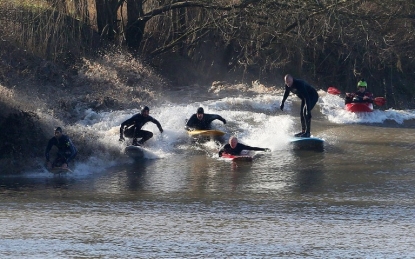 Surfers ride the Severn bore at Minsterworth, southwest England on March 21, 2015 (AFP Photo / Geoff Caddick)
I love shooting natural phenomena. There's no artifice involved – you either get it or you don't. The Severn Estuary has the second highest tidal range in the world – more than 12 metres, or 40 foot – and the bore here, which forms around eight times a year, is known to be spectacular.
I had fancied shooting the Severn bore before but the chance never came up. It was actually pretty exciting watching the wave form. And I must say it was fun watching the surfers meet up, limbering up and chatting in their wetsuits, and then getting wiped out in an instant!
Geoff Caddick is a freelance photographer based in South Wales. Find more examples of his work here.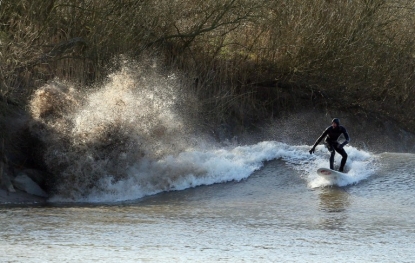 Riding the Severn bore at Minsterworth, southwest England on March 21, 2015 (AFP Photo / Geoff Caddick)